Ha Long Bay | Heaven Palace Cave On Dau Go Island
Dau Go Island combines two of Halong Bay's most prominent tourist attractions: Cave of Heaven Palace and Dau Go Island. Dau Go Cave is named after its shape, like a wooden stake, as are many other cave and islet names in Halong Bay.
Locals say the cave's name is linked to Supreme Commander Tran Hung Dao's 13th-century victory over the Mongol Invator. Wooden stakes were transferred to the Bach Dang River in order to set up a trap to destroy the enemy's ships. At high tides, wooden pegs were hidden here so the Mongols wouldn't see them and get stuck when the tide was out.
As a result, the cave has garnered the name Dau Go Cave.
And Heavenly Palace Cave (Thien Cung Cave) is located in the south-west of Ha Long Bay, north of Dau Go Island and just 4km from Ha Long City. Prior to 1993, the cave's existence was known only through myths and legends of a Dragon King and his wife, until it was found accidentally by fishermen trying to escape from a storm
It is considered the most beautiful cave in Ha Long Bay and is also the longest dry cave in Asia
View from cave's entrance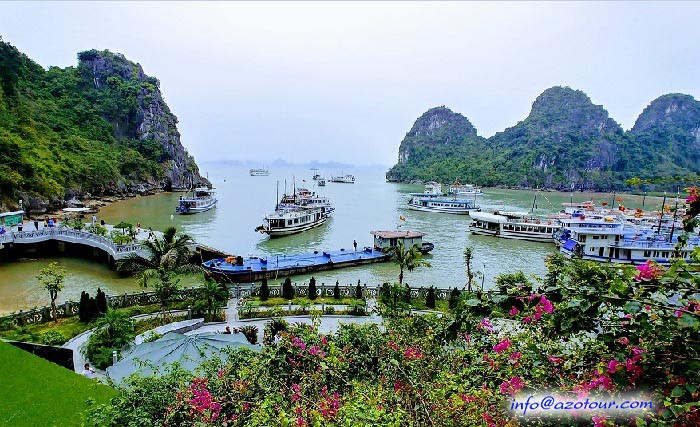 To reach the entrance involves a climb up some rocky stairs, through the jungle overgrowth
Once inside the cave, you enter an ethereal world, where you can wander the winding tunnels of the Dragon King's realm yourself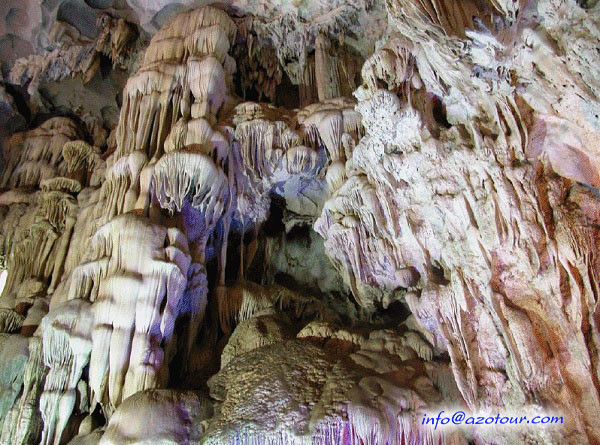 The sprawling 10,000 sqm natural grotto is filled with amazing naturally formed stalactites and stalagmites with shapes that resemble (with some imagination) flowers, birds, animals, fish and even dancing maids. Inside, are four immense pillars that appear to hold up the cavern ceiling or roof of the 'Heavenly Palace', bubbling streams and small ponds. Along the walls, there are clusters of stalactites hanging down like stone curtains. In the background, the wind whistles through the formations, creating the sound of a distant drum.
This unique cave is spectacularly lit with rays of sunlight streaming down into the cavern and hidden colored lighting, giving it a mystical, otherworldly glow, that shows off the incredible interior and its amazing rock formations at their best and a sight that will take your breath away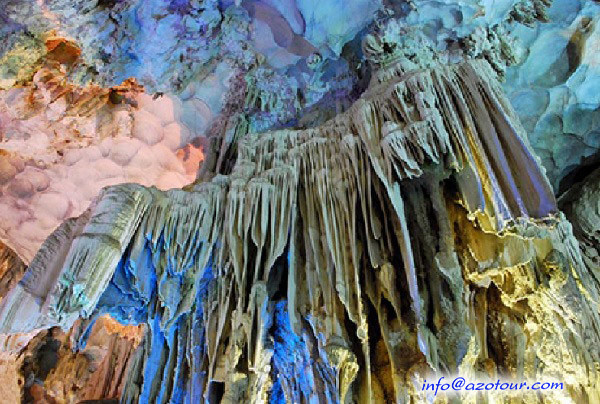 Leaving the cave, you are met with the most incredible and spectacular panoramic view of the whole of Ha Long Bay.
There are a wide range of Ha Long Bay cruises available to explore Ha Long Bay, from day cruises to overnight Ha Long Bay cruises for 1, 2 or more nights. All the Ha Long Bay Luxury Cruises listed are rated 5-Star on Tripadvisor.
Ha Long Bay cruises that visit Thien Cung Cave (Heavenly Palace Cave) include: Paradise Cruise Ha Long Bay; Dragon Legend Cruise Bai Tu Long Bay