Vietnam | 10 best things to do in Da Lat
Da Lat is a popular honeymoon destination in southern Vietnam, around 400 kilometers from Ho Chi Minh City.
Da Lat City is well known as a beautiful mountain town that was once a vacation hill station during the French colonial period, when people came here on vacation to seek cooler weather.
Da Lat Highland is well-known for its beautiful lakes, flower gardens, dense forests, and charming hill towns, also making it an ideal trekking destination. Da Lat, discovered by the French and chosen as a hideaway for colonial rulers, has long been a popular tourist attraction for both domestic and international visitors.
Dalat is now a popular place for family vacations. and here is a list of top things to do in Dalat to let you arrange your better plan:
1 - Visit Da Lat Cathedral
If you want to view some traditional architecture in Da Lat, go to the Da Lat Cathedral, which is shaped like a ginger rhizome.
The cathedral, which was started in 1931 and finished in 1942, used to be a place of prayer for French colonialists.
The structure is crowned with a magnificent spire and a weathervane in the shape of a cockerel, but you'll have to enjoy it from the outside because it's only open on weekends.
2 - Visit Dalat's Old Train Station
Da Lat Train Station was constructed in 1943 and, despite its small size, it provides a interesting glimpse into how people traveled in the past.
There are still the original ticket booths, and there is also a charming steam locomotive on display.
You can take an experience on the railway with a wood-burning locomotive, for about 5 kilometers up a mountain pass, ending in the charming village of Trai Mat.
You can head directly to the train station, get a ticket, and wait for the train to depart. For the train to run, a minimum of four passengers are required. However, don't be concerned because many tourists visit to enjoy the railway network on a daily.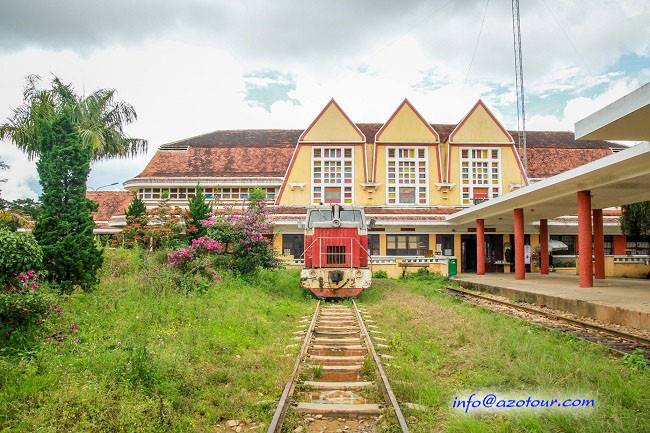 3 - Flower Gardens of Dalat
Da Lat is known as the "City of Thousands of Flowers" or "Honeymoon City" in Vietnam due to its beautiful surroundings, particularly its abundant flower gardens.
If you wish to view these things for yourself, head to the Dalat Flower Gardens, which cover an area of around 7,000 m2 and feature more than 300 different varieties of flowers.
One of the best features of the garden is that the flowers bloom at all different times of the year, so you're sure to see something new every time you visit.
And if you want to see the gardens at their best, visit in the summer.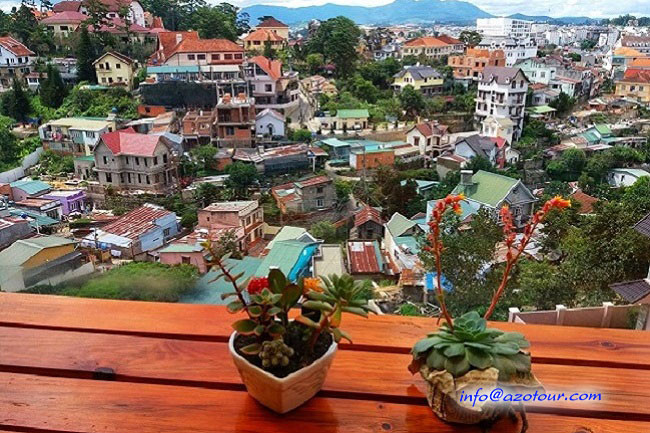 4 - Take a walk through the French Quarter
The French Quarter in Da Lat is one of the city's most picturesque districts.
The quarter is located along the Tran Hung Dao Road and reflects how the French colonialists would have vacationed in the past.
Here you may see the beautiful French colonial villas, many of which date from the 1920s and 1930s.
As you walk down the street, you can see the schools and churches that were built in the same style.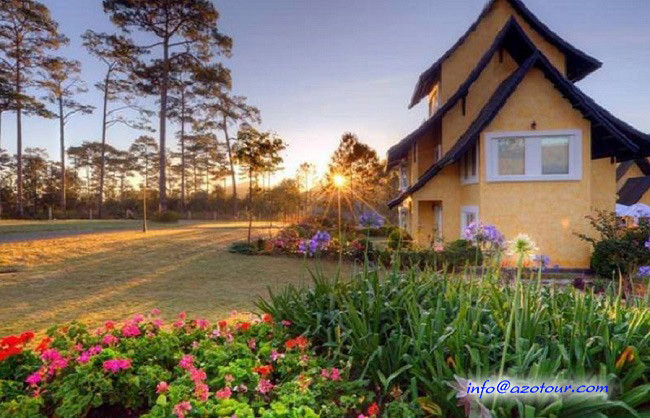 5 - Have a trip to Pongour Waterfall
The Pongour Falls cascade from a height of 20 meters and protrude from the side of picturesque mountains on the outskirts of Da Lat.
During the rainy season, when the mountains reach 100 meters in width, they are frequently included on lists of Vietnam's greatest falls.
You can hear the sound of the water tumbling down the rocks below from a long distance away as you journey up to the falls, and you can cool down in the mist from the cascade at the end of the hike.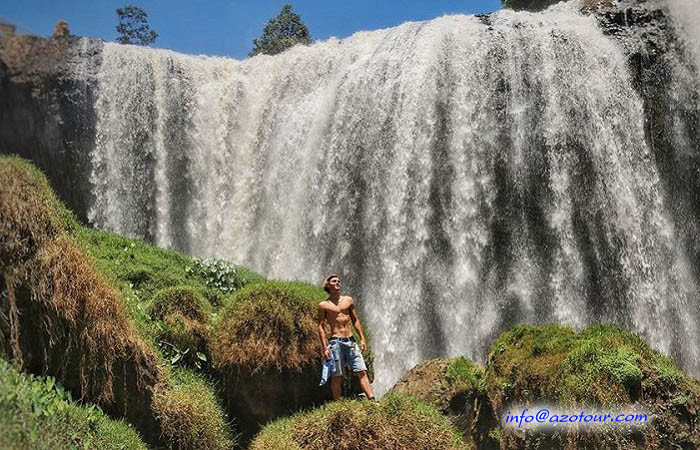 6 - Dalat Market Visit
Dalat Market to discover a more traditional part of the city.
There are over 1,000 businesses distributed across several buildings, and it looks that they sell everything.
Stalls are piled high with vibrant fresh produce and a diverse range of products, from local favorites to specialities including souvenirs.
This region is also well-known for its agricultural products as well as a wide range of vibrant and appealing unique flowers.
Da Lat is also the land of wines and dried fruit jams
It is also an excellent location for purchasing local handicrafts such as textiles and other items.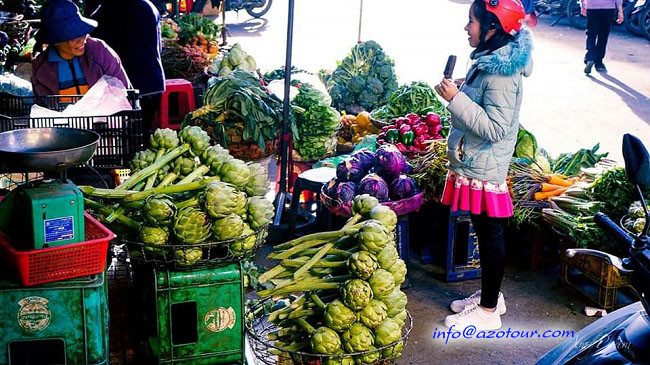 7 - Pagoda Linh Phuoc
Linh Phuoc Pagoda is one of the most well-known pagodas in Da Lat and throughout the country, partly thanks to its 37-meter-high bell tower.
This makes it the tallest bell tower in Vietnam. It also has a beautiful central hall with murals showing the life of Buddha.
If you want to learn more about Buddhism's history, this is an excellent place to go. The pagoda is also set among beautiful grounds and lakes, making it more calm and pleasant to all tourists.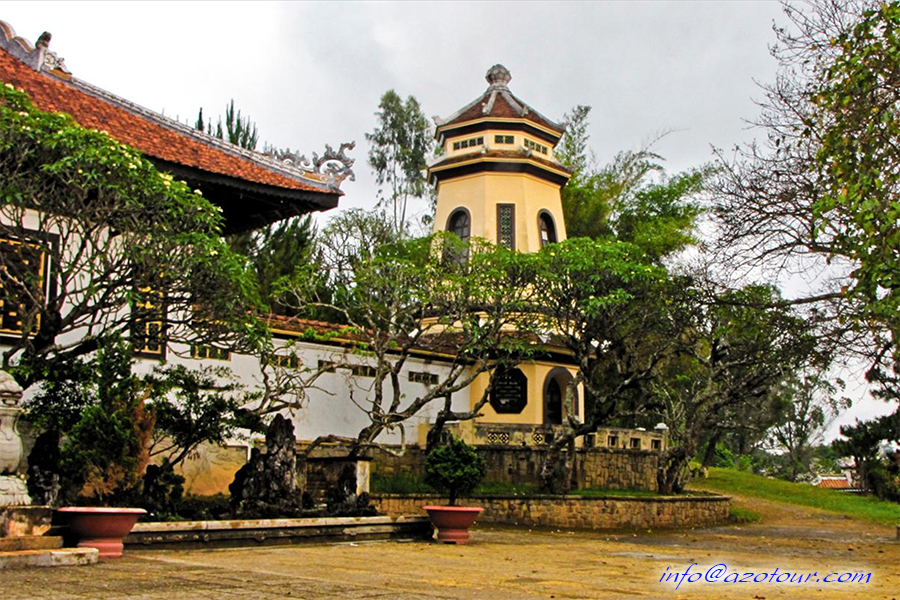 8 - Pay a visit to the Crazy House.
Crazy House, despite its official name of Hang Nga Guest House and Art Gallery, is one of Da Lat's most eccentric attractions.
In 1990, Dang Viet Nga, a well-known Vietnamese architect, planned and erected the tree-shaped house.
There are a dozen themed rooms here, as well as tunnels and staircases with bear, tiger, and kangaroo statues.
Even if you don't like it, you should visit Da Lat to witness another side of Vietnamese architecture.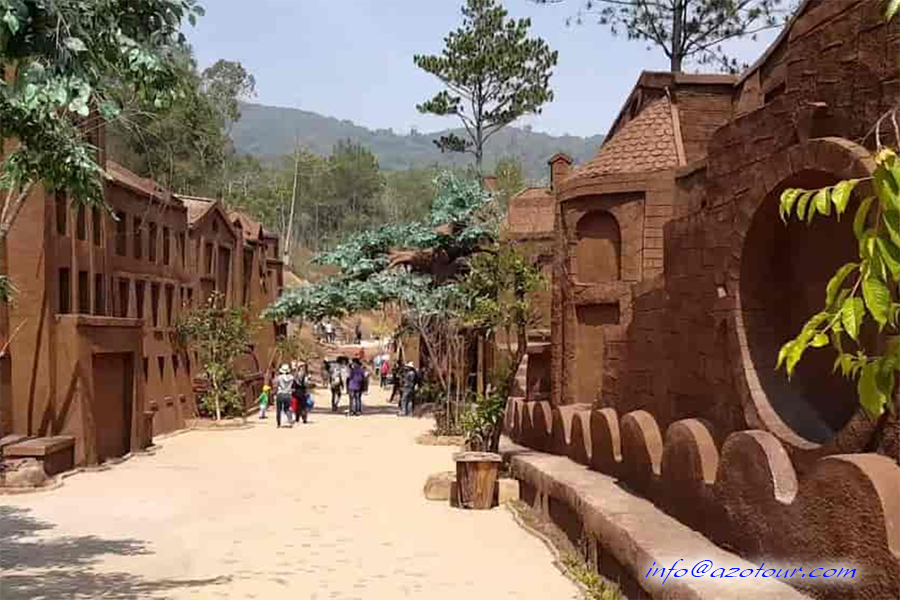 9 - Bao Dai Summer Palace
Bao Dai is known as Vietnam's final emperor. When he became Emperor, he was only 12 years old.
He is also famous for owning a series of palaces throughout the country, including the Da Lat Summer Palace, which was built in 1933. Every summer, Bao Dai came here to cool off when the heat in other parts of Vietnam became unbearable.
And now, this palace acts as a national monument, with tourists getting to see how he used to spend his vacations.
The house is still furnished with King Bao Dai's furniture and other possessions
10 - Taking a break on Xuan Huong Lake
Xuan Huong Lake is a man-made lake located in Da Lat City. This is also one of the most well-known attractions for visitors visiting Da Lat.
The lake is surrounded by lovely gardens full of flowers and greenery; popular vegetation in this dream city includes artichokes, willows, and purple flowers. In the afternoon, you can stroll around the lake and enjoy the view.
Along the lake's shores, there are lovely willow and peach trees, as well as a selection of modest cafes where you can enjoy a drink and the tranquil ambiance of this romantic city.
Horseback riding and trolley tours are all popular lake activities, and if you're feeling active, you can also take a pedal boat on the lake.
11 - Elephant Falls
Elephant waterfall is located in Nam Ban town, approximately 40 kilometers from Dalat. The waterfall is 30 meters tall and is located on the Cam Ly stream.
Elephant Falls, like many other Da Lat attractions, has a different name: Lieng Rewoa Waterfall. This is because Lieng Rewoa directly translates into "Elephant Falls" in the original K'ho ethnic language.
Because it is more difficult to reach, this water fall is less visited than other falls in the city, but that means you can avoid the crowds and enjoy the peace and quiet of the water fall on a trip here. During our trek in this place, we may see primitive woodlands with amazing tunnels and antique trees around the waterfall.
The falls are very close to Linh An Tu Pagoda, so you also can easily visit both within an afternoon.
12 - Linh Son Pagoda
If you wish to see one of Da Lat's lesser-known pagodas, go to Linh Son Pagoda.
This neighborhood pagoda is situated on a hill overlooking Da Lat in an open, peaceful location with a stunning view of the city.
One of the most unique features of the pagoda is that it has its own tea and coffee farms, which you can visit during harvest season and see the monks harvest.
13 - Datanla Waterfall
Datanla Waterfall is one of the most well-known waterfalls in Da Lat, and it is a short distance from the Dalat town center.
Aside from trekking to the falls, you can also enjoy a variety of adventure activities here, including a little roller coaster that takes you from the top of the falls to the soft lakes below.
​​Walking along the trails next to the waterfall, savoring the cold mist, and observing the natural ponds winding quietly at the cascade's foot provides valuable moments of relaxation at the Datanla Waterfall
14 - Hike to Prenn Falls
One of Da Lat's most popular attractions is the 10-meter-high Prenn Falls.
It is about a 10-kilometer walk from Da Lat to the falls, and you can also take a cable car or use a route behind the falls; however, you will get quite wet if you take the option of trekking through the water fall.
Weekends and major holidays are particularly busy at the falls, so you can plan your trip accordingly.
The falls are also adjacent to the Au Lac Pagoda, so you can visit both on the same trip.
15 - Bidoup Niu Ba National Park.
The Bidoup Niu Ba National Park is part of a huge forest that spans the Da Lat-Lam Vien plateau. It is around 32 kilometers from Da Lat and can be reached on a day trip from the city.
The park's height ranges from 650 to 2,288 meters, and it contains both beautiful bamboo trees and expansive grasslands.
There are also coniferous woodlands, and local indigenous people may guide you through the paths and show you the flora and fauna.
There is also an information center where visitors can learn about the K'Ho hill tribes' history and culture.
16- Try Dalat local foods