Vietnam | 15 best things to do in Ninh Binh
Is Ninh Binh worth visiting?
Ninh Binh is a town southeast of Hanoi that is an excellent starting point for those interested in exploring the surrounding area. When people refer to this region of Vietnam, they usually talk about the entire Ninh Binh province, which comprises a variety of towns, villages, and popular tourist spots.
What to see in Ninh Binh?
Ninh Binh City doesn't have many'sights,' but it's a great place to go if you want to get out and see some of Vietnam's most beautiful and pristine places. To mention a few, Ninh Binh Town is a popular starting point for journeys to Tam Coc (three wet caverns), Van Long Natural Reserve, Hoa Lu Ancient Citadel, Bai Dinh Pagoda Complex, and Trang An Tourism Complex. Although it is not as well-known as other parts of the country, its rocky limestone environment makes it a fantastic getaway for anyone who appreciates nature. As other parts of the country grow increasingly well-known, such as Halong Bay and Sapa, Ninh Binh is the place to go if you want to get away from it all.
Here are the top things to do in Ninh Binh...
1. Tam Coc - Three Wet Caves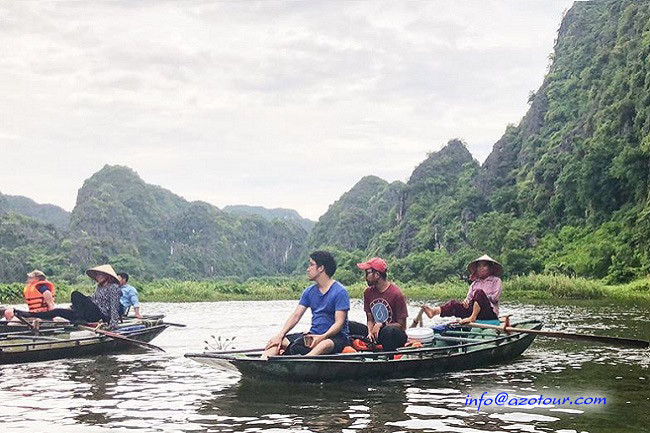 Tam Coc, located outside of Ninh Binh town, is one of Vietnam's top nature destinations despite its remote position. Tam Coc is known for its karst environment, which is similar to that of Halong Bay, but it also includes some gorgeous limestone hills surrounded by emerald green rice terraces. Tam Coc boasts taller cliffs than Halong Bay, but it is also less popular, making it excellent for anyone wishing to get away from the crowds. You can explore the area by boat for about two hours...
2. Phat Diem Stone Cathedral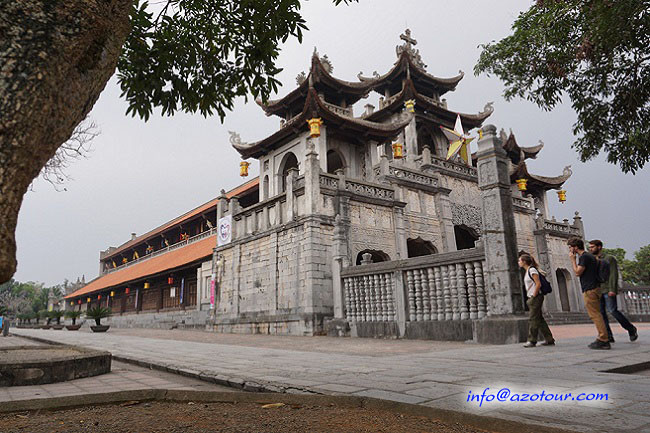 The Phat Diem Stone Cathedral is located 34 kilometers from Ninh Binh town and is surrounded by beautiful waterways and rice terraces. During the colonial period, Ninh Binh Province was known as the "Vatican of Vietnam," and this would have been the main point of Catholic worship in the province as a whole. The cathedral was built in 1898 in a fusion of Vietnamese and Western styles, with two Gothic chapels and massive iron wood columns. The cathedral's magnificence and location are both outstanding, and it is one of the top sights not to be missed in Ninh Binh.
3. Van Long Nature Reserve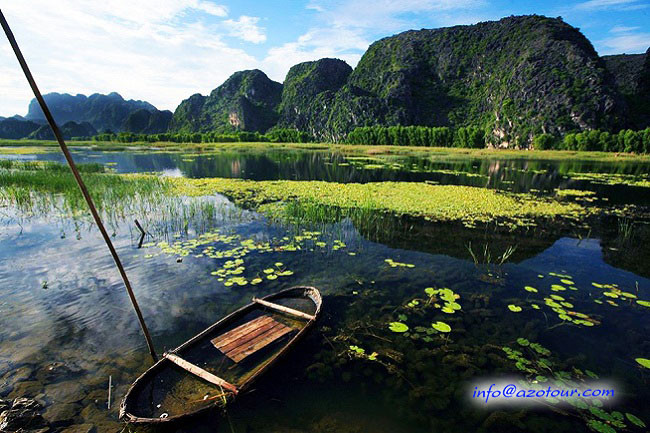 If you want to go beyond Ninh Binh, you should go to Van Long Nature Reserve, which is great for birdwatching. Because it is a protected area, it is rich in local flora and fauna; therefore, if you enjoy nature and want to see Vietnamese wildlife, don't miss it. The wetlands are home to a variety of Vietnamese species, including monkeys, reptiles, and birds.
4. Bich Dong Pagoda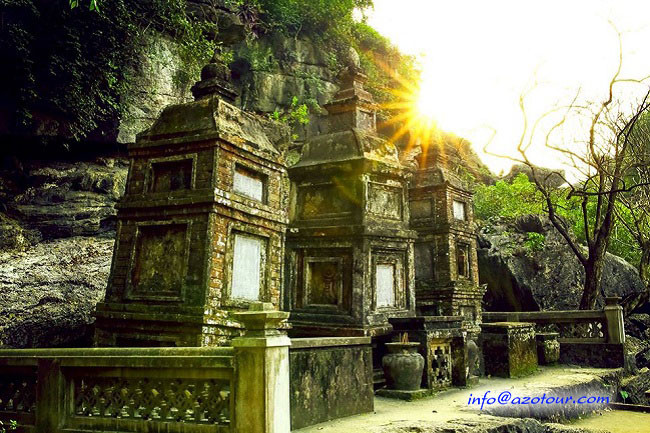 One of the region's most beautiful pagodas, originating from the 15th century, is located just close Tam Coc Boat Station. The Bich Dong Pagoda has three levels: the lower Ha Pagoda, the middle Trung Pagoda, and the upper Thuong Pagodas (upper). The pagpdas are also built with caverns in mind, which can be explored as part of a visit here. The climb is difficult, as one would expect from cliff-side pagodas, but the vistas are well worth it.
5. Hoa Lu Ancient Citadel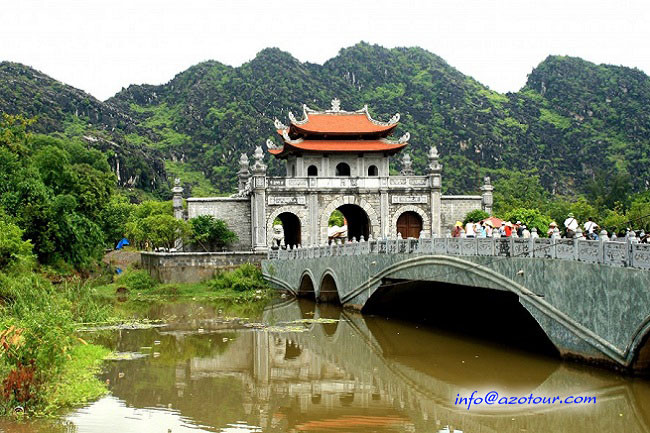 Hoa Lu is yet another spot that makes a great trip from Ninh Binh, though some visitors skip it in favor of Tam Coc Boat Trip and Van Long Nature Reserve. Many people are unaware that Hoa Lu Temple is the temple of Dinh King and Le King, was the ancient capital of Vietnam in the 10th century, and that there is a large citadel here filled with scenic temples that you can explore at your leisure. As a result, if you are in the area, it is well worth a visit.
6. Cuc Phuong National Park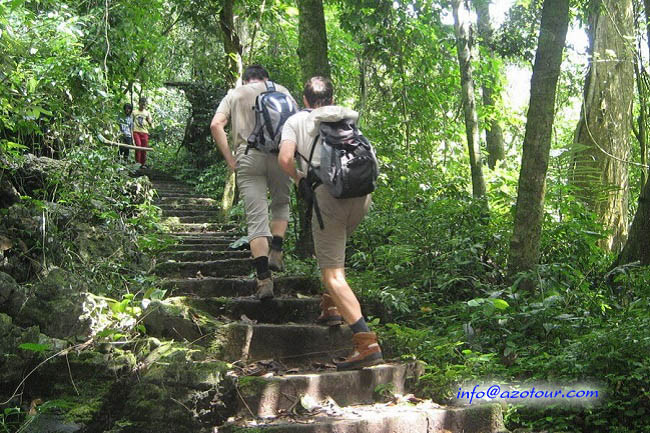 Cuc Phuong National Park, established in 1962, is one of Vietnam's most important national parks. This is part of a large swath of protected land in Ninh Binh that was established to protect the region's wildlife, which has been in decline for many years due to poaching. The park now encompasses 222 square kilometers of tropical forest, which is home to a diverse range of wildlife. A visit here will reveal 307 species of birds, 133 species of mammals, and 122 species of reptiles. There are also over 2,000 different types of plants here, making it a must-see for nature lovers.
7. Bai Dinh Pagoda Complex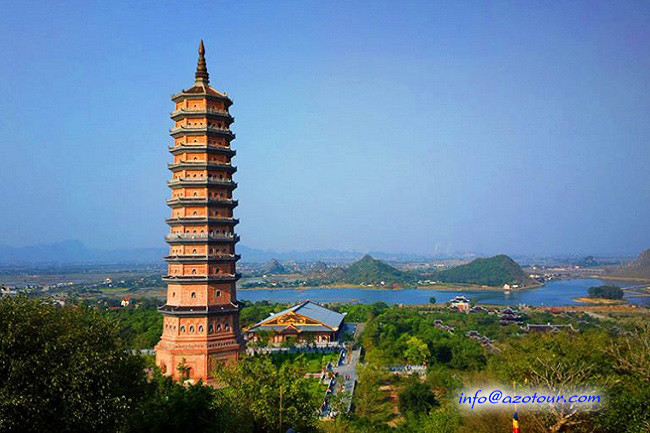 Bai Dinh Pagoda is a colorful Buddhist temple complex on a scenic hill near Ninh Binh town. The temple was built in 2014 and has quickly become one of the area's most popular attractions. The entrance leads to walkways lined with 500 stone arhats (images of enlightened Buddhists), and inside is the Phap Chu Pagoda, which has three tiers. Inside, there is a 100-ton bronze Buddha that stands 10 meters tall, as well as two smaller gilded Buddhas.
8. Hang Mua Peak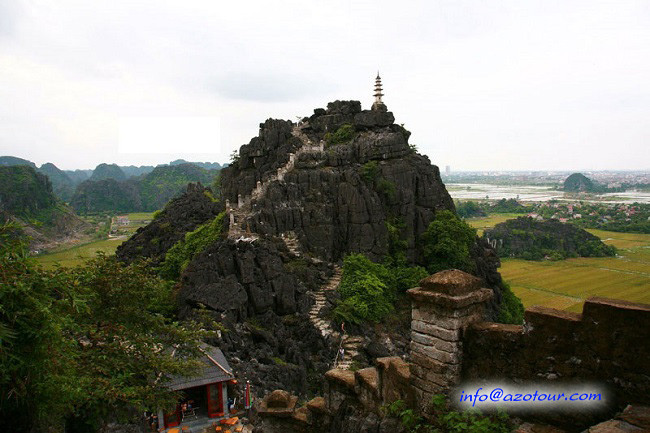 Hang Mua Peak is known as one of the most amazing sites in Tam Coc, and you have to hike up 500 steps to reach the summit. When you reach the top, however, you will be rewarded with views of some of Vietnam's most beautiful scenery, including the Red River Delta and towering mountains. However, wear appropriate footwear, especially during the rainy season, as the steps can become slippery when wet. This is also the location of the Mua Cave, though if you don't like spelunking, you can skip it and just hike along the mountain trail.
9. Trang An Tourism Complex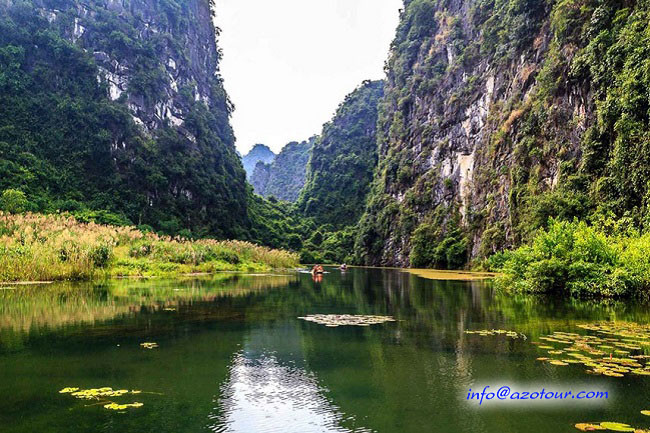 Neighboring Trang An Tourism Complex is known for its scenic waterways, and you can rent a boat and float down the Sao Khe River from here. This will take you through otherworldly caves, and you can enjoy the scenery while also visiting the caves and temples. Boat trips last about 2 hours, and Trang An is only about 7 kilometers from Ninh Binh town, so you can easily spend the day there.
10. Thung Nham Bird Garden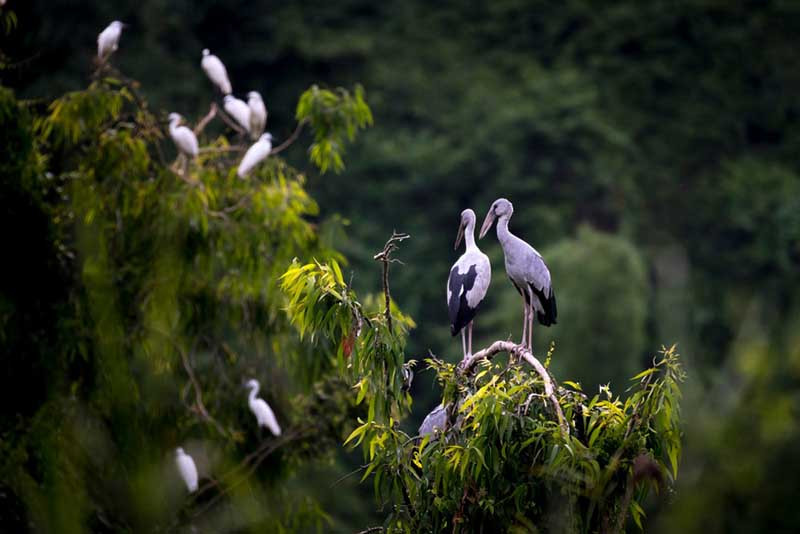 Surprisingly, the Thung Nham Bird Garden is not well known in Ninh Binh, which is a shame because it is a beautiful attraction worth seeing. The park is located in the mountains and is known for housing a large number of indigenous bird species. If possible, visit in the early morning or late afternoon, when the park's trees are covered in a swarm of colorful avians. Aside from the birds, you can also go fishing and camp in the park depending on the season.
We hope that our article will be a useful Ninh Binh travel guide for you and will provide you with some good options for places to visit in Ninh Binh. Choose a Ninh Binh tours from our website that interests you
11. Thai Vy Temple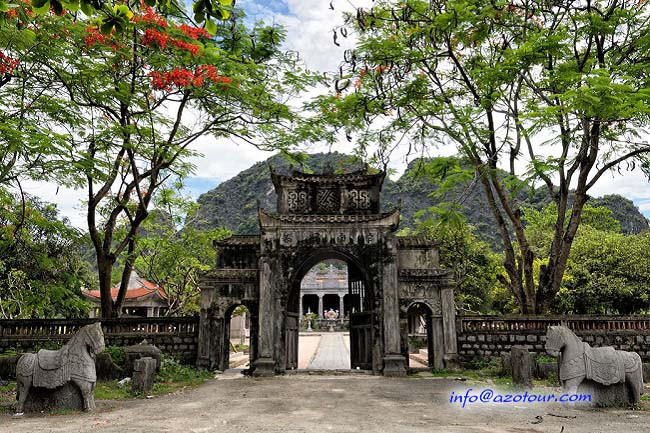 Thai Vi Temple is King Tran and Queen Thuan Thien's temple. Visitors to Thai Vi Temple will be surprised not only by the quiet and peaceful atmosphere, but also by the majestic mountain scenery that surrounds the sacred space. Thai Vi Temple, part of the Vu Lam Hanh Cung Complex founded here by King Tran Thai Tong, is an ancient temple with completely stone architecture, elaborately carved, and extremely unique. In the 15th century, this was also considered a base against the Mongols.
Thai Vi Temple was built on land where dragons and tigers worship, which is considered sacred in Asian people's yin and yang concept.
Visitors can not only learn about the illustrious Tran Dynasty, but also enjoy the charming beauty of this location.
12. Kenh Ga Hot Spring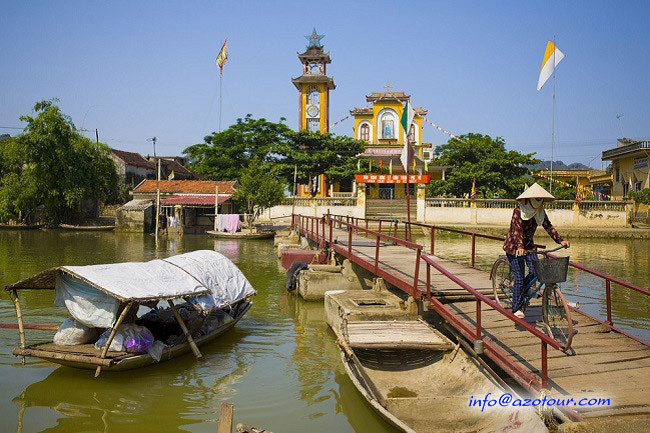 Kenh Ga Spring is a hot spring that flows into the Hoang Long tributary from Kenh Ga Mountain in Kenh Ga Village.
This is a river confluence, also known as Vong Am because the river water is always warm, where many fish and aquatic creatures congregate.
Sodium chloride, potassium chloride, calcium chloride, magnesium chloride, and bicarbonate salts are abundant in Kenh Ga hot spring. The stream's water is colorless, odorless, and tastes slightly acrid. Water has a constant temperature of 53 degrees Celsius.
This is a well-known mineral spring that has been named one of the top five most attractive hot spring resorts in Vietnam by the Vietnam Record Book Center.
13. Biking In The Villages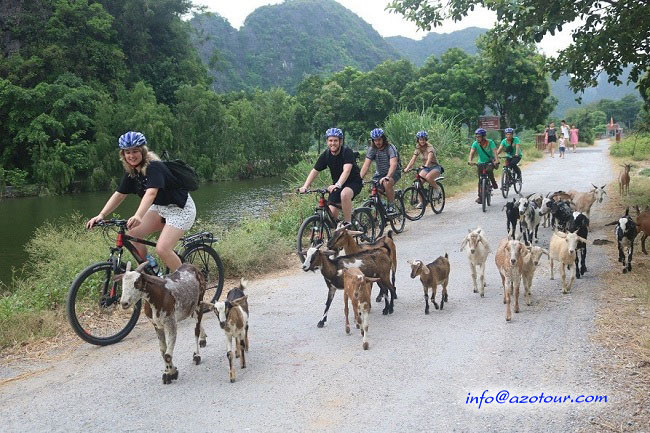 Cycling on a village road in Ninh Binh's countryside is a truly unforgettable experience. You will be able to get a glimpse of the Vietnamese countryside here. The countryside is a local houses and admire their daily life, which allows you to get some good shots of a villager catching fish with a symple net, young people swimming in a pond, or enjoying kites near the rice fields.
You can cycle along a lovely local path dotted with temples, churches, and villages. Enjoy the breathtaking scenery and make an effort to mingle with the locals.
14. Try Ninh Binh's Speciality Named Goat Meat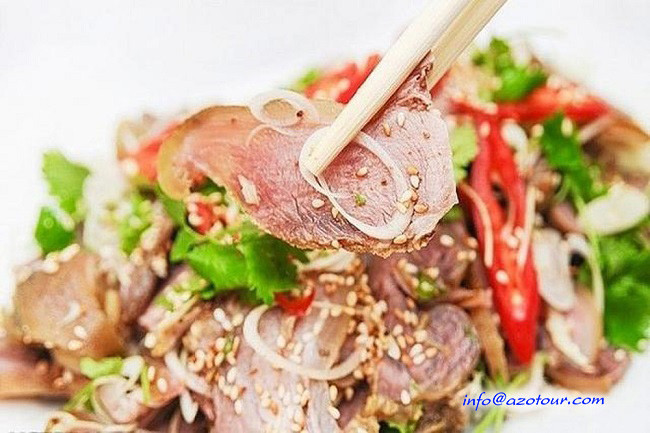 Visitors to Ninh Binh enjoy many appealing specialties in addition to discovering attractive tourist destinations.
Mountain goat is a popular Ninh Binh specialty that few tourists from near and far are familiar with. Mountain goats graze naturally. The meat is moderately soft, not too tough, and has a distinct odor that, after processing, is neither strong nor unpleasant. Goat meat is used in a variety of dishes, the most notable of which is probably the rare lemon goat stir-fried...
15. The Thien Ha Cave
Thien Ha cave, located at a height of roughly 200 meters in the Tuong mountain range, is part of a solid natural wall that surrounds and protects the southwest of Hoa Lu capital in the 10th century, which is related with historical places. Cultural attractions include the Le Dynasty Marina, Phat Dau Son Mountain, and the Dou Soldier Field.
You get off the boat in Muong Tho Ha village, Son Ha commune, on a little canal that runs for about 1 km across the countryside. The shapes formed by mountain rocks are known as its shape, such as: the fox, elephant, the tiger... All of which attract the curiosity and interest of tourists.