Hanoi, Vietnam | 15 best things to do and see in Hanoi
Hanoi attracts visitors not just as Vietnam's capital, but also for its diverse culture, changing seasons, architecture, culture, history, and way of life. This article will highlight 15 must-see attractions in Hanoi
1. Visit the Quang Ba Night Flower Market.
Flower growers from suburbia congregate at the Quang Ba Night Flower Market, where they frequently return daily. Flowers of all kinds are sold here, including hydrangeas, chrysanthemums, and lilies. Vibrant flower bouquets have been artfully arranged on the stalls. This Quang Ba Flower Market is about a 10-minute drive from Hanoi's Old Quarter. Come here at 03.00–05.00 am to experience the lively night market atmosphere.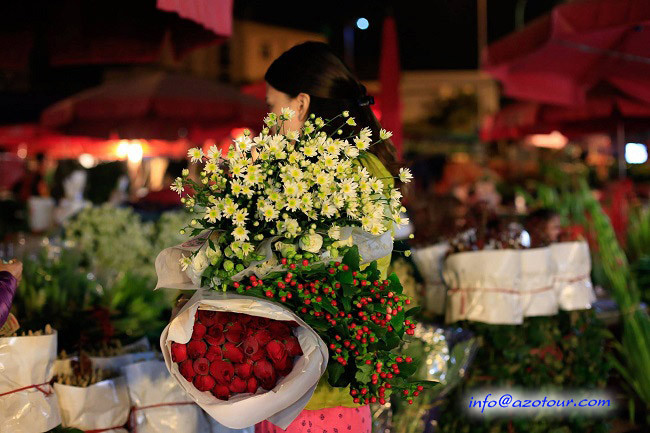 2. Witness the flag-raising or the flag-lowering ceremony at Ba Dinh Square, Ho Chi Minh Mausoleum Complex
Every morning at 6.00 am, ceremonies to raise the flag are held in front of Ba Dinh Square, Ho Chi Minh Mausoleum Complex, and it is a Vietnamese national ceremony. The ceremony has been held since 2001 at Ba Dinh Square, which has a strange and dignified atmosphere. When the loudspeaker rang, people lined up neatly and respectfully to watch the security team raise the national flag. The song "Uncle Still Marches with Us" was played throughout the procedure. This song has touched the hearts of many Vietnamese people!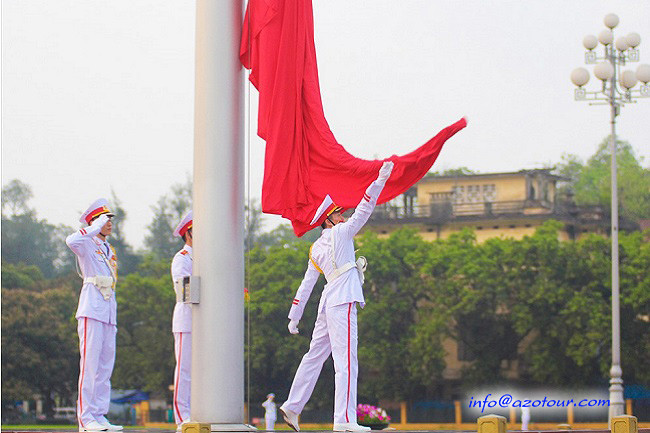 3. Strolling around Hoan Kiem Lake
Hoan Kiem Lake (Sword Lake), considered the heart of Hanoi's capital, is a must-see place when visiting Hanoi. This is an ideal spring, summer, autumn, or winter rendezvous with poetic scenery that is still tinged with history. The Huc bridge is located in the middle of the lake, with the Turtle tower as its historical witness. There are 36 ancient and vibrant streets surrounding Hoan Kiem Lake.
And in the early morning, a stroll around Hoan Kiem Lake is mostly "a must" with Hanoians and also with strangers when visiting Hanoi. Someone once said that the best place to start each day is at Hoan Kiem Lake. Surely, you can go for a walk at dawn while admiring the natural scenery. Allow yourself to take some deep breaths and relax. Alternatively, do group morning exercises like tai chi, soccer, aerobics, and so on.
Walking around the lake in the early morning or late afternoon, you can also enjoy the famous mint lemon ice cream, a cup of cool iced tea, which is available only in Hanoi, or a cup of "hot" egg coffee, which is also a typical Hanoian lifestyle. And the pedestrian streets, which are open on weekends, are another attraction at this location.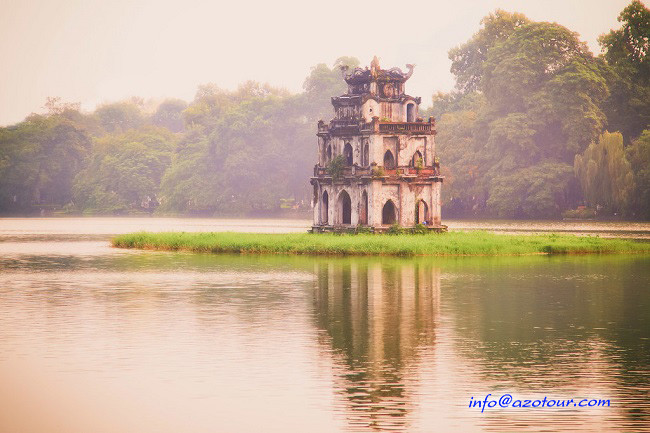 4. Taste some local foods on the street like a real local.
When visiting Hanoi, eating at roadside restaurants is a fantastic experience. It would be a shame if you did not have the opportunity to eat something while sitting on a plastic chair on the sidewalk during your stay in Hanoi. The best part is sitting with friends and sipping hot skewers of grilled meat, warm and inviting, rather than extravagant or luxurious.
Despite the fact that Hanoi has many delectable dishes, pho is always mentioned as the "international face" of Vietnamese cuisine. It would be a lack to visit Hanoi and not eat pho.
In the morning, Hanoians frequently eat pho with a warm cup of coffee. Pho is delicious, and nothing wakes up Hanoians like a coffee with condense milk . Or the next suggestion should be bun cha—tastee it yourself and share us your feeling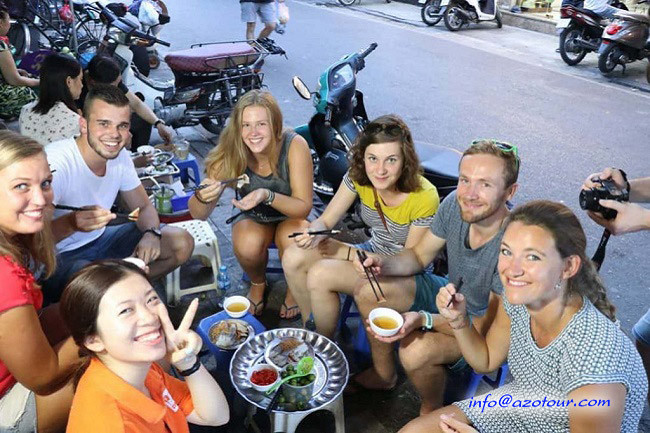 5. Visit the Vietnam Ethnology Museum.
When visiting any city, museums and historical sites are must-see attractions for Western visitors. The Museum of Ethnology is a popular destination for visitors from other countries to learn about history and culture.
The Museum of Ethnology currently houses and displays 15,000 artifacts, 42,000 documentaries, photos, and thousands of other documents pertaining to Vietnam's 54 ethnic groups. The artifacts in the Drum Dong building are organized and displayed in a variety of categories, allowing visitors to learn about ethnic minorities' lives through everyday objects. The outdoor sightseeing area features ten distinct folk architectures, including the Bana communal house, the Dao half-land stilt house, and the Giarai mass grave house.
Visitors can also learn about the city's culture and history at the Vietnamese Women's Museum, Hanoi Museum, Hoa Lo Prison, Hanoi Flag Tower, and other locations.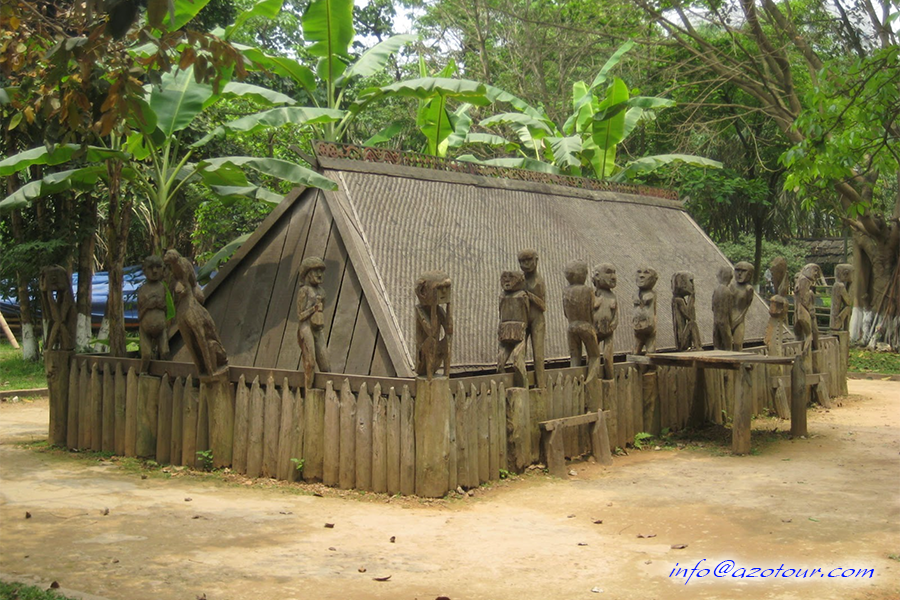 6. Visit West Lake and Tran Quoc Pagoda, Hanoi's largest lake and oldest pagoda.
The West Lake is considered Hanoi's largest lake. The area surrounding West Lake is appealing not only for its attractions and well-known restaurants and shops. It also has a plethora of sacred pagodas and temples with centuries of history and breathtaking scenery. One of them is Tran Quoc Pagoda.
Tran Quoc Pagoda is located on Thanh Nien Street in Hanoi's Tay Ho District's Yen Phu Ward, which surrounds West Lake and attracts a large number of visitors who come to pray for peace.
It is a Vietnamese ancient pagoda and one of the world's 16 most beautiful ancient temples, which has ancient architecture and a lovely location on West Lake. For good reason, Tran Quoc Tu Hanoi has been named one of the world's most beautiful ancient pagoda in Hanoi, Vietnam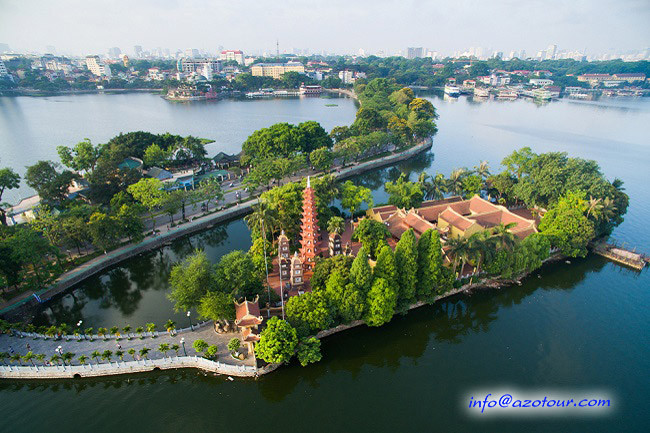 7. Walking along Long Bien Bridge and visiting the outlying districts
Long Bien Bridge has witnessed the ups and downs of Hanoi's history. For Hanoi lovers, the more than a century-old bridge also serves as a link between the present and the past.
The bridge, which was completed in 1898, has three lanes that are still in use today. The middle lane is only for trains. People from both sides of the bridge frequently walk or ride their bikes across Long Bien Bridge in the early morning or late at night, bringing cameras to photograph this historic structure.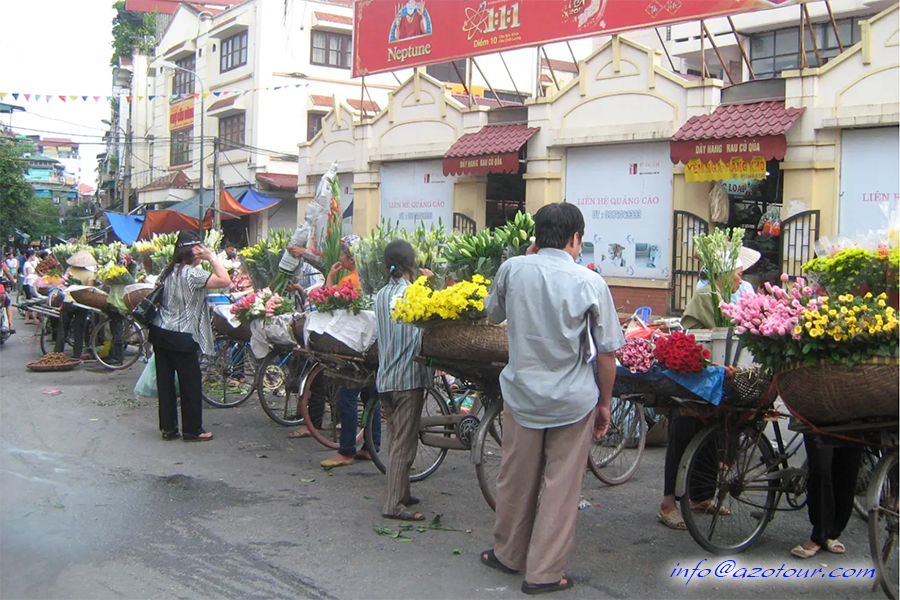 8. Get lost in the historic district named Hanoi Old Quarter.
Allow your heart to lead you to the chaos known as Hanoi Old Quarter. This is how backpackers can enjoy the capital's vibrant and nostalgic streets. "There is no destination, no predefined route; simply turn right, left, or straight" to see what's ahead.
Toys are on one side, while shoes, clothing, antiques, and, on rare occasions, tombstones and motorcycle parts are on the other. The experience is even more interesting if you come here after work.
You must always be prepared to avoid road traffic. On the bustling sidewalks, people arrange plastic chairs for trade; motorbikes are parked; small dogs run free; and people talk and laugh in stalls.
Like blood flowing through each vein, 1,000 years of Hanoi history flows through the streets, bringing both the past and the present to life.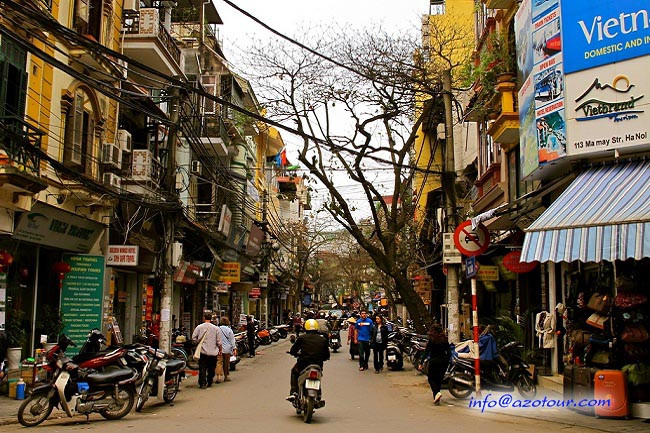 9. Visit St. Joseph's Church.
When in Hanoi, you should pay a visit to the St. Joseph Cathedral. This church will transport you away from the bustle of the streets and into a more dignified, ancient, and peaceful space
When you step inside the church, you will notice that the architecture is extremely unique, with European-style architecture that is both familiar to Catholic tourists and other travelers.
Around the cathedral, there are rows of coffee shops and lemon tea shops. And Hanoi's young people are well-known for their love of Nha Tho lemon tea. Because of its open space and classic colors, this is regarded as the best lemon tea spot in Hanoi. The hustle and bustle of the young clientele breathes new life into this neighborhood.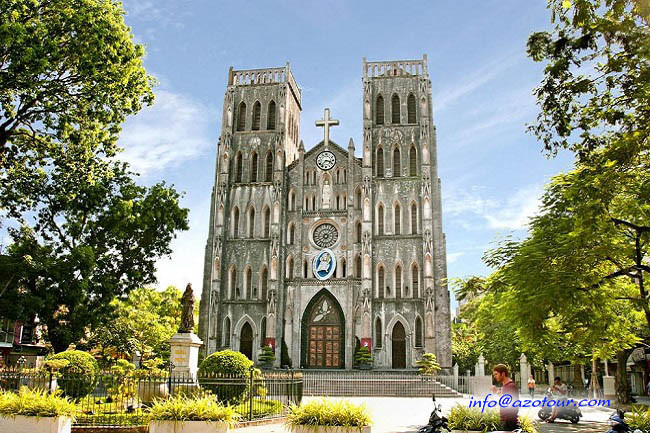 10. Occupying a corner of Ta Hien Beer Street
If church lemonade isn't exciting enough for you, I recommend Ta Hien beer. Ta Hien, like West Bui Vien Street in Saigon, is Hanoi's best beer-drinking neighborhood, where Western and Vietnamese cultures collide.
Ta Hien stores sprouted up close together, crowded and hurried. People think of beer as something to drink while eating and conversing in a noisy environment.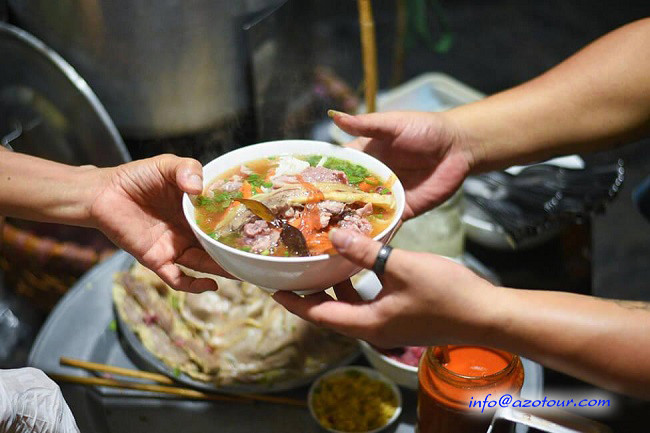 11. Experience 1 round by Cyclo in Hanoi
Cyclo (Tuk Tuk in Vietnamese) is a feature that not every country on the planet has. Every visitor should experience the sights and sounds of Hanoi's Old Quarter by cyclo at least once. Visitors will be able to see the culture and daily life of the people of the capital while cycling.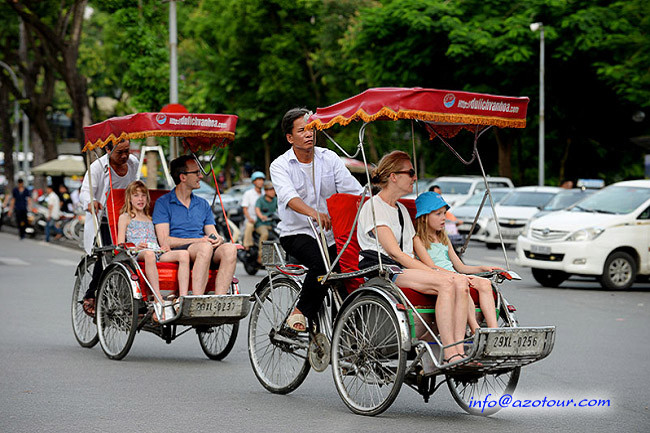 12. Have a typical Hanoi show named Water Puppet Show
Water puppetry is a distinct traditional folk theatrical art form originating in wet rice culture. Through Vietnamese creation, it has progressed from a folk art form to a traditional art form. Water puppetry retains its originality and importance in our daily lives, even as modern forms of entertainment take over the entertainment industry. As a result, water puppetry has quickly evolved from a folk art to a popular traditional art form. Water puppetry is unique to Vietnam, despite the fact that peppetry has existed in many countries throughout history.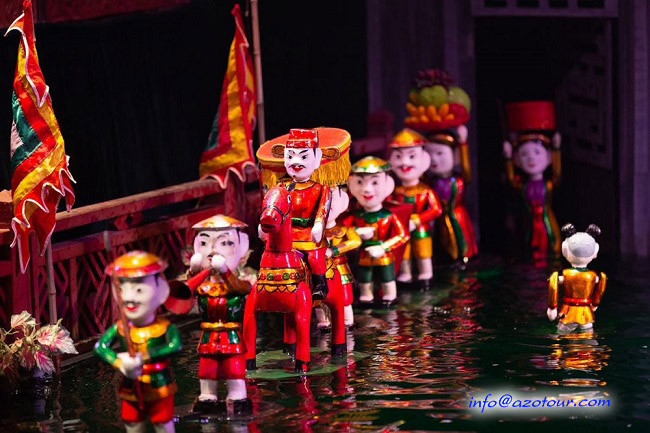 13. Go to the "Railway Quarter".
Many tourists must be surprised if they accidentally cross the train tracks that run through the narrow streets of Hanoi. Because they know the train time, people can conduct business, chat, or walk around the neighborhood with confidence. When the alarm went off, they ran out of the stores and off the tracks. The train passed by in such close proximity that it felt as if someone standing at the door could reach out and touch it.
14. Taste Egg Coffee in Hanoi
Egg coffee became a "star" on social media and in the international press after it was included in a list of free dishes served by Hanoi city to over 3,000 journalists at the International Press Center at the end of February. This drink first appeared in the 1950s, when fresh milk was scarce, and the owner of Giang cafe at the time was inventive in replacing milk with egg yolks whipped into cream.
The majority of international visitors consider this to be a one-of-a-kind drink in the world. In addition to Giang coffee, this dish is available at Dinh coffee and Old Quarter coffee.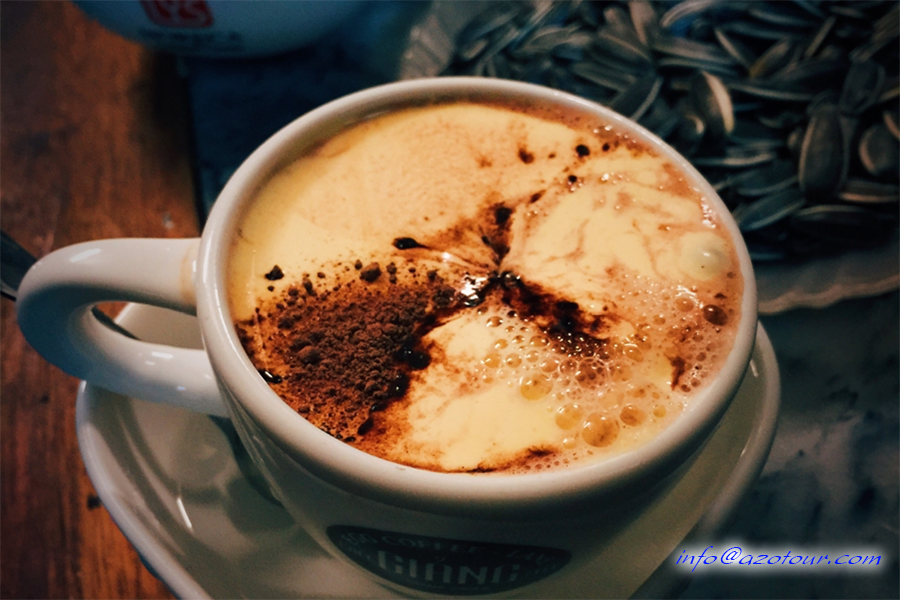 15. Shop like a local and gain experience.
There will be numerous street vendors in and around Hanoi. So, don't be afraid to go shopping at least once. Try to converse with them and negotiate with them as if you were a local. It's a fun and welcoming environment for both sellers and buyers. You're simply "bargaining" based on your assessment. However, whether you can afford it or not, you will know because the street vendors are still extremely welcoming and friendly