Vietnam | 10 best things to do in Mui Ne Beach
1. Mui Ne Beach Kitesurfing
Mui Ne is a great place to learn kitesurfing in Vietnam since the wind and weather conditions are ideal.
Visitors can spend their time here learning to kitesurf in addition to swimming in the pure blue water and sunbathing or wandering around the gorgeous beaches. The peak season lasts from late October until early March. There are several other schools to choose from, but be aware of those that are too inexpensive, as they may not be safe. For beginners, Mui Ne's main beach is a preferable option, whereas Nghia Trang, Hon Rom, Suoi Nuoc, and Turtle Island are better options for more experienced surfers. Kitesurfing is a thrilling activity that should not be overlooked by people seeking adventure.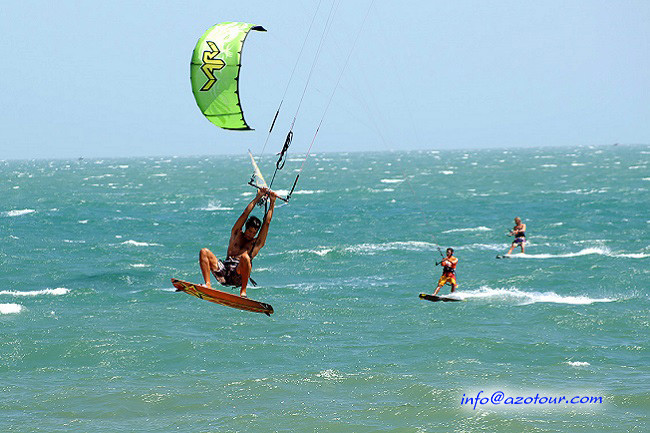 2. Take a sunrise or sunset trip to Sand Dunes
Mui Ne's White Sand Dunes, popularly known as "The Little Sahara," is located 26 kilometers from the city center and are more beautiful than in the movies, providing photographers with unlimited inspiration
Seeing the sun rise over the White Sand Dunes can give you enough energy to get through the rest of the day. Although renting a 4x4 car in Vietnam can be pricey (up to $50), it is completely worth it because passengers can see hundreds of kilometers of beautiful scenery. The sparkling snow-white sand continuously changes shape because to the strong winds
The best time to visit this area is early in the morning, between 5 and 8 a.m., while the weather is still pleasant. There are jeep tours that take around 20 minutes to go to the White Sands, but you can also go on your own. Bring water, a wide-brimmed hat, and sunglasses for sun protection. There are several booths in the area that serve Vietnamese cuisine.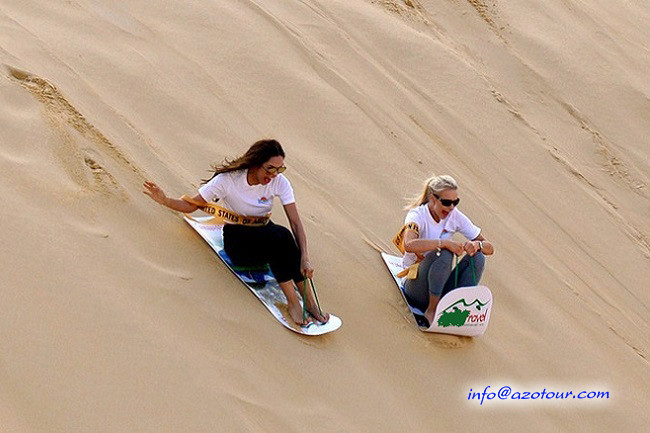 3. Visit the Fishing Village
Approximately 7 kilometers from Mui Ne town lies a fishing harbor filled of colorful boats.
It's a quiet but lively town with unique fish trading activity. The fishermen and their families are preoccupied with selecting their catch for sale elsewhere. The freshest and possibly cheapest seafood can be purchased straight on the beach at Mui Ne.
In the nearby market, where haggling and laughter fill the air, a variety of fish, crab, and shellfish are also available. Visitors can travel by car or motorcycle, although riding a bicycle may be the best option for experiencing the atmosphere of fishing village life in the early morning or late afternoon.
If you want to eat actual fish, come here. You can even request that select local restaurants prepare fresh seafood for you with a small fee.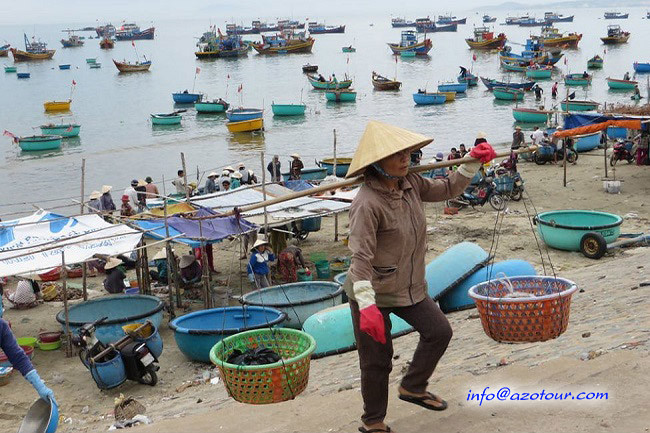 4. Relaxing in Mui Ne Beaches
Swimming, or at least sea kayaking, is unquestionably an essential part of any beach vacation. Visitors to Mui Ne can select from several excellent beaches:
Suoi Nuoc Beach (between White Sand Dunes and northeast of Hon Rom) draws visitors from the west with miles of tranquil, wild, and chilly beaches. The beach is an excellent place to unwind.
Hon Rom (or Ganh) beach is popular with Vietnamese tourists and is a great area to relax and enjoy local seafood. To the northeast, it takes around 30 minutes from Mui Ne's downtown. A bike ride down the coast to see the sunset is also recommended.
Bai Da Ong Dia (9 kilometers from Phan Thiet's center) is a remarkable spot with many rocks and a clear blue sea, ideal for posing. The sound of the waves breaking on the rock creates an infinite rhythm that will undoubtedly entice you to stay longer than you anticipated.
Bien Rang(15 kilometers northeast of Phan Thiet) is an excellent swimming spot. There are both sophisticated luxury resorts and traditional fishing towns. Except for July and August, when seaweed rises to the surface, the soft brown beach and pure blue sea in this area are guaranteed to attract visitors.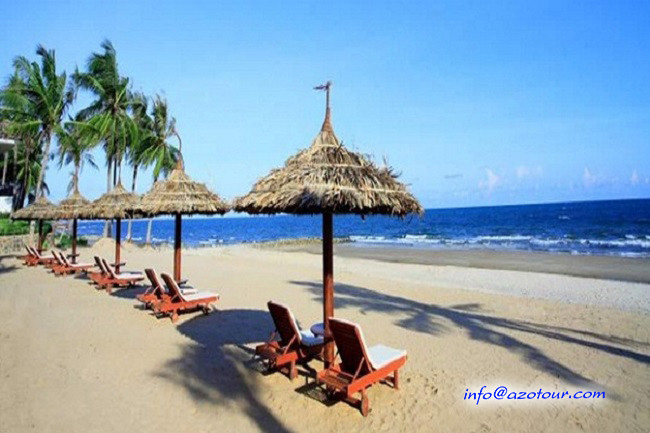 5. Take Jeep Tour
Take a Jeep Tour - Tour prices range between $25 and $50 depending on the number of passengers. Tours last approximately 4 hours and include visits to the white and red sand dunes as well as other sights such as Fairy Stream and the Fishing Village. It's a fun journey that allows you to visit most of the sights in the area without getting lost or fatigued. Remember to double-check the departure time, as seeing the dawn or sunset on the dunes might start very early or at noon (from 04.30 a.m or 13.30 p.m).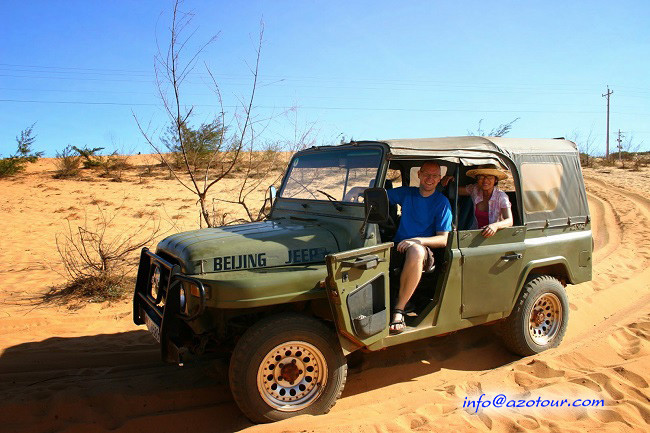 6. Take a short visit to Fairy Stream
Surrounded by the droughts of a desert, the fresh and cool Suoi Tien offers visitors a completely different but unique experience. With coconut plantations on the right and red and white sand dunes on the left, this natural scene cannot help but impress visitors. To get to the stream, park your bike at the sugarcane juice kiosk and walk for about 30 minutes down the road until your eyes can see the deep red water, especially in the stream at sunset, as if you were in a fairy tale. Then you can soak your feet in the cold shallow stream and forget about the stresses of everyday life.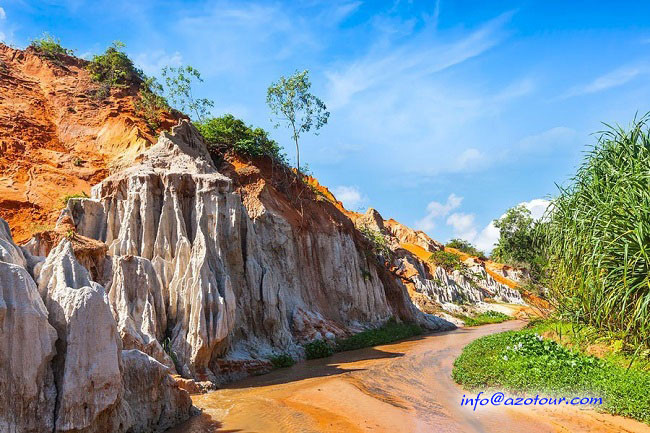 7. Enjoy Mui Ne Seafood
Seafood, particularly crabs and oysters - nature's most exquisite gifts - are abundant in Mui Ne. Fresh seafood may be found right on the shore at Fishing Village, but remember to bargain before you buy. Visitors can also go to the Bo Ke area on the beach strip, where there are simple local eateries. At some of the restaurants, you can order both Eastern and Western cuisine. Although not as elegant as in 5-star restaurants, eating seafood in Mui Ne will give you a taste of traditional Vietnamese cuisine. Otherwise, go to Ham Tien town, where there are several restaurants and plenty of fish to choose from.
8. Ke Ga Light House
The Ke Ga Lighthouse is about 41 meters distant from the monument from a glance. Standing on the island and traveling a short distance to the summit for panoramic view, on the other hand, is an unforgettable experience. Because the film is so spectacular, your camera will surely be used frequently. The ancient trees, along with the clouds, sea, and stunning boulders on the beach, give this area a sense of excitement, mystery, and youth. Mui Ne is about 60 kilometers away from the Ke Ga lighthouse. Tourists can reach the island via boat, which costs approximately $3 per person. You should bargain if the service price is much greater.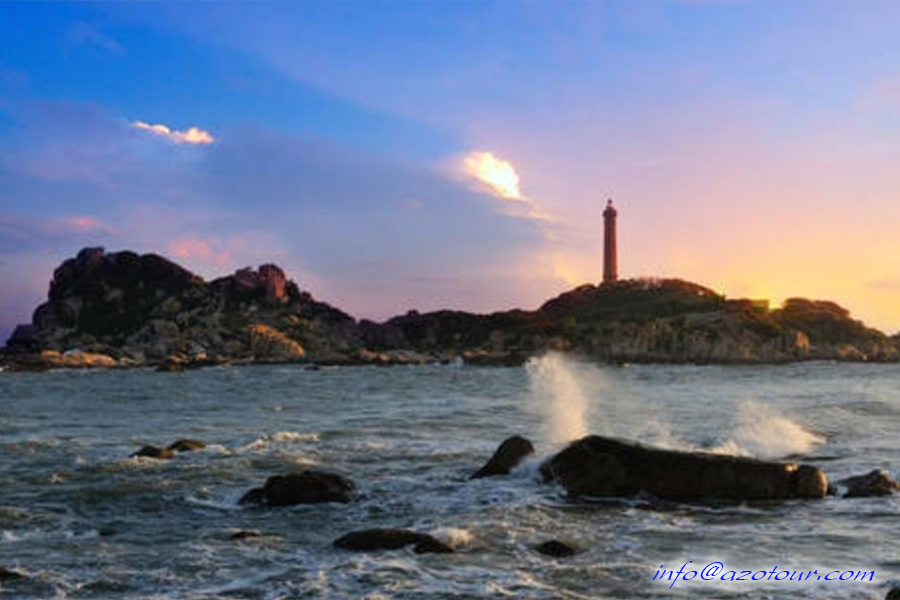 9. Visit Poshanu Towers
Poshanu Towers, about a 10-minute ride from Mui Ne, is a must-see sight for everyone interested in cultural values. The towers honor Shiva, the God of Creation, Destruction, and Regeneration, and are valuable vestiges of Cambodia's Champa Kingdom.
People from this area, including fishermen and members of the Champa ethnic group, frequently come here to pray for good luck or to perform rituals. From here, you may enjoy a panoramic view of the city, which is ideal for photographing.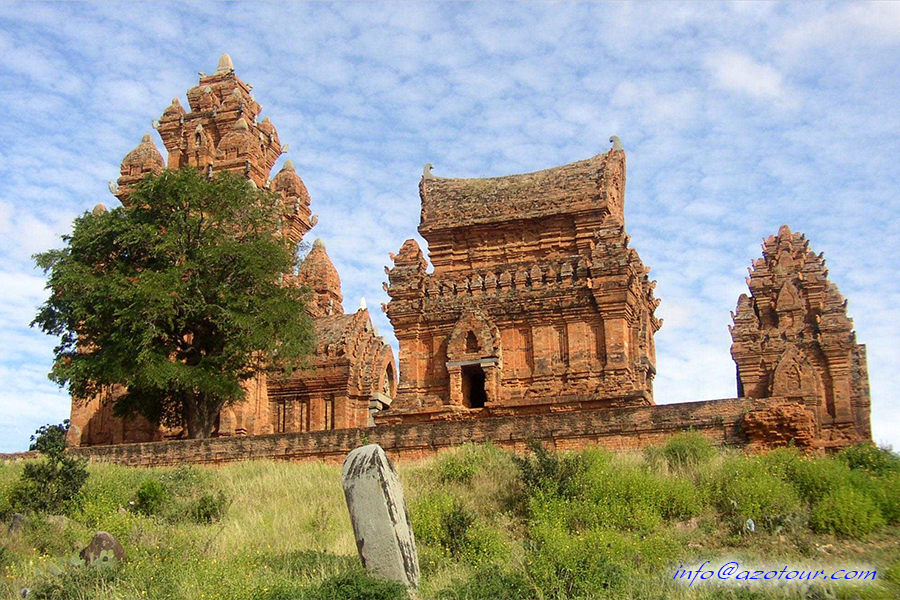 10. Hike to Ta Cu Peak
Ta Cu Peak is around 60 kilometers from Mui Ne, and on its summit stands a remarkable 49-meter-high statue of the sitting Buddha, on which you can touch your right elbow to make your wish come true. To get to the top, tourists can ride a cable car (for around $16 per person), which provides amazing views, or hike a path through a safe forest, which provides a truly quiet atmosphere and transforms you into an explorer.
Remember to bring excellent hiking shoes, water, and a hat for the hour-long journey down the stairs. It will definitely remove your sweats and calories.
Combining a relaxed vacation at gorgeous locations with some exercise is a terrific way to keep in shape. Ta Cu Mountain is perfectly suited for this purpose.