Vietnam | 10 best things to do in Danang
General
Da Nang city is on-the-rise destination and has now become one of the most attractive cities in Vietnam which you might wish put on your list with stunning beach, luxurious resorts, UNESCO world heritage sites close-by and friendly people. Read Danang travel guide about thing to know about Danang to help your plan to Danang is more completed.
Location
Located 776 km from Hanoi in the North, 961 km from Ho Chi Minh City in the South and adjacent to the ancient capital of Hue, Danang has North - South transport axis with road, rail and sea crossing. It was also the gateway for exchanges with the provinces in the Central Highlands. Not only that, Danang is the center surrounded by three world famous heritage sites such as Hue Imperial Capital, My Son Sanctuary and Hoi An Ancient Town.
Climate
Danang is a region with typical tropical monsoon climate with relatively high general temperature and little variation. Danang has an intersection between two types of subtropical climate in the North and tropical in the South, but is more influenced by tropical climate in the South. Therefore, there are two distinct seasons: rainy season (August - November) and dry season (December - July). The best time to visit Danang is from February to May. During this period, the weather is cool, sunny and low humid level. You should avoid the peak season from May to August as this time is summer holiday of Vietnamese people and Danang is extremely crowded. Almost of the services (accommodation, transporations, restaurant ...) are running out very fast.
Transportation
Airplane: This is the most popular and time-saving way to Danang. Danang International Aiport is only 2km from the city center so it is very convenient for you to get to your hotel in the city. However, in the tourist season from June to September, the ticket price is often quite high and running out fast. So if you plan to travel to Da Nang, you should book early to get the best price. Airlines with routes to Danang are: Vietnam Airlines, Vietjet Air, Jetstar, Bamboo Airways
Railway: Danang has a North - South railway, so this is also a means that many people choose when traveling to Da Nang because of the reasonable price, and it is able to see the outside landscape during a long journey. The ticket price for such a trip is quite cheap, with many levels depending on the type of ticket such as a bed or a seat that ranges from 300,000 to 1,200,000 VND on average. One advantage is that Da Nang station is in the city center, so it is convenient for you to move from here to other cities.
Bus: From Hanoi to Da Nang, there are also many bus routes with fares ranging from 250,000 to 400,000 VND
What to do in Danang?
1. The Da Nang Museum of Cham Sculpture
The Museum of Cham Sculpture, located in Danang City, is Vietnam's largest museum of its kind.
The Da Nang Museum of Cham Sculpture consists of a U-shaped auditorium with a view of the Han River and a newly constructed building in the back. The main hall was designed by two French architects who drew inspiration from Champa culture and their hometown architecture. Champa flower trees, which are commonly grown in Vietnamese and Cham temples, can be seen in the nearby area. It possesses a collection of almost 2,500 objects created by artists from the Champa dynasty. Many of these are from My Son Sanctuary, a Unesco World Heritage Site in the area.
For individuals interested in learning about Khmer culture in Vietnam, the Da Nang Museum of Cham Sculpture is a famous tourist site.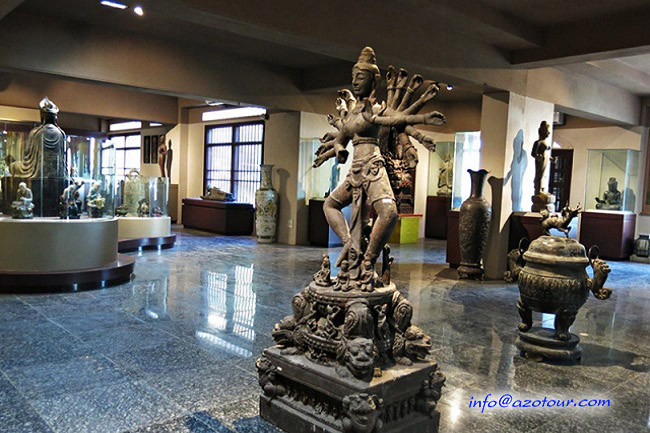 2. Son Tra Peninsula: Take enjoy the daybreak at Son Tra Peninsula.
The Son Tra peninsula, known as Da Nang's "green pearl," is a popular check-in destination for both local and international visitors. As a result, this site attracts a huge number of tourists all year. Nature's beauty and calm surround this space. This scenery picture is more gorgeous than ever because to the harmonic combination of enormous mountains and crystal blue sea.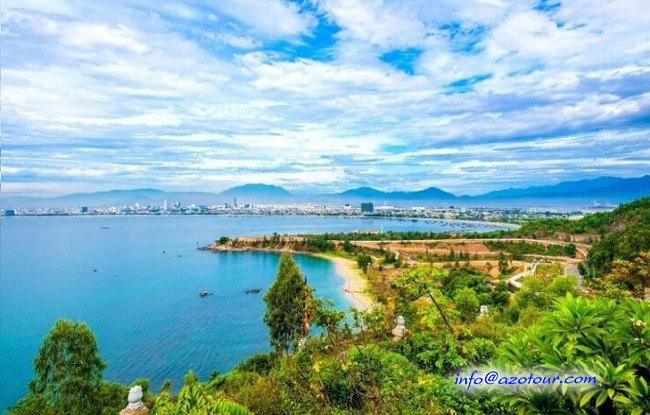 3. Linh Ung Pagoda
Linh Ung Pagoda is a famous tourist destination for travelers from all over the world, as well as a spiritual location. The statue of Quan The Am Buddha is the main focus of this temple, which is the largest in terms of scale and creative construction in Da Nang.
The pagoda, which leans against the mountain and faces the sea, offers a panoramic, romantic view of the city and sea.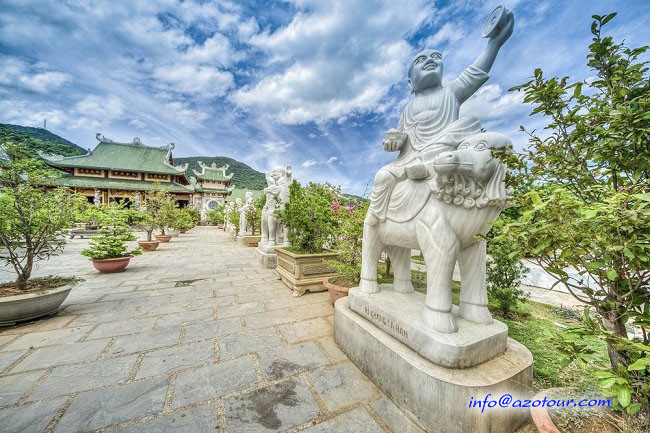 4. Take a sun bath at My Khe Beach
My Khe Beach, about 2 kilometers from the city center and a famous tourist site for swimming and relaxing, has a length of about 900 meters and is one of the busiest Da Nang beaches.
My Khe beach is conveniently accessible from the city center and offers a vast area, gorgeous scenery, and a comprehensive range of high-quality facilities such as hotels, restaurants, parking, fresh water spas, a rescue system, and entertainment, among other things.
Along the shore, there are numerous luxury resorts.
My Khe attracts visitors not only with its blue color stretching to the horizon, fine white sand beaches, and romantic coconut trees surrounded, but it is also exceptionally easy to get around and offers a variety of services, ranging from popular to luxurious, easily please seaside vacationers.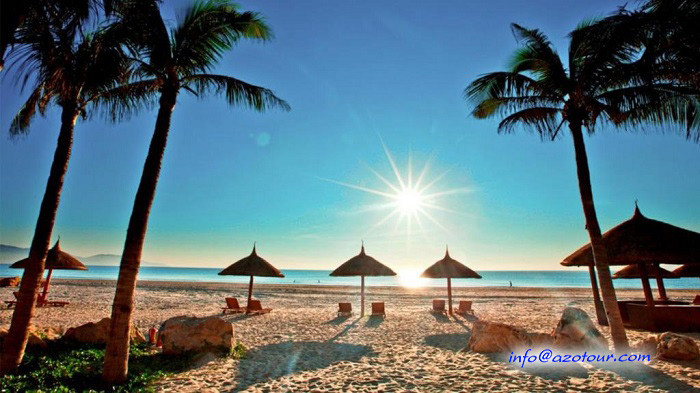 5. Da Nang Bridges:
Capture photographs of the iconic Danang bridges, such as the Dragon Bridge, the Han River Bridge, etc.
Danang is also renowned as the "City of Bridges." It is a one-of-a-kind tourist attraction that leaves its own impression on this lovely and romantic city.
The typical bridges in Danang can be listed as follows: Vietnam's first swing bridge was the Song Han Bridge. The Dragon Bridge is designed to resemble a mighty Ly Dynasty dragon stretching out into the sea. Its support structure is a remarkable combination of steel beams, steel arches, and concrete beams. The Thuan Phuoc Bridge is one of Vietnam's longest cable-stayed suspension bridges. The Tran Thi Ly Bridge on the Han River is designed in the style of a sail.
Each bridge in this area has a different architectural style, and many tourists visit and photograph the bridges on a daily basis.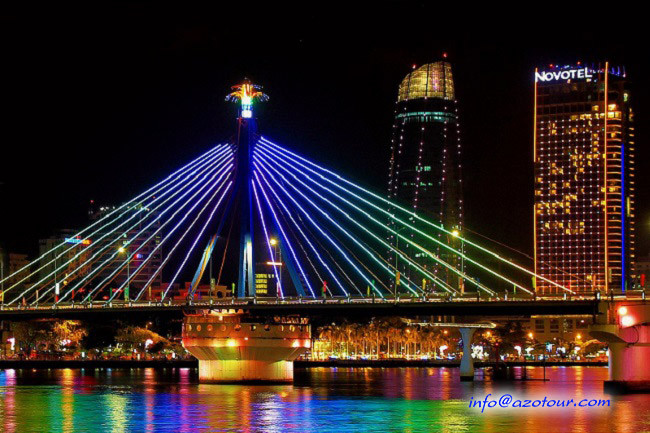 6. (Cu Lao Cham) - Cham Island
Cham Island is a well-known and scenic island located around 1.5 hours by speed boat from the mainland of Danang.
Cu Lao Cham Island - Hoi An usually attracts a huge number of tourists that visit on a daily basis due to its pristine beauty and spectacular natural environment.
Cu Lao Cham visitors can go sea fishing, snorkeling to see coral, visit and explore old monuments bearing cultural imprints of Sa Huynh, Cham Pa, and Dai Viet, and learn more about the simple and tranquil lives of fishermen villages here.
The aquatic ecosystem in its whole has been conserved, with 950 different aquatic species, diversified and abundant flora and fauna, as well as coral populations, more than 300 different coral species, virgin beaches interspersed with magnificent beaches, and lovely fishing settlements.
Both local and foreign travelers should stop to Cu Lao Cham Island when visiting Hoi An-Da Nang.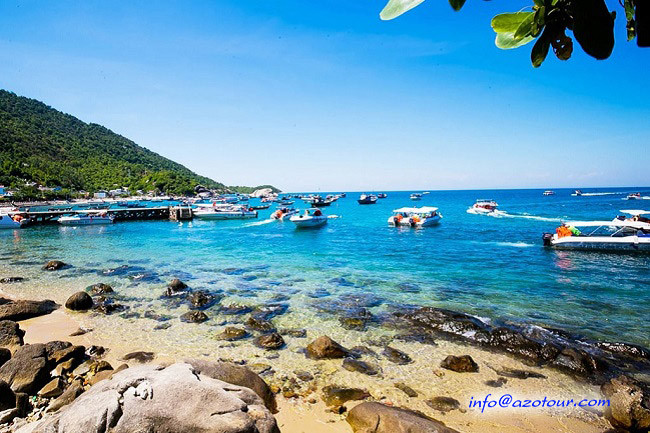 7. Take a visit to My Son Holyland
Da Nang has always been known as a livable city, with gorgeous beaches, scrumptious cuisine, kind and friendly people, and countless stunning natural landscapes attracting a significant number of tourists to visit and enjoy the surroundings. Visitors can also learn about the people of the central region's traditional culture. One of the most well-known cultural tourist sites in Da Nang is the historical site of My Son Holy Land, which is located in Quang Nam but is visited by tourists on their tour of the city.
My Son Sanctuary is surrounded by 2 meter wide valleys and gorgeous mountains. My Son is also a complex of over 70 temples and towers featuring a variety of architectural and sculptural styles representative of the Champa kingdom's numerous historical periods.
International travelers can see the famous and noteworthy historic Cham Pa architectural masterpieces here.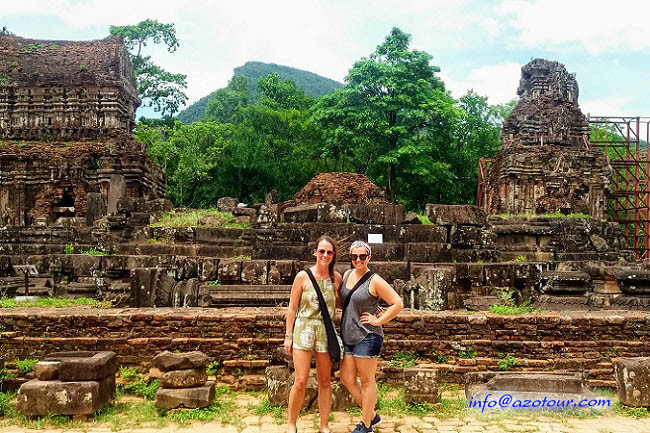 8.Try Da Nang's seafood
Seafood is usually considered a delicacy in Da Nang, the most beautiful seaside city in Vietnam's central area, thus you must certainly eat fresh seafood specialties when visiting Da Nang. It is the top pick for foodies who want to explore new things in Danang
You may not need to research the best seafood in here. Simply go to the seafood restaurant and allow them lead you to the greatest and freshest seafood for you to enjoy. It will not dissatisfy you with Danang Seafoods.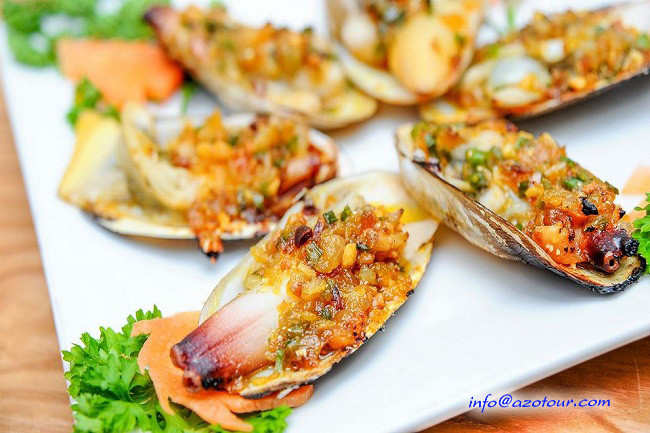 9. Marble Mountain and the Non Nuoc Stone Carving Village.
Marbler Mountain or Ngu Hanh Son, just like Ba Na Hills, is an excellent stop in Da Nang.
Ngu Hanh Son is about 8 kilometers from the city center, in Hoa Hai ward, Ngu Hanh Son district.
Nature bestows this beauty on Da Nang by combining five mountains or elements: Kim (Gold), Moc (Wood), Thuy (Water), Hoa (Fire), and Tho (Land).
Aside from its spiritual and cultural value, the Marble Mountains cave system is a mystical realm with a magnificent panorama for visitors.
Visitors that come to see Marble Mountain will be impressed by its beauty.
10. Ba Na Hills – Take a trip to Ba Na Hills.
Ba Na Hills is a well-known Da Nang attraction that you must see when visiting Danang Coastal City. It is 1,487 meters above sea level. Ba Na Hills, popularly known as Da Nang's "fairytale area," offers a fantastic environment with four seasons in a day and a magnificent natural beauty.
This is also the most luxury resort complex in Vietnam, including the majority of the entertainment, including The French Village, Golden Bridge, Le Jardin d'Amour Flower Garden, Wax Museum, and other unique and remarkable artworks that draw visitors to Ba Na Hills on a regular schedule.