Luon Cave - Ha Long Bay
Luon Cave (also called Tunnel Cave) is located on Bo Hon Island, near the well-known Supprise Cave, and is one of the smallest caves in Ha Long Bay, at around 60 m long, 3 m wide, and 2.5–4 m high. It is one of the best destinations for kayaking in Ha Long Bay and features on most overnight Ha Long Bay cruise itineraries such as: Silver Sea Cruise, Athena Cruise, Pelican Halong Cruise
Low tide in Luon Cave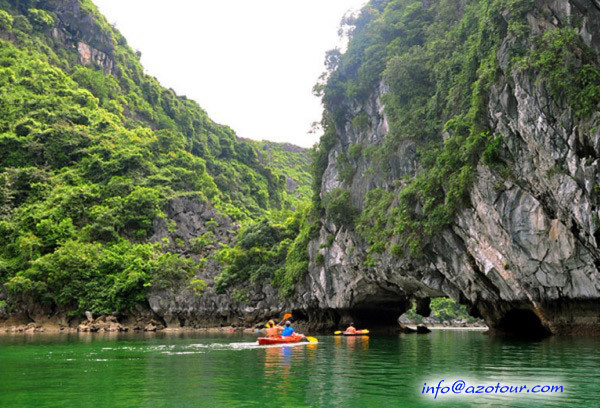 Luon Cave is made up of a group of limestone islands joined together encompassing a small lagoon in the center with a single wide arc-shaped entrance and exit, sometimes referred to as the sky gate, created by erosion over millions of years
Kayaking to Luon Cave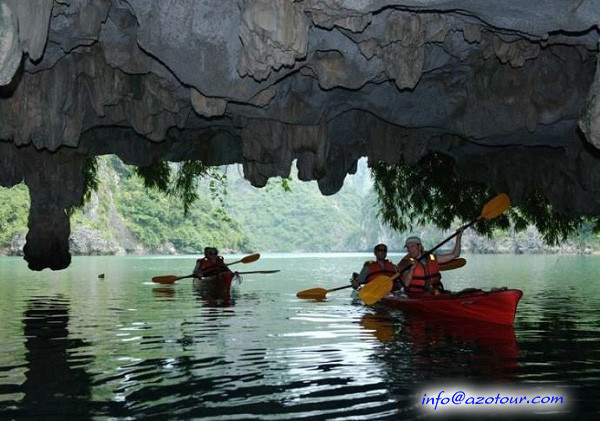 The cave is only accessible by boat and visitors can choose to join other guests in a sampan bamboo rowing boat rowed by a local villager, or explore the cave by themselves in a kayak. Once you row or paddle through the cave entrance and along the passageway, with wet sparkling stalactites hanging from the ceiling, it opens out into the small, tranquil grotto, surrounded by sheer limestone cliffs that are covered in lush greenery and beautiful orchids. The cave is home to an amazingly rich, diverse ecology, and the lake has an abundance of different species of fish, shrimp, squid, crab, and cuttlefish. Monkeys can often be seen climbing the cliffs.
Alternative choice with bamboo boat trip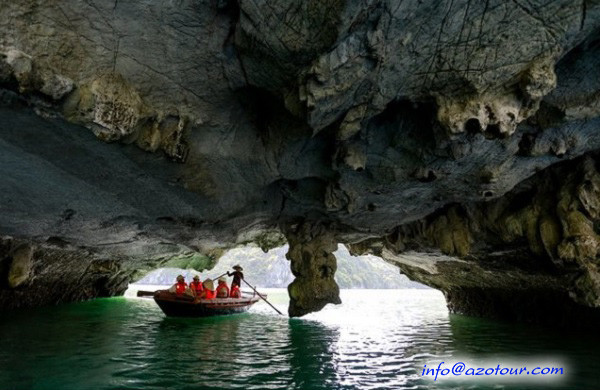 Luon Cave is one of the best places for exploring both the cave and the magnificent surrounding karst islands.
The Ha Long Bay luxury cruises offer a wide range of facilities and itineraries from day cruises to overnight cruises for 1, 2 or more nights. All the Ha Long Bay Luxury Cruises listed are rated 5-Stars on Tripadvisor.
The best Ha Long Bay Cruises that visit Luon Cave (Tunnel Cave or Luon Lagoon) include: Paradise Cruise Ha Long Bay; Dragon Legend Cruise Bai Tu Long Bay
Talk with AZOTOUR Vietnam, to plan for you an unforgettable trip to Vietnam & Asia