Vietnam | 10 best things to do in Hue
1. Take a visit of Hue Imperial Palace
If you've visited Vietnam's ancient capitals, such as Thang Long (Hanoi) and Hoa Lu (Ninh Binh), you'll notice that Hue Imperial Citadel in Hue City remains the most intact.
Hue Imperial Citadel is one of the historical relics in the Hue Monuments Complex, which has been designated as a World Cultural Heritage Site by UNESCO. Many distinct feudal imprints from the Nguyen dynasty can still be found in this location. Through palaces such as Thai Hoa Palace, Dien Tho Palace, Forbidden City, Ngo Mon Gate, Imperial Citadel, Museum of Hue Monuments, and many other interesting places, the trip will take you through the daily life of Vietnam's Nguyen Dynasty, which has served as King of Vietnam for over 100 years.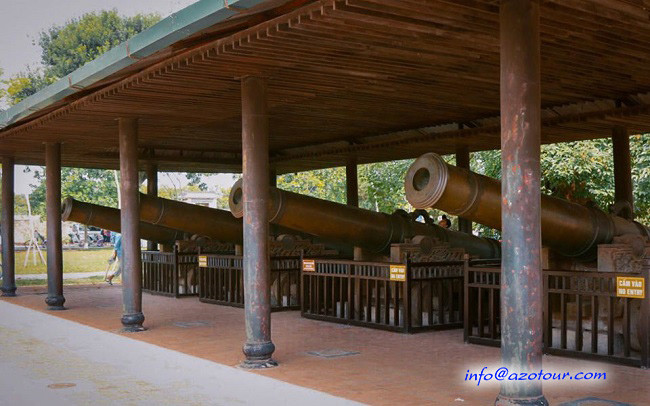 2. Visit the Nguyen King Tombs
Coming to Hue, tourists are drawn not only by the lyrical and poetic landscape, or the beautiful palace and delicious food, but also by the romantic features which is displayed in the gardens, temples, and pagodas, shrines, particularly the tombs Nguyen Kings' generation. The system of Nguyen dynasty tombs in Hue has an irresistible allure that makes anyone who visits Hue want to see it at least once. Because these tombs are not only a famous place but also a mark of cultural history and pride for the people of Hue.
In which, these are the most interesting tombs: Minh Mang tomb - the most majestic mausoleum, must be mentioned among them. Khai Dinh Tomb - the most majestic and luxurious, the beauty is a combination of Eastern and Western architecture. Tu Duc Tomb - the most beautiful mausoleum, with poetic and charming beauty because he was a poet at one time... This is also where he used to fish, recite poetry, and enjoy the beauty of nature.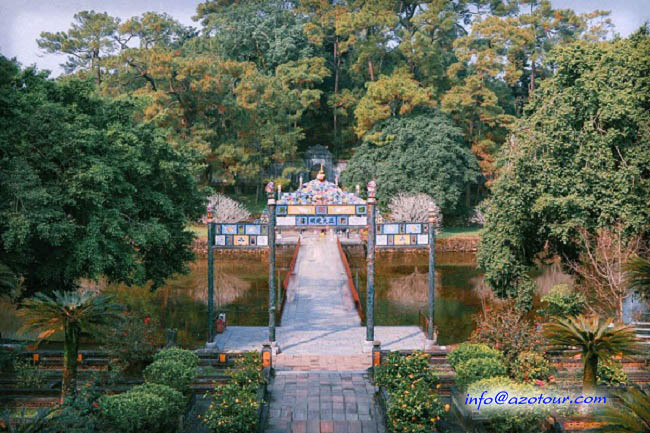 3. Visit Hue's Pagodas
Hue's pagodas are not only spiritually significant, but also a tourist destination that showcases the culture, history, and architecture of the ancient capital. Tourists who come to Hue for the first time should not miss the ancient and peaceful Hue pagodas nestled among the green and poetic nature, such as:
Thien Mu Pagoda, Hue's most famous temple, is situated on the romantic Perfume River bank. With ancient, massive, but pure architecture. Combined with fascinating experiences like taking a morning cruise, listening to Hue songs, watching romantic sunsets on Trang Tien Bridge, and then stopping at Thien Mu Pagoda, visitors will experience a rare sense of serenity, romance, and peace in today's hectic life.
One of Hue's must-see pagodas is the Tu Hieu Pagoda, which is nestled in a vast pine forest. Tu Hieu Pagoda is famous for its story about a son's filial piety to his elderly mother. Every New Year, Buddhists flock here to pray for their families' health and peace.
And Huyen Khong Son Thuong Pagoda is an other interesting pagoda too if you want to get away from the hustle and bustle of the city. The pagoda is 10 kilometers west of the city center, surrounded by green pine forests.
Visiting pagodas is a "must do" activity in Hue that you should add to your itinerary. It distinguishes Hue from any other city in Vietnam.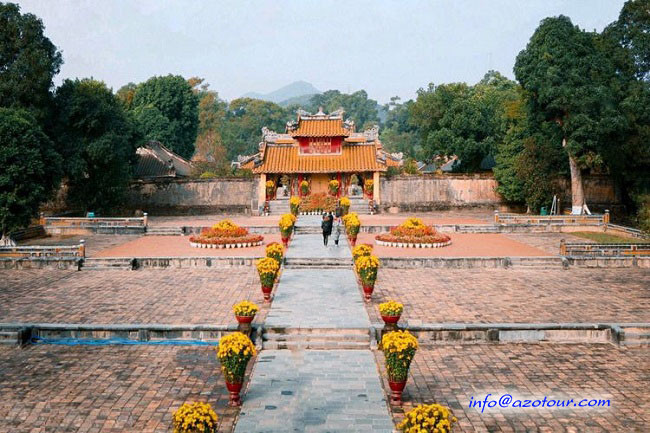 4.Take boat trip on Perfume River
Hue is the place of valuation and the lives of 13 kings of the Nguyen Dynasty. Therefore, it is not surprising that this place conjures many elegant and royal pleasures. Hue's people still maintain and preserve the elegant lifestyles and pleasures of the Nguyen Dynasty. One of the best and most common things to do in Hue is to drink Hue royal tea, listen to Hue songs, and take a boat trip along the Perfume River.
While other cities have built many amusement parks, entertainment centers, or modern 5-star resorts and hotels to attract tourists, Hue has kept its ancient and unique beauty.
A short trip down the Perfume River Bank, or even a boat trip down the Perfume River, will provide you with many special emotional points. Images such as the gentle and timid Hue girl with her sweet voice, Hue songs sung in the peaceful and poetic scenery of the Perfume River, are all unique. It will be an extremely enjoyable experience between different night trips and day trips, but take a short cruise on the Perfume River to soak up the lovely Hue atmosphere.
5.Try Hue Foods
Hue was the ancient capital of Vietnam's Nguyen dynasty, dating back more than 100 years. As a result, Hue cuisine is diverse, rich, and full of royal style. Hue specialties are still processed carefully today, but they are popular everywhere with reasonable prices, suitable for the majority of locals as well as tourists. The peaceful scenery, as well as the cuisine, will satisfy anyone who visits the period's land. When you eat Hue specialties, you not only get delicious and unique food, but you also get a sense of the city's enduring affection. Let's take a look at some of the best Hue dishes to try when visiting the ancient capital.
The first specialty in the book has to be Hue beef noodle soup, which has been described by both domestic and international press as one of the best dishes you should try at least once in your life.
Following that, mussel rice and mussel dishes in general are special delicacies that are flavorful and rich. You will taste the sweetness of the fried mussels as well as the crunchiness of the raw vegetables served.
On your Hue vacation, you should try roasted spring rolls. Served with grilled spring rolls, rice paper, and raw vegetables, and a bean dipping sauce. When you eat it, all of the flavors combine, and the sensation is indescribable.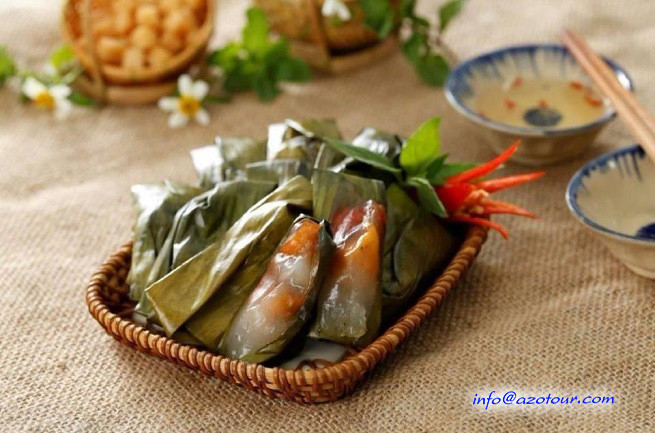 6. Immerse yourself in the Hue culture of "going to Dong Ba market."
At first glance, the Dong Ba market appears to be like any other market in Vietnam, but once discovered, the Dong Ba market truly deserves the moniker "Hue's quintessential market." That being said, it's a shame that tourists don't stop in Hue market to buy some souvenirs. Visitors begin their shopping experience by visiting Hue's fabric area to sew the Hue people's traditional Ao Dai. Then there's the handicraft section, which includes everything from the poetic hats of Phu Cam hat village to the scissors covered in green steel water of Hien Luong forging village and the sophisticated items of Ke Mon jewelry village. Phuoc Tich village's pottery is even more impressive, with braised clay pots, super potions, lime pots, jars, bowls of various colors, and so on. In this market, you can also find a variety of Hue cuisine dishes.
A stroll through the Dong Ba market will provide visitors with a comprehensive understanding of the cultural essence and people of the ancient capital.
7. Soak in the Thanh Tan Hot Springs
Thanh Tan Hot Spring Hue destination attracts thousands of tourists each year due to its hot mineral springs. Thanh Tan mineral water is thousands of meters underground and appears at a temperature of more than 60 degrees Celsius on top of a mountain. Thanh Tan Hot Spring contains calcium sulfate and silicium ions, both of which are extremely beneficial to the body. Albert Sallet, a famous French doctor, discovered it in 1928.
What gives Thanh Tan mineral springs their name is a peaceful space between thousands of trees and leaves; adjacent mountains are close together, making visitors feel relaxed and comfortable from the moment they arrive. It also offers services such as accommodation, restaurant, adventure game area, spa and massage area, and so on to meet all of your vacation needs. So don't be afraid to come here and "discharge" all your worries!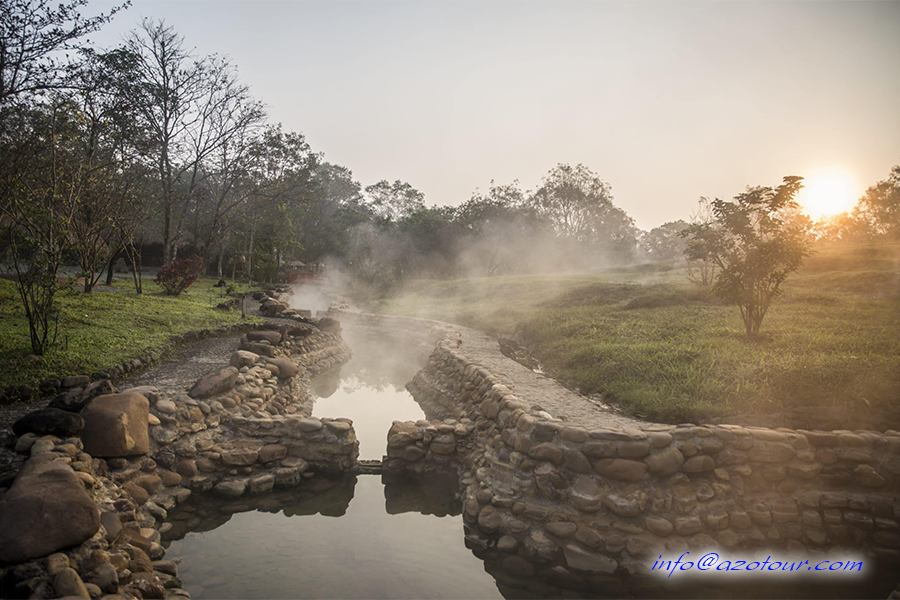 8. Cycle around the city
Anyone who visits Hue at least once wishes to ride a cyclo, walk around the magnificent citadel, or weave through the ancient alleys. Cyclo has long been linked to the ancient capital, and its history is full of ups and downs.
Although this type of cyclo service is available in many other cities throughout Vietnam, visitors from all over the world to the world cultural heritage of Hue should try it at least once to get a sense of being both leisurely and right in the magnificent capital. Cyclo takes us to every corner of Hue to experience more of the ancient capital's peace: strolling leisurely through the citadels to reminisce about a golden age or strolling on the suburban streets to "bathe" in the sweetness sounds of early morning squeaks, of ladies on their way to the market. Walking a cyclo in the rain to experience the ancient capital's quiet, melancholy beauty is also a unique and interesting experience for many people.
Be a local to experience a genuine Hue moment.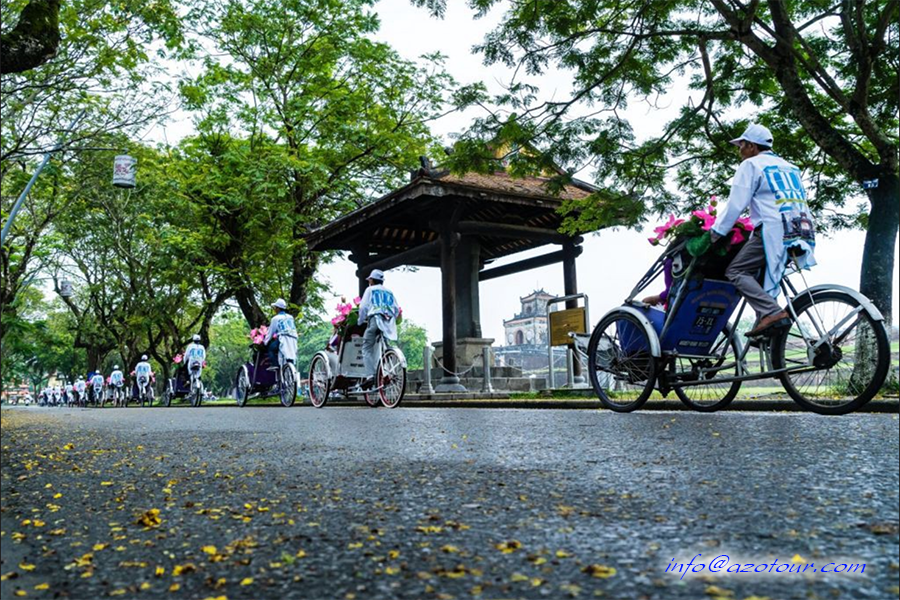 9. Walk across the Thanh Toan Bridge
Hue has long been known for its poetic beauty, cultural values infused with royal colors, cuisine infused with homeland flavor, and historical works. It is impossible to overlook the Thanh Toan tile-roofed bridge, which is nearly 250 years old and has seen many ups and downs.
Thanh Toan tiled bridge is a wooden arch bridge with a tile roof that spans a ditch in Thanh Thuy village, approximately 8 kilometers southeast of Hue. This is a rare wooden bridge that has the highest artistic value among Vietnam's ancient bridges. The Thanh Toan tile-roofed bridge was built in 1776 by a villager who donated money to the village in order to facilitate villagers' passage and provide a rest stop for travelers and expatriates.
Thuy Thanh Commune now holds a procession as part of the opening ceremony for the "Fairy Country Market" on the first day of each Hue Festival. The Hue Festival's "Fairy Country Market" is a cultural and tourism program.
Thanh Toan Tile Bridge has retained its rare, unique, and ancient beauty over the years. Visitors who visit the ancient bridge to admire the scenery will undoubtedly leave with many unforgettable impressions. Hello, Hue! Why is it so lovely, poetic, gentle, and lovely!!!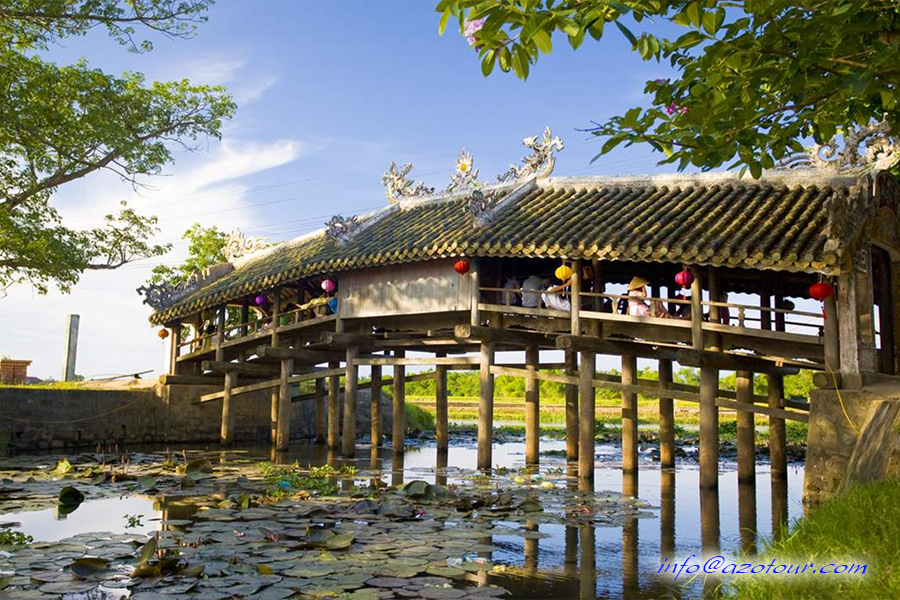 10.Visit the garden houses.
Exploring the golden citadel with historical ruins, visiting the pagodas, the family temple-church with ancient architecture, and enjoying Hue's exquisite cuisine are all reasons to visit the ancient capital. However, in recent years, Hue Garden House, with its harmonious combination of nature and old house architecture, has attracted a large number of tourists.
The garden house is a traditional Hue architectural form that consists of a wooden house and a surrounding garden that is designed according to feng shui with left-right, front-back, and all with supporting and shielding objects. The owner's art installation, a "garden hobby," is the delicate combination of the house and the garden.
From the history to the art of creating a garden house, An Hien is the most unique garden house in Hue. An Hien Garden House always exudes peace and lightness, from the tree-lined road on both sides to every architectural detail. Knowing about the legend of the name of the veranda and the thrilling stories contained therein, in addition to discovering the story of the house's owner, are also interesting things that visitors should experience when visiting Hue.