Tung Sau Pearl Farm - Ha Long Bay
Tung Sau Pearl Farm is the unique pearl farm in Ha Long Bay, established in 1995 by a Japanese company. The farm is located in a secluded bay surrounded by stunning limestone islands. It covers 30 hectares and has over 3,000 cages for growing cultured saltwater pearls.
The ship excursion on Halong Bay becomes more intriguing with the activity of visiting the Pearl Farm in the bay.
At the Tung Sau Pearl Farm, visitors can watch the whole painstaking process, from feeding and raising the oysters in underwater cages to harvesting the valuable seawater pearls, taking them out, polishing them, and making them into jewelry. In the processing room, you can see how the workers open and insert a tiny graft that will eventually grow into a Mother of Pearl. Then, watch the amazing skill of the artisan craftsmen as they take the original raw pearls and using traditional techniques and tools, transform them into perfect and extremely valuable pearls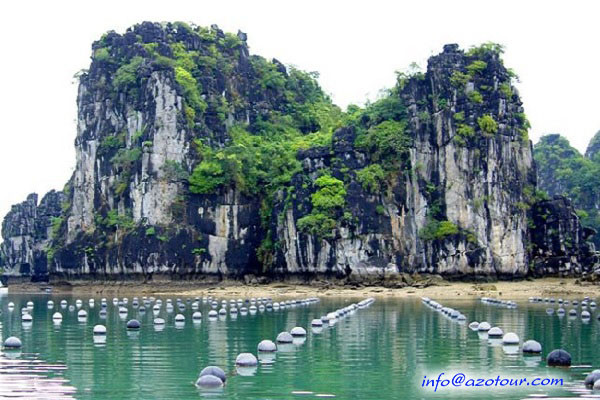 The cultured pearl techniques used are a blend of Vietnamese traditional, secret growing methods, and Japanese technology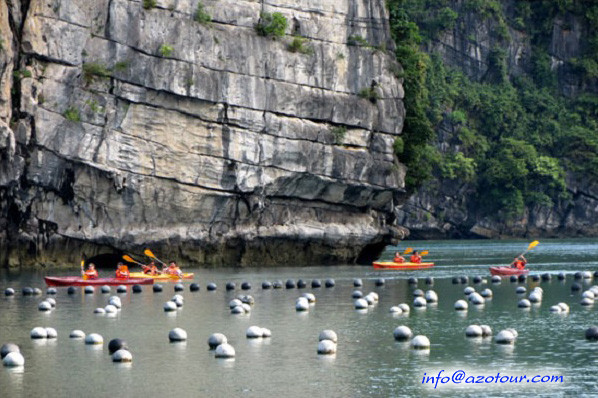 Guests can witness the entire painstaking process, from how they feed and grow the oysters in underwater cages to harvesting the precious seawater pearls, extracting, polishing, and transforming them into jewelry. In the processing room, you can see how the workers open and insert a tiny graft that will eventually grow into a Mother of Pearl. Then, watch the amazing skill of the artisan craftsmen as they take the original raw pearls and using traditional techniques and tools, transform them into perfect and extremely valuable pearls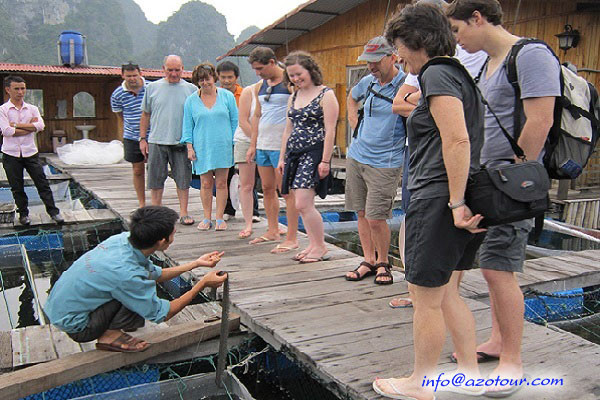 The Tung Sau Pearl Farm also includes an interesting presentation of the different kinds of pearls, such as Akoya pearls, Tahiti pearls, and South Sea pearls. Also, it explains the differences between each type, how long it takes to harvest, and the price differences.
Afterward, step onto a floating platform next to the pearl farm for a once-in-a-lifetime experience of dining right in the bay, savoring traditional style Vietnamese cuisine, surrounded by the soaring limestone karst islands and islets.
For the more affluent traveler, a wide range of handcrafted pearl jewelry is available to purchase, including pendants and earrings.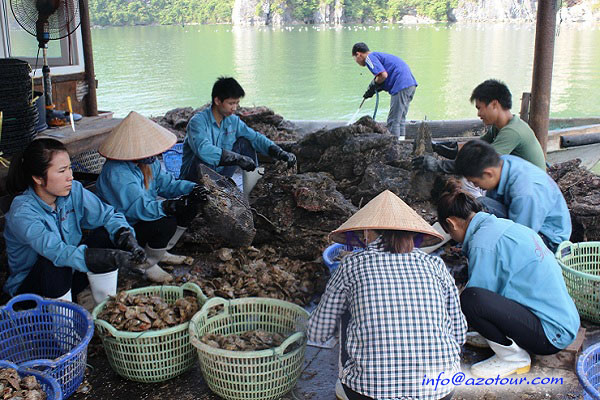 Tung Sau Pearl Farm attracts many mid to high-end tourists who join the 3-day Ha Long Bay cruises, including: Paradise Cruise Ha Long Bay; Dragon Legend Cruise Bai Tu Long Bay; Bhaya Cruises, Au Cruises, and Legend Halong Cruises.