Halong Bay, Vietnam | Things you need to know about Halong Bay
Halong Bay General Information
Halong Bay is located in Quang Ninh Province, about 170 km northeast of Hanoi (about 3 hours' drive from Hanoi).
The bay covers a large area of 1,553 km2 and has 1,600 limestone islands and cliffs, which have been forming for about 500 million years due to various environmental conditions and the influence of Halong Bay weather—the tropical, moist climate.
The water in Halong Bay is less than 10 meters deep in most places and is home to a diverse ecology of over 1000 aquatic animals. And the bay's islands are also home to species such as deer, mink, squirrels, monkeys, birds, lizards, and antelopes.
Halong Bay Vietnam was recognized as a UNESCO World Heritage Site in 1994 and again in 2000. It was also selected as one of the world's seven natural wonders in 2012, and it deserves to be at the top of your priority list when planning a trip to Vietnam. Several limestone islands have caverns and grottoes that almost all Halong Bay cruises will take their clients on their daily schedule
International visitors to Vietnam must normally take a Halong Bay tour on an overnight Halong Bay cruise or choose to stay in Halong Bay hotels if they want to participate in a variety of games at Sun World Park.
Halong is also a connecting point for visitors to easily plan to go to other nearby destinations, such as the Ha Long Bay from Hanoi, the Halong Cat Ba tour, the Ha Long Sapa tour, and so on.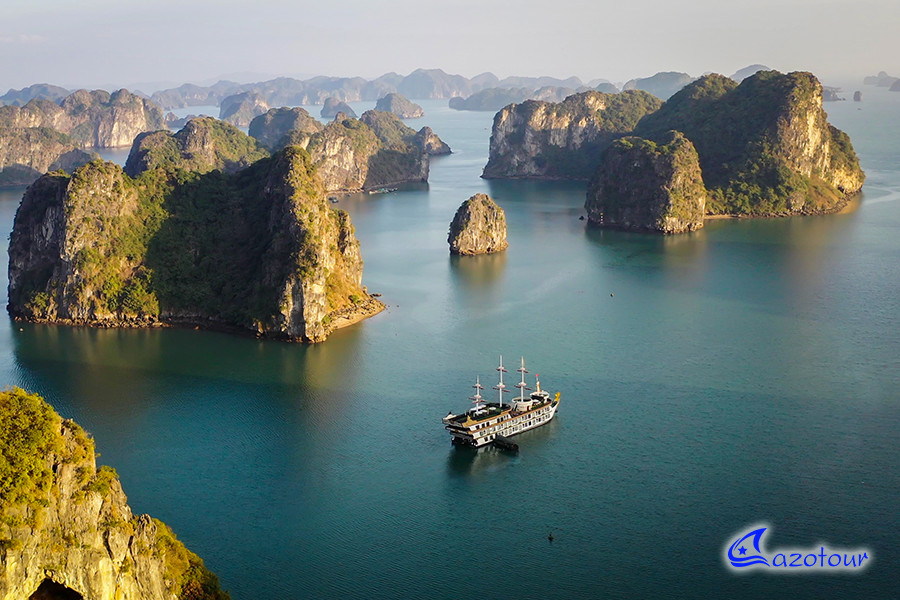 About Halong Bay name
Ha Long Bay's name directly translates to "Descending Dragon Bay," and it is related to several tales.
According to legend, when Vietnam was founded, the Vietnamese had to withstand attacks from the North Sea. Ngoc Hoang (the Jade Emperor) sent Mother Dragon and her children to aid the Vietnamese in their defense of their homeland.
The Mother Dragon and her youngsters burned their adversaries with their own fire and emeralds. Like dragons destroying Northern invaders, peace has returned to Vietnam. During the battle, emeralds from the dragon's odor are strewn across the sea to build a barrier wall against the enemy. The emerald wall changes into variously sized and shaped islands and islets, named Bai Tu Long Bay.
Mother Dragon and her children stayed on Earth, transformed into humans, and helped the Vietnamese people. And the location where the Dragon Family remained was named Halong Bay.
This legend is also linked to the commonly held belief that the Vietnamese are descended from dragons.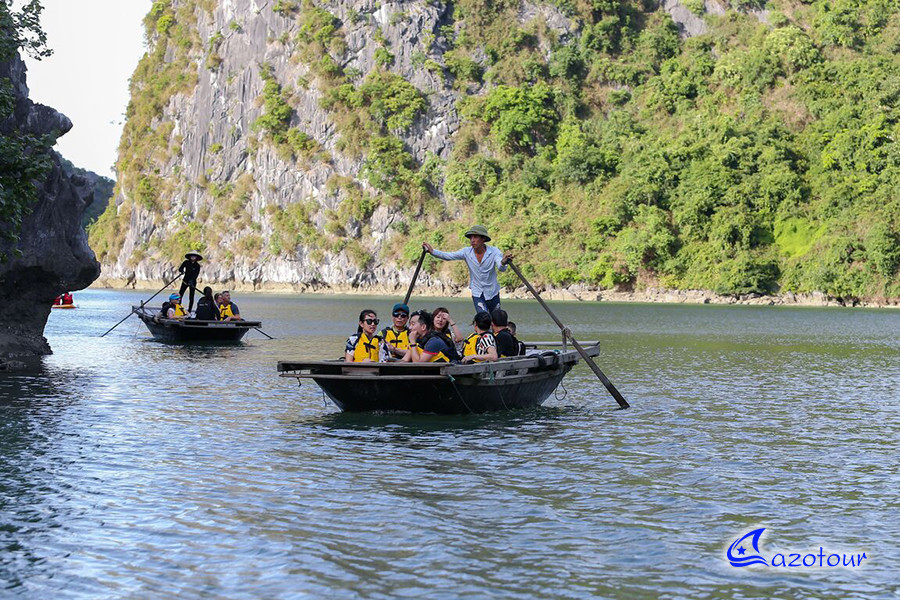 What factors contribute to the attractiveness of Halong Bay as a tourist destination?
Too many ideal conditions have resulted in Ha Long's standing as the most famous tourist city in Vietnam, inviting travelers to come and visit and shop year after year.
Ha Long Bay is located in Quang Ninh, Vietnam, just about 170 km from Hanoi, and can be reached in about 3 hours by car, minivan, or bus.
It is located about 120 kilometers from Quang Ninh's Van Don International Airport, making it more convenient to welcome international tourists to Halong Bay daily
Ha Long Bay, one of the world's seven natural wonders, has been a UNESCO World Heritage Site several times
Near the Hai Phong International Port, where enormous cargo ships from international trade go by sea to Vietnam's North
Bordering Vietnam and China, with favorable conditions for Chinese tourists and traders in both countries
This is also a spiritual tourism destination with 2 Vietnam's largest pagoda complexes, including Ba Vang Pagoda Complex and Yen Tu Pagoda Complex
A big point of the fresh seafood at Ha Long is a big draw for visitors.
How to get to Halong Bay from Hanoi
Ha Long is about 170 km from Hanoi and takes about 3–4 hours to reach by car.
Daily shuttle bus: Because Halong Bay is such a popular tourist destination, almost any travel company can take you there. Everything will be in order because the majority of the tour will be organized from Hanoi. When you book a Halong Bay tour, most cruise ships have shuttle buses that transport groups from Hanoi to Ha Long and vice versa.
The tourist will be able to admire the beautiful scenery of the Red River Delta on both sides of the road and will be able to stop for a rest once on the way to Ha Long. For boat trips, arrive at the Halong boat station around 12 p.m.
Pick-up point: Depending on the confirmed cruise, the group pick-up point will be provided when you book the service.
Individual vehicle: You can also arrange your own private car, taxi, bus, or other mode of transportation to Halong Bay, where you can rent a boat. A seaplane is also being considered. It is, however, quite expensive.
Please contact AZOTOUR Vietnam for more information on how to get to Halong Bay from Hanoi.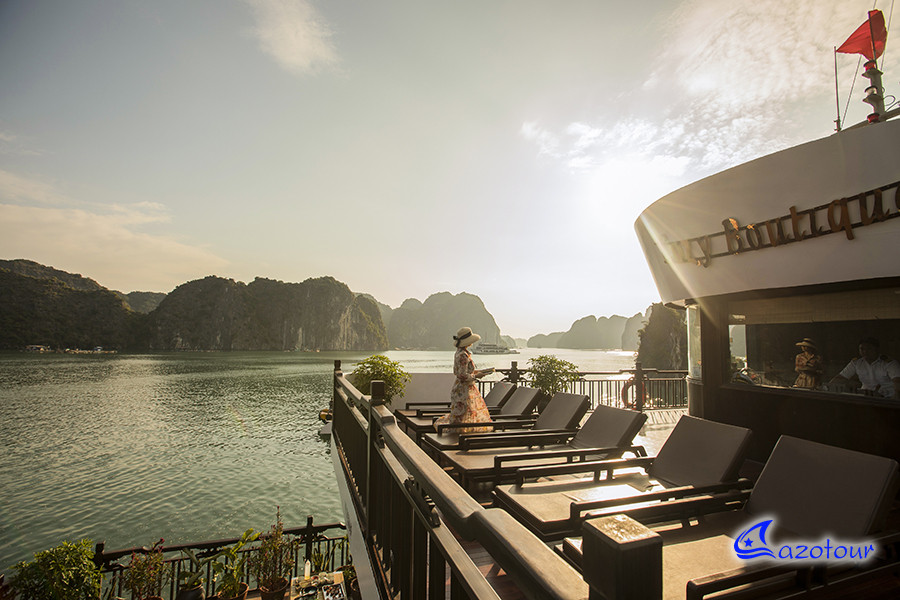 Halong Bay Weather - When is best time to go to Halong Bay?
Halong Bay is well-known for its natural beauty, but it is also supported by its climate, which has an annual average temperature of 23 °C, making it suitable for tourists to visit all year.
So, when is the best time to go to Ha Long Bay?
The months of January and February are not ideal for visiting because the weather is frequently chilly and foggy, making it impossible to see the stunning limestone formations. However, the weather is pleasant this time of year, and it is also a popular time for European tourists to visit Ha Long.
The months of March to May are ideal for visiting Ha Long Bay due to the pleasant weather. Immerse yourself in a breathtakingly gorgeous setting, taking stunning images of the blue sky, countless dry caves, and strange grottoes that form a fascinating scene. Everything will make your journey more enjoyable.
Summer in Halong Bay is frequently hot, humid, and muggy, with the possibility of rain, but there are good photographic conditions: a calm beach with blue water color and a clear view to enjoy a beach vacation.Tropical storms are also possible throughout this time frame.
The peak season for Vietnamese tourists in Halong Bay is also from June to August, when their children are on summer vacation from school. As a result, if you prefer peace and quiet, this is not the best time to visit. Otherwise, visiting Ha Long during the warmer months of May to August is also a fantastic option for keen photographers.
Nevertheless, from December to February, it can be chilly, foggy, and damp. But it has mild temperatures, calm seas, and it's not too busy because of the changing season, which is also a good suggestion for visiting Halong Bay.
Halong Bay attractions - How beautiful of Halong Bay all year round?
Ha Long Bay in the Tonkin Gulf has so many appealing spots that it has quickly become Vietnam's most popular tourist destination.
Every year, a large number of visitors come to Ha Long Bay to explore and enjoy the breathtaking scenery, caverns, and Ha Long Bay cuisine. It is a popular tourist destination with various spectacular sites such as Halong Bay caves Heaven Palace Cave, Thien Canh Son Cave, Dark & Bright Cave, or Ha Long beaches, Vung Vieng Fishing Village, the Yen Tu Pagoda Complex, etc.
Halong Bay in Vietnam has been designated as a UNESCO World Heritage Site in 1994 and 2000,
It was also selected as one of the world's seven wonders in 2009.
It's no surprise that the Halong Bay area is one of Vietnam's most popular tourist attractions, and it's something that everyone should do at least once in their lives.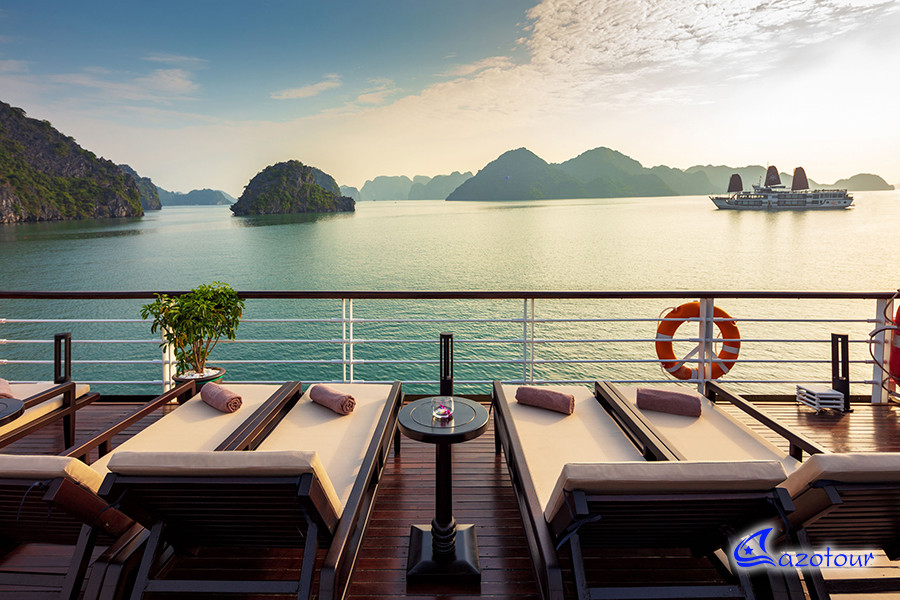 Hotels in Halong Bay
The World Natural Heritage Site of Ha Long Bay is well known both domestically and internationally. Because of the large number of tourists who visit Ha Long Bay each year, this location is appealing to many hotels and luxury resorts.
We also offer a reasonable price for hotels in Halong Bay, from a 5-star hotel or resort to a basic 4-star rating. We also provide regular 3-star hotels to customers looking for the best deals. For more information on Halong Bay accommodations, please visit azotour.com or send an email to info@azotour.com
Halong Bay Restaurants
Visitors to Ha Long are not only enjoy the bay's breathtaking scenery, but also delectable local delicacies.
The best thing about Ha Long Bay food is that it is available all year. Grilled squid, vermicelli noodles, clams, Austriella corrugata, Stomatopoda, and others Because the residents of this city can afford high-quality materials and serve a large number of international tourists on a daily basis, the chef's skills in preparing European and Asian dishes are thought to be more advanced than in other cities. This means you can enjoy the delicious food in any Halong Bay restaurant.
It could be argued that Ha Long Bay's nature and ecology have produced unique items; however, you can only enjoy them when visiting the area. So, what are you waiting for to go to Ha Long and experience it for yourself? I am confident that you will be astounded by nature's natural beauty and culinary culture.
How do I book a service on the Halong Bay Cruise Tour?
We'll go over the various types of trips you can book in terms of duration, itinerary, budget, and standards in the sections that follow.
You can book a full tour package online before you fly to Vietnam to make sure you get the best service. AZOTOUR Vietnam also offers a variety of tour services online. A small deposit is required, with the balance due when you take the tour. Visit our website to find out more about Halong Bay cruise packages.
We also recommend a number of reasonably priced services that make it easy to visit Ha Long Bay from Hanoi or elsewhere. The recommendations are based on numerous positive reviews from our clients' experiences and those of other people, as well as your demands.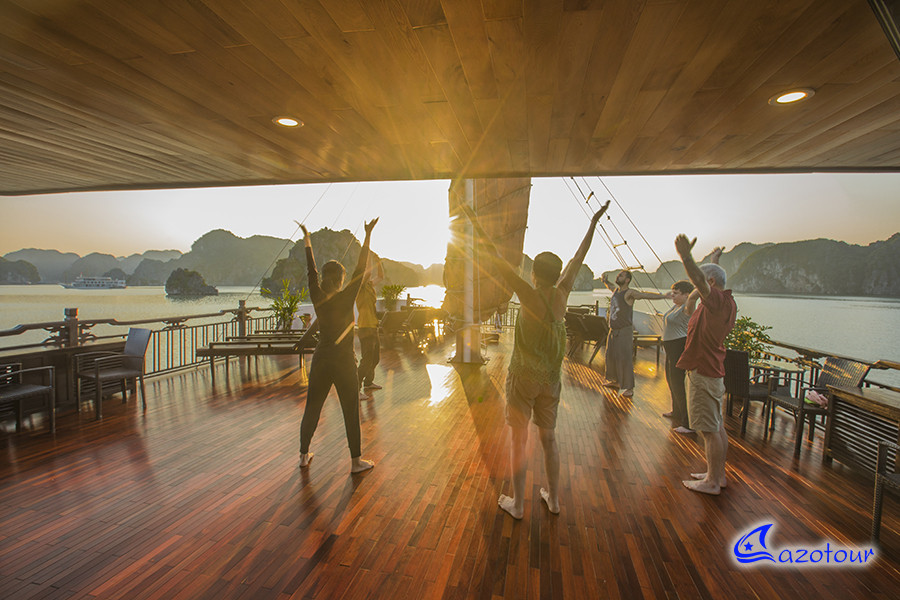 A Halong Bay Day Cruise from Hanoi
There are numerous Halong Bay tour options, ranging from Halong Bay day trips from Hanoi to an overnight cruise on the bay, depending on your schedule and budget. You can also book a hotel on Cat Ba or Tuan Chau Island or stay overnight in Halong City if you want to see the city's night market or or do more activities.
A popular suggestion for a Halong Bay tour ranges from a day cruise to an overnight cruise. Some of our clients will choose a one-day cruise on Halong Bay due to time and budget constraints, but they will still receive full sightseeing, as on the sleeper boat. However, if you want to truly enjoy Halong's beauty, an overnight cruise trip is a worthwhile suggestion, which is one of those one-of-a-kind vacation experiences that you won't find anywhere else.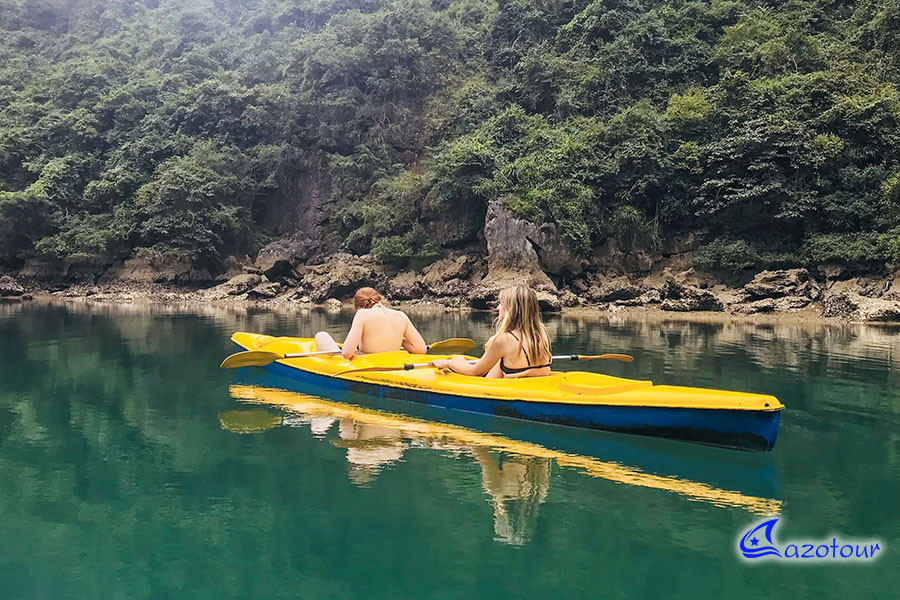 How about Halong Bay Overnight Cruise Tour?
Taking a Halong Bay cruise for a 2 day 1 night or 3 day 2 night tour is truly determined by a variety of factors, including how deeply you want to see Halong Bay, how comfortable your tour is, or how you can adapt to the bay without comfort, and how much money you have. Of course, having two nights gives you more activities for your itinerary.
Consider kayaking, island hiking, cave exploration, boat sleeping, and island sleeping. Some people also take a 3 day 2 night tour and choose to stay one night on the boat and the other on Cat Ba Island for more experience of their journey.
There are a variety of options available, from 3 star cruises to 5 star cruises, from Halong Bay to Bai Tu Long Bay or Cat Ba Island, and from 100 USD to 500 USD per passenger; let us know your requirements and we will meet them.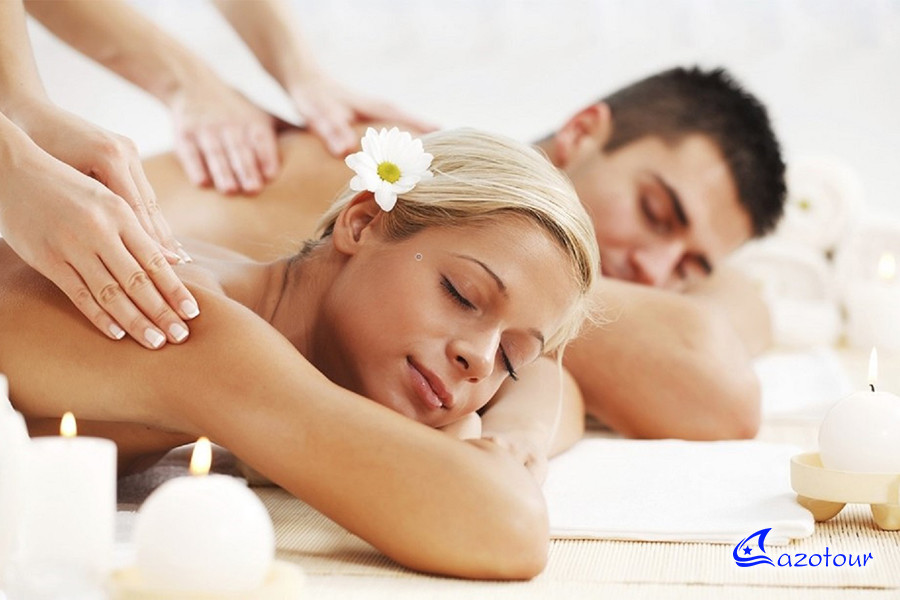 Luxury Cruise Halong Bay Tour or Budget Halong Bay Tour?
As the first saying goes, "Travel according to your demand and budget," so deciding which option is best for you is entirely dependent on your plans and budget. But if you're flying from home to Vietnam and want to give yourself a gift for the duration of your trip, let's make it Halong Bay in the luxury one.
There are too many beautiful tourist destinations and services in the north of Vietnam, but let's take a break, relax, and treat ourselves to Halong Bay with a good bed, beautiful scenery, delicious food, and a pleasant swimming pool.
That is why, instead of saving money for other things, you should take a luxury Halong Bay Cruise trip
Of course, if you just want to see Halong Bay with a standard cruise service, we have plenty of options for you.
Just contact us right away for the best vacation in Halong Bay