Vietnam | 15 best things to do in Phong Nha Ke Bang
Overview of Phong Nha - Ke Bang National Park
Phong Nha - Ke Bang National Park, located in Quang Binh province and about 45 kilometers from Dong Hoi city center, is one of the most important and largest conservation areas in the country. The garden is divided into two sections: Phong Nha Cave, the first cave discovered here, and the majestic limestone mountain system of Ke Bang.
Coming here, you will feel lost in a wild, mysterious world with over 300 large and small caves; ancient rocky mountains hundreds of millions of years old; underground river system, diverse flora and fauna; unique and unique ancient Champa culture, adventurous activities.
Phong Nha - Ke Bang has been designated by UNESCO as a World Natural Heritage site, making it a popular destination for both domestic and international visitors.
1. Take a visit Phong Nha Cave (is also know as Dry Cave)
Phong Nha, also called as "Nam Thien De Nhat Dong" (it means The Most beautiful cave of Vietnam), is the most typical scenic spot in the Phong Nha National Park
You will travel down the Son River, through clear blue water, to the mouth of a cave up to 10m high, where you will begin your journey to explore the nearly 8,000m long Quang Binh cave system, which includes 12 large and small caves.
The sparkling golden sands, clear blue underground lakes, and especially the magnificent stalactite system, which are true works of art, will not surprise visitors. From the water cave to the dry cave, every detail in Phong Nha cave was created by the hand of creation over hundreds of millions of years. It's as if you've gotten lost in a fantasy world.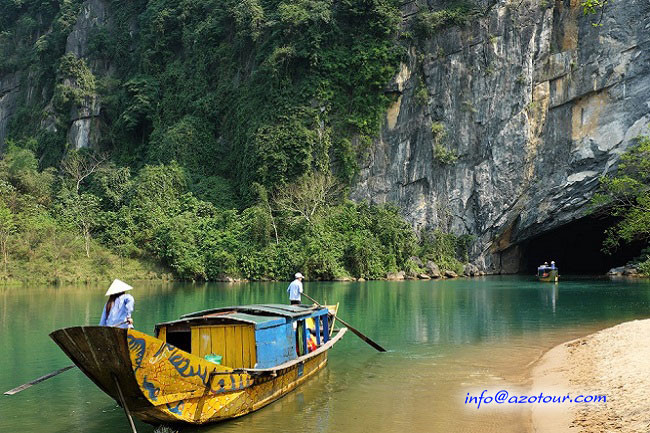 2. Trekking trip along Mooc Spring
Suoi Nuoc Mooc is a tourist destination located in the heart of a green valley on the banks of the Chay River, surrounded by towering limestone mountains. Visitors can enjoy water sports such as boating, fishing, swinging, and swimming in streams, in addition to the natural beauty of this location.
You must "take" a series of virtual live photos with an extremely natural background while having fun to impress your friends.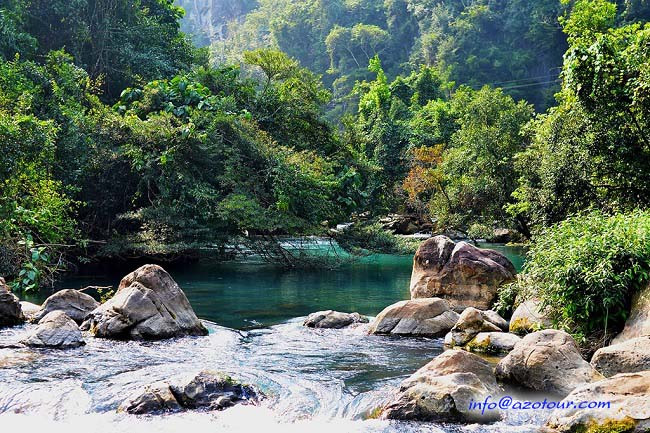 3. Visit Paradise Cave
Thien Duong Cave (or Paradise Cave) is in the heart of a 31.4km long ancient limestone mountain complex surrounded by virgin primeval forests. You'll take a tram from the entrance to the mountain's base, then climb 524 steps to the cave entrance. Following the wooden steps, you will be surprised by the varied beauty of the stalactite system here.
Under the modern lighting system, stalactite blocks of various shapes, such as unicorn statues, the Lien Hoa tower, communal houses, and terraced fields, become shimmering and fanciful. Don't forget to visit Gieng Troi, where the light shimmers and the place is known as Heaven.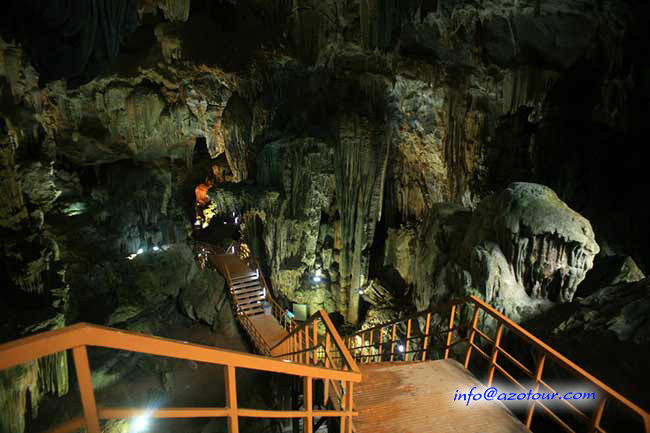 4. Ozo Park
Ozo is an ecological park with the most spectacular tree game system in Vietnam, built right in the national park. Visitors can stroll across wooden bridges in the heart of the pristine primeval forest, relax in the green space, and play in the cool Ozo stream.
You can't miss the thrill rides in the trees, the challenge of kayaking, sup, or even more fun canoeing down a 999m waterfall!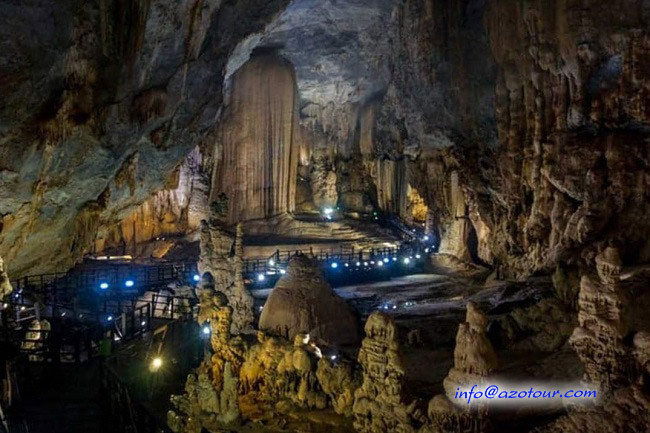 5. Vung Chua - Yen Island
It's about 60 kilometers north of Dong Hoi and 10 kilometers south of Great Pass (Deo Ca). Vung Chua-Yen Island is a beautiful landscape in Quang Binh with a long history.
Visitors are also drawn to Vung Chua's picturesque scenery, which includes views of the sea and ships sailing away. The protruding Yen island can also be seen in the distance.
Vung Chua-Yen Island is located in Tho Son village, Quang Dong commune, Quang Trach district, 7 kilometers south of Ngang Pass (Quang Binh). Vung Chua is a tranquil and poetic beach in the distance. Yen Island, which acts as a screen in the sea, creates the charming landscape.With the terrain is described as "dragon scrolls, tigers' sit", General Vo Nguyen Giap chose
Vung Chua-Yen Island for his final resting place. As a result, this sea became a spiritual tourist destination, with visitors traveling from all over the world to offer genuine incense to General Vo Nguyen Giap.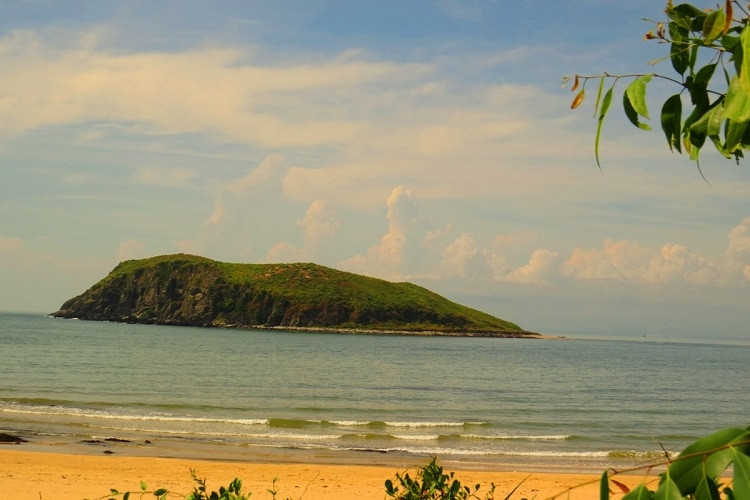 6. Swimming at Nhat Le Beach
Nhat Le Beach is located next to Truong Phap Street, right at the mouth of the Nhat Le River, about 1 km from the center of Dong Hoi City. Nhat Le beach has been blessed by nature with white sand, clear blue sea, and unspoiled beauty that has remained untouched by humans. Indeed, Nhat Le beach is a fantastic resort that is a must-see for anyone visiting Quang Binh.
With its poetic sand dunes and gentle crashing waves, the scenery will be breathtaking if visitors come here in the morning or late afternoon, especially with the changing colors of the sea and sky. If visitors come to Nhat Le beach in the summer, they will be able to cool off, listen to the sound of waves crashing in the wind, sound of heaven and earth here on earth, so peaceful and passionate about people. In the afternoon, after swimming, you can unwind with a cold beer and fresh seafood dishes.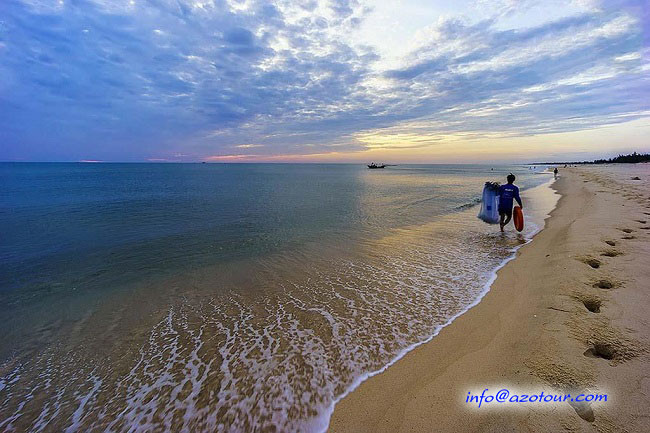 7. Chay River - Dark Cave
The Chay River - Dark Cave eco-tourism area is exploited by Phong Nha-Ke Bang National Park, combining activities of exploring the nature of rivers and visiting mysterious caves, making visitors feel like they are lost in the wild between the mountains. the beauty of the natural world.
The Chay River, which flows from the overlapping limestone mountains in the ancient limestone area of Phong Nha-Ke Bang, has a length of about 10 kilometers. The journey to Chay River-Dark Cave usually begins with a boat ride down the Chay River, which is lined on both sides with green corn fields and ancient trees that reflect in the water.
Boat to the Dark Cave area, which includes both a water cave and a dry cave totaling 5,258m in length. There is a pristine scene inside the Dark Cave with thousands of stalactite columns of various and distinct shapes. The stalactites in the cave are not spectacular, but the layers of golden stalactites flowing from the ceiling to the cave's foot create an association with the golden stream pouring down from above, filling visitors with awe.
At the end of the cave journey, clients can relax in a natural mud bath, making the trip unforgettable.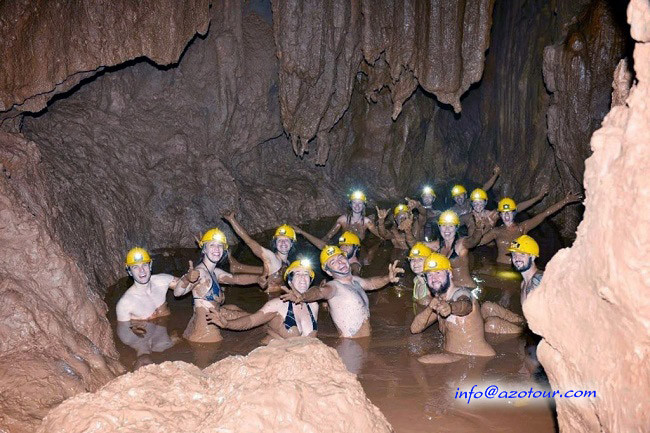 8.Trekking trip in Phong Nha Ke Bang National Park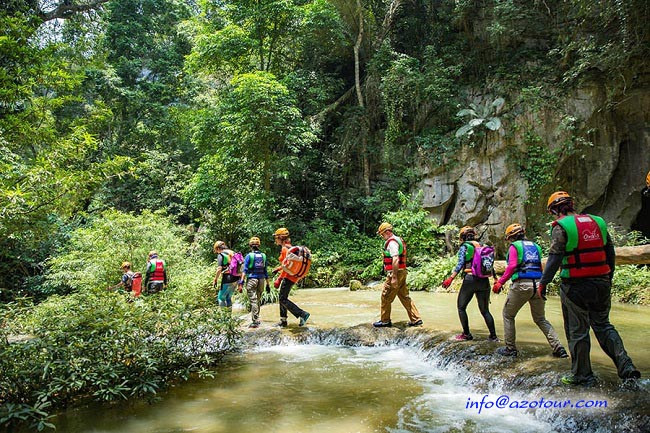 9.Trekking trip to Son Doong Cave
The British Royal Cave Association explored Son Doong, the world's largest and most beautiful cave, in 2009. The cave is 150 meters high and 200 meters wide. It's difficult to find the right words to describe Son Doong's beauty and majesty. Perhaps it's just "incomparable"...
To conquer the beauty of Son Doong, you must have rainforest survival skills, be well trained to climb mountains, have high-level jungle skills, great survivability, and know how to use specialized tools.
You must spend nearly a day in the dense jungle before entering Son Doong. Porters will accompany the expedition to Son Do Cave to help with carrying luggage, tent setup, and meal preparation. The Provincial People's Committee has currently authorized the use of two types of tours: Each tour has a maximum of 8 visitors and lasts 7 days and 6 nights.
The experiences you will have at Son Doong Cave will undoubtedly be unique: 'The fog is always present and covers this area; here, there are separate climatic conditions from the outside.' Fossil corridors are appearing here, demonstrating that life existed in caves millions of years ago."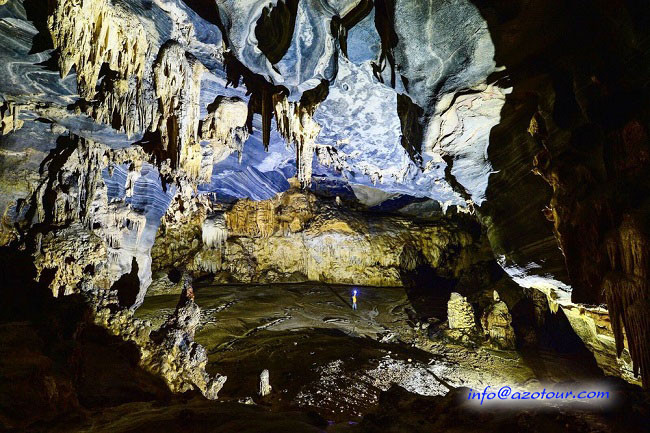 10. Rao Thuong - Hang En Trekking
Rao Thuong - Hang En (En Cave) is an extremely appealing nature discovery tour at the Phong Nha-Ke Bang Heritage site, with immense primeval forests, poetic natural landscapes, a 400 million-year-old karst system, and primeval forests. The birthplace stretches as far as the eye can see, with many large trees 30 to 40 meters tall, with a diameter of several people hugging and watching many wild animals such as douc langurs, civets, and monkeys.
Find the beautiful En Cave, where thousands of flying swallows, strangely clear blue streams, and unforgettable nights in the forest live...
And learn about the isolated life of the Van Kieu ethnic people in Doong village, where people live in the heart of the Phong Nha-Ke Bang National Park core zone, dominated by honey mining and farming. The village was once chosen as a rest stop by the British Royal Cave Association.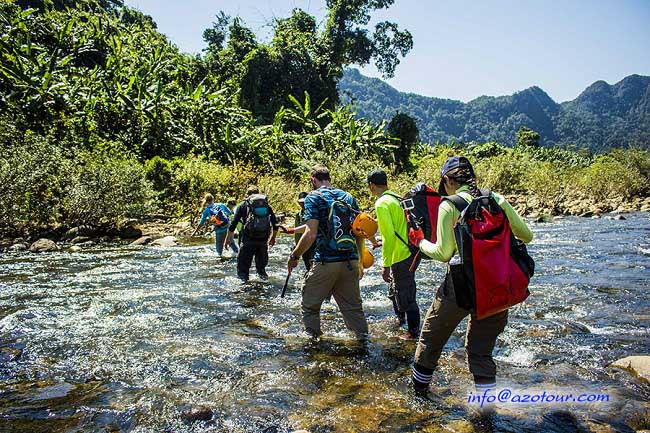 11.Tu Lan Trekking Trip
The Tu Lan cave system is located on the historic Ho Chi Minh Trail, about 70 kilometers northwest of Phong Nha-Ke Bang National Park, near Tan Hoa commune, Minh Hoa district, Quang Binh province.
Tu Lan is a mile-long cave system deep in the Quang Binh province's dense forests. Tu Lan, unlike other well-known and popular tourist destinations like Phong Nha-Tien Son cave and
Thien Duong cave, challenges nature lovers with a trekking journey to find beauty along the way, with the majestic, poetic, and wild landscapes of the Earth's many years of creation; conquering steep mountain slopes and crossing cool streams in the blazing sun; and passing the test of yourself, where each person faces their own challenge.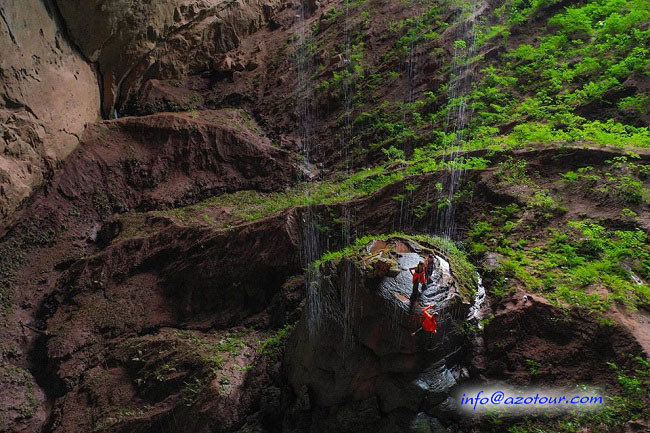 12. Bai Da Nhay Beach (Rocky Jumping Beach)
Ly Hoa Pass, a tourist attraction in Quang Binh, is located along National Highway 1A, approximately 23 kilometers north of the Quang Binh's provincial capital. At the foot of the Ly Hoa Pass, which borders the sea and mountains, is a rocky beach with many large and small rocks, high and low. When there is a wave, the rock resembles large toads jumping on the waves, making various murmuring sounds. Perhaps this is why the beach's distinctive features were given the name "Da Leap"
This area is well-known for its beautiful pristine beaches as well as unusually shaped rocks and caves. The water in the sea is clear, and the sand is fine white.
Within one day of visiting Da Nhay Beach in Quang Binh, visitors can participate in a variety of recreational activities such as boating, climbing, hunting, walking in the poplar forest, relaxing, and swimming in the cool, clear water with gentle waves, and eating a variety of delicious seafood such as shrimp, fish, crab, squid, snails, and so on...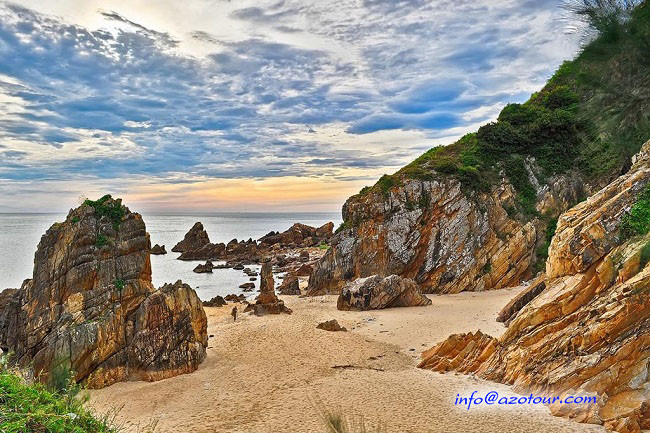 13. Dong Hoi City
Dong Hoi City, on the banks of the Nhat Le River, is an economic, cultural, and political center that combines the characteristics of rivers, the sea, mountains, and forests, as well as many poetic and charming landscapes and historical and cultural relics. Dong Hoi residents are straightforward and friendly. All of this contributed to a charming and peaceful Dong Hoi. Tt is an ideal stopover on the way to discovering Quang Binh.
Nhat Le beach is wild and beautiful, with plenty of open space, rolling waves, clear blue water, iridescent sand inlaid with silver, and a clean tourist environment. Quang Phu Beach, nestled beneath endless green casuarina groves, is more peaceful and quiet.
Tourists, in particular, can explore a land rich in culture, history, and heroic revolutionary tradition. Visit the Bau Tro archaeological site, the citadel of Dong Hoi, Quang Binh Quan, Tam Toa Church, the Mother Sut monument, and Luy Thay... participate in the Vu Lan ceremony, pray for the seasons, enjoy folk dances, and eat traditional Quang Binh cuisine
14. Go trekking at Botanical Garden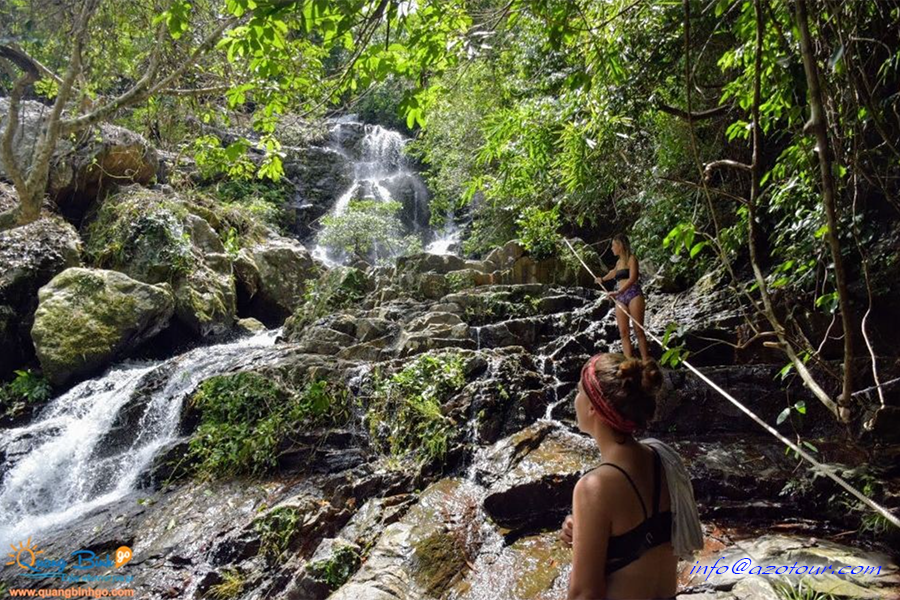 15. Visit Tien Son Cave