Vietnam | 10 best things to do in Mekong Delta
The Mekong Delta is well known for its extremely liberal waterfront life, complete with stork-winged rice fields, lush orchards, and extremely friendly and open-minded locals. In addition to visiting rice fields, visitors to the Mekong Delta can enjoy tasty fruits, tour orchards or fish farms, visit floating marketplaces and villages, cook with locals, or work as a craftsman in one of the numerous traditional craft communities.
Here is a comprehensive list of the top activities in the Mekong Delta.
1. A boat ride on the Mekong River
The best way to explore the Mekong Delta is on a boat tour that zigzags through the waterways. Under the shade of coconut trees, you will have beautiful views of lush orchards, rice fields, and tranquil and shady local housesou will have beautiful views of lush orchards, rice fields, and tranquil and shady local houses. Along the way, you can stop at different places to see local workshops that make coconut candy rolls, vermicelli, handicrafts, small villages, or fruit trees.
There are quite a few types of water transport known collectively as "boat trips" here. On larger rivers, motorized slides are used to cover longer distances. In the smaller canals, visitors can paddle a traditional sampan rowed by locals while rowing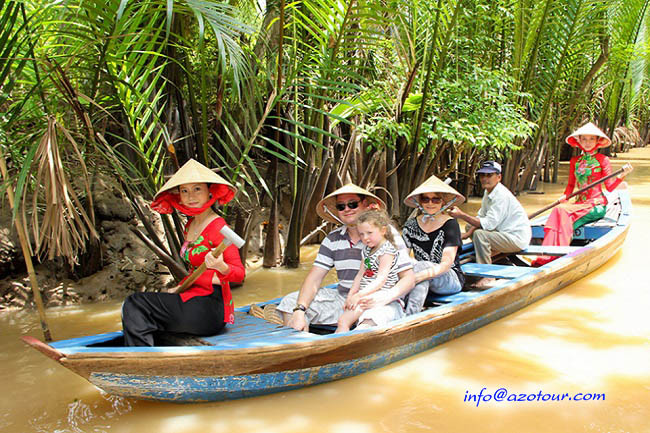 2. Local Floating Markets
The floating market is a collection of market people who live on the river and distribute and sell local goods on their boats on a regular schedule.
During both the rainy and dry seasons, the Mekong delta is full of canals and a wide range of crops.Farmers and growers will carry their food directly from their houses or from the homes of other farmer families and load it directly into vessels alongside them to sell and transport it to other major cities.
Although the Mekong Delta's floating markets are mainly a tourist attraction, they are also a way of life and a source of entrepreneurship for the locals. As a result, a floating market is a gathering place for dozens, if not hundreds, of boats.
The floating market is a sight to behold, and visiting it is one of the best things to do in the Mekong Delta.
Can Tho's Cai Rang floating market is the largest and most well-known. Clients may also be interested in visiting the floating marketplaces in Cai Be, Long Xuyen, Phong Dien, and Tra On.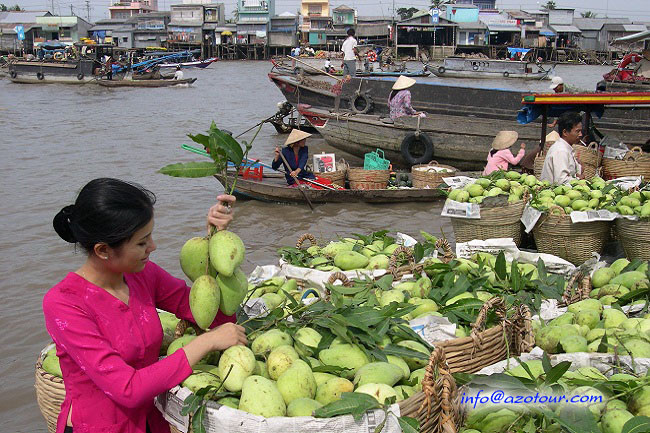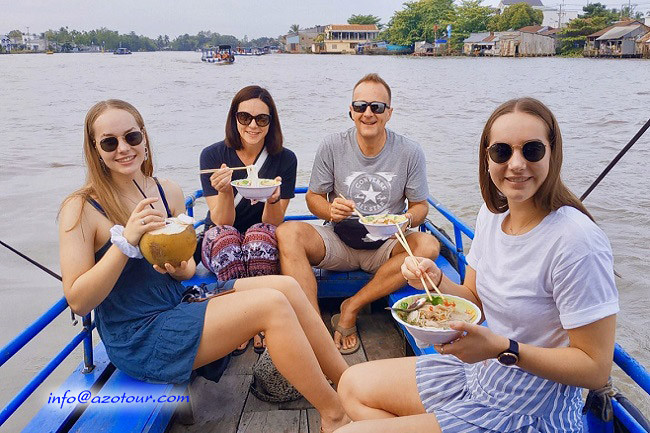 3. Ride your bike down the Mekong.
The Mekong Delta is known for its huge waterways, most notably the Mekong River, as well as its wealthy and peaceful areas.
In the Mekong Delta, there are many highways that connect all of the towns, small factories, rice farms, and orchards.
Furthermore, there is little traffic on these rural roads, with the exception of small and convenient motorboats on rivers, tuk-tuks, and bicycles. This location is the great spot in Vietnam for cycling because of this complete combination
Bicycles are available for free at the vast majority of rural accommodations. You can go alone or with a local guide. In any case, you will love the magnificent scenery, pleasant people, and peaceful roads. Because of the numerous rivers and canals, it is possible that you may have to take a ferry or use bridges built by the locals to cross the river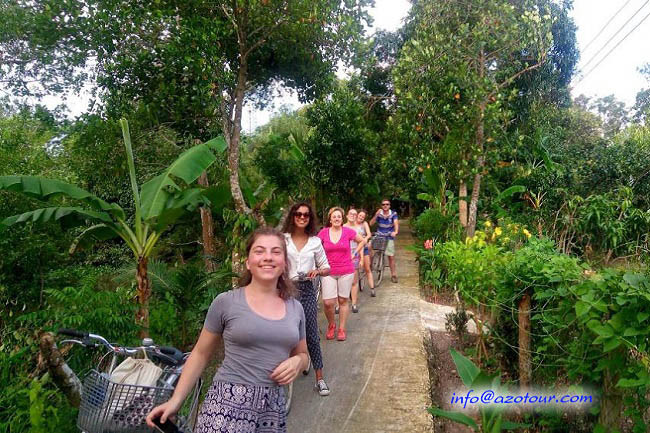 4. Tra Su Indigo Forest
The Tra Su Indigo Forest is one of the most interesting places to visit in the Mekong Delta.
You will witness not only villages and farmland, but also vegetation and fauna that is unique to this region. A completely flooded forest with numerous unusual kinds of animals, some of which are on the endangered species list, may be found here. A motorboat allows you to travel through the forest. You can take stunning shots and spot birds along the way.
For a long time, the The Tra Su Indigo Forest has been one of the most notable attractions, enticing visitors prior to their journey to the Mekong Delta.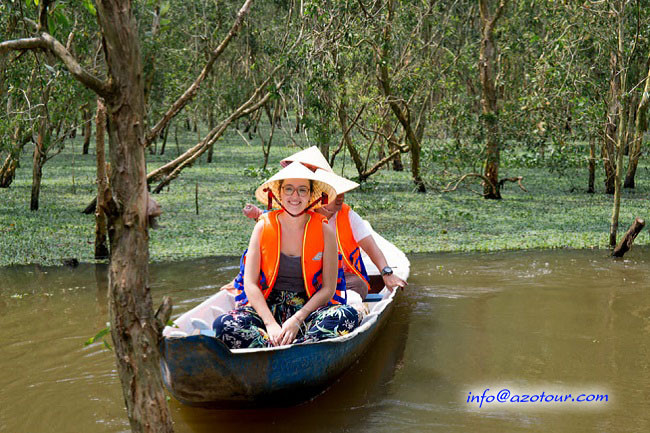 5. Experience an overnight stay in a Mekong Delta homestay.
In the Mekong Delta, homestay services have become more popular in recent years because the area is quiet and there are lots of safe and fun things to do outside.
Spending an entire day at a Mekong Delta homestay is the perfect way to relax and enjoy a quiet life while learning about the local culture.
A homestay has the distinct advantage of being a more personalized experience. Spending time with a local family to learn more about their culture and lifestyle and talking with friendly people will make your life more colorful. You don't have to worry about a lack of comfort because some homestays offer a variety of amenities, including a swimming pool.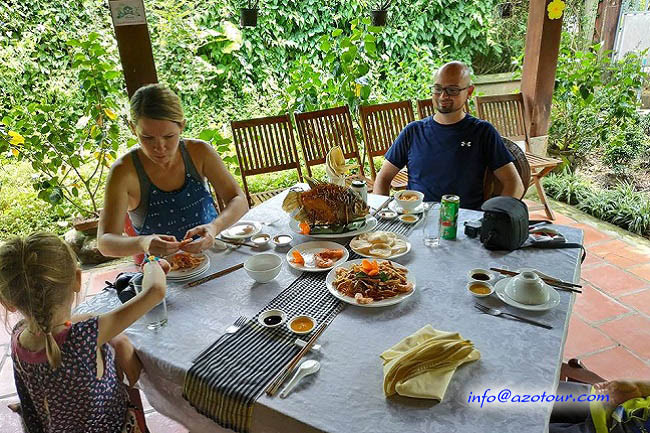 6. Tram Chim National Park
Tram Chim National Park is one of the best national parks in Vietnam and a biological treasure house, home to one-fourth of the country's bird population.
Bird-watching is already one of the most enjoyable activities in the Mekong Delta because there are so many uncommon species here and so many protected spaces for them to live. The national park is located in the province of Dong Thap, between Chau Doc and Long Xuyen. The area is a submerged on-land habitat that can only be accessed by boat.
Come in the afternoon to see a variety of birds; it will always be one of the highlights of your trip to the Mekong Delta.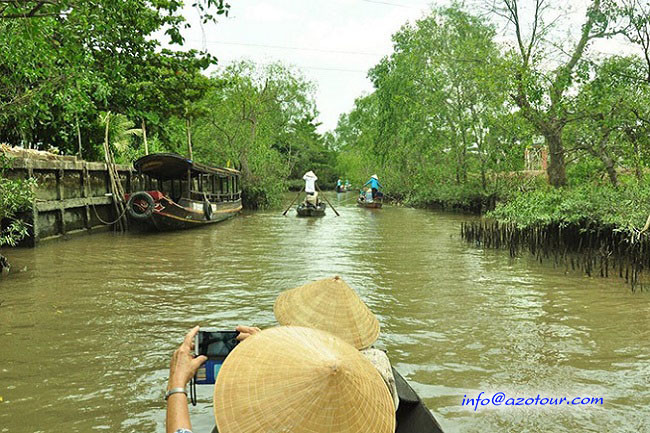 7. Tour of a Fruit Garden
The Mekong Delta is considered to be the country's greatest fruit plantation. It contributes more than 70% of the fruit consumed by every Vietnamese people, and there are numerous fruit fields across the Delta's different provinces.
A fruit garden specializing in one species of agricultural product such as mango, jackfruit, rambutan, dragon fruit, mangosteen, and many other appealing seasonal fruits can be found here.
You can stop at a fruit orchard while touring this area by bike or boat and pick your own fruit to eat.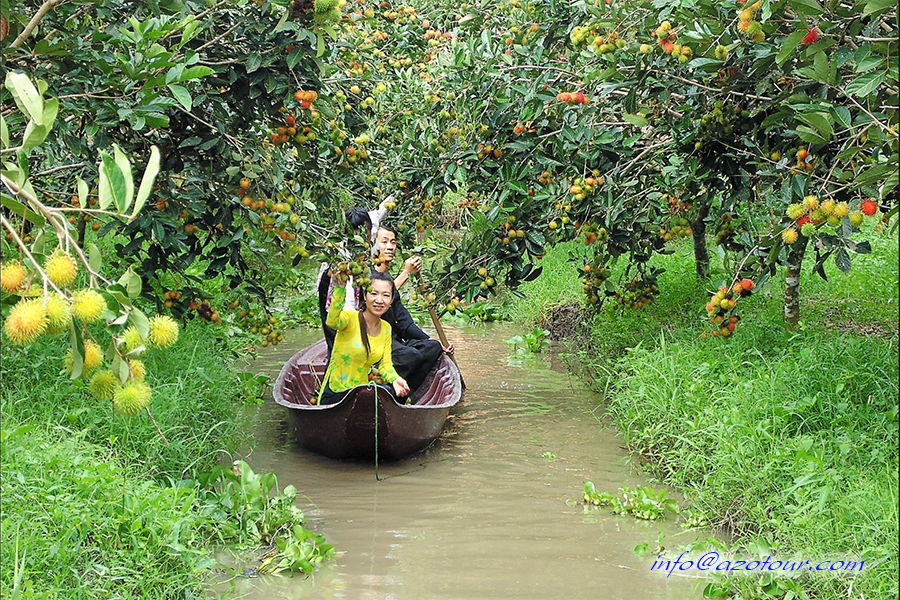 8. Climb to Sam Mountain.
On the approach to the top, Sam Mountain looks more like a hill than a mountain, with dozens of pagodas, tombs, and even a temple. The views from the hill are stunning, with rice fields, pole villages, and lush foliage. This holy place is in the province of An Giang, near Chau Doc and the border with Cambodia.
This is a very sacred spiritual site for people from all over the country, not just because of the breathtaking view from Sam Mountain. Every year during the festival season, hundreds of thousands of visitors gather to pay their respects at the Ba Chua Xu Temple on Sam Mountain.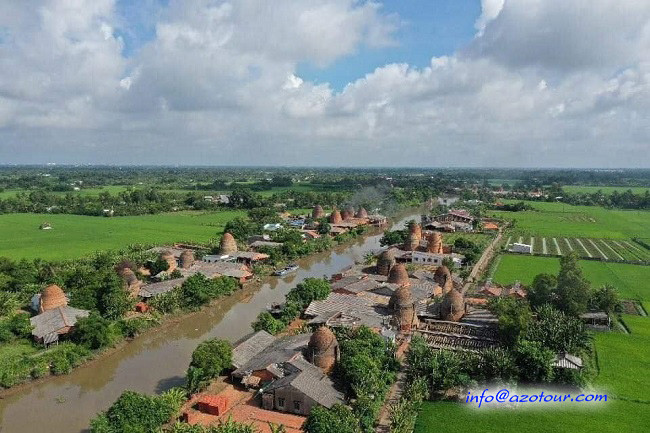 9. Vinh Trang Pagoda
Visiting the different temples and pagodas is one of the nicest things to do in the Mekong Delta. The Vinh Trang Pagoda, constructed in 1849, is the most notable pagoda in this region. The pagoda incorporates Chinese, Vietnamese, Khmer, and European architecture and houses numerous Buddha sculptures. The pagoda is located in Tien Giang province, only 5 kilometers from My Tho.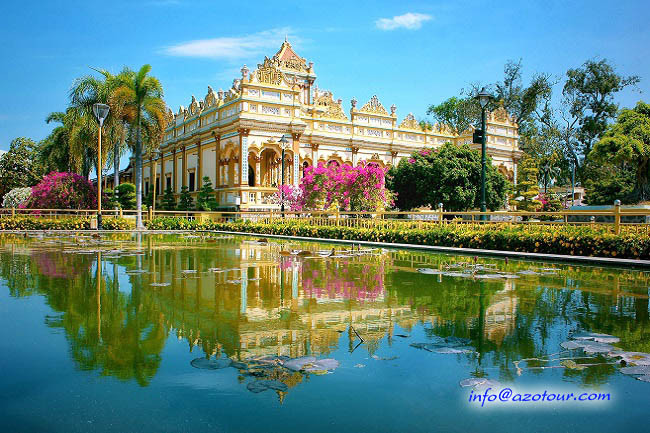 10. Bang Lang Stork Garden
Bang Lang Stork Garden is one of the Mekong Delta's top stork preservation habitats. It is surrounded by vast rice paddies and Can Tho canals. Again, a boat trip through the reserve is the best way to spot birds and explore the reserve.