Vung Vieng Floating Village - Bai Tu Long Bay
Halong Bay's Vung Vieng Fishing Village is one of just five traditional fishing villages in the Gulf of Tonkin, along with Cua Van fishing village in Halong Bay and Van Boi floating village ..etc. The fishermen's village floats in the turquoise blue seas of Bai Tu Long Bay, which is generally mentioned by name when people talk about the Halong Bay fishing villages. It is nestled in a lonely bay surrounded by gorgeous limestone peaks, about 24 kilometers from Ha Long Port, and has become one of the rare Halong Bay floating fishing towns, accessible only by sea and visited on a 2-day cruise tour
Floating houses in Vung Vieng Fishing Village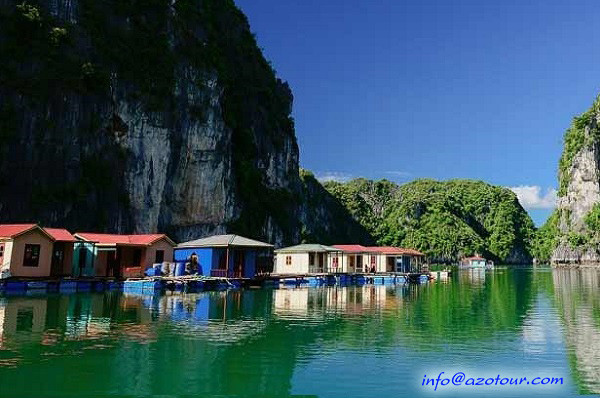 Vung Vieng Floating Village has a population of around 300 people, most of who are descendants of the original 19th century inhabitants. The clusters of brightly painted floating houses are anchored in a protected idyllic bay, sheltered from rough seas and strong winds.
Climb aboard a traditional bamboo sampan rowing boat and take a tour of the village, or better yet, take a kayak and paddle yourself to explore the village and the surrounding area with stunning views of the spectacular, colossal, sheer limestone cliffs, and tranquil, emerald-colored sea
Wander around the picturesque village and scattered houses, with fishing nets hanging out to dry, visit one of the local houses and chat with the friendly fishermen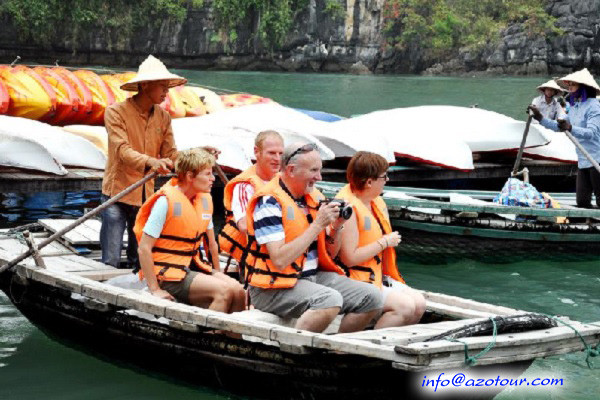 AZOTOUR Vietnam provided clients with a guided tour of Vung Vieng Village
Visit the small 'floating school' and the community center where you can buy local handmade traditional gifts.
Take part in one of the workshops where you can try your hand at weaving fishing nets, learn the art of fishing and how to cast a fishing net, and nighttime tours to take part in squid fishing from a bamboo boat with hanging lanterns used to attract the squid.
Take the opportunity to immerse yourself in the traditional, simple, relaxed fisherman's daily way of life and how they survive in coexistence with the sea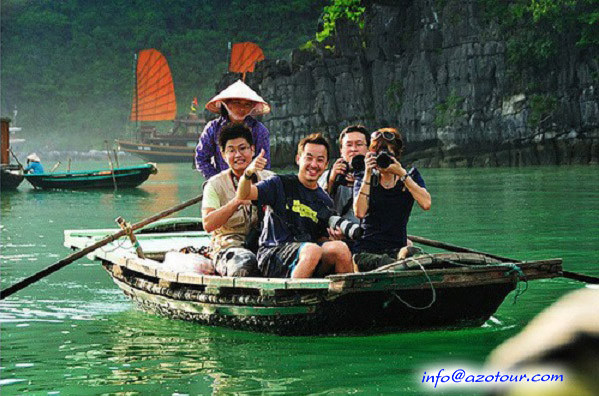 There are an increasing number of Bai Tu Long Bay cruises available, including overnight cruises for 1, 2 or more nights. All the Bai Tu Long Bay Luxury Cruises listed are rated 5-Stars on Tripadvisor.
The best Bai Tu Long Bay Cruises that visit Vung Vien Fishing Village include: Victory Star Cruise; Paradise Cruise Ha Long Bay; Dragon Legend Cruise Bai Tu Long Bay, Bhaya Cruises, Au Cruises, and Legend Halong Cruises