Cat Ba Island - Lan Ha Bay
Introduction
Cat Ba National Park – Cat Ba Island is a designated World Heritage Site biosphere reserve. The park takes up 50% of Cat Ba Island, the largest island in Ha Long Bay, and has a stunning landscape with mangroves, forest jungle, limestone karsts, white sand beaches, and coral reefs. Home to the white-headed langurs, one of the rarest and most endangered primates in the world
Cat Ba Island panoramic view from Navy Peak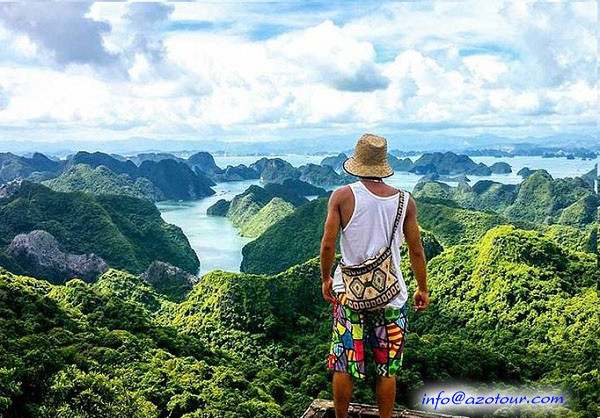 It has a wide variety of unique ecosystems including tropical rain forests, karst mountains, mangroves, coral reefs, seagrass beds, caves, grottos, estuaries, and valleys.
The best way to explore and discover Cat Ba National Park by hiking. There are some good hiking trails from short 2-hour hikes to Trung Trang Cave or Ngu Lam Peak for the spectacular views over the jungle to the more challenging 4-7 hour, day-long trips to Viet Hai village, May Bau - Army Hospital Cave, Me Go - May Bau, and Trung Trang - Lien Minh Suoi Goi.
Trekking in Cat Ba National Park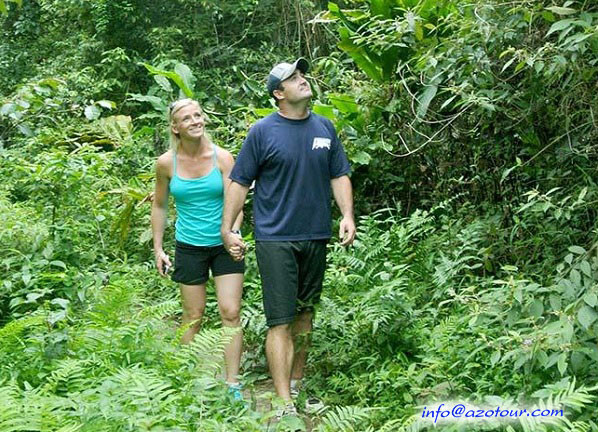 There are numerous species of mammals found in the park, the more common ones are macaque monkeys, deer, civets, and squirrels, including the giant black squirrel. Over seventy bird species have been seen here, including hawks, hornbills, cuckoos, and others
Langur monkey in Cat Ba Island, Lan Ha Bay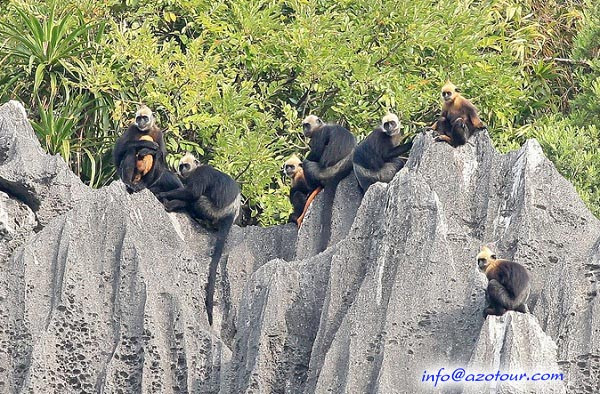 There are many famous caverns and caves in the park, including the Hospital Cave, Thien Long Cave, and Trung Trang Cave that attract thousands of visitors annually.
The magnificent sea area surrounding the park, has secluded bays, pristine romantic beaches of white smooth sands, deep blue crystal-clear seawater, incredible karst mountains, and islands.
There are plenty of activities including fishing, swimming, kayaking, snorkeling, hiking, rock climbing, diving amongst magnificent coral reefs, simply sunbathing on the paradisiac beaches
Cat Co Beaches on Cat Ba Island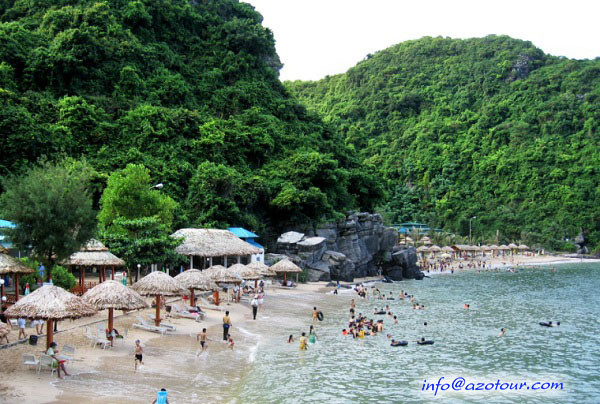 Cruises
Lan Ha Bay luxury cruises are available, including overnight cruises for 1, 2 or more nights. All the Lan Ha Bay Luxury Cruises listed are rated 5-Stars on Tripadvisor.
The best Lan Ha Bay Cruises that visit Cat Ba Island and Cat Ba National Park include:
Paradise Cruise Ha Long Bay; Dragon Legend Cruise Bai Tu Long Bay, Bhaya Cruises, Au Cruises, and Legend Halong Cruises. Sealife Legend Cruise; Le Theatre Cruise Ha Long Bay