Halong Bay, Vietnam | 10 Best Places to Visit in Halong Bay
Ha Long Bay, located in the Tonkin Gulf, has become Vietnam's top tourist destination. Every year, a large number of travelers visit Ha Long Bay to discover and enjoy the breathtaking scenery, caverns, and Ha Long Bay seafood. Here, we will show you the best places in Ha Long Bay or best things to do in Halong Bay, so that you can choose the best option for your Halong Bay Tour
1. Flighting Cock Islet – Ha Long Bay Core Zone
The first spot in the top ten most interesting places in Ha Long Bay should be named Fighting Cock Islet.
Fighting Cock Islet (or Ga Choi Islet) is one of Halong Bay's most well-known islets, located near Heaven Palace Cave. It is also an emblem of the Halong Natural Heritage Site, which many Halong Bay cruises visit when performing trips on Halong Bay.
What makes Fighting Cock Islet so popular among Halong Bay cruise passengers? Because there are works of art granted by nature as an artist in the middle of a large ocean zone that completely awe visitors. From a distance, the two mountains resemble a tall chicken flaunting its majesty and bravery in front of the sea.
Come here on a Halong Bay cruise and show off this stunning image on your Vietnamese currency note: 200,000 vnd.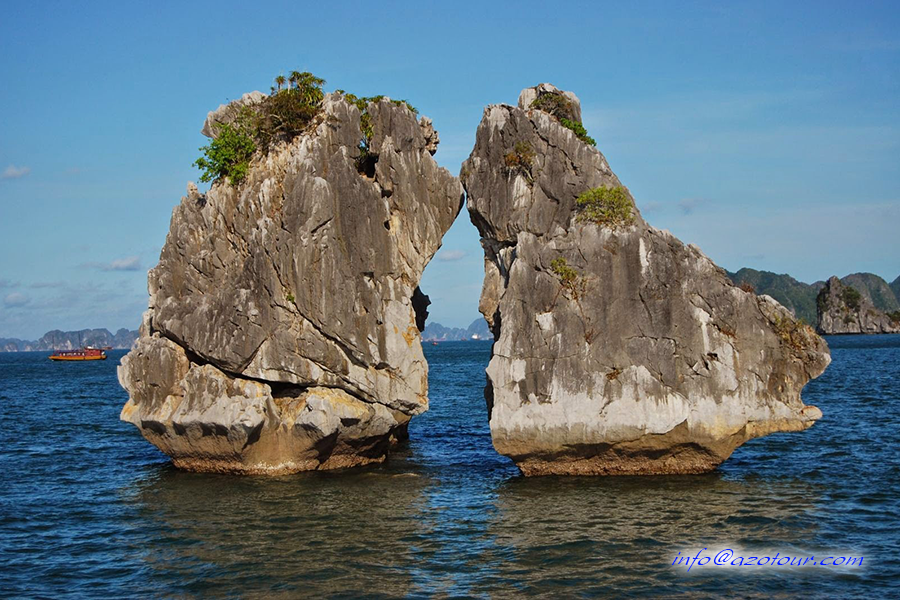 2. Surprised Cave – Ha Long Bay Core Zone
Sung Sot Cave (Amazing Cave or Supprised Cave) suggests how surprised you will be by this place. Supprise Cave is gorgeous and popular with tourists when cruising on Halong Bay due to its thousands of stalagmites and stalagtites in a variety of stunning shapes. It is positioned approximately 25-30 meters above sea level. Climbing 140 stone stairs is required to explore Sung Sot cave.
People will undoubtedly be shocked and amazed by the wonderful natural scenery provided by nature when they visit Sung Sot cave. Nature appears to have rewarded this location with a stunning scene that is not found everywhere.
Many of our AZOTOUR'S clients want to visit Amazing Cave as part of their day cruise or 2-day cruise tour. It is still on the top priority cave to visit when taking a Ha Long Bay trip.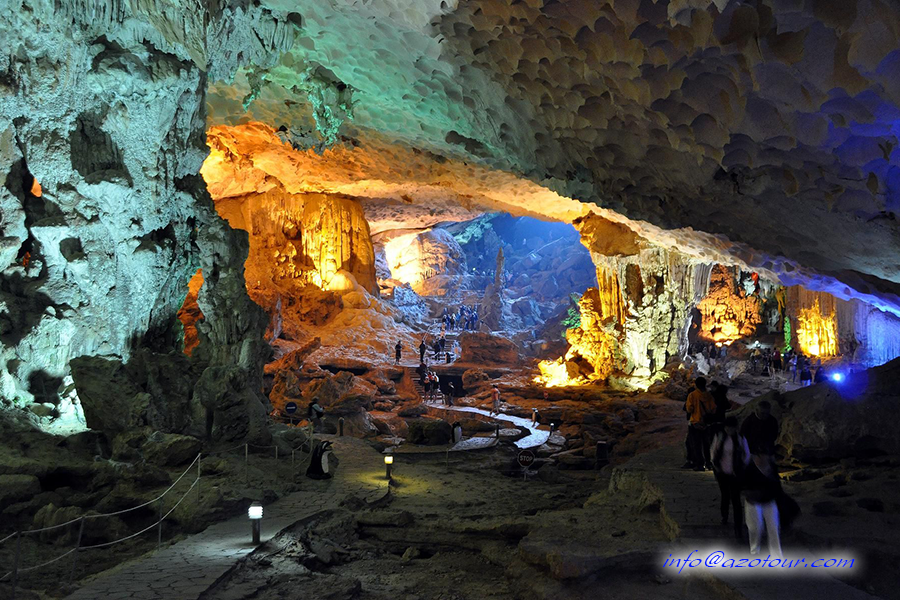 3. Thien Cung Cave – Ha Long Bay Core Zone
Thien Cung Cave, also known as the Cave of Heaven Palace, is located near the Halong Bay Core Zone. It is around a 20-minute cruise trip from Halong Tourist Whaft and opens up a totally new world for travelers. People are welcome to explore the breathtaking Thien Cung cave, which measures approximately 10,000 square meters and is divided into many sections. As a result, it is the most enticing site in Halong Bay, particularly for domestic tourists. Tourists call this place "Cave of Heaven Palace."
Because to its proximity to the dock, this cave is perfect for the schedule of a Halong Bay Day Cruise.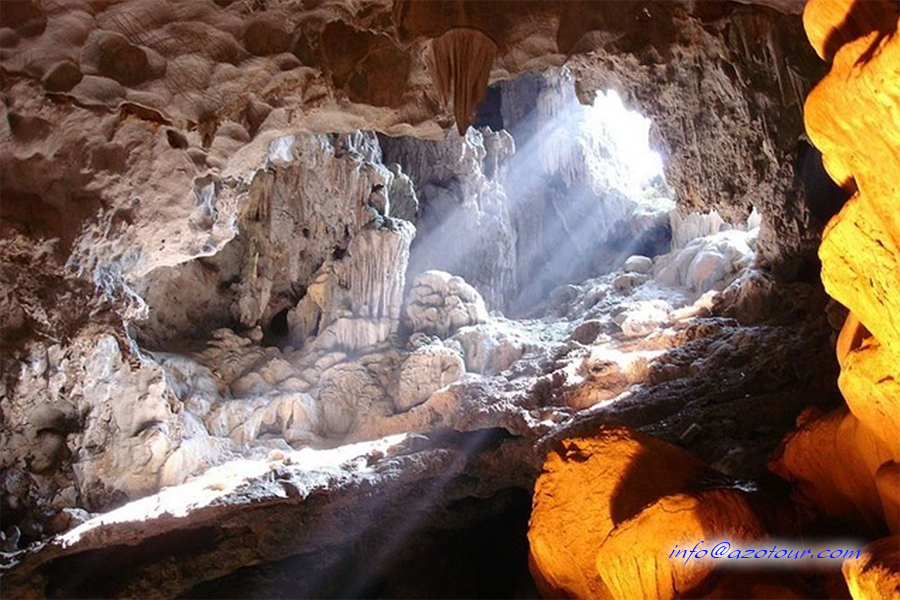 4. Luon Cave (Luon Lagoon) - Ha Long Bay Core Zone
Luon Cave, located in the heart of the Halong Bay Natural Heritage Site, is a small, quiet, and calm water lagoon that is regarded the most attractive kayaking destination in Halong Bay. With a length of only about 100 meters, everyone must be impressed by the gorgeous stalactite landscape and lush trees.
If you do not want to paddle by kayak, you can see this interesting cave by sitting on a rowed bamboo boat controlled by local fishing villagers.
When it comes to the popular tourist site of tours to Halong Bay, visitors would recall the stunning natural landscape known as Luon Lagoon. And it is mentioned in practically every Halong Bay overnight cruise.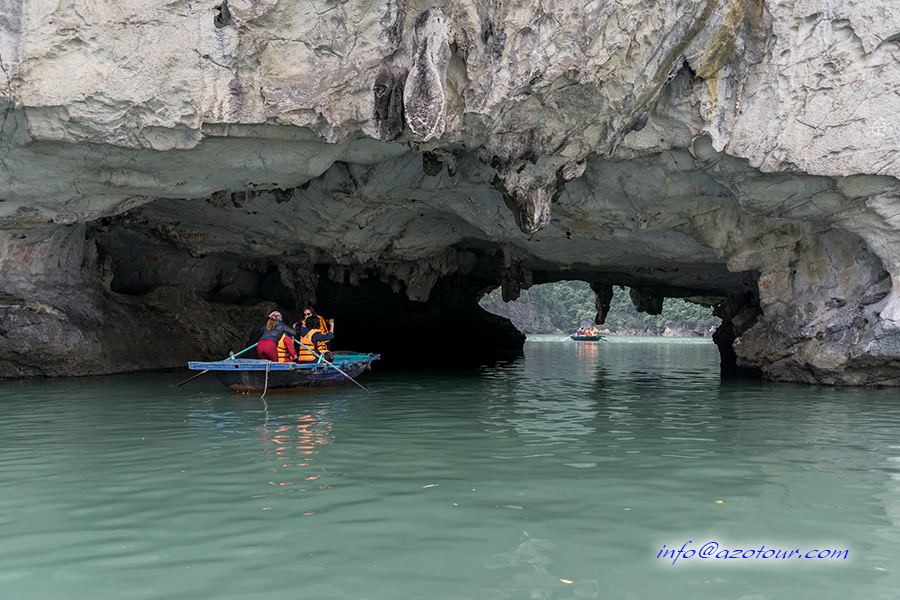 5. Titov Beach - Halong Bay Core Zone
Ti Top (or Titov) Island is one of the most picturesque islands in Quang Ninh's Ha Long Bay. This island is located in the Southeast of the Bay, approximately 7-8 kilometers from the Bai Chay tourist port. Cua Luc Bay wraps around the island, in front of which is the famed Sung Sot Cave, and to the right is Hon Dam Nam. This will be an excellent destination to visit when on a Halong Bay cruise.
Climbing up roughly 400 steps to the top of the island, will make you feel little in the presence of this vast nature, heaven and earth.
Ti Top Island also has a gorgeous long beach that is formed like a moon and embraces the island's foot.
This is an excellent spot for 2 day 1 night cruises or 3 day 2 night overnight cruises on Ha Long Bay.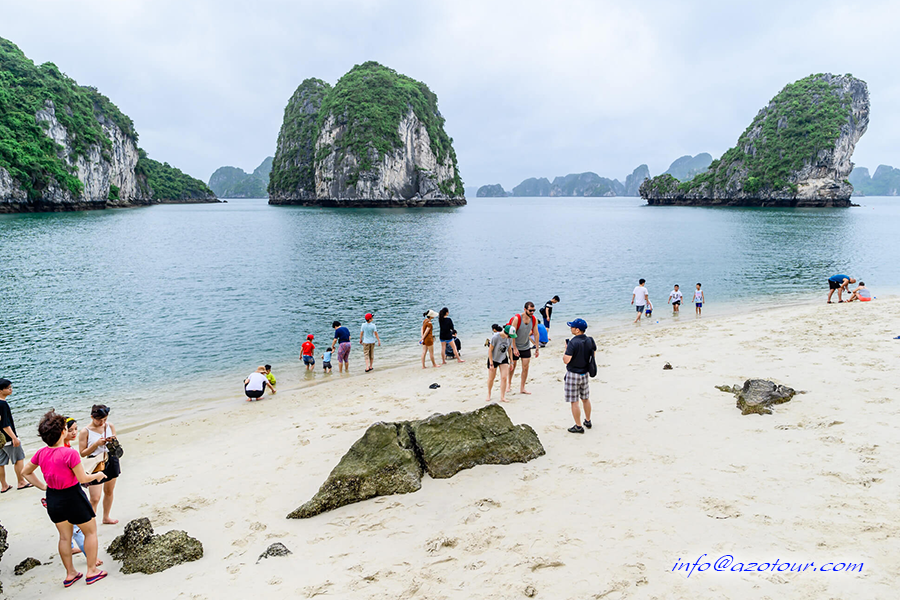 6. Ha Long Sun World Park – Halong City
Halong Sun World Park is one of the most well-known amusement complexes in Ha Long City. It differs from other amusement parks in that you can experience and engage in a variety of adventure games. Each game introduces a variety of unique sensations, making it appealing to all visitors.
Don't miss out on exploring and playing games like Rage Rhino, Fast Flying Dragon, Pirate Ship, and other exciting activities at Sun World Ha Long Park. Other games are typically appropriate for people of all ages.
There is also a large water park to let guests relax and escape the hot summer weather.
This location is suitable for clients who wish to stay overnight in Halong Hotels.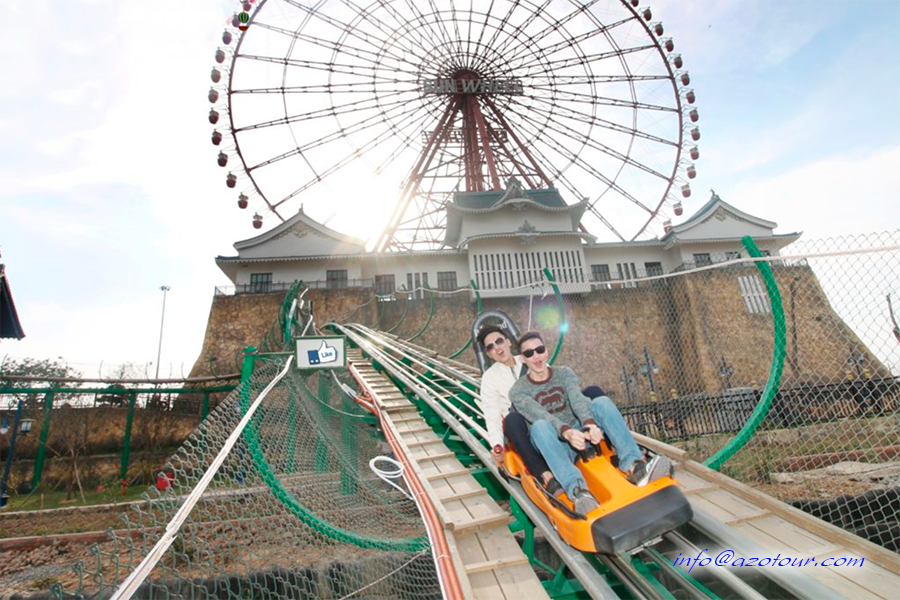 7. Tuan Chau Island – Halong City
Tuan Chau Island nowadays is too famous and familiar to tourists travelling to Halong Bay, especially as the location of the Halong Bay Tourist Whaft, and practically all clients will take a boat ride from here for their Halong cruise excursion. Aside from that, Tuan Chau Island attracts many visitors because of the intriguing water sports activities that people may enjoy, such as seaplanes, canoes, water motors, man-made and natural beaches, and many other thrilling water activities that everyone can discover throughout their trip.
There are numerous fine hotels on Tuan Chau Island, such as Paradise Suite Halong Hotel, that cater to your needs if you intend to stay overnight on this island.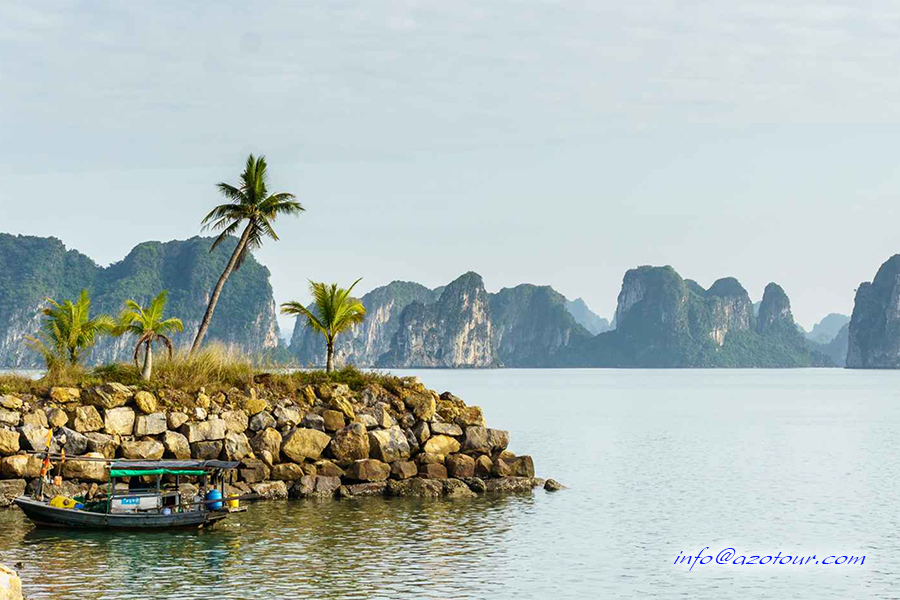 8. Yen Tu Pagoda Complex – Quang Ninh Province
In Quang Ninh, beside the world-renowned Halong Bay, there lies one of Vietnam's most famous pagodas, the Yen Tu Pagoda Complex, which travelers should visit. Visitors will be able to experience the serene and fresh environment of the pagoda with a truly difficult but gorgeous trekking route, which is located at a height of around 1068m above sea level. Yen Tu Pagoda, with its distinctive sculptural construction, will provide tourists to numerous fresh discoveries.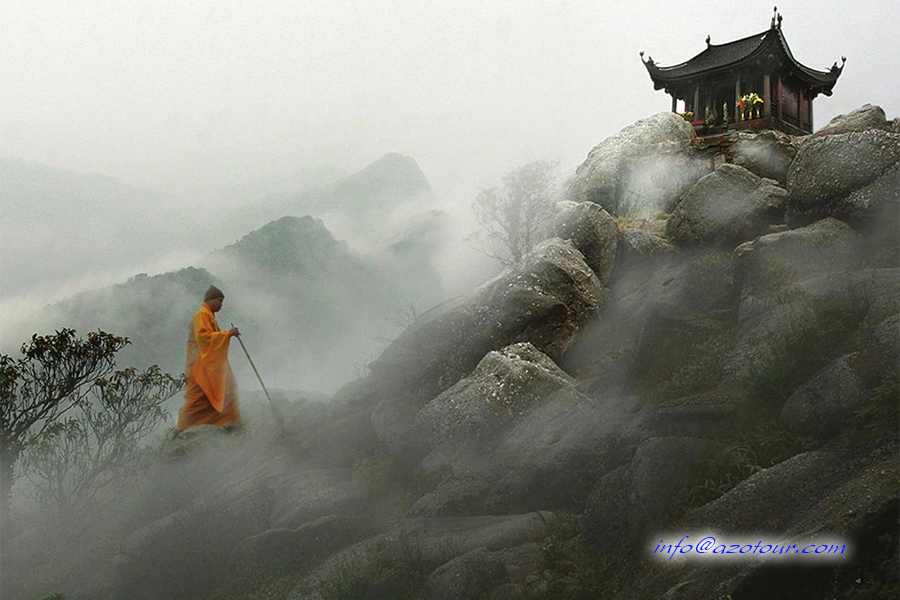 9- Bai Tu Long Bay – Halong Bay Area
The other part is Bai Tu Long Bay, which is alsao a popular tourist site. Bai Tu Long Bay is located in the right handside of Ha Long Bay, Van Don Island District, Cam Pha City
Bai Tu Long Bay, with its many large and tiny islands, is home to a huge number of people. Bai Tu Long Bay is as stunning as a wild, brilliant peasant girl who enchants many visitors.
This site is generally chosen by cruises that travel further into the ocean to avoid crowded tourist destinations and wish to spend more time relaxing as a concept of luxury Halong Bay Vacation cruises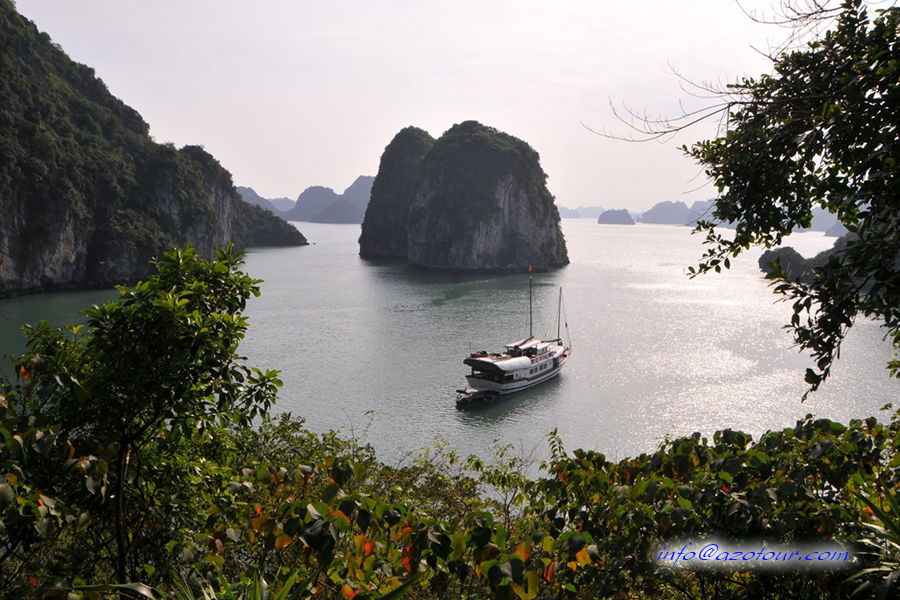 10- Cua Van Fishing Village - Halong Bay Area
The Cua Van Fishing Village is the final tourist attraction on the Ha Long Bay trip that visitors should not miss. This fishing village, about 10 kilometers from Tuan Chau pier, has the most serene, tranquil, and natural beauty for visitors. Cua Van Fishing Village will be a perfect spot for visitors to discover and appreciate the village's most distinguishing feature. Visitors to Cua Van Fishing Village will likely make countless discoveries.
This is also a good location for clients that take a two-day, one-night cruise ship on Halong Bay