Halong Bay, Vietnam | The 10 Best Halong Bay Cruises 2023
Taking a Halong Bay luxury cruise is one of the most extravagant and expensive things to do on a Vietnam holiday. Allow AZTOUR Vietnam to assist in selecting the best Halong bay cruises for you. And the following are ten recommendations for the best Halong Bay overnight cruises
1. Stellar Of the Seas Cruise - 5 Star Cruise
Stellar of the Seas Cruise is a modern luxury 5-star cruise that has been named one of the top ten best cruises in Halong Bay.
This cruise allows you to experience the new concept of contemporary luxury. They offer not only a luxury cruise service of the highest safety standards but also a completely unique experience with a meticulously planned itinerary to the best places to visit in Lan Ha Bay, attentive service, authentic decor, delicious food, and so on. As a result, your holiday will be genuinely one-of-a-kind and unforgettable.
Stellar Of The Seas Cruise has twenty-two exquisite spacious suites with the finest luxuries such as gourmet dining, the panoramic bar, wine and cigar cellar, golf club, seasonal swimming pool, beauty spa & massage, children playground... Our personalized service, tailored to your needs, is what distinguishes us and makes your visit to Halong Bay unique and memorable. Board the Stellar of the Seas cruise for a spellbinding adventure.
Preferred price: Starting from $ 215USD/person/ double-twin sharing cabin/ 2 day 1 night staying on Stellar of the Seas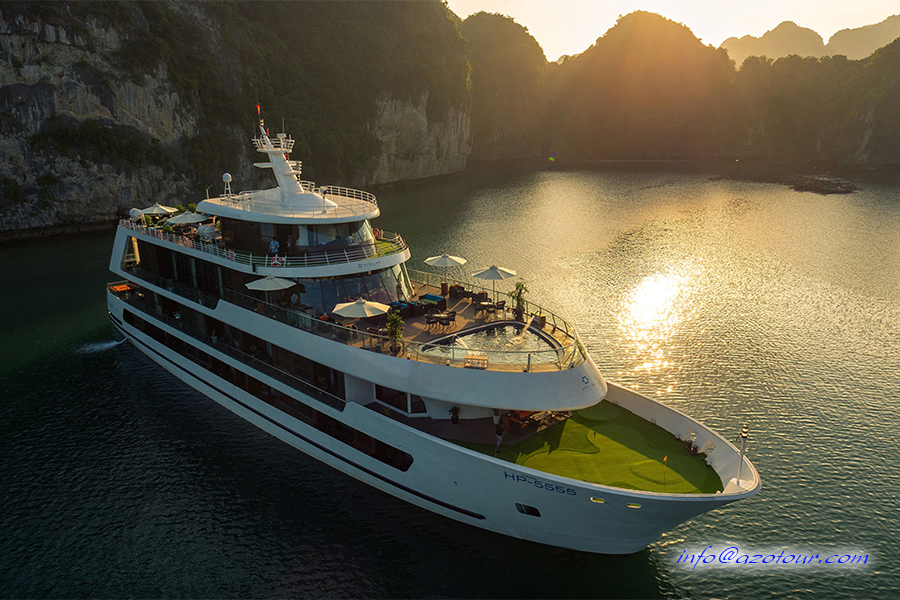 2. Ambassador Cruise - 5 Star Cruise
Ambassador Cruises, one of the most luxurious 5-star cruises in the Halong Bay area, developed its own brand and has been welcoming cruise guests since 2018.
As a result, the vessel has gained a reputation for offering high-quality service among Ha Long clients. The Ambassador Cruises is around 1200 tons and measures 86 meters long, 5 meters wide, and 5 storeys tall. It can accommodate up to 100 people. Guests on the Ambassador Cruises' Ha Long Bay excursion will have complete access to all significant and high-end facilities, including a 5-star hotel on the sea, a cooling pool, and local cafes. There is a large presidential cabin with modern amenities and an outside craps table for your convenience when taking overnight cruise on Halong Bay
Preferred price: Starting from $155 USD/person/ double-twin sharing cabin/ 2 day 1 night Halong Bay excursion.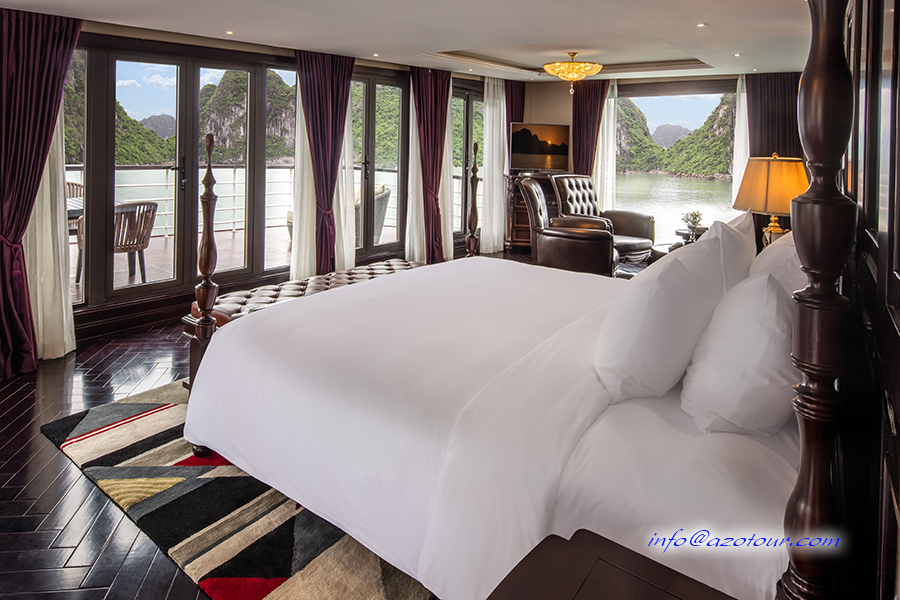 3. Era Luxury Cruise - 5 Star Cruise
Era Cruise Ha Long is the area's newest 5-star cruise system. The Era Cruise fleet now consists of two ships, each with a very luxurious and robust steel shell. Era Cruise is a 5-star yacht with spacious cabins, a comfortable, fully-equipped interior, and a cohesive design. This cruise takes the trip both to
In addition to the cabin system, Era Cruise features a gym, a mini golf course, a restaurant and bar system, a medical center, and other 5-star amenities right aboard the yacht. Providing the most thorough and optimal Ha Long Bay exploration experience
Preferred price: Starting from $175 USD/person/ double-twin sharing cabin/ 2 day 1 night Halong Bay excursion.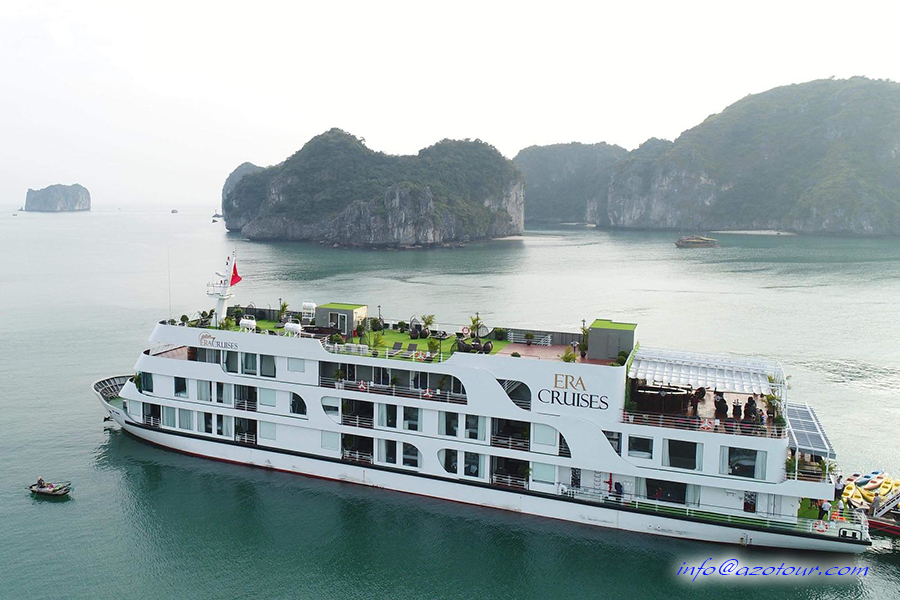 4. Au Co Cruise - 5 Star Cruise
Au Co Cruise is one of the few 5-star cruises in Ha Long Bay that is popular with tourists. Au Co cruises sell out quickly during the peak season of Ha Long Area tourism due to the enormous number of guests registering to enjoy the bay by yacht. The Au Co Cruise, with the professionalism and style of a 5-star boat, is certain to provide passengers with the most intriguing and remarkable Ha Long vacation of their lives.
The Au Co Cruise offers a variety of room categories, including the Deluxe Room, Grand Deluxe Room, Executive Room, Long Quan Suite, and Au Co Suite. Every room is outfitted with modern amenities. While sitting on 5-star furnishings on a big balcony, you can take in the stunning scenery of Ha Long Bay's towering mountains.
Preferred price: Starting from $175 USD/person/ double-twin sharing cabin/ 2 day 1 night staying on Au Co Cruise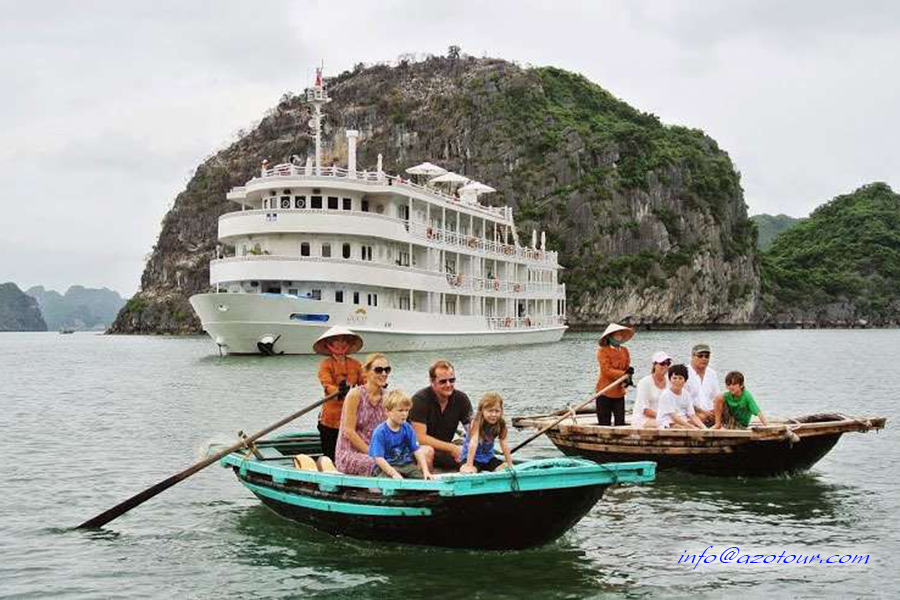 5. The Scarlet Pearl Cruise - 5 Star Cruise
Visitors on the Scarlet Pearl cruise to Ha Long Bay will have incredible experiences in a luxurious and elegant setting.
A 5-star vessel that has only been offering Halong Bay excursions since 2019. Scarlet Pearl Cruises' facilities are so modern, opulent, and practically outfitted in a completely unique manner. The Scarlet Pearl Cruise has four levels and 23 rooms ranging in size from 28m2 to 150m2. Furthermore, Scarlet Pearl's rooms are divided into four varieties to meet the needs of tourists: Silver Pearl, Golden Pearl, Onyx Pearl, and Scarlet Pearl.
Furthermore, each hotel room includes a balcony with glass windows from which visitors can observe the natural beauty of Ha Long Bay while sailing. Spas, bars, restaurants, gyms, and other such facilities are provided around the clock to meet the needs of all guests.
The schedule also includes visits to less-traveled areas of Ha Long Bay to see areas that aren't overrun with tourists. This will undoubtedly be a vacation highlight.
Preferred price: Starting from $185 USD/person/ double-twin sharing cabin/ 2 day 1 night staying on Scarlet Pearl Cruise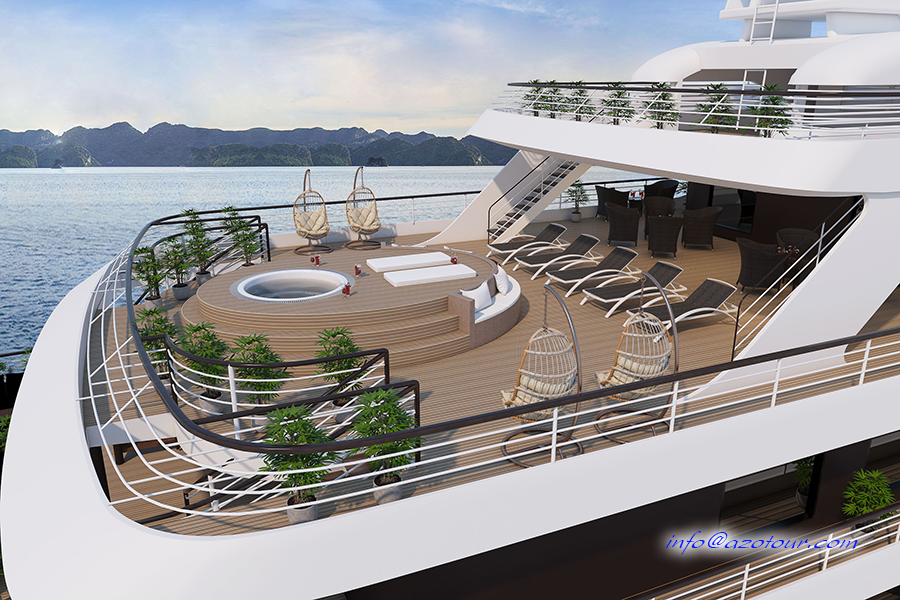 6. Halong Hermes Cruises - 5 Star Cruise
The Hermes Halong Cruise's 18 magnificent and sophisticated suites are totally constructed of stable steel. The guestrooms are tastefully adorned, expertly arranged, and fully furnished with modern facilities found in a 5-star hotel. In addition, each accommodation features a spacious private balcony and glass windows, allowing visitors to enjoy the expansive view of Ha Long Bay while yet having a quiet spot to relax and decompress. The yacht has two presidential suites. Furthermore, the rooms are provided with modern baths and Jacuzzis, increasing privacy and impressing even the most discriminating tourists. Each room is 64m2 in size and has been designed and furnished with high-end, lavish furnishings such as circular beds. A separate four-season swimming pool entices guests... The famed 5-star Hermes Ha Long cruise ship is frequently used by the region's affluent people.
Preferred price: Starting from $ 160USD/person/ double-twin sharing cabin/ 2 day 1 night staying on cruise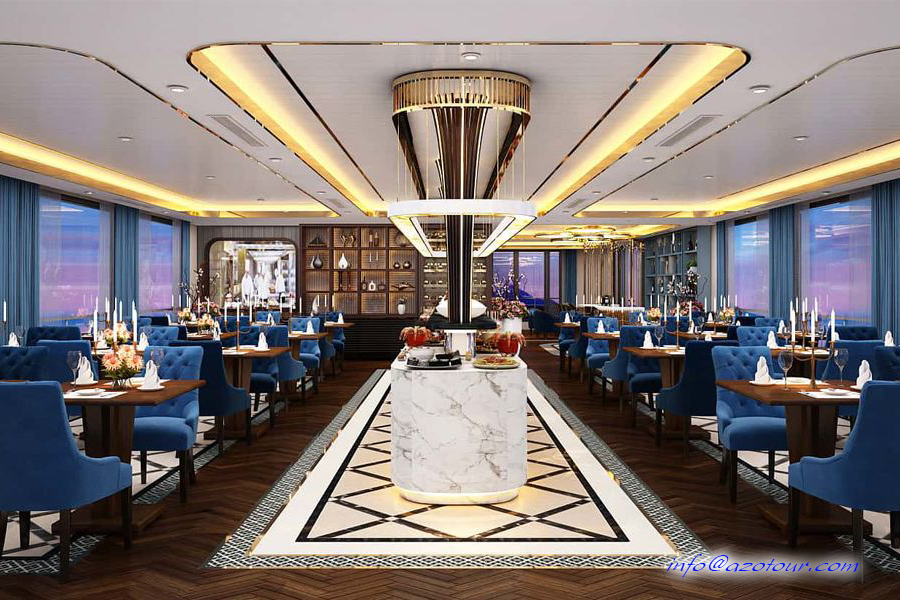 7. The Golden Cruise - 5 Star Cruise
The 5-star Golden Cruise 9999 has the most advanced elevator system in the Ha Long Bay area. The yacht, as the name suggests, has a lavish appearance and interior, with the main color being yellow. The ship is entirely constructed of iron. The inside is entirely made of wood and is decorated in accordance with European norms.
Golden Cruise 9999 presently has a total of 48 rooms. All of the rooms are of 5-star grade and have a modern interior style. In addition, each accommodation has a private balcony from which visitors may rest and take in the spectacular views of Ha Long Bay, a natural treasure.
Golden Cruise 9999 also has a gym, a jacuzzi, a dining space, a luxury bar, a 3D theater, an immersion massage room, and Oriental medical facilities similar to a genuine 5-star hotel in Ha Long. providing tourists with an all-inclusive holiday experience
Preferred price: Starting from $ 175 USD/person/ double-twin sharing cabin/ 2 day 1 night staying overnight on cruise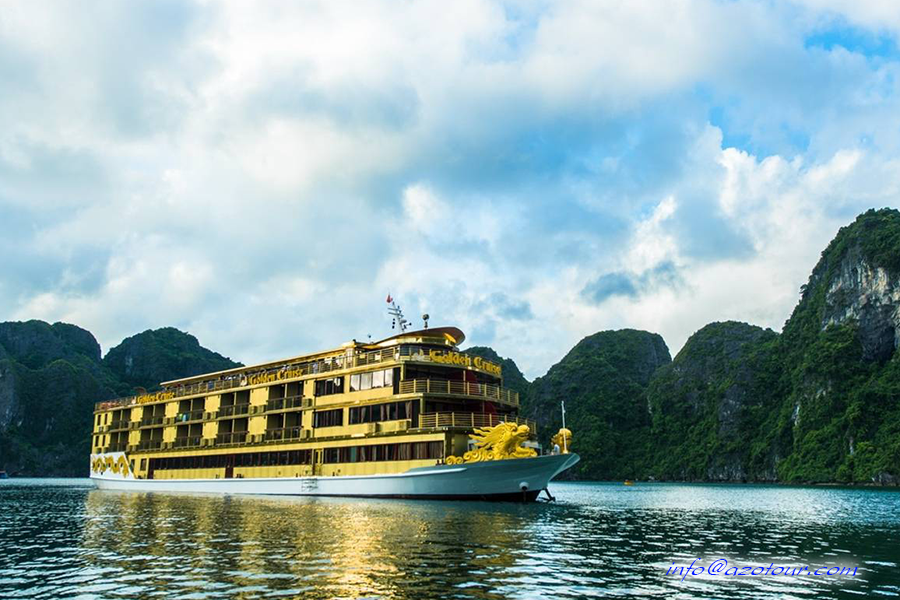 8. Victory Star Cruise - 5 Star Cruise
The Victory Star Cruise is currently the most advanced and modern cruise in Ha Long Bay. The Victory Star yacht is 58 meters in length and 10.5 meters in width. It had 32 cabins and a capacity of 66 passengers. The personnel can serve to both domestic and international travelers because they speak English, French, and Chinese.
Every amenity on board fulfills the requirements of a 5-star hotel on land, and first-rate amenities such as restaurants, bars, stages, spas, and so on are available. Tradition and modernity combine to create the ultimate design that is both modern and sumptuous. Each carved line is unique, comfortable, and stylish. All of these factors contribute to the elegance and luxury of a 5-star yacht.
Preferred price: Starting from $ 160 USD/person/ double-twin sharing cabin/ 2 day 1 night staying on Halong Cruise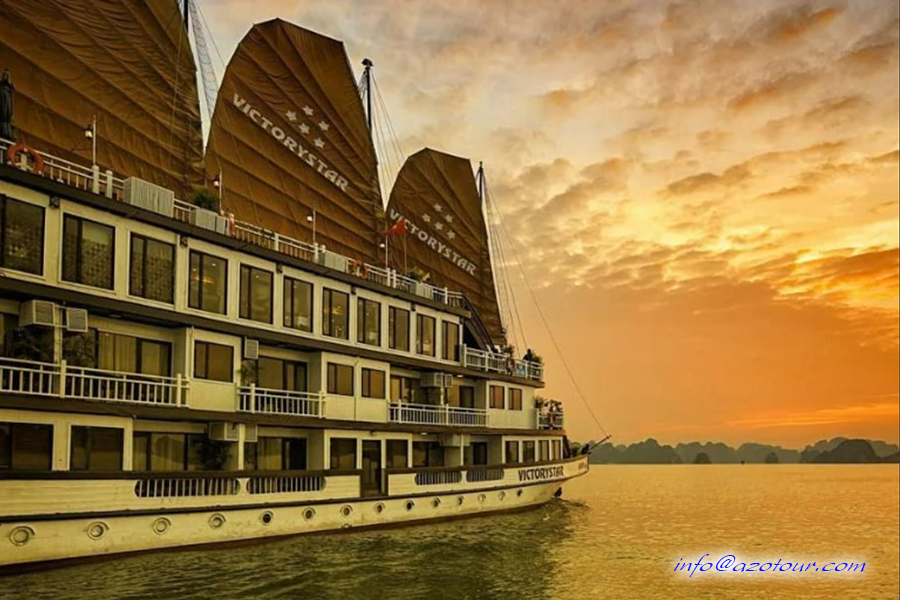 9. Signature Cruise - 5 Star Cruise
The Signature Cruise is one of the finest option if you want to spend 3 day 2 night overnight Halong Bay.
The Signature Cruise Ship is the most elegant and sophisticated cruise in the Ha Long area.
The Signature boat features 12 spacious, comfortable, and opulent quarters created with modern architecture that integrates traditional Asian design. Each apartment has its own balcony, which provides a peaceful and cool environment that is in tune with nature.
The yacht's second floor has a restaurant and café with an open space where customers may enjoy the cuisine while also admiring the beautiful environment of Ha Long Bay. The cruise ship's restaurant offers a broad selection of Asian and European dishes. All meals are prepared by professional chefs, and the food is of the finest quality. The courteous, passionate personnel of the restaurant will surely make your dining experience memorable.
Furthermore, Signature Cruise provides services such as a spa, professional massage, and a modern gym, allowing travelers to meet all of their high-class resort requirements.
Preferred price: Starting from $ 178 USD/person/ double-twin sharing cabin/ 2 day 1 night staying on this luxury yatch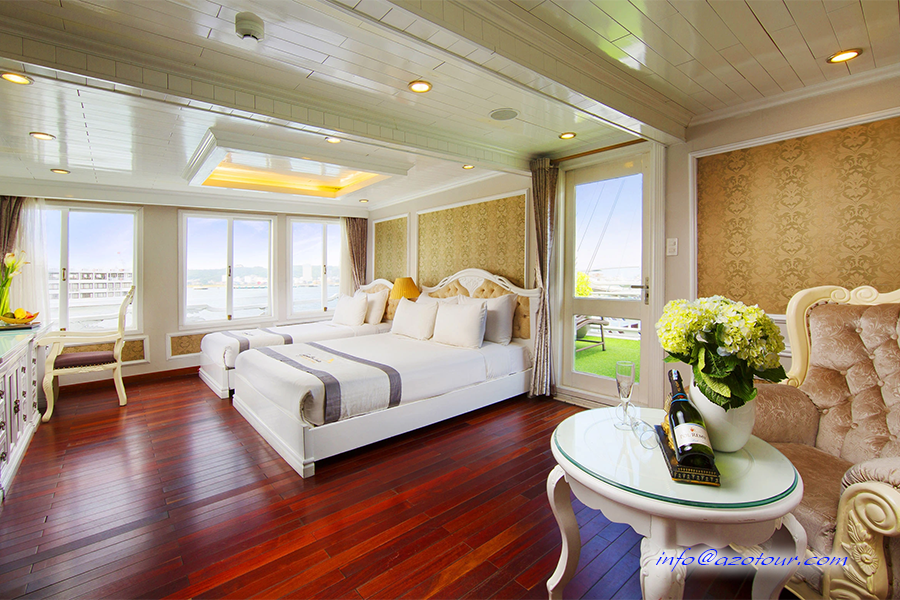 10. Le Theatre Halong Cruises - 5 Star Cruise
The Le Theater Ha Long Cruise is well-known for its luxurious décor and dedicated service.
To serve a wide range of tourist needs, the yacht now has 21 rooms with a variety of cabin types, sizes, and pricing. The hotel offers Junior Suites, Executive Suites, Rooms, Panorama Suites, and Le Theater Suites. The sandbox area at Le Theater Ha Long is also built as a large grass where guests may rest, talk with family and friends, or simply lie in the sun and enjoy the scenery. Each suite offers contemporary furnishings and a spacious, light-filled terrace.
Preferred price: Starting from $ 155 USD/person/ double-twin sharing cabin/ 2 day 1 night staying on Halong Bay Cruise