Ha Long Bay, Vietnam | Halong Bay Weather
Halong Bay Vietnam, a UNESCO World Natural Heritage site, is unquestionably one of Vietnam's must-see destinations, along with Hanoi, Danang-Hoian, and Ho Chi Minh City. Halong's beauties include an emerald sea, gorgeous islands, bright blue skies, a variety of overnight cruises, and picturesque fishing villages. However, the scenery changes throughout the year at its most attractive. So, let's figure out when the best time to visit Halong Bay is in Halong Weather yearly and look at all Halong Bay best places
What about the weather in Halong Bay all year round?
Halong Bay is approximately 170 kilometers from Hanoi, both in northern Vietnam and share numerous meteorological similarities. So, this became actually the same Autumn season for the best time to visit Hanoi and Halong Bay. Both have four distinct seasons: spring, summer, autumn, and winter, with cyclical temperature and humidity changes. And the best month of the year to visit Hanoi capital is also the best time to travel to Halong Bay. Despite the fact that Halong Bay attracts tourists all year due to its beauty in all seasons, stay overnight on cruise or on land.
1. Late winter (January - February)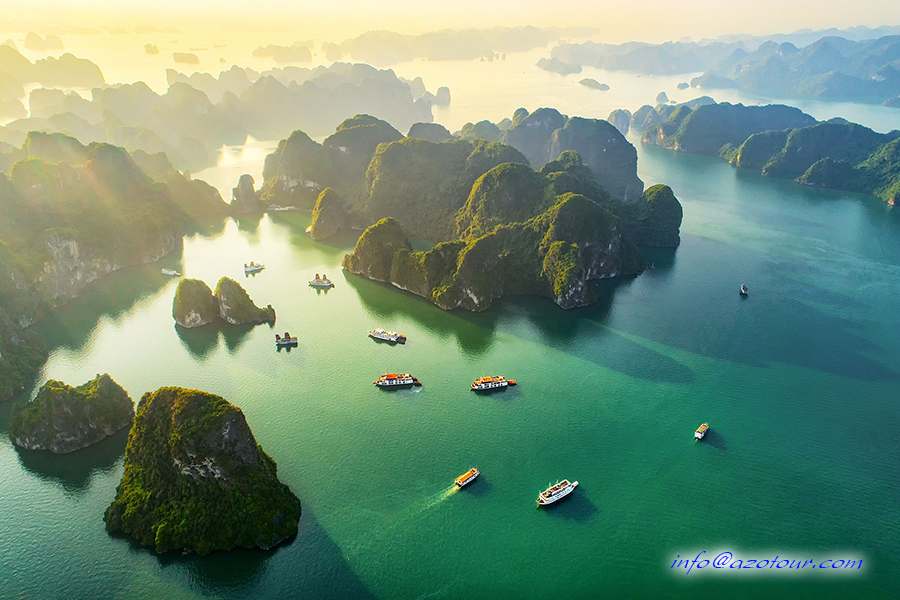 In January, the average temperature in Halong Bay is 14-21°C, with the lowest end reaching 0°C. The day will be extremely cold, with chilly and misty conditions in the early morning and late afternoon. The environment will be stunning, almost unearthly at this time of year. When visibility is at its lowest in the early morning, Halong Bay will appear surreal.
If you visit Halong Bay in February, you will be able to participate in our Tet festival, also known as Luna New Year. During this most important national holiday, many businesses, government agencies, hotels, and restaurants are closed. Check with your tour operator if you intend to stay for the festival. This is also an ideal time for the Yen Tu Pagoda Festival, which draws a large number of Vietnamese visitors
2. Spring (March – May)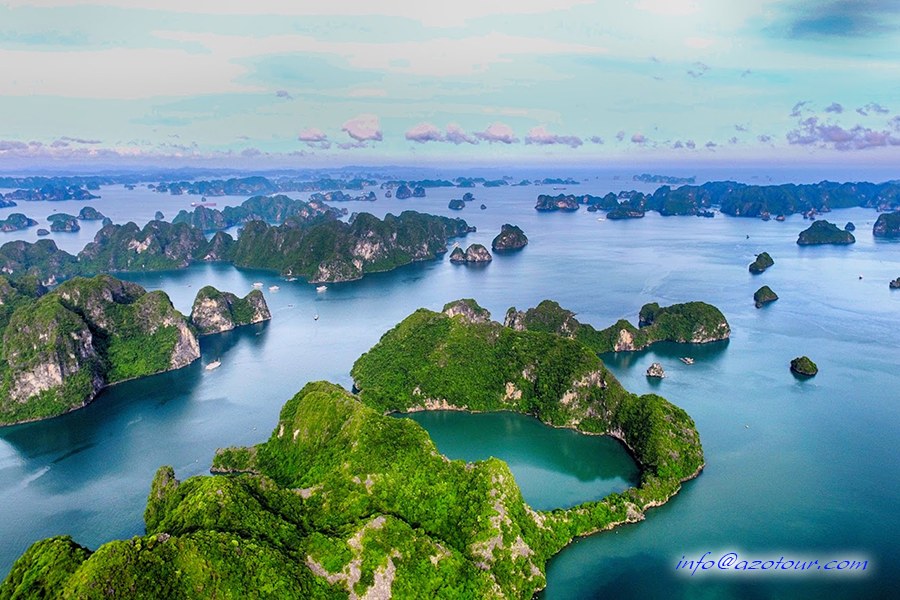 This is a wonderful time to visit Halong Bay and the remains of northern Vietnam.
Spring is the season of blossoming flowers and the most pleasant weather in the year. In March and April, the weather is ideal, with clear sky and little drizzle on occasion. Temperatures range between 18°C and 25°C, with maxima reaching 30°C.
May marks the beginning of summer in Vietnam. Temperatures will gradually rise, with longer days and the prospect of light rain. It's also perfect for swimming, kayaking, and other water sports.
3. The summer season (June - August)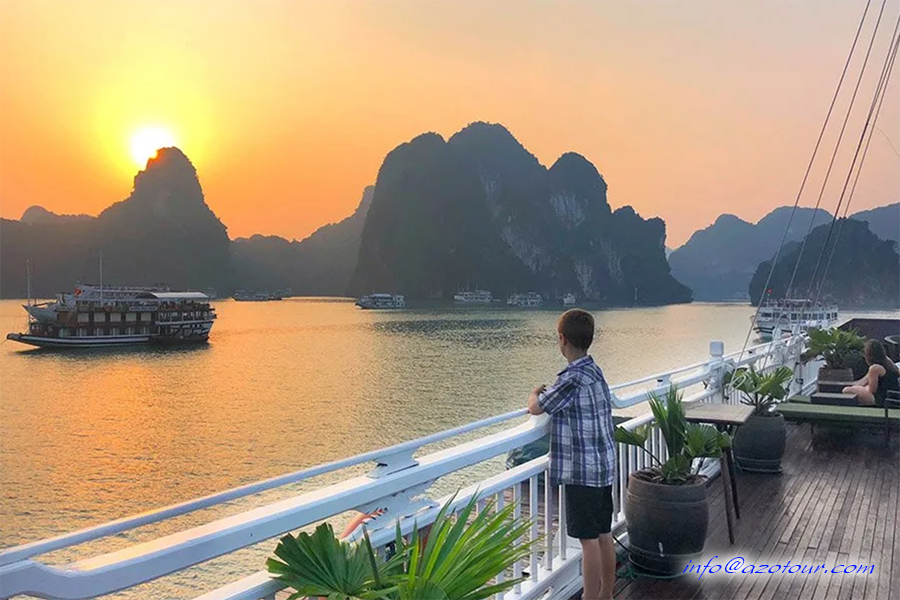 Summer has come in Vietnam's north, including Halong Bay, bringing sweltering temperatures, torrential downpours, and unexpected storms. This is peak season for Vietnamese tourists, but it will be hot and humid for Westerners, with temperatures ranging from 24 °C to 32 °C, occasionally reaching 40 °C!
The breathtaking view will make up for everything; the sky will be very high and brilliant blue, and the ocean will have a magnificent emerald color. Swimming, kayaking, and other water sports will be available, and you will be able to relax in the cool water for as long as you like! Let's make a plan to swim in Halong Bay with us, by click here
4. Autumn (September - October)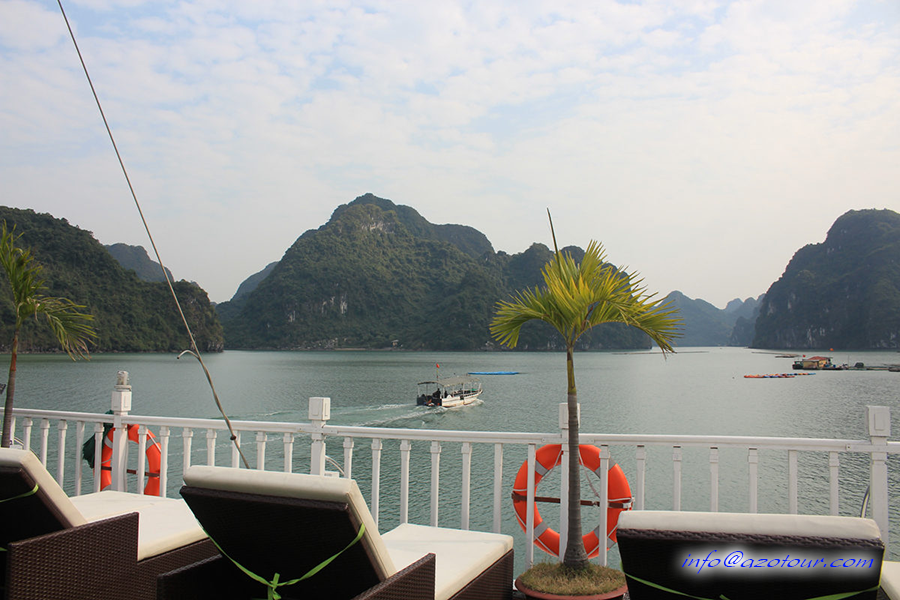 Autumn is the most gorgeous time to visit Halong Bay. It is also best time of year to visit Halong Bay as well as Hanoi and Sapa. So, this is an ideal travel season for international travellers to Vietnam. The weather is pleasant, sunny, and breezy. The average temperature is 25°C, with no major changes. Due to the changing seasons between Vietnamese and foreign tourists, this season is also not busy for both Vietnamese and international visitors.
5. Early winter (November - December)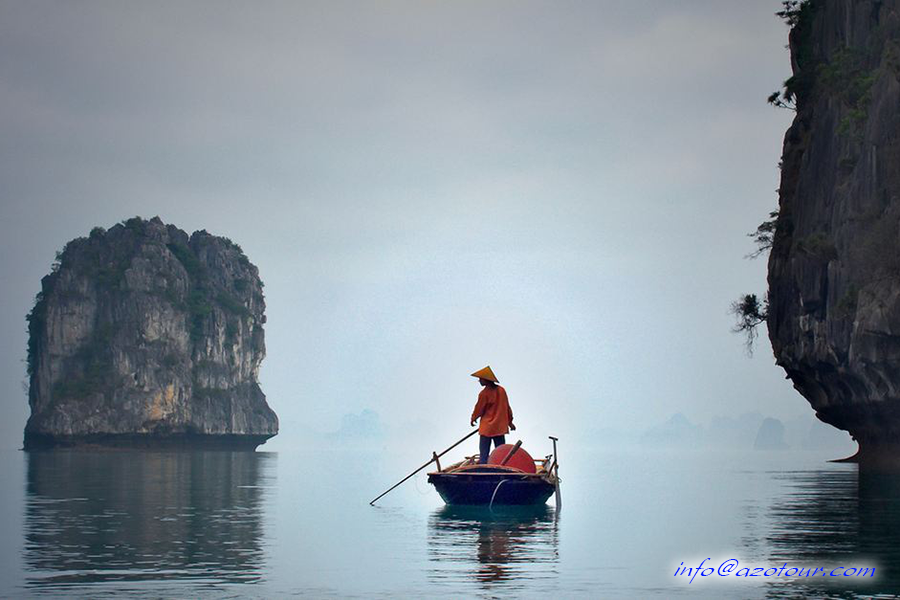 Winter is peak season for international tourists in both Vietnam as well as Halong Bay. Winter in the north is typically chilly, dry, and cloudy, with temperatures plunging to 1-2°C. There will still be some sunny, cloudless days when the temperature outside hits 23-26°C. During these months, the weather in Halong Bay is comparable to that of January and February. It's also the time to go squid fishing and celebrate Christmas!
Halong Bay is wonderful all year, but the ideal months to visit when the weather is nice are March-April (late spring and early summer) and September-October (late autumn and early winter).
Let's talk with AZOTOUR Vietnam to find out the best time for your vacation in Halong Bay.