Bai Tu Long Bay, Vietnam
Bai Tu Long Bay is located southwest of Ha Long Bay, an extension of the Gulf of Tonkin in Vietnam's northeastern region.
Bai Tu Long Bay, together with Ha Long, becomes one of the world's natural wonders, with hundreds of large and small islands, including various large and inhabited islands. People who live on the bay are concentrated in the Van Don island region and the coastline villages of Ben Do, Cua Ong... People here make their living primarily through fishing and farming.
If Ha Long Bay is a stunningly gorgeous lady, Bai Tu Long Bay is a spotless, charming girl with a plethora of appealing attractions.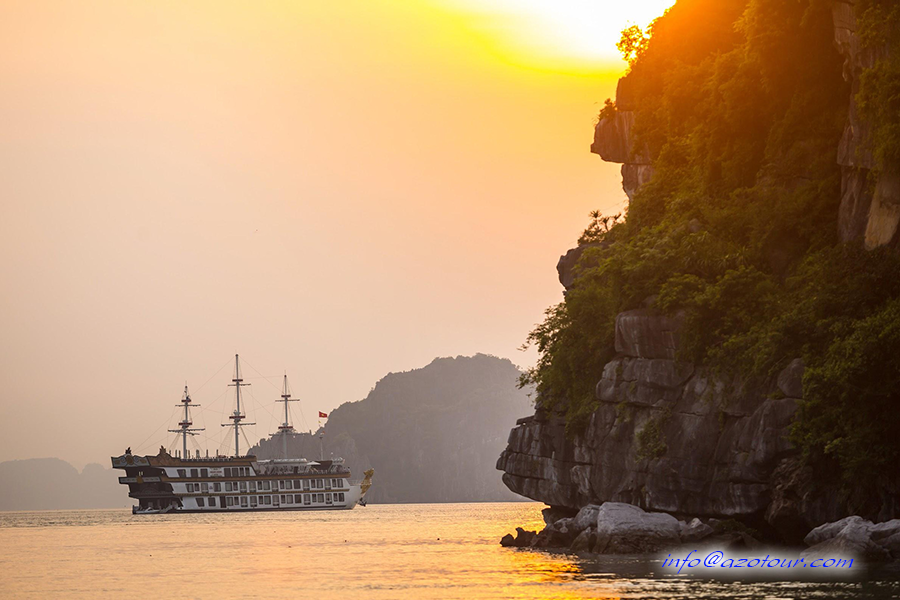 Cong Do – Cong Dam Area
Cong Dam, located on the tranquil Bai Tu Long Bay, is noted for its majestic and poetic natural beauty of an outdoor geological museum. The rocky mountains built by stones arranged in straight lines and the tranquil space of the bay's new scenery will overwhelm visitors.
Tourists that come here can also visit Cong Dam floating village, a small ancient fishing community with a population of approximately 120 people. The village's scenery has numerous pristine features and a very clean sea environment despite being located relatively far from the mainland and completely secluded from the crowded tourist routes. Visitors can kayak on pristine green fields such as Cat Oan, Tra Gioi, and Cay Bang, as well as participate in mangrove planting experiences to safeguard the marine environment or join the fishermen to learn about their daily life on the floating community.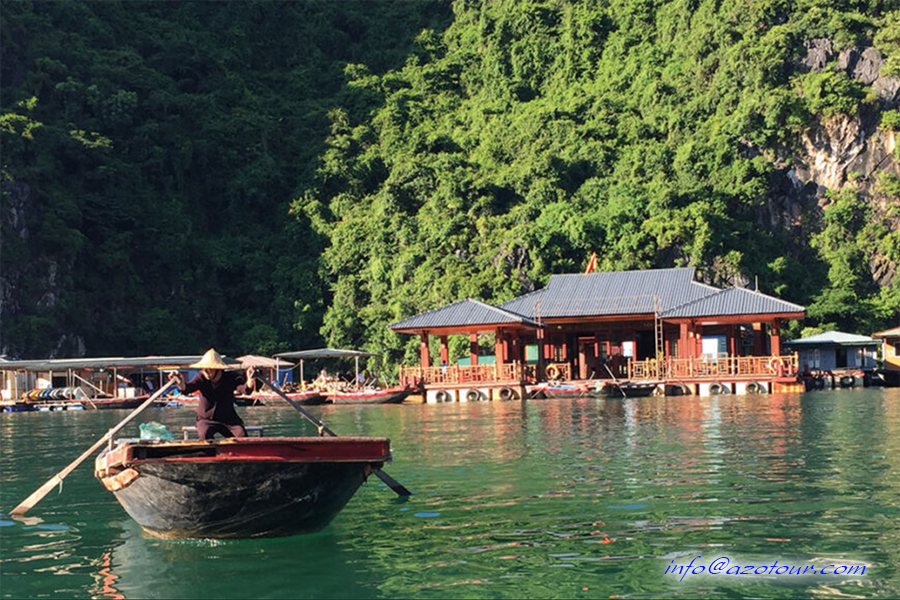 Cap La Area
Cap La Island is a fantastic tourist destination with peaceful, tranquil scenery and pristine white sand beaches. Visiting this area, visitors will get lost in the maze of the large and small islands, numerous stalactites and stalactites. Currently, many cruise ships choose Cap La Beach as a 2 day/1 night or 3 day/2 night scheduled destination for kayaking. A professional tour guide will follow you by kayak, to explore the surrounding scenery and the beaches to enjoy the crystal clear water. Another option to explore in this area is to visit the Cap La floating village. It is a small fishing community, with each boat housing a single family. Here, visitors can observe the rafts and cages of fish or shellfish and learn about the simple and peaceful daily life of the locals.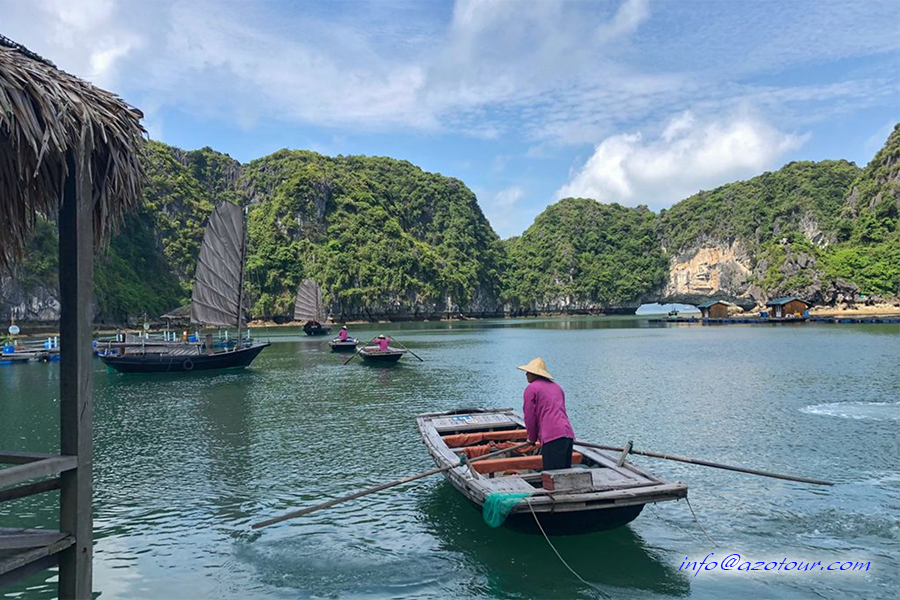 Vung Vieng Floating Village
Vung Vieng fishing village of Bai Tu Long Bay is located in northeastern Vietnam, approximately 25 kilometers from Ha Long City. This is the home of hundreds of fisherman who are busy with their livelihoods but still have a lot of fun and friendliness.
From the outside, the fishing community appears to be quite simple, with a few floating cottages leaning against mountains of hybrid rafts with floating floats like a ball lined up in a straight line. And in the village's heart sits the largest and most magnificent raft home, which serves as the community house.
Coming to Vung Vieng Village, travelers frequently experience and explore the life of this fisherman village, and it is also one of the features that have made Vung Vieng Fishing Village one of the exciting discoveries of tourists cruising Ha Long Bay - Bai Tu Long Bay.
From here, you may visit Mat Devil Island, the Bay Gieng area, go fishing in Vung Ha, and explore the ancient forest on Tra Ban and Van Don islands, which have a network of little beaches at their feet.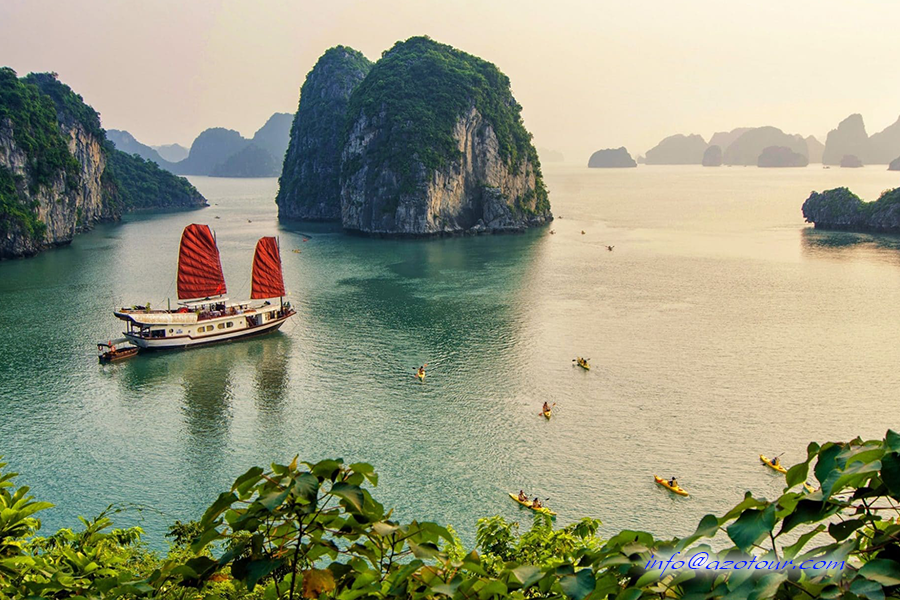 Thien Canh Son Cave
Thien Canh Son is a beautiful cave in Cong Do Nature Reserve on Bai Tu Long Bay. The cave attracts thousands of people to the Bai Tu Long Bay area due to its unique natural beauty and lyrical scenery.
Although the size is smaller than Sung Sot cave, Thien Canh Son cave still has an enticing beauty, and the cave does not receive a huge number of people, allowing visitors to get the most out of their visit.
Outside the cave, tourists can take in the lyrical natural landscape of Bai Tu Long Bay while breathing in the fresh and crisp air.
Furthermore, relaxing at the gorgeous white sand beach at the foot of the mountain will be a wonderful experience before carrying on with the next activities.
All of these features combine to make this location ideal for a two-day, one-night overnight trip on Bai Tu Long Bay.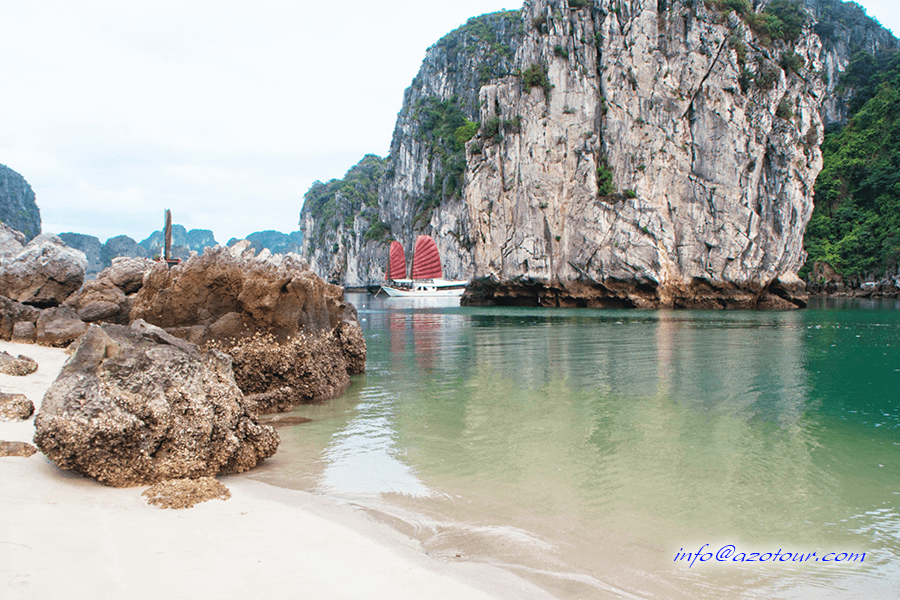 Hon Co Island
Hon Co (Co Cave), located in the heart of Cong Do island's conservation, is one of the preferred locations for international travelers on their way to cruise Ha Long Bay and Bai Tu Long Bay.
Hon Co (Co Cave) is situated in the middle of a clear blue sea, surrounded by a plethora of large and tiny rocky islands of various shapes. Hang Co (Co Cave) is characterized by white sand and numerous virgin stalactites. The flora in the Co cave area is diversified and green, stretching from the bottom to the top of the rocky islets. The Ha Long Bay Management Board has created a system of cave paths and sightseeing routes to the top of the cave to serve visitors. Visitors to Co cave can swim in the crystal blue water or take a boat to enjoy the beauty of the surrounding limestone islands, see stalactites, and explore Co cave.