Halong Bay, Vietnam | The 05 Best Foods in Halong Bay Restaurants
What to eat today is a frequent topic at home, but it is also a major concern when traveling. When you come to visit the beautiful Halong Bay Beach City, you will find a huge cuisine menu with many fresh and tasty seafood dishes, but to advise what is "a must try" in any Halong Bay restaurant, we would like to recommend the five most famous cuisines in Halong City as:
1. Steamed Sticky Rice serves with Grilled Squid Cake (Xoi Cha Muc Cha Long)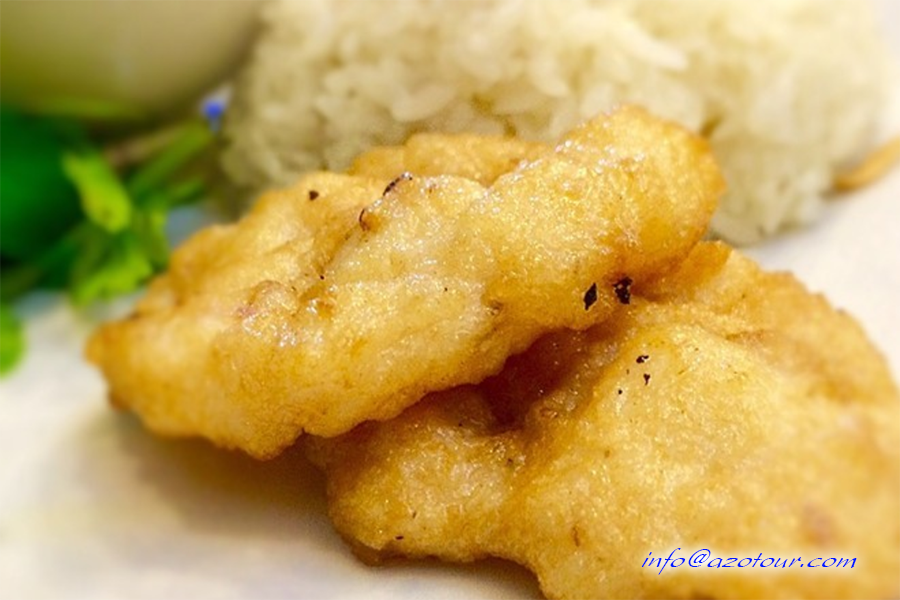 Cha Muc Ha Long (Halong grilled squid) is a trademark for Halong Bay food, which is mostly prepared using fresh seafood. White sticky rice with grilled squid cake is also on the first list of Halong City's dining series. "Cha muc" is a phrase common to foodies (grilled squid). When you eat cha muc here, you'll notice how authentic and flavorful the squid meat is. In Ha Long Bay, squid cake is firmer and sweeter than in other regions.
Sticky rice is used to make sticky rice, which is then topped with golden grilled squid, fish sauce, and a hot chili sauce to create a perfect Halong Bay specialty. And when taking a Halong Bay Cruise Tour, you will almost always have the chance to try this "Cha Muc Ha Long"
2. Rice Rolls Cake serves with Grilled Squid Cake (Banh cuon cha muc)
What is your morning breakfast, usually? The Halong people will answer rice rolls with squid cake mostly. The Ha Long Rice Rolls Cake is distinguished by the special accompanying grilled squid cake. To create a Ha Long-unique squid cake meal, rice roll cake (banh cuon) is filled with a mixture of minced beef, shiitake mushrooms, and onions dipped in fish sauce and squid cake, then strewn with sweet and sour fish sauce. Nothing comes close.
3. Peanut Worm Porridge (Sa Sung – Dia Sam)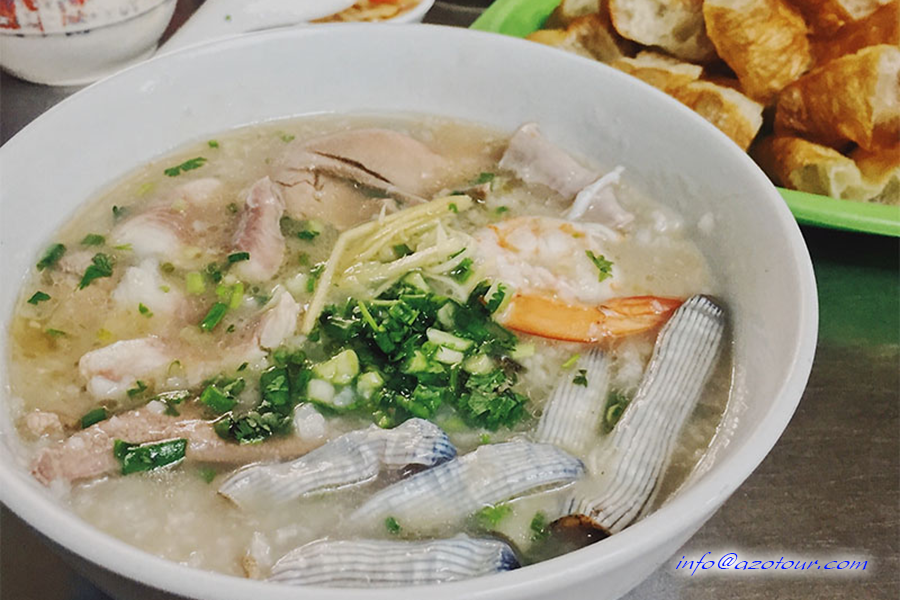 Sa sang, also known as sea ginseng, is a must-try Ha Long delicacy. This sandworm can only be found in the waters of Ha Long Bay. Mien Dong fried vermicelli (a type of Vietnamese root) with garlic and peanut worm is a popular meal. If you visit Ha Long, you should definitely try this dish. A favorite local delight is grilled peanut worms with cool beer.
4. Horseshose Crab (Sam Bien)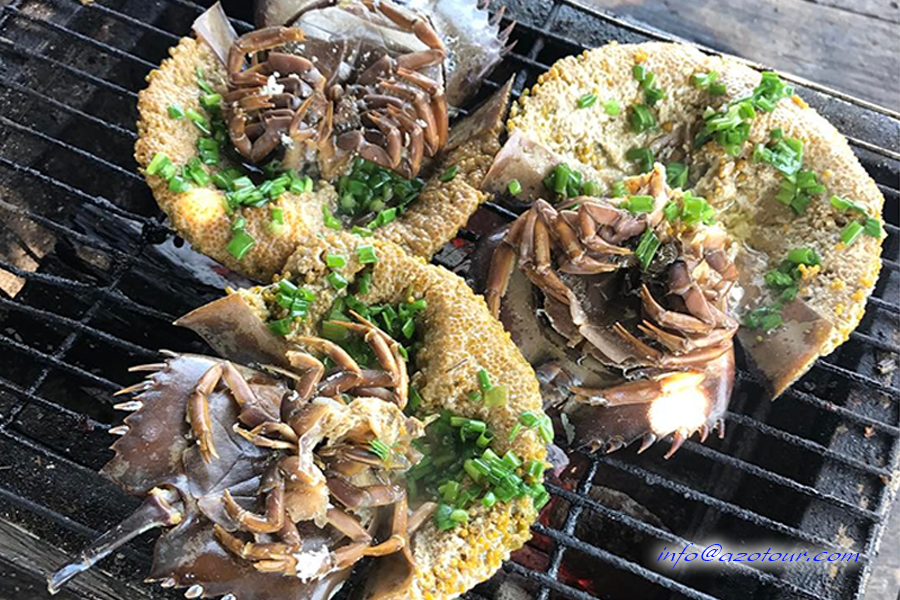 Horseshoe Crab is the next choice if you're still thinking "what to eat when visiting Ha Long." With fragrant meat, medium sweetness, and chewiness, Sam Bien is a "hot order" in the best restaurants in Ha Long. Horseshose Crab can be found in a variety of dishes, such as grilled Horseshose Crab with cheese and eggs and Horseshose Crab salads.
It is not an exaggeration to suggest that this is a Ha Long specialty that everyone should try at least once.
5. Lôi Âm Roasted Chicken (Ga nuong Loi Am)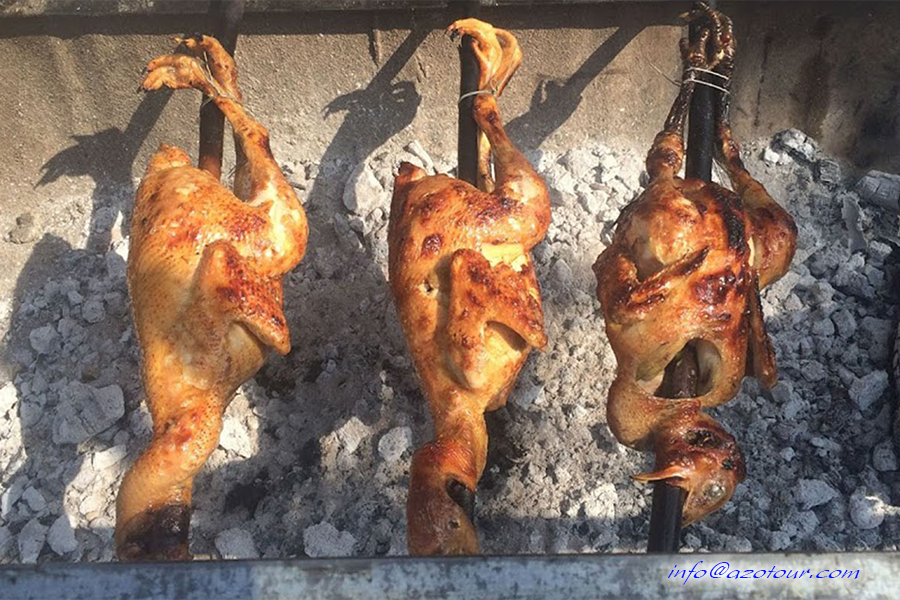 Because Lôi Âm chicken is also a walking chicken, the meat is solid with a modest fat level. The restaurant exclusively grills chicken on request, guaranteeing that it is always fresh. It is available in two flavors: standard grilled chicken and wormwood grilled chicken. If you dislike the strange smell of Chinese medicine, choose the standard version. Loi Am chicken is named after the place where it is marketed, which is 15 kilometers from Ha Long City at the foot of the mountain of Loi Am Pagoda.
Join with our AZOTOUR Vietnam to taste all specilities of Halong Bay