Lan Ha Bay, Vietnam
Lan Ha Bay, a continuation of Ha Long Bay, is located east of Cat Ba Island in the Tonkin Gulf, Vietnam. Lan Ha Bay has attracted more and more tourists in recent years for its 400 large and small islands, golden sand beaches, intriguing caverns within the national park, and calm settlements.
Cat Ba National Park and Lan Ha Bay have numerous attractive locations and destinations to visit, such as Cat Co Beaches, Quan Y Cave, Ngu Lam Peak.... So, clients can participate in a variety of sites and activities, including an overnight Lan Ha Bay cruise, biking to Viet Hai Fishing Hamlet, kayaking on a floating village, and swimming at Three Peaches Beach.
Where to visit in Lan Ha Bay?
Ao Each (Frog Lagoon)
As one of the most well-known spots of Cat Ba National Park in Lan Ha Bay, with natural beauty and tranquility generated by rugged mountains surrounding a clear sea with little sandy beaches. Ao Ech (Frog Lagoon), a brief stop for many Lan Ha Bay cruise tours, is a wonderful site for travelers to stop for a very interesting kayak trip, exploring the millions of years old granite mountains with incredibly lively landscapes, tranquil waters, and the emerald green of the marine world beneath the sea's surface.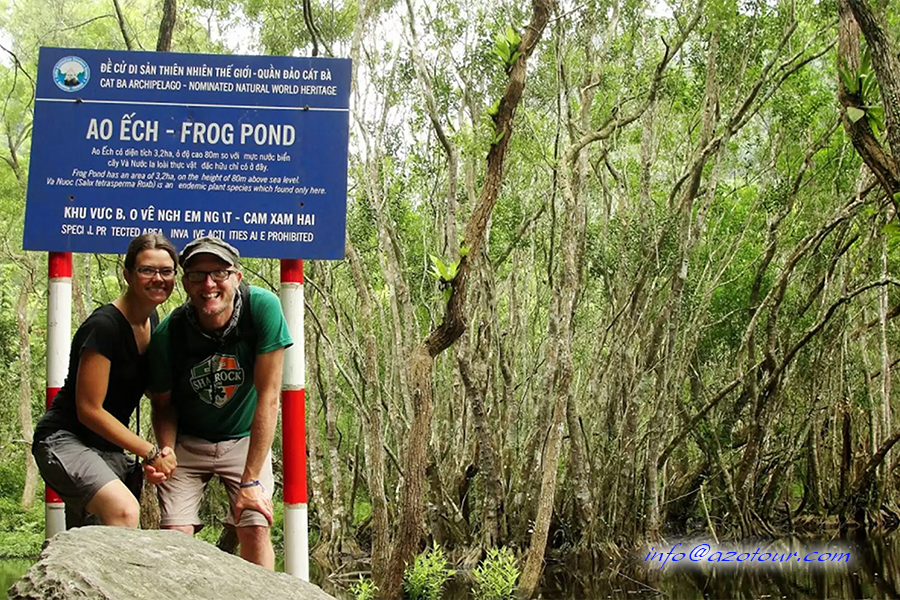 Viet Hai Ancient Village
Viet Hai Ancient Village is a small fishing village in Cat Ba National Park's Cat Hai island area of Hai Phong. Viet Hai Fisherman Village is only about 141ha in size and home to more over 70 houses, but it is also a popular spot for many Lan Ha Bay cruise 2 night trips. It features a pure terrain, almost devoid of human intervention. The special aspect of Viet Hai, however, is that it is surrounded by four surface woods and limestone mountains, producing a serene and lyrical scenery.
There are two ways to get to Viet Hai: take a boat through Lan Ha Bay to Viet Hai dock (the common option for almost of Lan Ha Bay tour) or trek across the magnificent jungle through Cat Ba National Park to access the village.
In recent years, Viet Hai has emerged as an appealing community-based ecotourism destination, particularly for foreign visitors. Visitors who come here appear to be detached from the busy world outside, absorbed in the tranquil, pristine area of nature and the forest.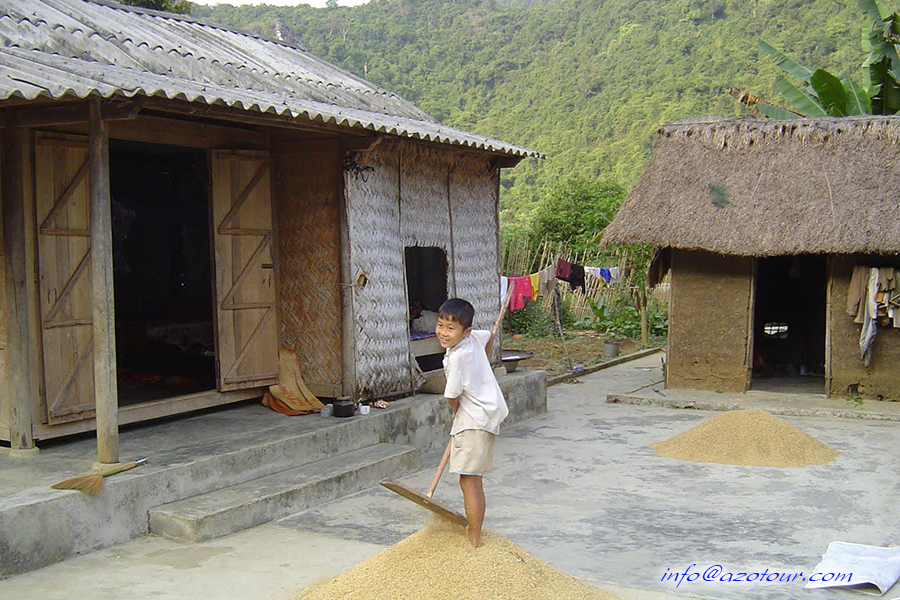 Cat Ba Island's Trung Trang Cave
Trung Trang Cave is 15 kilometers northwest of Cat Ba town in Trung Trang valley. This cave has thousands of natural stalactites with unique formations that have formed through millions of years of geological tectonics, stirring tourists' imaginations. Locals refer to Trung Trang cave as a "gold and silver treasury" since it has many unique items.
Trung Trang Cave contains an ecosystem in the mysterious darkness that is home to a variety of species including bats, birds, insects, and reptiles. To preserve the peculiarities of the cave's natural habitat, the lighting system is fairly limited. The hazy virtual space has provided visitors with an intriguing experience.
At the end of the adventure to explore more than 300 meters of Trung Trang cave, there is a towering cave with many cubes that serve as amazing natural sculptures. Visitors will enter a magnificent green space with numerous antique trees and vines from here. There is also a natural lovely coniferous forest in the Trung Trang cave area.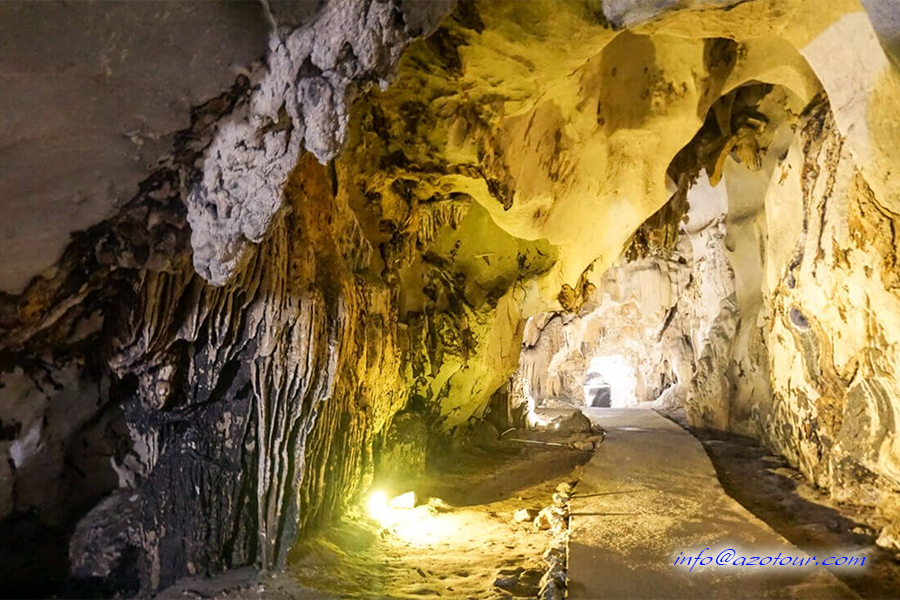 Three Peaches Beach
If you have never been to Ha Long Bay, you will be astounded by the magnificence of Ba Trai Dao Island. Although it is part of Ha Long Bay, the island is very close to Cat Ba Island - Hai Phong. Ba Trai Dao beach is 22 kilometers southeast of the tourist pier and is known for its lovely beaches and charming environment. The water at Ba Trai Dao beach is so clear that you can see the bottom on sunny days. The beach is shallow and open, making swimming and boating activities relatively safe. Visitors to Ba Trai Dao Beach - An popular Ha Long tourism location - can swim as well as observe the rocky islets and strangely shaped cliffs located adjacent to the beach.
Ba Trai Dao beach is roughly a 10-hour canoe ride from the cruise ship dock. The name comes from the fact that there is a bow-shaped sand beach that hugs all three peach-shaped mountains.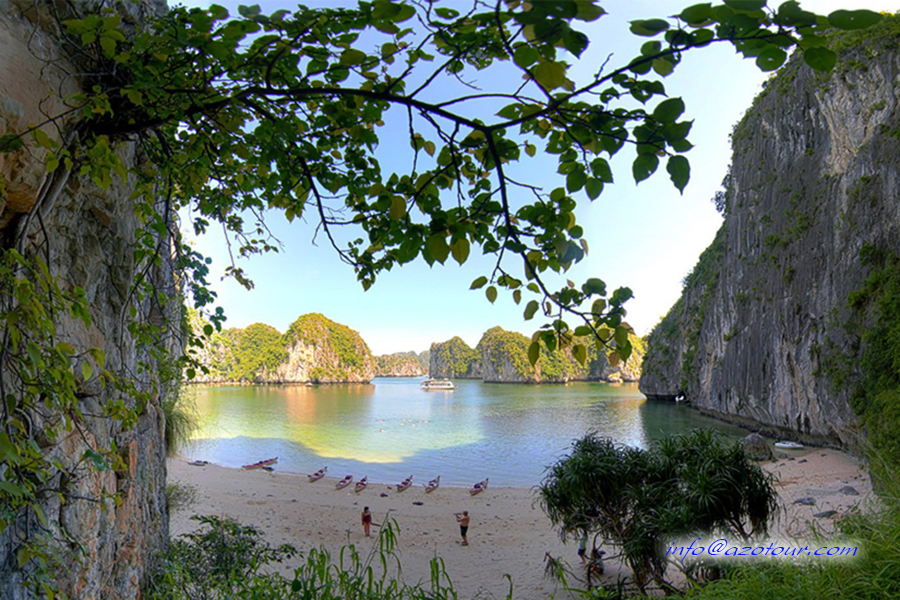 Cat Ba Island & Cat Ba National Park
Cat Ba Island District is a well-known island district located on Lan Ha Bay Vietnam, which is an extension of Halong Bay.
Cat Ba National Forest is home to uncommon langurs listed in the Red Book. This is an opportunity to be close to nature, as well as rich vegetation. In particular, in Cat Ba National Park, there is Ngu Lam Peak, from where you may enjoy the alpine beauty from one of the most spectacular vantage points on Cat Ba Island.
Visitors to Cat Ba Island typically spend at least one day exploring Cat Ba National Park, which offers a variety of activities such as cycling, climbing, exploring the rescue center, and trekking to the Ngu Lam Peak.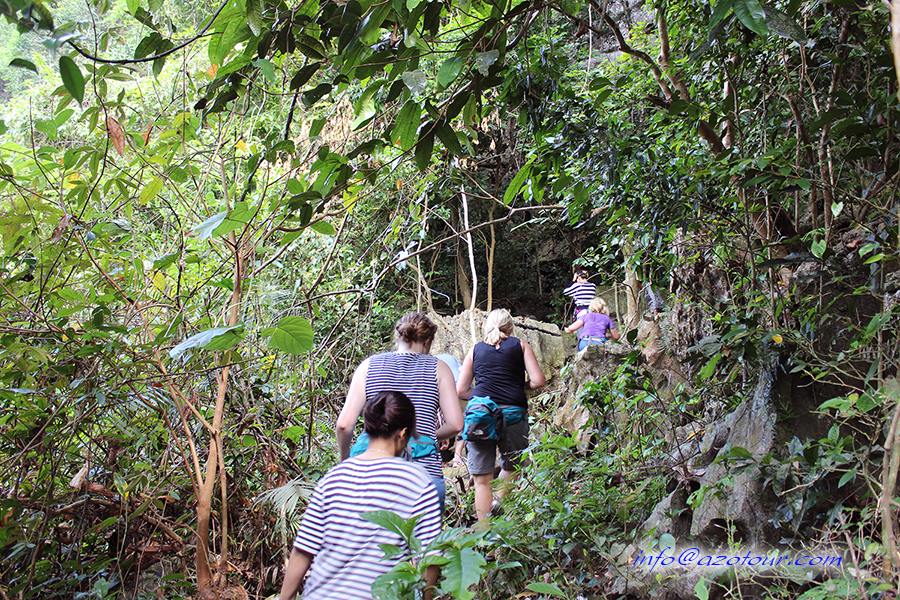 Dark & ​​Bright Cave
The Dark and Bright Cave (also known as the Wet Cave) is located on Lan Ha Bay in Cat Ba Island, Hai Phong. This is a 70-meter long line through the mountains, but it is placed on the lake, so tourists must often row or kayak to reach the cave.
Recently, the Dark & Bright Cave has become a must-see for people on overnight cruises in Lan Ha Bay.
Sitting on a rowboat or kayaking along the water by yourself, breathing in the fresh air and blue water, looking at the beautiful scenery, and feeling the peace between the sea of clouds and mountains will be a moment you have been looking for for a long time in the busyness of everyday life.
To explore Dark & Bright Cave, travelers nowadays frequently pick 3 day/2 night or 2 day/1night excursions on Lan Ha Bay or Ha Long Bay cruises . And going to Dark & Bright Cave is an exceedingly interesting activity that you should not miss
And to see which boat will take you to the Dark and Bright Cave, you can also contact AZOTOUR Vietnam for a better suggestion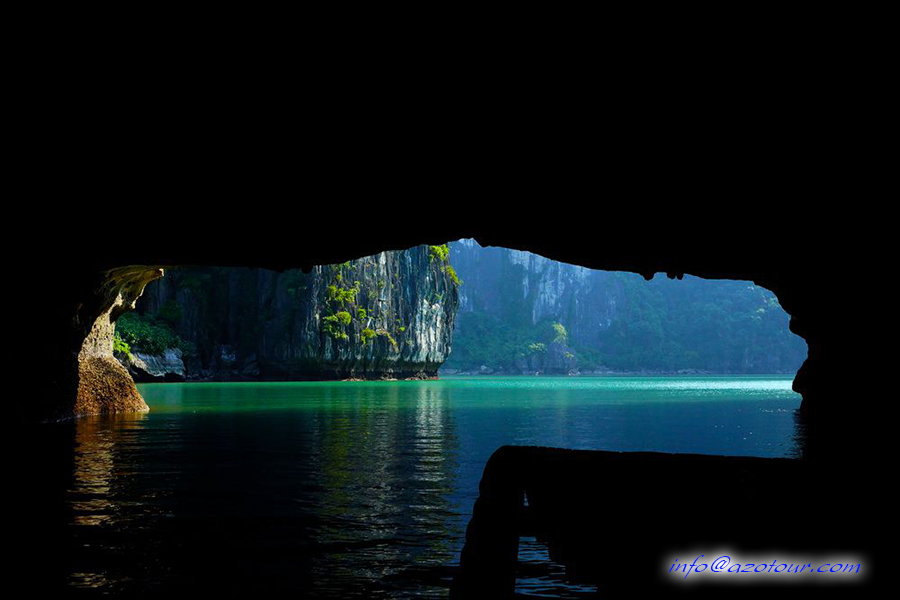 Van Boi Island
Van Boi Beach is located on a small island in Cat Ba Island's Lan Ha Bay, Hai Phong.
Taking a two or three-day overnight cruise on Lan Ha Bay is usually the best way to reach Van Boi Beach. And tours stop for a little time to swim and sunbathe on the beach.
Other visitors who want to visit Lan Ha Bay and Van Boi Beach but do not want to spend the night on the boat can reach to Cat Ba Island by car or boat from the ports of Cat Hai, Dinh Vu - Ninh Tiep, and Got - Cai Vieng. Then, take a day boat journey across the bay to explore the island, stopping at Van Boi Beach to immerse yourself in the pure, tranquil sea and gradually release any emotions.
Lan Ha Bay, as well as tranquil beaches like Van Boi beach, are always excellent choices for visitors visiting Cat Ba.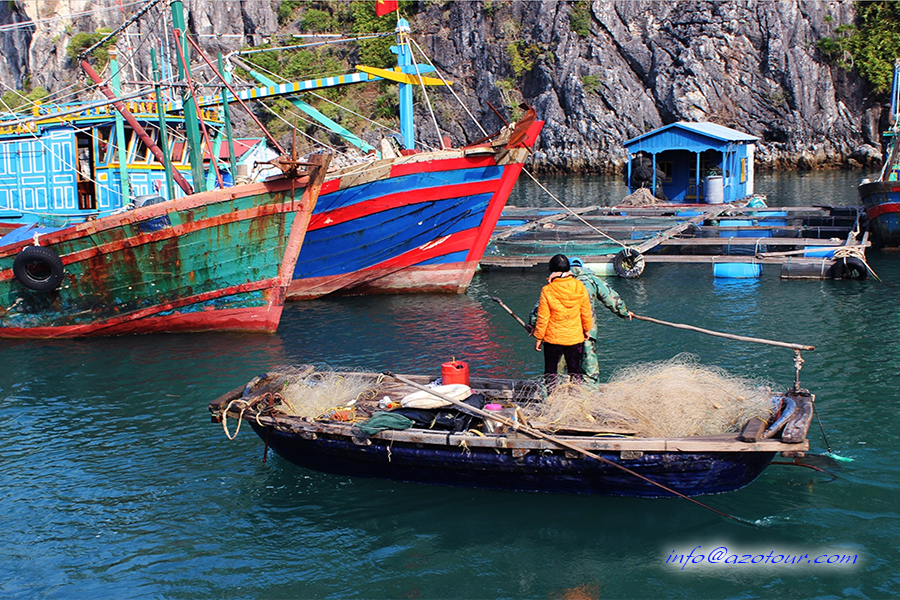 Quan Y Cave (Hospital Cave)
Quan Y Cave (Military Medicine Cave) is located on Cat Ba Island, in the Cat Hai Island District of Hai Phong City
The cave is located 13 kilometers from Cat Ba town on an exclusive route across the island. It is known as Quan Y Cave because villagers established a hospital with hundreds of beds inside the cave during the war with the US.
The wooden ladder of connecting each champer to the patient rooms is still used (mobile wooden ladder can be demolished when there is an alarm of enemy attack). The cave gate is made of iron and steel alloy, which has been used for many years yet is still very powerful.
When you visit this Quan Y cave, you will be awestruck by the massive magnitude of a field hospital in the mountains, which is very enticing to international tourists.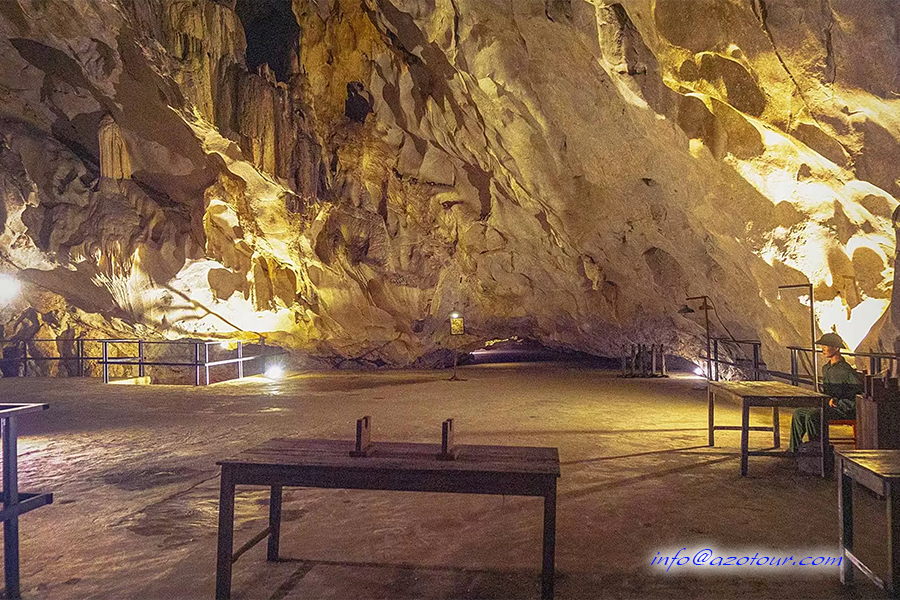 Cai Beo Floating Village
Cai Beo floating village in Lan Ha Bay includes more than 200 households living on cottages designed on floats, and the village has been investigated by domestic and foreign archaeologists which has been around for thousands of years. Tourists frequently rent a boat for 3-4 hours with a schedule of Beo wharf - Cai Beo bay - visit fish rafts (if buying fish, ask the price first) or visit Ba Trai Dao - about swimming, resting, and quenching thirst in Monkey Island, then return to Cai Beo Boat Station to return to Cat Ba Town's central.
The bay's unique feature is that several islands have sandy beaches at the foot of the mountains, enhancing the attractiveness of the area and attracting thousands of tourists from across the world each year