Halong Bay, Vietnam | The best overnight cruises with swimming pools on Halong Bay 2023
There are numerous types of Halong Bay cruises available, depending on clients' budgets and demands, so tourists can choose from budget-friendly options to the best Halong Bay cruises with swimming pools. In which, Halong Bay Cruise's luxury cruises include well-known brand names such as Halong Bay Paradise Cruise, Ambassador Cruise, Stellar of the Seas Cruise, and so on.
Here are the top ten luxury Halong Bay cruise ships with swimming pools that will meet the needs of worldwide visitors:
1. Ambassador Cruises
The Ambassador Cruise may not be the most luxurious cruise on Ha Long Bay, but many tourists still prefer it as one of Ha Long Bay's five-star luxury cruise ships with swimming pools and hot tubs. The Ambassador cruise ship's swimming pool is located on the third floor, where guests can cool off and relax in the large hot tub
In 2018, the Ambassador Cruise set out to explore Ha Long Bay, the Amazing Cave, Titop Island, and Tung Sau fishing village. So, if you want to take a luxury cruise with a swimming pool and visit these interesting places, the Ambassador yacht is a good choice for you and your family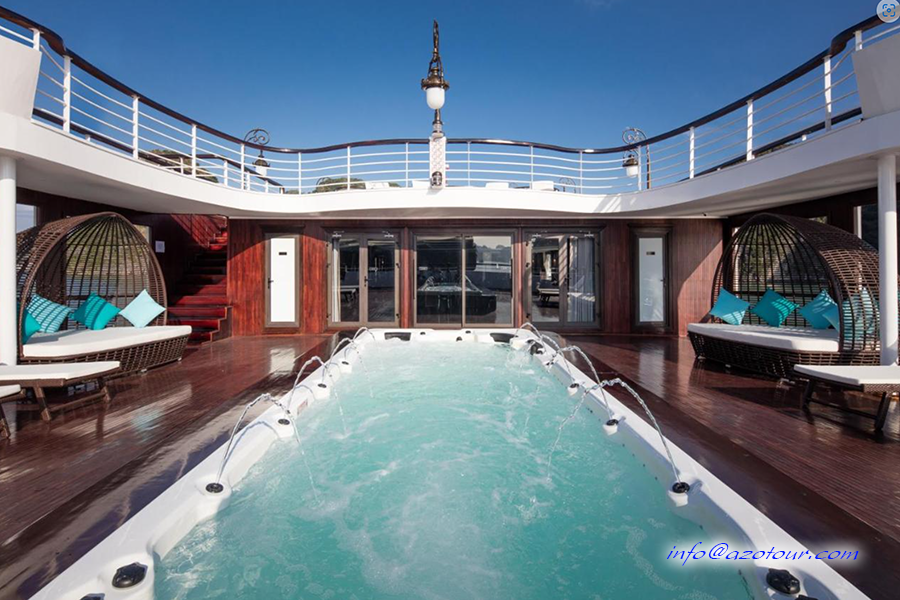 2. Paradise Elegance Cruise
If you want to visit Halong Bay while swimming in the infinity pool, Paradise Elegance is an excellent choice. The swimming pool on Paradise Cruise is located on the third floor aft of the ship. Visitors can zoom out on the 15m2 swimming pool's sofas. The swimming pool is an excellent location for logging in to live shimmering virtual life, breathing fresh air, and organizing a small pool party.
Paradise Cruise is a large cruise ship company that offers luxurious and high-class services, attentive service, and professional staff to ensure that all their visitors are satisfied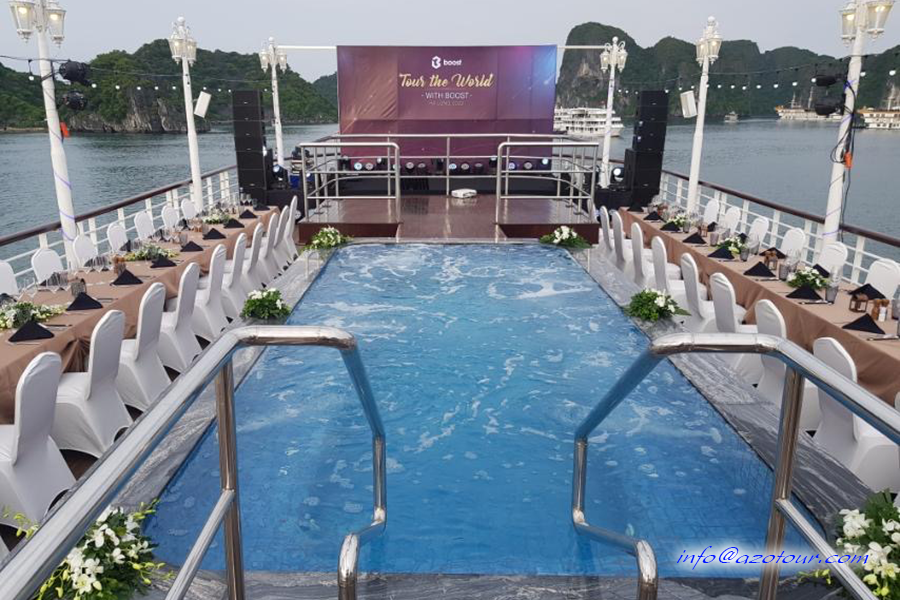 3. Lan Ha Bay Capella Cruise
Capella Cruise is the third luxury cruise line with a large swimming pool.
The swimming pool at the Capella Cruise is located on the first floor aft of the ship. Capella's swimming pool floats and has a large 40m2 area The entire swimming pool is illuminated with LED lights and shimmering glass in the evening. Then, even at night, guests can live in a virtual world surrounded by beautiful images.
Capella Cruise has a schedule to explore the area around Lan Ha Bay, which includes many beautiful scenery such as Frog Pond Area, the Dark Cave, and a variety of other entertainment activities to keep visitor entertained while in Ha Long Bay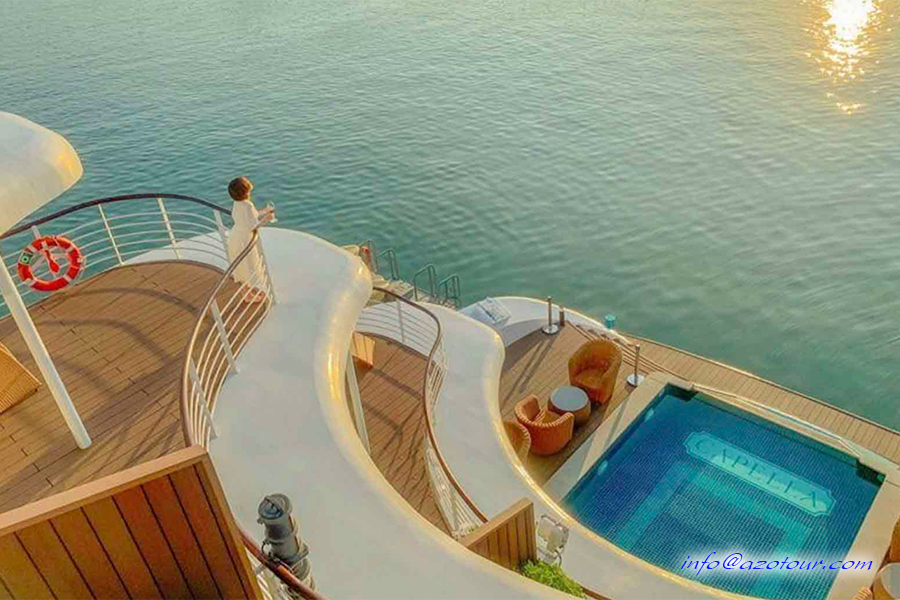 4. Heritage Halong Bay Cruise
The Heritage Halong Bay Cruise is a luxury cruise with a large swimming pool that is open all year. The swimming pool on the third floor of the Heritage Binh Chuan Cruise, which is located at the front of the cruise ship and is 30m wide and 1m deep, making it ideal for families with children. This yacht has a diamond-shaped design and LED lighting all year.
Behind the pool is a pool bar where you can relax with a drink, sunbathe, and take in the view. The Ha Long Bay Heritage Cruise will take visitors on a tour of Ha Long Bay, Lan Ha Bay, and the Cat Ba archipelago.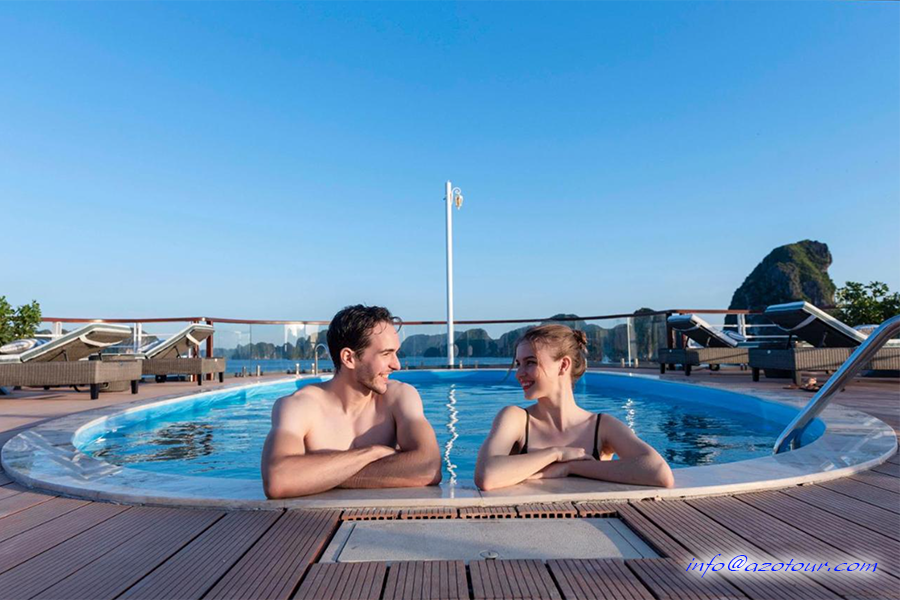 5. Halong Bay Stellar of the Seas Cruise
The Stellar of the Seas, which contains a swimming pool, is one of the most famous and opulent cruises in Halong Bay. The swimming pool on the third floor of the yacht is placed at the front of the ship, with a great view of the harbor, and a mini golf course is located below. The 50m2 swimming pool is designed like a triangle and has shimmering LED lights in the evening.
The travel route of The Stellar of the Seas includes stops at Ha Long Bay, Dark & Light Cave, kayaking area, and Lan Ha Bay. In addition to the swimming pool, Stellar of the Seas offers a golf club, a wine cellar, and cigars in addition to the swimming pool.
The Stellar of the Seas is consistently ranked as one of the top ten luxury cruise ships in Ha Long Bay-Lan Ha Bay, and it gives clients an unforgettable experience.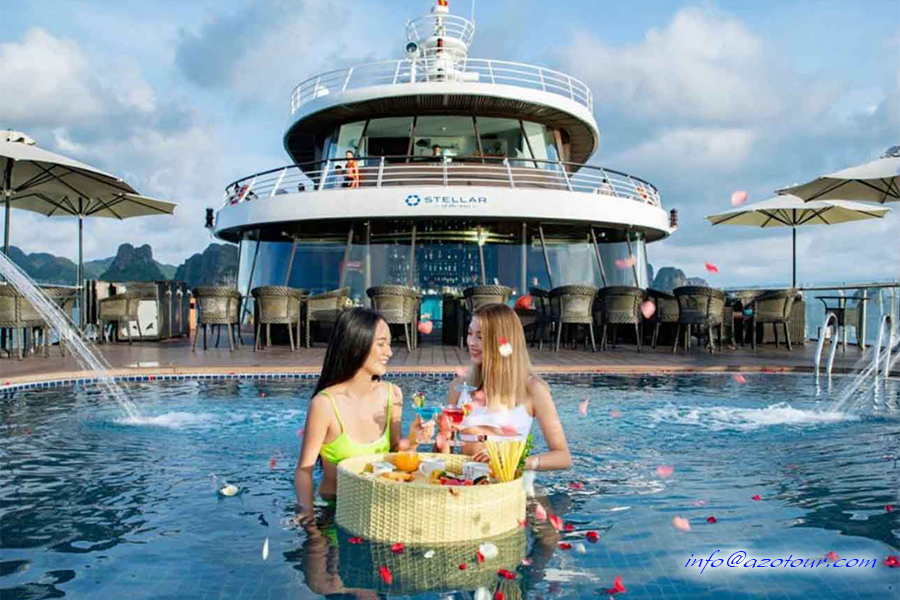 6. Lan Ha Bay Elite of the Seas
Elite of the Seas, one of the most anticipated yachts of 2022, will be an exceptional and unmissable experience for visitors, featuring the largest swimming pool among cruise ships on Lan Ha Bay.
The Aclass group, which owns the Stellar of the Seas yacht, collaborated on the Elite of the Seas boat, which promises to build on its current popularity in 2020. Elite of the Seas is scheduled to enter service in April 2021, with 35 spacious cabins, private bathtubs, and big windows with panoramic views of the environment.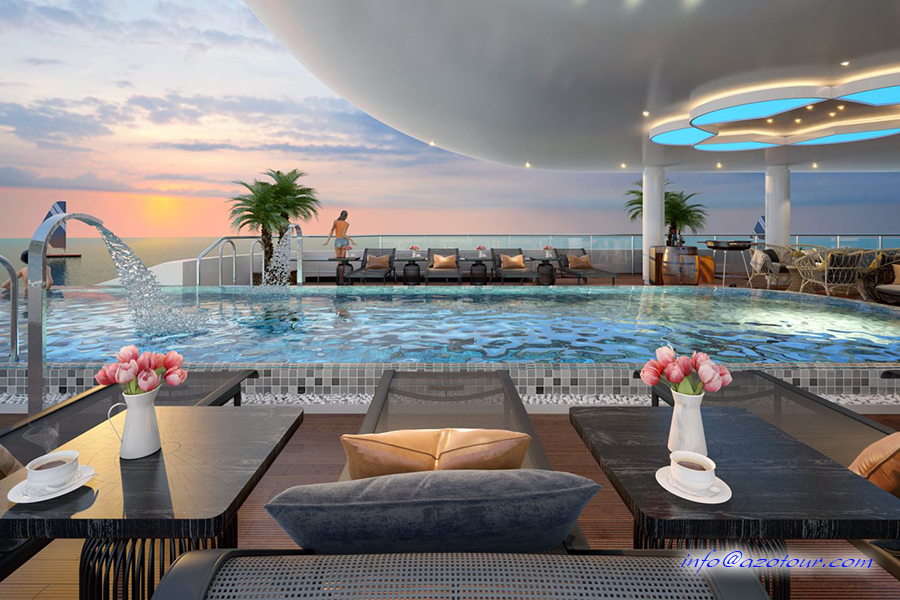 7. Dragon Legend Cruise Bai Tu Long Bay
Dragon Legend Cruise is a 5-star Vietnamese-style ship that travels to Bai Tu Long Bay on a special schedule, which is significantly more tranquil and quiet for middle-aged clients or honeymoon couples.
The particular vessel has two indoor and outdoor saltwater swimming pools that are suited for people of all ages. and r omantic, quiet setting ideal for honeymooners.
Dragon Legend Cruise will take passengers to the picturesque Bai Tu Long Bay - Vung Vieng Floating Village on a different schedule than other overnight cruises on Ha Long Bay, with careful, detailed service and exceptionally professional staffs. The cruise will bring tourists to other view of the world natural heritage site Ha Long Bay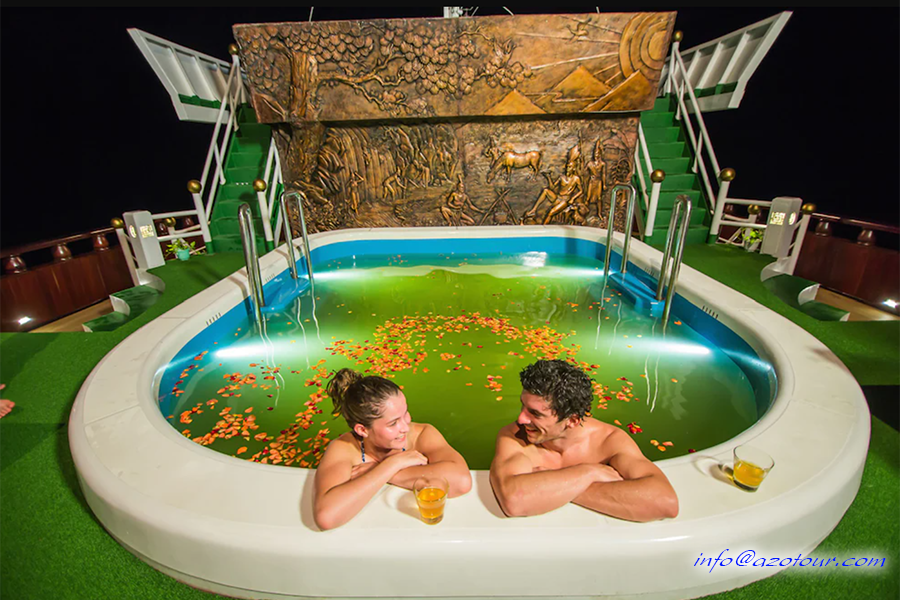 8. Ylang Cruise
Another newcomer on Lan Ha Bay, with classic French style blended with Vietnamese architecture, resulting in a magnificent and luxurious area.
When you sail through Ha Long Bay on the luxury boat Ylang, you won't have to worry about your children getting into the water because there is a swimming pool on board!
For a refreshing sensation, the unusual swimming pool is tiled with turquoise mosaic tiles.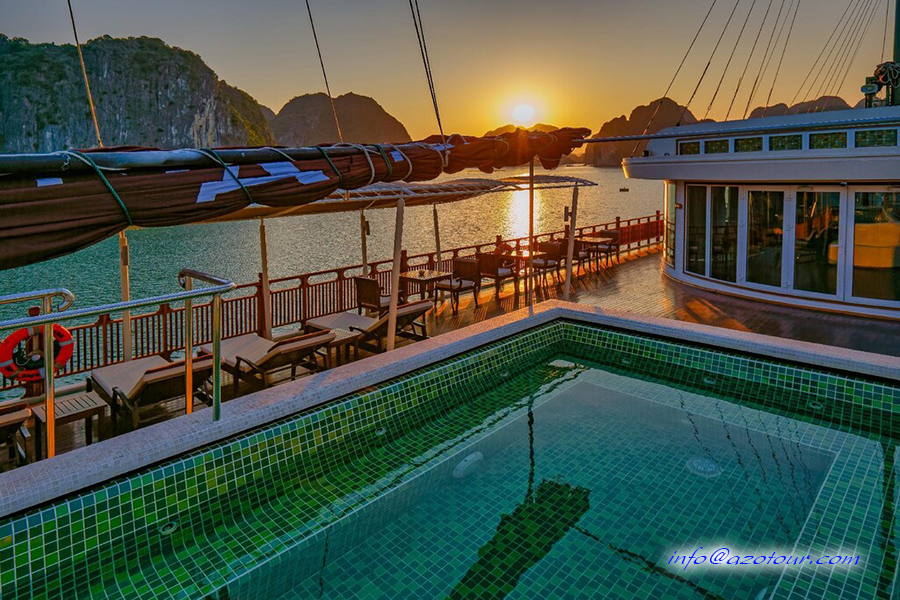 9. Premier Alisa Cruise
The design of the 5-star cruise on the Tuan Chau-Ha Long route combines historical elegance and innovation. The experience on board is equally pleasurable, with an outdoor swimming pool coated with eye-catching mosaic tiles. Taking the trip on Premier Alisa Cruise, visitors will be able to tour the most famous sights in Ha Long Bay, such as Sung Sot cave and Titop island.
10. Rosy Cruise Lan Ha Bay
The 5 * Rosy yacht, launched in 2019, boasts a contemporary Western design style with 22 staterooms and several facilities.
A triangular Jacuzzi for adults is located in front of the ship. Don't pass up the opportunity to relax in warm water and have a soothing massage.
At night, LED lights make the room sparkle.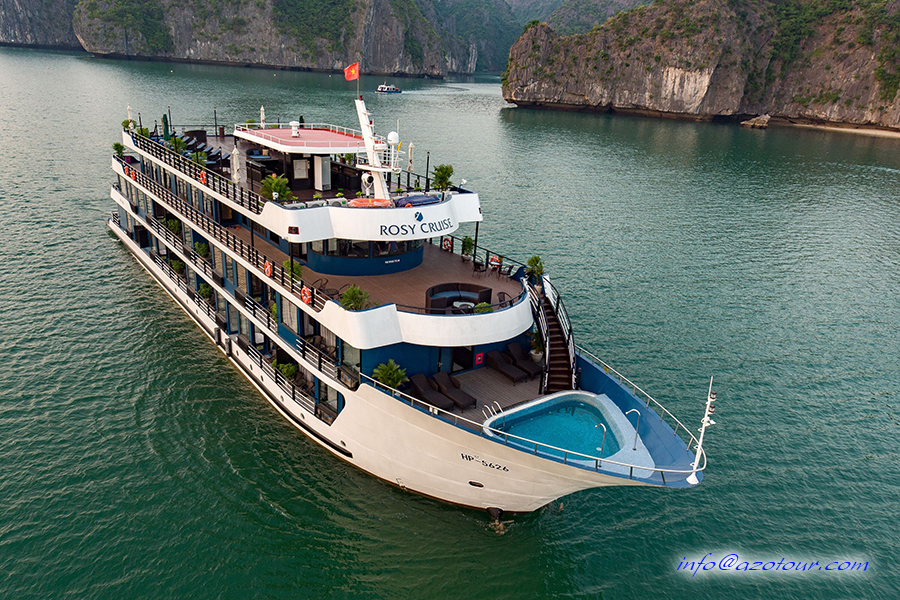 After all, just tell us: is Halong Bay worth visiting? Let's share your Ha Long Bay trip plan so AZOTOUR Vietnam can ensure that we advise you on the most suitable cruise for your precious Ha Long Bay vacation.