Top 11 most Vietnam delicious dishes
Vietnamese food is known to be both healthy and robust in flavour, thanks its generous combination of fresh herbs and greens, paired with rice, noodles, seafood, pork and beef. While many cities such as Hanoi and Ho Chi Minh City offer plenty of fine-dining venues and five-star hotel restaurants decked out in extravagant settings, some of the best (and most authentic) Vietnamese delicacies are actually found at roadside eateries, vibrant street markets, and humble-looking restaurants.
A typical meal includes rice or noodles, a meat or seafood dish, a vegetable dish, soup and nước mắm (fermented fish sauce) for dipping, each of which can easily customised according to your preference. What is the most famous food in Vietnam? That might be a question visitors wondering for their plan to Vietnam. In this topic, we introduce you Top 10 traditional Vietnamese dishes with pictures you need to try. We will show you what do travelers eat in Vietnam, the best food to eat in Vietnam. While most are familiar with pho or spring rolls, there's a wide range of Vietnamese dishes only available in certain regions so be sure to try them out during your visit.
1- Phở (Rice Noodle)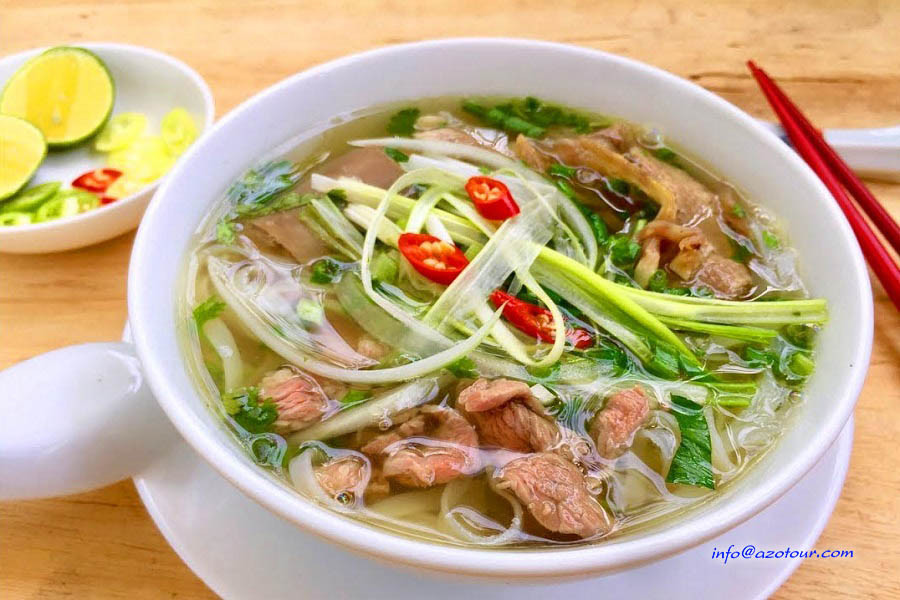 Pho is essentially Vietnam's signature dish, comprising rice noodles in a flavourful soup with meat and various greens, plus a side of nuoc cham (fermented fish) or chilli sauce. A basic bowl contains tai (beef slices), bo vien (beef meatballs) or nam (beef flank), topped with bean sprouts, lime wedges, and fresh herbs such as basil, mint, cilantro, and onions. Depending on the restaurant or roadside stall, you can also opt for more exotic ingredients such as gan (beef tendon), sach (thinly-sliced pig stomach), and ve don (flank with cartilage). Typically eaten for breakfast, pho is priced between VND 20,000 and VND 30,000 at a local restaurant or street market in Vietnam.
2- Bánh Mì (Vietnamese Bread)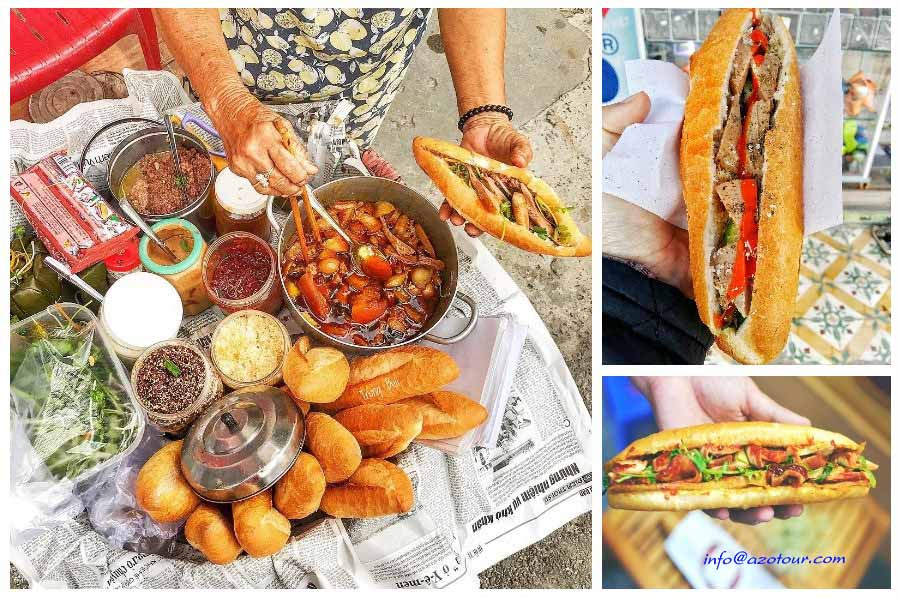 Banh mi is a unique French-Vietnamese sandwich that's great for when you're in need of a quick meal. Priced between VND 10,000 and VND 15,000, it consists of a toasted baguette sandwich, pickled vegetables, pate, butter, soy sauce, cilantro, chillies, and hot peppers. Most banh mi sellers also offer a wide range of meat fillings, including heo quay (roasted pork belly), trung op la (fried egg), thit nuong (grilled pork loin), cha ca (fried fish with turmeric and dill), cha lua (boiled sausages), xa xiu (Chinese barbecued pork), and thit ga (poached chicken)
3- Bánh xèo (Crispy Pancake)
Similar to a crepe or pancake, bánh xèo is made of rice flour, coconut milk, and turmeric, which you can fill it with vermicelli noodles, chicken, pork or beef slices, shrimps, sliced onions, beansprouts, and mushrooms. Most roadside stalls, local markets, and restaurants sell a platter of banh xeo for about VND 15,000 to VND 25,000, which usually comes with a side of fresh lettuce or rice papers. Eat like a local by wrapping your banh xeo in mustard leaf, lettuce leaves or rice papers together with nem lụi (lemongrass pork skewers), mint leaves, basil, before dipping in fermented peanut sauce.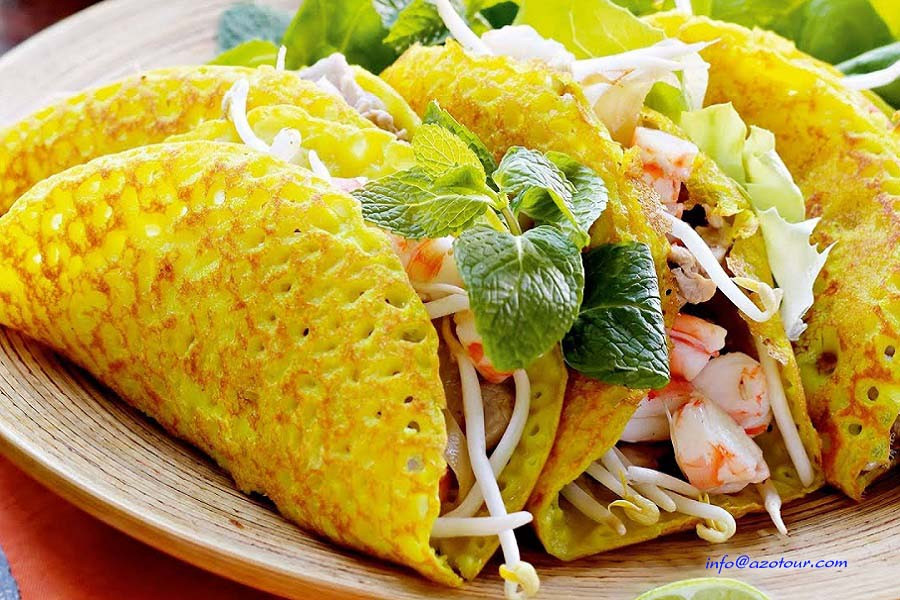 4- Nem cuốn (Vietnamese Spring Rolls)
Nem cuốn (Vietnamese spring rolls) consist of thin vermicelli noodles, pork slices, shrimp, basil, and lettuce, all tightly wrapped in translucent banh trang (rice papers). Due to its subtle flavour, goi cuon is usually dipped into ground chillies and a hoisin-based dipping sauce topped with crushed peanuts. This popular snack or appetiser is also a healthier alternative to cha gio, which is a deep-fried egg roll made with a combination of mung bean noodles, minced pork, and various spices.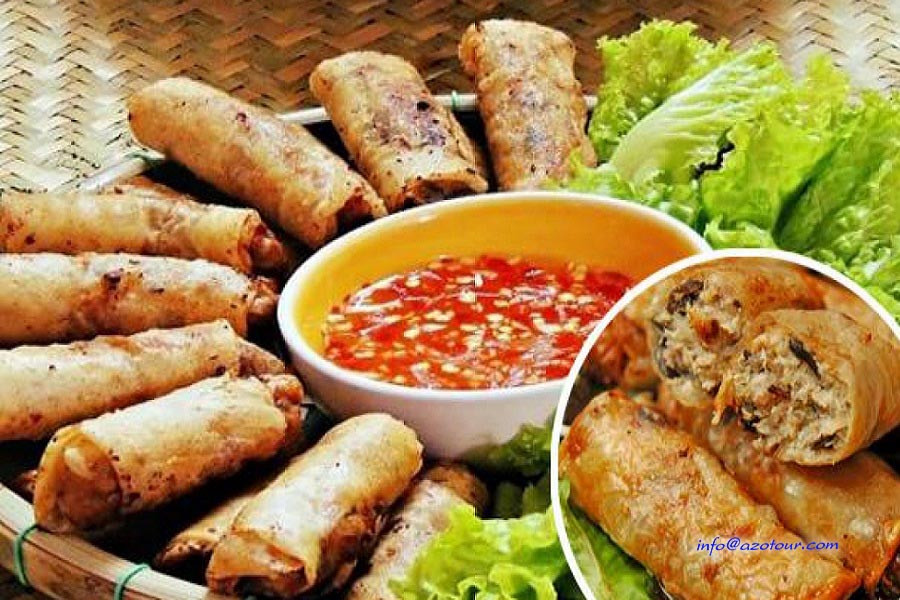 5 - Mì Quảng (Vietnamese Turmeric Noodles)
Mi quang may be available at most restaurants in Vietnam, but it actually originates from Da Nang. Easily distinguished by its yellow-coloured rice noodles, this dish is a hearty mix of bone broth seasoned with fish sauce, black pepper, shallot, and garlic, as well as meaty ingredients such as river shrimp, boiled quails eggs, and roast pork. As with most Vietnamese dishes, mi quang also comes with a variety of herbs, including basil, peanuts, coriander, lettuce, sliced banana flowers, and sesame rice crackers.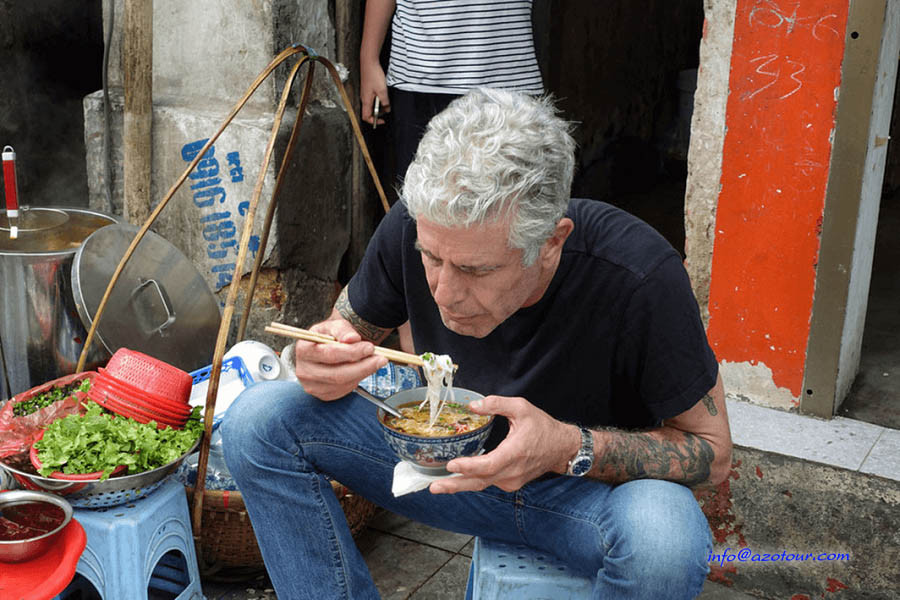 6- Bún Chả (Vermicelli Rice With Grilled Pork)
Bún chả comprises vermicelli rice noodles, lettuce, sliced cucumber, bean sprouts, basil, chopped peanuts, and herbs, served with grilled pork. Unlike most noodle dishes, it doesn't come in
a soup or broth, but with a side of nuoc cham sauce for diners to mix into for a flavourful ensemble.
While bun thit nuong is quite filling on its own, you can also try another variation called Bún Chả, which is topped with sliced cha gio (deep-fried Vietnamese spring rolls).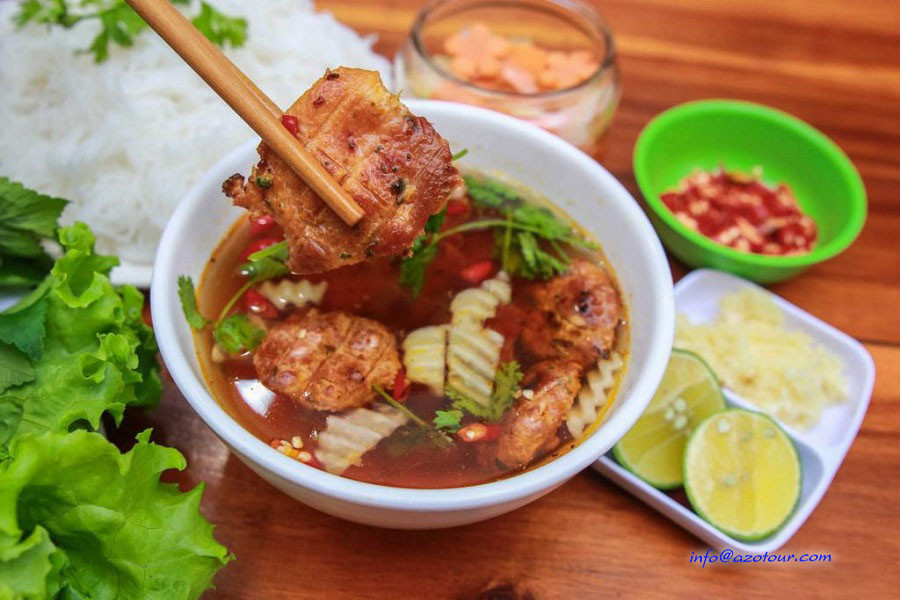 7- Cơm Gà Hội An (Hoian Chicken Rice)
Cơm gà Hội An literally translate to 'broken rice' in Vietnamese, and is traditionally served with fried egg, diced green onions, and a variety of meats. While it's a popular choice for breakfast or lunch, it can be enjoyed any time of the day as it is relatively inexpensive, with street markets and roadside food stalls selling for about VND 30,000 - 45,000 per bowl. Toppings options include suon nuong (barbecued pork chop), bi (shredded pork skin), and cha trung (steamed pork and egg patty). Cơm gà also comes with a side of pickled vegetables, cucumber slices, and nuoc cham Vietnamese dipping sauce.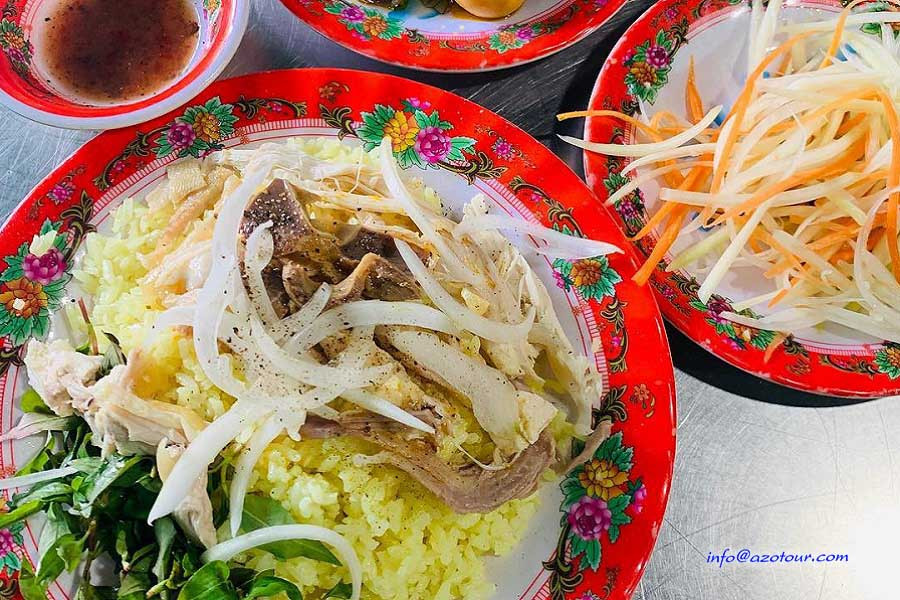 8- Nem Lụi Cuốn Bánh Tráng (Rolled Cake)
Also known as rolled cake, nem lui cuon banh trang is great for when you're feeling peckish whilst sightseeing in Vietnam. A combination of ground meat (chicken, shrimp, or pork), minced wood ear mushroom, onions, Vietnamese ham (cha lua), steamed beansprouts, and cucumbers that's wrapped in a steamed rice flour sheet, its overall taste is surprisingly mild despite the savoury ingredients. For added flavour, you can dip the banh cuon into nuoc cham sauce. Due to its popularity amongst travellers, you can easily spot plenty of roadside vendors selling banh cuon close to tourist sights and nightlife districts.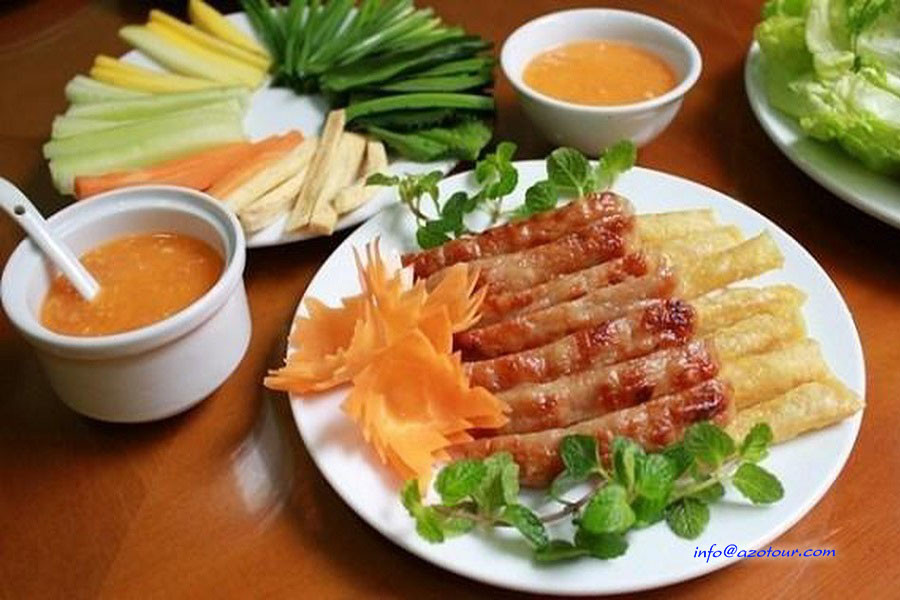 9- Xôi Xéo (Sweet Sticky Rice)
Xoi xeo is a sweet-savoury Vietnamese snack that's typically topped with green mung bean paste, soy sauce, and dried shallots. For a more substantial meal, many restaurants now offer a variety of ingredients such as pate, boiled chicken, cha lua (Vietnamese ham), marinated pork belly, or preserved eggs. A basic bowl typically costs VND 15,000, while add-ins range between VND 15,000 and VND 30,000. Xoi xeo can also be enjoyed for dessert, which consists of dried coconut shavings, roasted sesame seeds, and crystallised sugar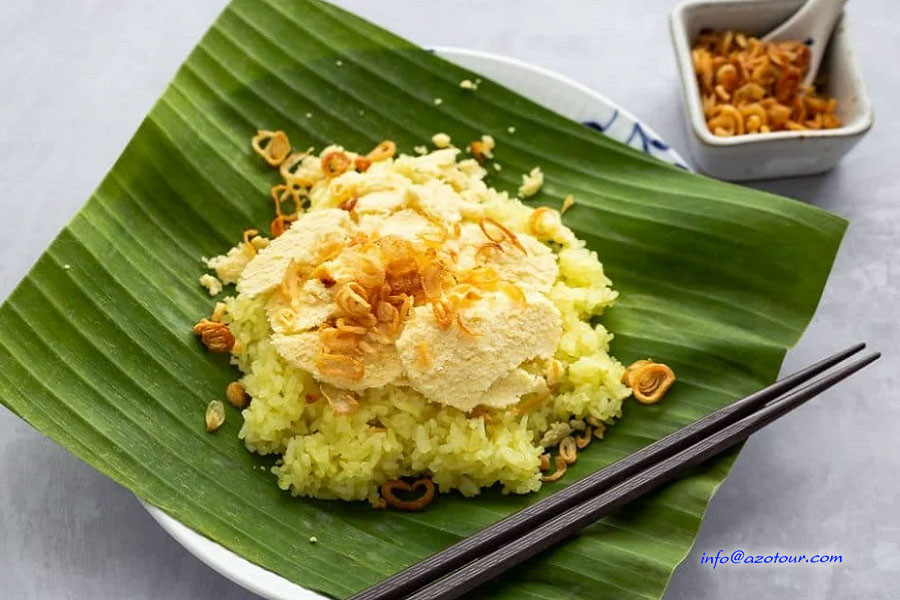 10- Gỏi cuốn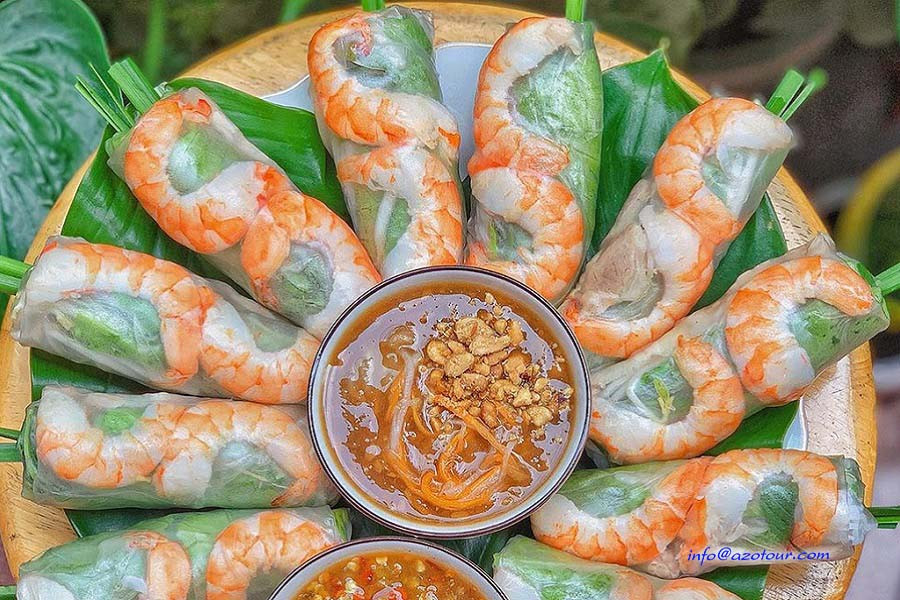 Ca kho to is a must try if you're a fan of fish, consisting of a catfish fillet that's braised and served in a clay pot. Mostly available in cities in southern Vietnam, particularly Ho Chi Minh, this dish is prepared by slicing a whole catfish into fillets before caramelising it in a thick gravy made with a combination of soy sauce, fish sauce, sugar, shallots, garlic, and various spices and seasonings. Ca kho to is known for its intense sweet-salty flavour, so this dish is always served with a plate of white rice and fresh greens.
11. Chả Cá