Sapa, Vietnam | When is the best time to visit Sapa
Sapa's weather
Sapa, located at 1650 meters above sea level in Vietnam's remote northwest mountain region, has one of the most favorable climates in the country. Despite the fact that it is constantly chilly, frost and even snow are common in the winter (mostly from mid-December to mid-January). Throughout the year, the temperature ranges between 15 and 30 degrees Celsius, and the humidity level is relatively high, ranging between 83 and 87%. If Sapa is on your trip plans, bring some warm clothing because the weather can turn chilly at night.
What is the best time to visit Sapa?
The best times to visit Sapa are typically from March through May and from September through mid-December, when the weather alternates between rainy and dry. It would be a pleasant time with a milder climate. Because Sapa experiences all four seasons, it attracts all kinds of visitors. But, It is crucial to travel to Sapa during the best season because it will significantly affect your experience. For this reason, it's essential to research Sapa's weather so that you may pack accordingly and be prepared for what to expect. Sapa travel is divided into four seasons, which are as follows:
Sapa's Spring – March to May
March to May: ideal trekking and outdoor activity months with warm, dry weatherSpring in Sapa begins in early March and lasts until late May. Following a harsh winter, the months are turning friendlier and warmer. It's an excellent time for trekking because the scenery is greener than in other seasons. Enjoy spectacular vistas while hiking in the mountains in perfect weather—neither too hot nor too chilly. Cherry blossom season is currently in full swing, in addition to the lovely weather and verdant surroundings.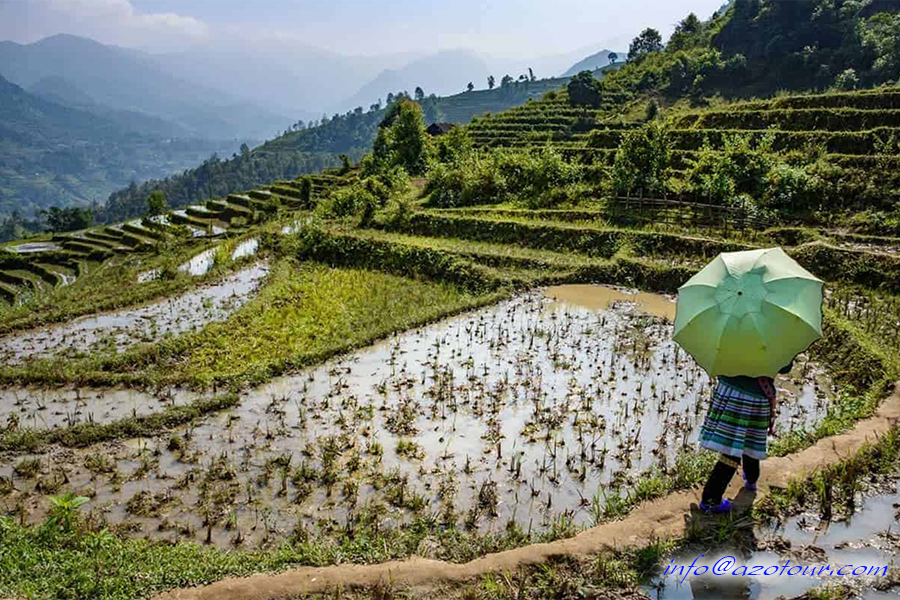 Sapa's Summer – June to September
June - September: Rainy and crowded weather with Vietnamese tourists
September marks the start of the harvest season in Sapa, so make sure your camera is fully charged before you depart. Summer months of June, July, and August can be quite hot and humid. Despite this, trekking in Sapa is not particularly pleasant due to the heat and rain. Having said that, the summer offers a lush scenery with increasing rice fields, thus many Vietnamese visit Sapa in the summer, especially on weekends.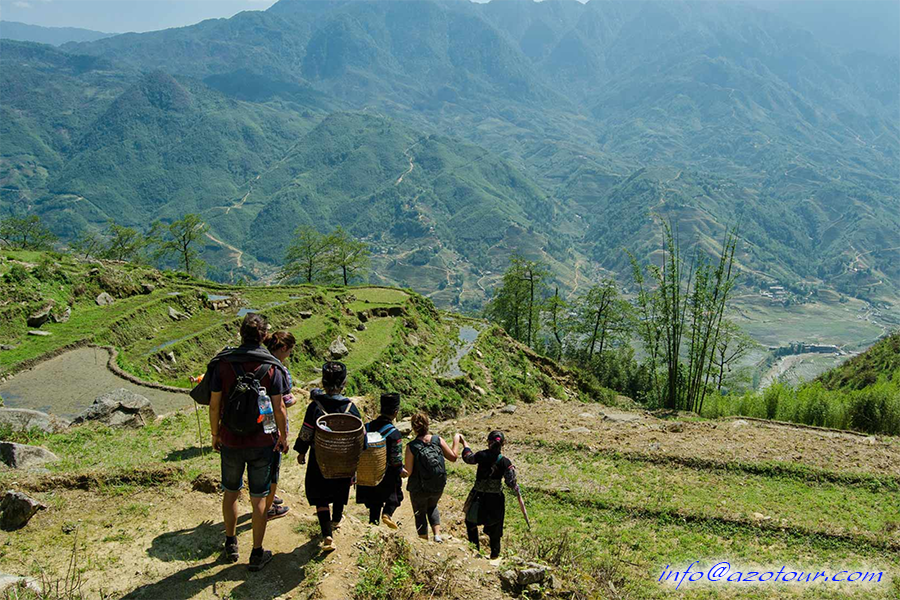 Sapa's Autumn – September to November
Late September – November: cool dry weather - perfect for photos and trekking
Trekking and travelling around become easier and more pleasurable in September as the amount of rain decreases.
Thousands of Vietnamese tourists go to terraced fields during the harvest season, which takes place in September and October. During this time, the Sapa rice fields are at their most magnificent. As a result, the autumn season is the greatest time to visit Sapa. Once more, the weather is ideal for going on a hike.
Sapa's Winter – December to February
December - February: harsh winter but few tourists - perfect for people watching
Despite the fact that December and January are the coldest months of the year, November is still a good time to visit Sapa. Even though it is not the best time for trekking in Sapa due to the chilly weather and abandoned rice fields, it is still a popular season for foreign travelers.
If you intend to go trekking, just make sure bring warm clothing with you. Because winter is a time of heavy fog, the mountains are more likely to be cloaked in clouds.
In February, the weather progressively brightens and the temperature begins to rise somewhat.