Ninh Binh - Amazing things in Ninh Binh
Is Ninh Binh worth visiting?
Ninh Binh is a town which lies to the southeast of Hanoi and acts as a base for visitors to explore the surrounding area. Slightly confusingly, the state is also known as Ninh Binh, with Ninh Binh town also acting as the capital city, so often when people refer to this part of Vietnam they are talking about the whole Ninh Binh district which comprises several towns, villages and key attractions.
What to see in Ninh Binh?
There are not many set 'sights' in the town on Ninh Binh itself, but this is a great place to visit if you want to get out and about and spend time in some of the prettiest and most unspoilt parts of Vietnam. Ninh Binh town is usually used as a jumping off point to Tam Coc, Van Long and Hoa Lu and although it is not as well known as other places in the country, it is a great spot for anyone with an interest in nature thanks to its craggy limestone scenery. As other parts of the country such as Halong Bay and Sapa become more popular, if you want to take the road less traveled then Ninh Binh is the ideal choice.
Here are the top attractions in Ninh Binh...
1. Tam Coc Paddy Fields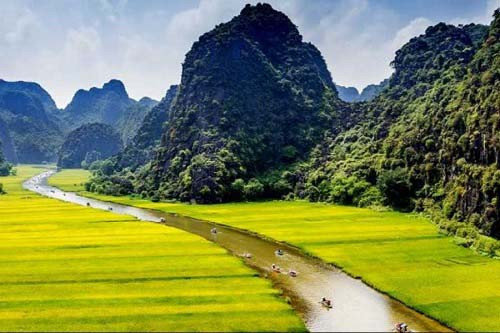 Located outside of Ninh Binh town, Tam Coc is one of the best nature destinations in Vietnam although it remains firmly off the tourist trail..Tam Coc is known for its karst landscape which is similar to the better known Halong Bay, although here you will find some scenic limestone hills which are dotted amongst emerald green rice paddies. Halong Bay has larger cliffs, although it is also more crowded, so Tam Coc is the place to come if you want to get off the beaten track and you can explore the area by boat which takes around two hours.
2. Phat Diem Stone Cathedral
Some 34 kilometers away from the center of Ninh Binh is Phat Diem Cathedral which sits in the middle of some scenic canals and rice paddies. This would have been the central place of worship for the commune of Phat Diem which was also called the 'Vatican of Vietnam' during the colonial period. The cathedral dates from 1898 and was built using a mix of Vietnamese and Western styles which include two gothic chapels and some massive iron wood columns. The scale of the cathedral and its location are extremely impressive and this is one of the top sights not to miss in Ninh Binh.
3. Van Long Nature Reserve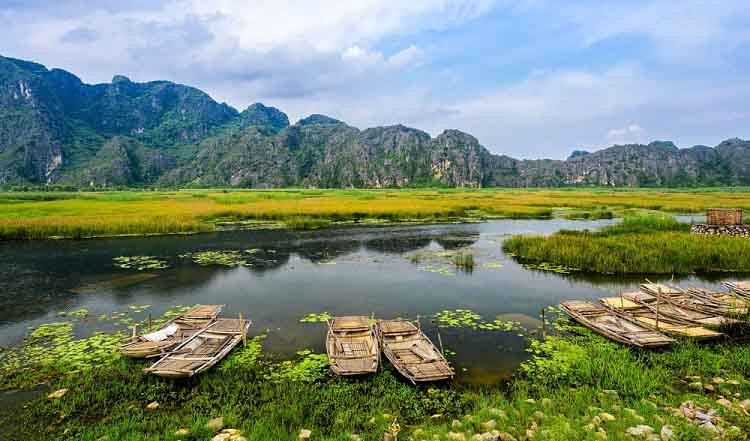 If you want to keep exploring outside of Ninh Binh then you can head to Van Long which is a wetland reserve that is the place to come for keen birdwatchers. As this is a protected area of land, it is teeming with local flora and fauna, so if you are a nature and want to check out the Vietnamese wildlife then don't miss it off the itinerary. The wetlands are the home to a number of Vietnamese species like monkeys, reptiles, and birds.
4. Bich Dong Pagoda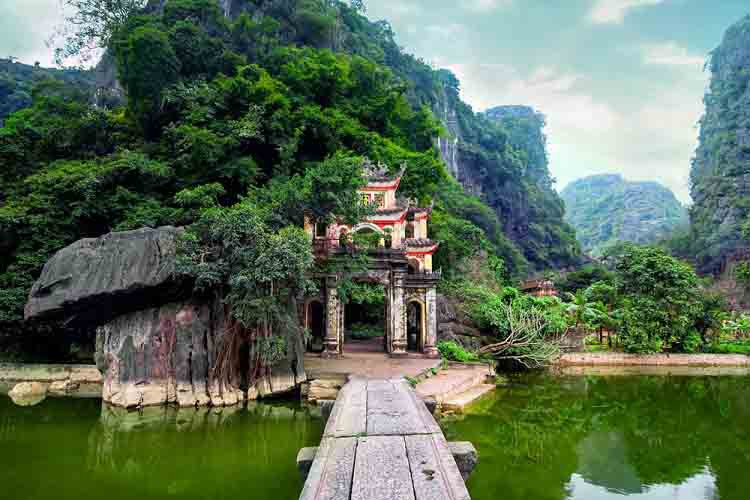 Just past Tam Coc you will find one of the most interesting pagodas in the region which dates from the 15th century. The Bich Dong Pagoda is located on the side of a mountain and is made up of three levels called the Ha, Trung and Thuong Pagodas. The temples are also built so that they back on to caves which you can also explore as part of a visit here. As you would expect from pagodas built into a cliff, the path to the top is steep but the views are well worth it.
5. Hoa Lu Ancient Capital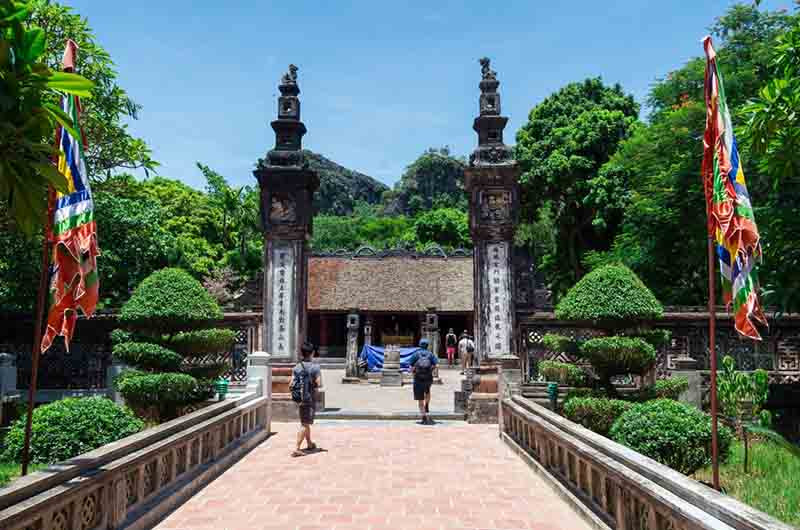 Hoa Lu is yet another spot that makes a great trip from Ninh Binh although some visitors skip it in favor of neighboring Tam Coc and Van Long. Many people don't know however that Hoa Lu would have been the ancient capital of Vietnam in the 10th century and there is a large citadel here which is filled with scenic temples that you can explore at your leisure. For that reason, it is well worth a trip here if you are in the region.
6. Cuc Phuong National Park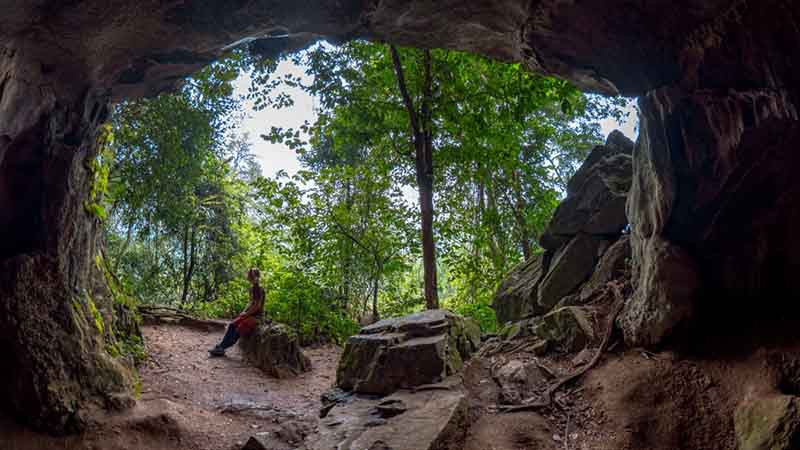 Cuc Phuong National Park is one of the main national parks in Vietnam and was established in 1962. This is part of a huge swathe of protected land in Ninh Binh and was set up in order to take care of the wildlife in the region which has been in decline for many years as a result of poaching. The park now spans 222 square kilometers and is made up of tropical forest which is home to a plethora of wildlife. On a visit here you will find some 307 species of birds as well as 133 species of mammals and 122 species of reptiles. You will also find over 2,000 different kinds of plants here making it a must visit for nature lovers.
7. Bai Dinh Pagoda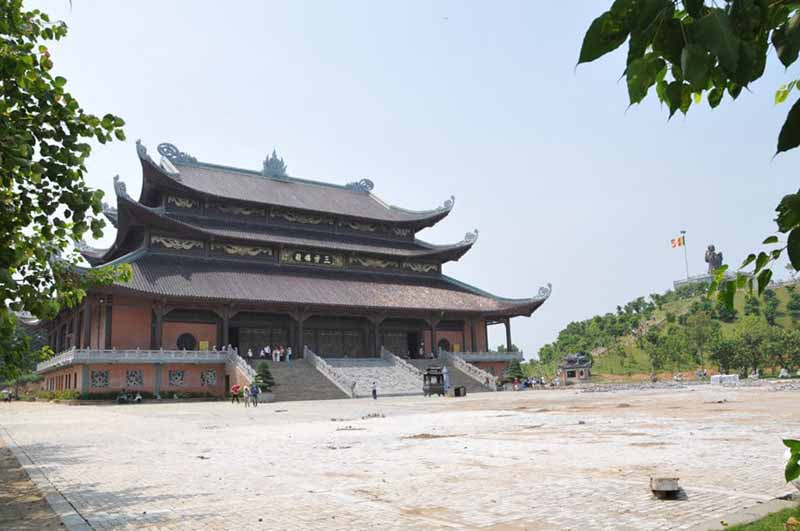 Bai Dinh Pagoda is a colorful Buddhist temple complex that is located on a scenic hill close to Ninh Binh town. The temple was built in 2014 and has quickly become one of the top attractions in the area. The entrance leads to walkways which are lined with 500 stone arhats (images of enlightened Buddhists) and inside you will find the Phap Chu Pagoda which extends over some three tiers. There is also a bronze Buddha inside which weighs 100 tones and is 10 meters high as well as two smaller gilded Buddhas.
8. Hang Mua Peak (Cave & Peak)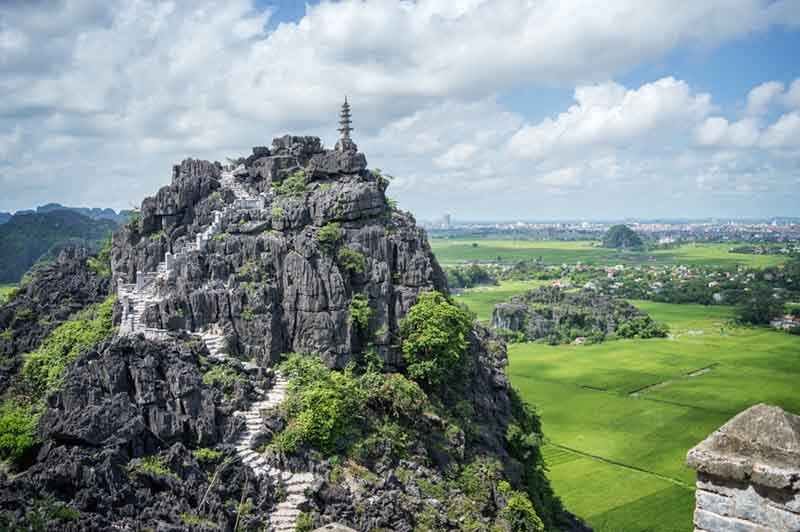 Mua Cave Peak is known for being one of the most amazing sites in Tam Coc and you will have to walk along some 500 steps to the summit. It is all worth it when you get to the top however as you can look out over some of the most stunning scenery in Vietnam which include the Red River Delta and the towering mountains. Make sure to wear proper shoes however, especially in the rainy season as the steps can become slippery when wet. This is also the same spot that houses the Mua Cave although you can skip this and just trek along the mountain trail if you are not a fan of spelunking.
9. Trang An Natural Complex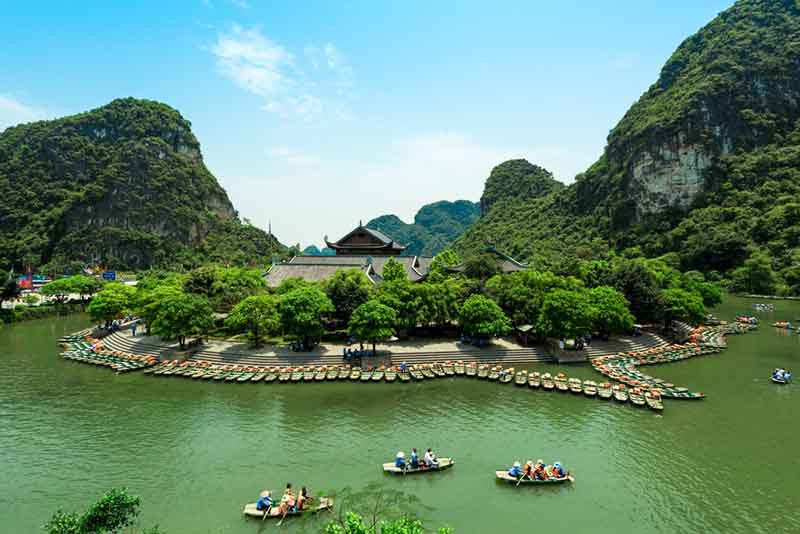 Neighboring Trang An is known for its scenic water ways and you can hire a boat here and float along the Sao Khe River. This will take you through other-worldly caves and you can take in the scenery and also visit the caves and temples at the same time. Boat trips usually last around 2 hours and Trang An is around 7 kilometers from Ninh Binh town so you can easily visit for the day.
10. Thung Nham Bird Garden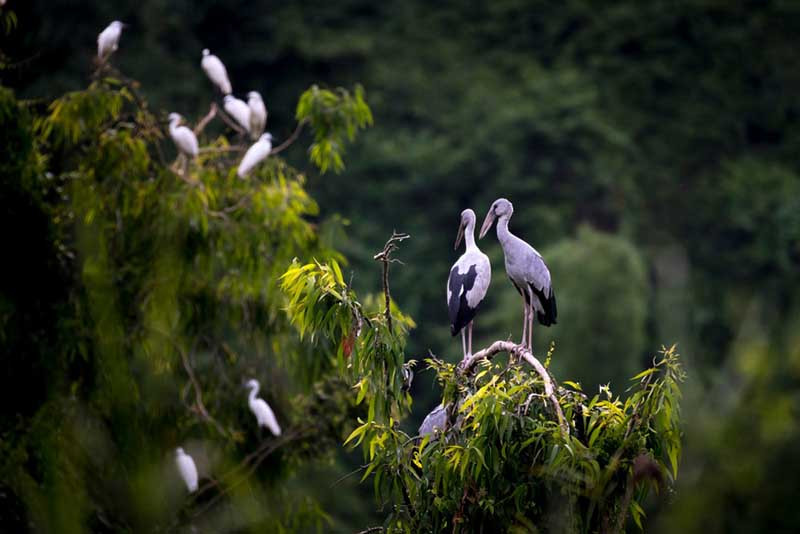 Strangely, the Thung Nham Bird Garden is not well known in Ninh Binh which is a shame as it is a picturesque attraction that is worth a visit. The park is located in the mountains and is known as a place where a huge number of indigenous species of birds make their nests. If possible try to visit in the early morning or late afternoon as the trees in the park are covered in a plethora of colorful avians. In addition to the birds, you can also go fishing in the park and can even camp here depending on the season.
Hope that our article will be a helpful Ninh Binh travel guide for you and can give you some good choices to visit Ninh Binh. Pick a Ninh Binh tour on our website you may be interested: https://azotour.com/tours/detail/hoa-lu-tam-coc-full-day