Hanoi | What to eat
Hanoi's 36 streets, with their rich cultural history and varied street foods, have never disappointed foodies. Hanoi Foods entices customers with its unique combination of ingredients and excellent preparation.
While it is hard to present all of the excellent food in Hanoi, it is possible to highlight a few Hanoi specialties that will satisfy those with a desire for food.
1. Phở (Vietnamese Rice Noodle Soup)
It's impossible to talk about Hanoi foods without mentioning pho.
It is well-known for having one of the best traditional cuisines in Vietnam. However, there are numerous Pho variations; each local has their own flavor and secret, as does Hanoi. And you can find Pho anywhere, from street vendors to fine dining restaurants.
Pho is a traditional Vietnamese dish made with flat rice noodles in a light broth with chicken or beef and customary toppings like lime, lime leaves, and pepper.
After a long day or on cold mornings, a warm bowl of nice noodle soup with beef may make your day. And it tastes much better on cold winter days; therefore try it as soon as you arrive in Hanoi.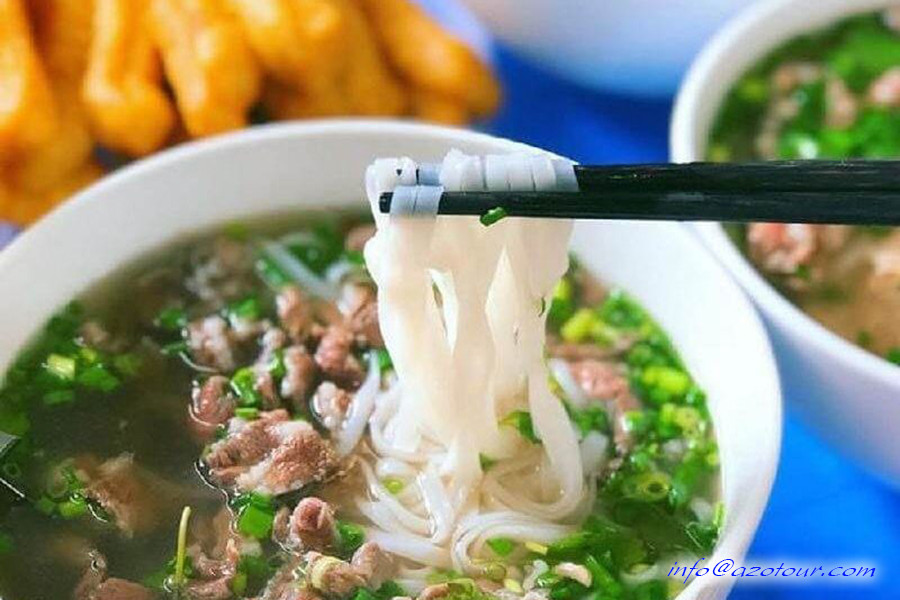 2. Bún chả (Grilled Pork With Vermicelli Rice)
Bun cha Hanoi is extremely well-known food for all locals and travellers.This is a popular meal that attracted the interest of US President Barack Obama on his visit to Vietnam during his presidency.
Bun Cha is a dish that consists of barbecued pork, soft and slightly chewy rice vermicelli noodles, a dipping sauce, and herbs. Furthermore, two types of grilled meat, minced pork and pork belly, will be presented in a bowl with bun cha dipping sauce. Bun cha, in addition to pho, can confidently please even the most discerning diners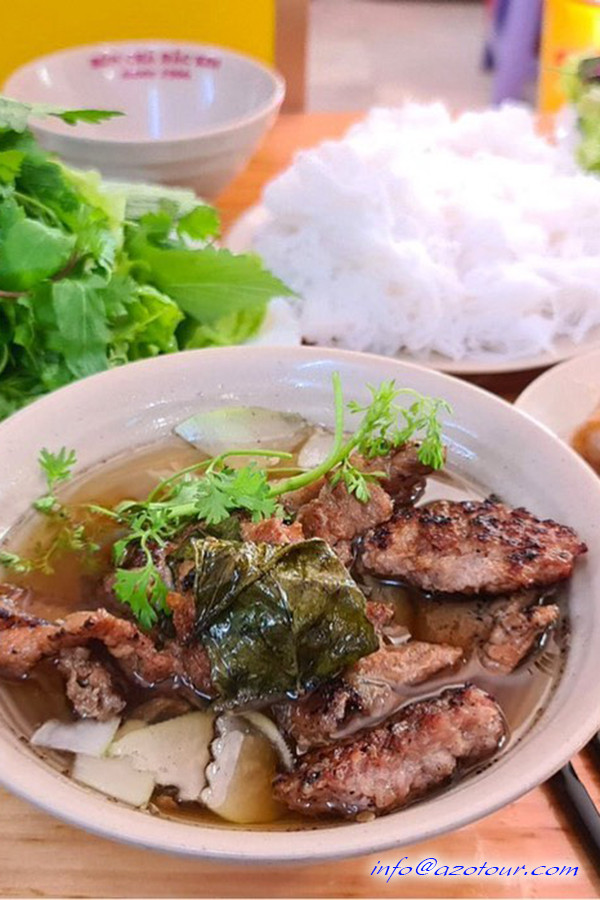 3. Bánh mì (Vietnamese Bread Baguette)
Is one of the best dishes to become infatuated with, while the French invented Banh My, the Vietnamese have made it their own. It is a Vietnamese empty-intestine bread with a thin, crispy crust made from a combination of wheat and rice flour. Bread is stuffed with pork, pate, or ham and served with coriander, cucumber, carrot, shredded radish, and a variety of herbs, depending on the location. Because of the mix of textures and flavors, you'll receive spicy, salty, sweet, and savory sensations in every bite. And Banh My has become one of favorite Hanoi neighborhood street foods.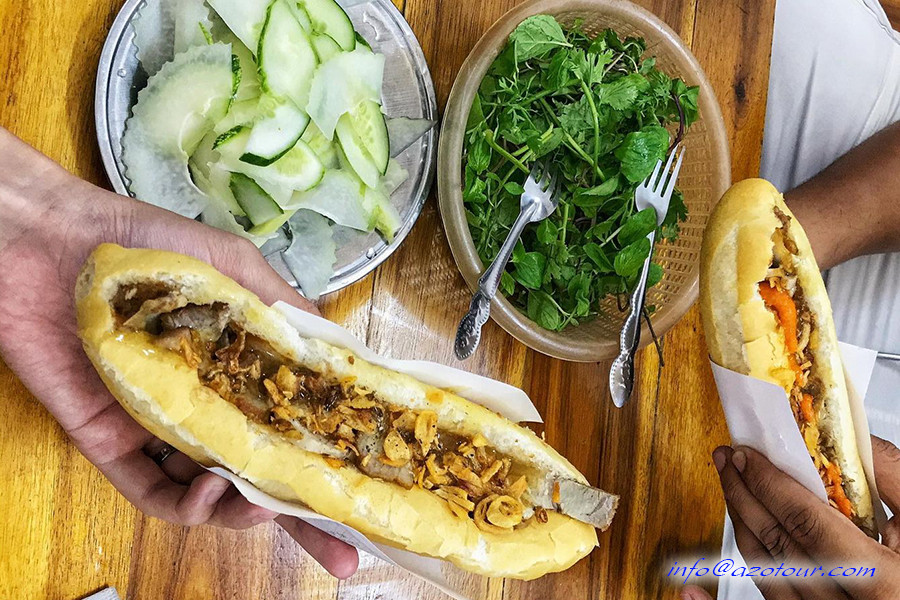 4. Chả cá (Grilled Fish With Vermicelli Rice)
Cha Ca is the most iconic cuisine of Hanoi, hence it has long been a favorite of locals. This food has become one of Hanoi's most specialized cuisines in the last 5–10 years, receiving international praise.
The primary ingredient is lentils, which have been cleaned, cut into big squares, and marinated with less galangal, sour batch rice, turmeric, and a variety of other spices. The fish should next be grilled to absorb the spices and bring forth the aroma. When it's time to eat, heat up the pan with a little oil and begin eating with dill, onion leaves, shrimp paste, and vermicelli. This will provide guests with an amazing delicate taste.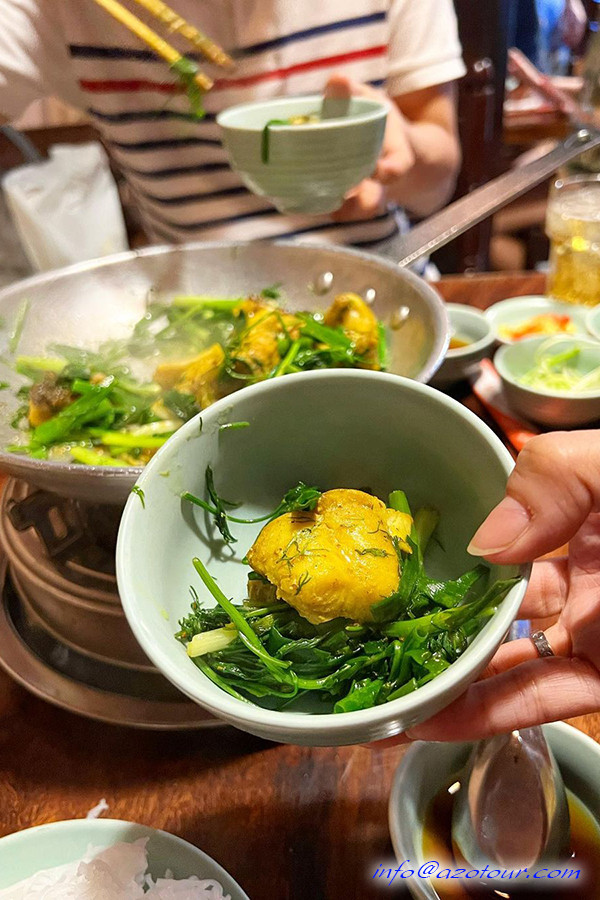 5. Phở cuốn (Rolled Pho)
The next recommendation is Pho Cuon, a wet rice salad roll packed with beef and plates of fresh greens such as lettuce or mustard greens, as well as a variety of herbs.
It's served cold and then dipped in a sweet and sour fish dipping sauce. Pho Cuon is one of Hanoi's street cuisines, so you can have it on the street or at a basic restaurant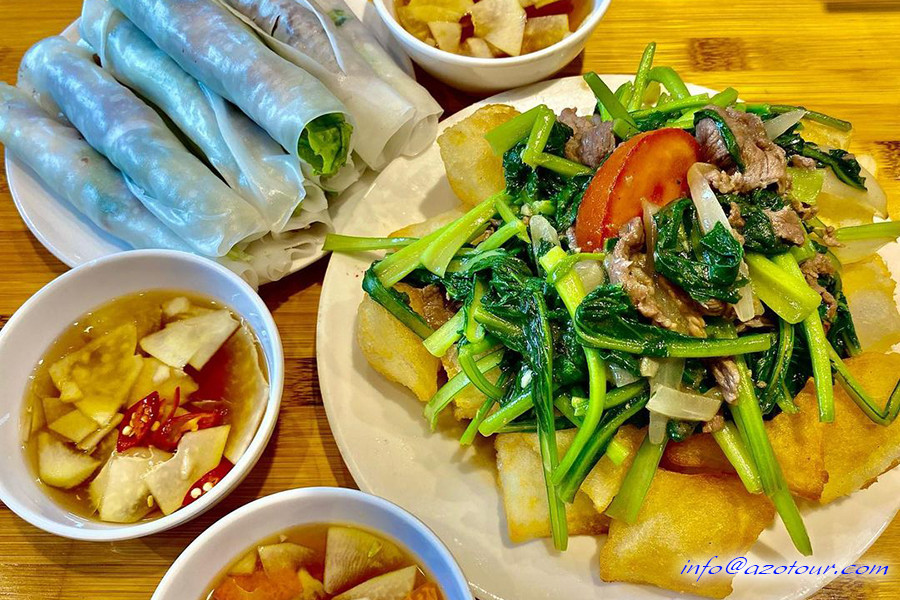 6. Bún riêu (Crab Noodle Soup)
Another dish in our list of top 10 must-try dishes in Hanoi you should not miss is Bún Riêu (or Crab Noodle Soup). Its main ingredients are crabs, tomatoes, meat, and tofu. However, the taste of this soup is becoming more flavor-packed if it is made by crabs found in the fields, bringing a unique flavor of "Bún riêu" in Hanoi.
The process of making this dish requires a lot of work, especially pounding crabs to get fellas. However, its soup is extremely tasteful when absorbed by the tofu, causing it to burst into your mouth when you bite into it.
Besides, bean sprouts, prawn paste, herb leaves, tamarind/lime, tofu, water spinach, and tomato pieces are also added to the dish. When eating it at restaurants, they also provide a basket of greens and herbs for each table, including leaf lettuce, perilla leaves, cilantro, shredded morning glory stem, and deep-fried crullers for dipping into the soup.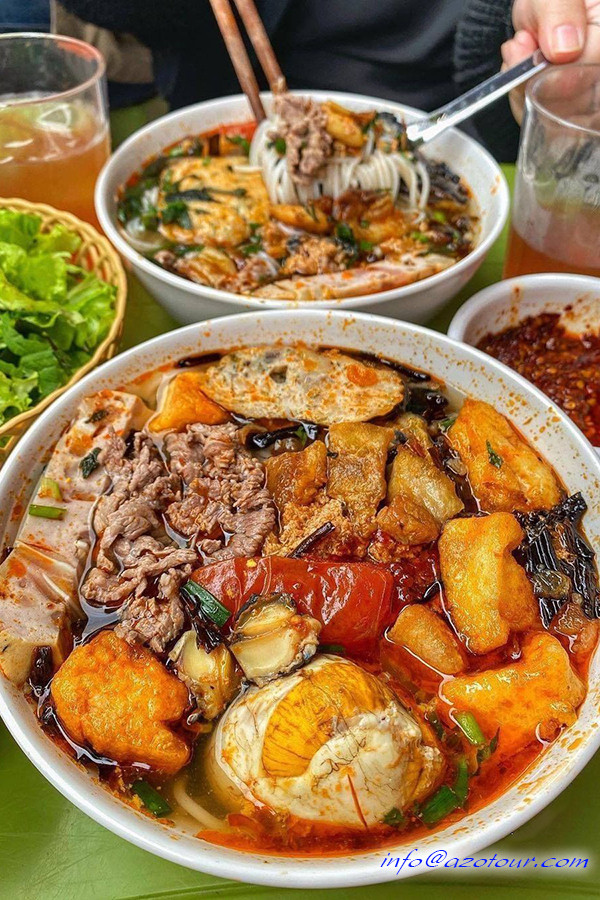 7. Bánh cuốn (Hot Rolled Rice Cake)
Bánh Cuốn is the most common breakfast for many Vietnamese. It is made by wrapping ground pork meat and minced mushrooms with rolled thin rice sheets.
If you get the chance to see others make it, I suggest trying it right away because a hot "Bánh cuon" will drive your need for more. It will, however, be unpalatable if not served with an unique dipping sauce.
It is a blend of fish sauce and a drop of cà cuong-a giant water insect essence, which makes it so wonderful that you will never grow tired of eating it every day. And if you visit Hanoi, you can find this dish almost anywhere.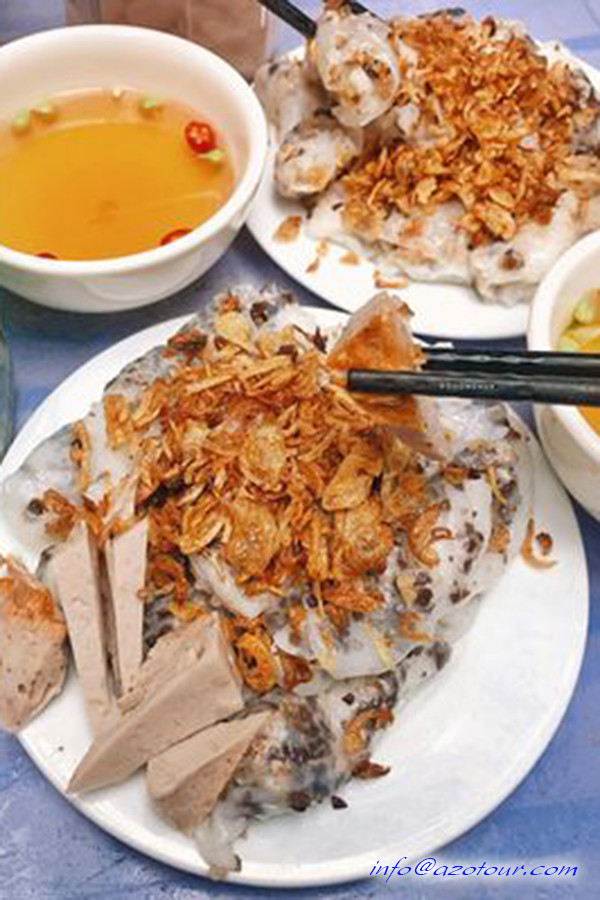 8. Xôi xéo (Sticky Rice)
Another meal you should not miss when in Hanoi is "Xôi xéo" (or sticky rice). It is served with a variety of toppings, including mung bean paste, soy sauce, and fried shallots.
Aside from that, you can use any topping you like, such as cooked chicken, hotdogs, eggs, or anything else. This type of breakfast is available virtually anywhere in the city, making it easy to locate a nutritious morning meal like it.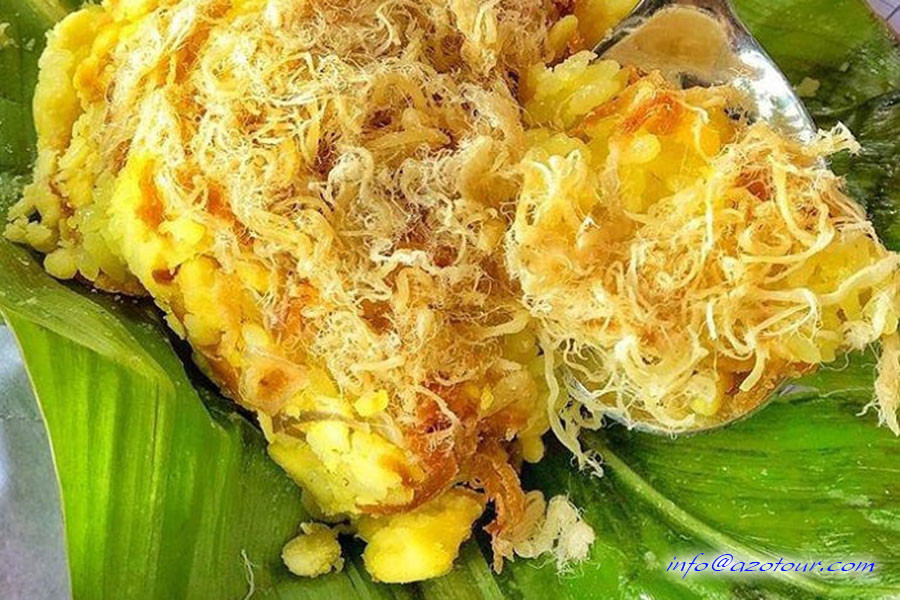 8. Miến trộn (Mixed Stir-Fried Vermicelli)
Hanoi offers a wide variety of dried mixed vermicelli dishes, including vermicelli with duck, fish, and chicken.... each type has a distinct flavor.
Mixed vermicelli is especially popular in the summer, when many people avoid hot foods due to the heat. These days, a delightful bowl of mixed vermicelli with crab, spring rolls, and mixed water is great.
The long, crispy vermicelli is not crumbly or broken, and the distinct components are not combined, allowing the aroma to remain and making it easy to impress diners.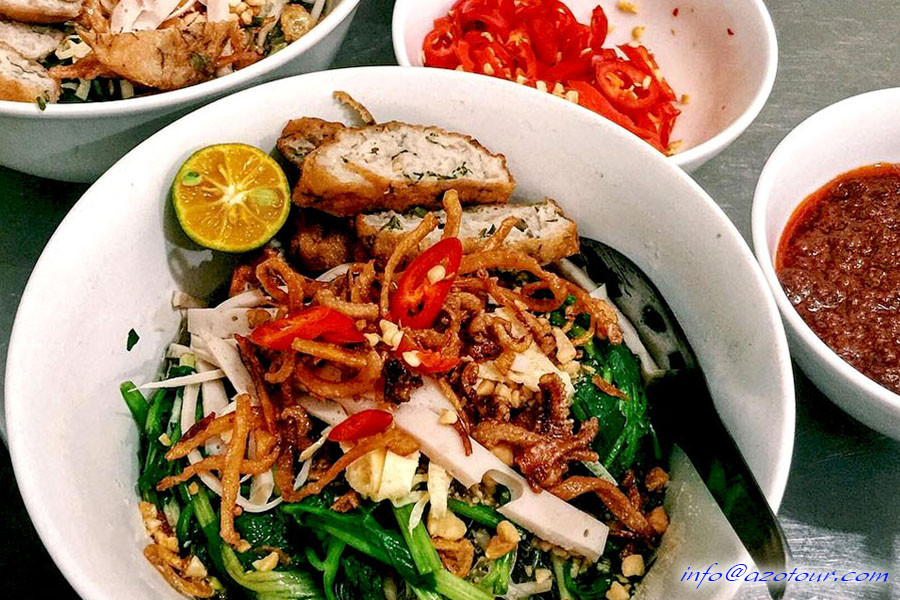 9. Café trứng (Egg Coffee)
Café Trứng is a Hanoi specialty coffee, although it is not exactly a cuisine specialty.
According to locals, a Vietnamese Sofitel Legend Metropole Hotel employee whisked an egg into the coffee, giving birth to this iconic Hanoi coffee drink in the 1940s.
Vietnamese egg coffee is now more of a dessert than a coffee.
It's made with creamy condensed milk and beaten egg yolk till it's airy and similar to meringue. It's even similar to the dessert tiramisu.
Egg coffee is an interesting experience, especially when you want both caffeine and dessert.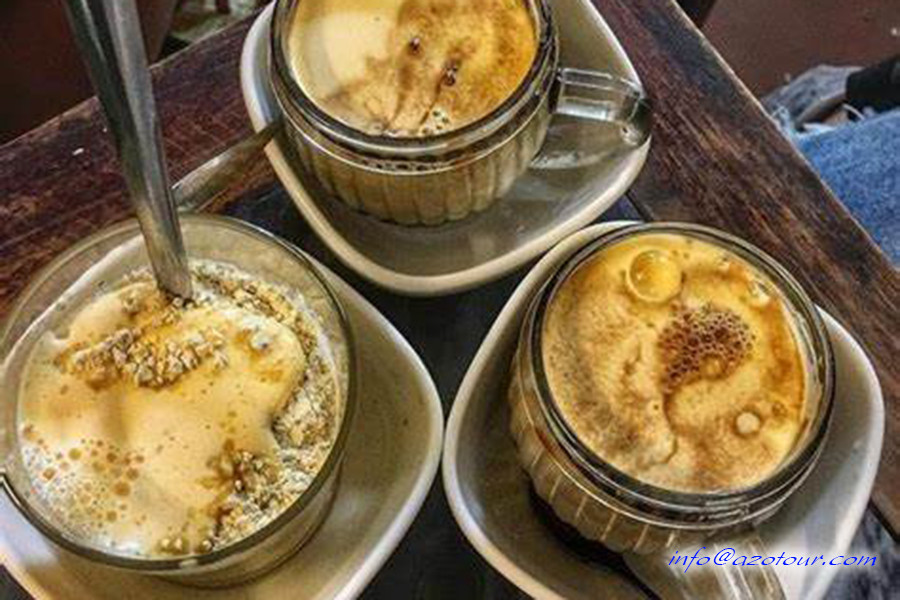 10. Bún đậu mắm tôm (Dried Rice noodle With Shrimp Paste)
To be honest, most foreign visitors will not appreciate this dish. It is comparable to a particular "durian" for many people; eating it is highly enticing, but not eating it is still a big challenge, especially for food lovers.
This meal gradually enchants even the most affluent guests with its rich flavor and aroma due to the unusual flavor of shrimp sauce dipping sauce - a condiment prepared from fermented small shrimps...
I hope that after reading the top ten must-try foods in Hanoi, you can imagine how vibrant Hanoi's sweet-sour spicy flavors are. If you get the opportunity to visit this culinary wonderland, attempt to sample more food delicacies so that your gastronomic journey is surely more significant!