Hanoi, Vietnam | Hoan Kiem Lake
Sword Lake is considered Hanoi's heart. It has also been given numerous other names, including Luc Thuy, Thuy Quan, Ta Vong, and Huu Vong. In the 15th century, the lake was renamed "Hoan Kiem Lake," which means "Return Sword Lake." The name comes from the story of Le Loi King, who defeated Chinese Ming dynasty invaders and got a sword from a sacred turtle and gave it back to the turtle.
Throughout the years, there have been some massive turtles in the lake, but the oldest one died in 2016.
Because of its various historical and cultural assets, such as the Huc Bridge, Turtle Tower, and Ngoc Son Temple, the lake is the pride of the Hanoians. This is one of the most popular tourist spots in Hanoi. Large trees have been planted along the sidewalks around the lake, giving it a lush green background.
If you go to Hoan Kiem Lake around 5 a.m., you'll witness long lines of elderly and children doing yoga, tai-chi, aerobics, and gymnastics. This is a Hanoian community place that locals are quite proud of itself.
The environment becomes louder as the sun gets higher in the sky. Thousands of people stroll on sidewalks to go to work or to school; restaurants and shops open their doors. There will be a continual stream of motorcycles snaking down the lake, as well as gangs of "xich lo"—three-wheel bicycle taxis—willing to transport you around.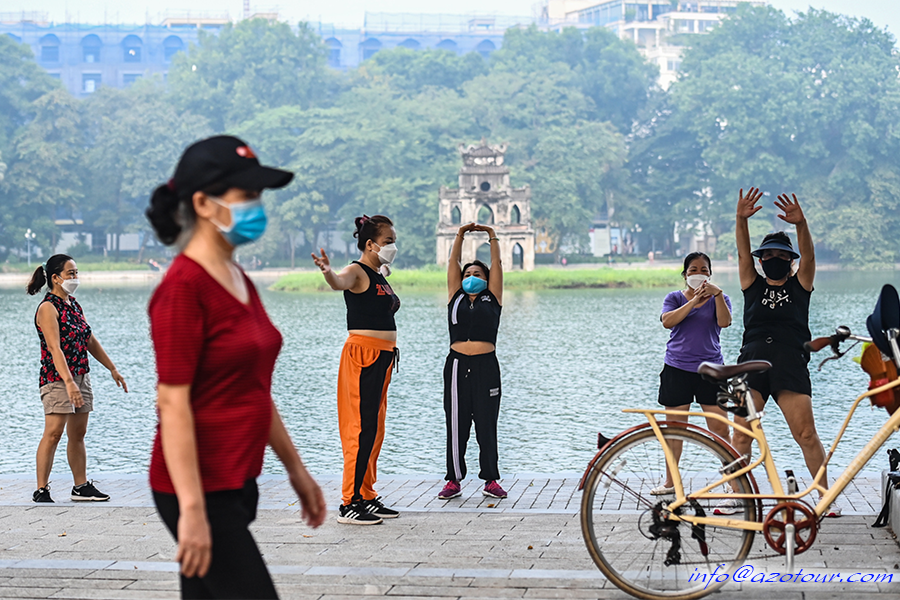 Hoan Kiem Lake's nightlife is also great. On weekends, it is transformed into a private pedestrian zone. Many young people, couples, and families visit Hoan Kiem Lake to relax and participate in traditional sports.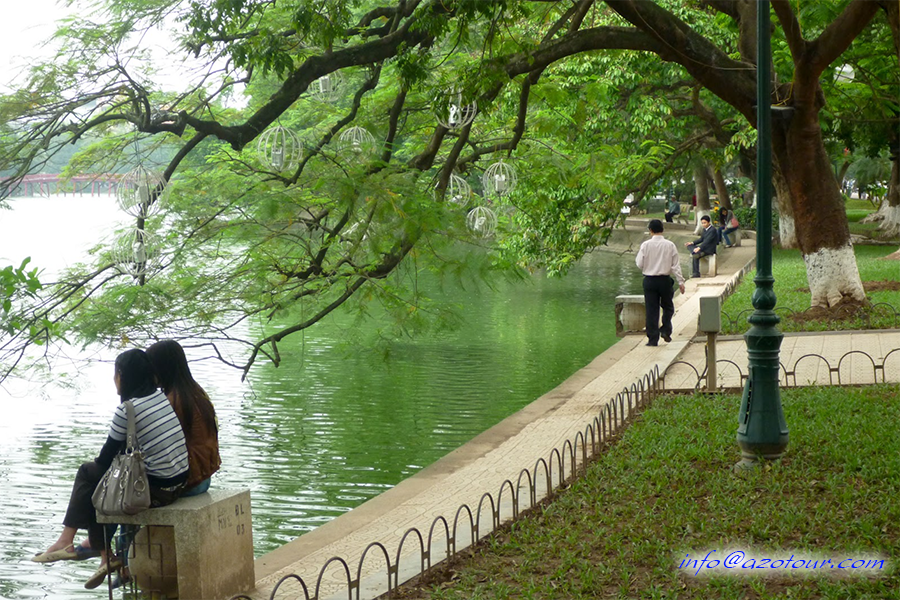 Furthermore, during major events such as Independence Day or Lunar New Year, Hoan Kiem Lake becomes a gathering area... Thousands of people turned out to attend the celebration. Thousands of brilliant, bright lights line the streets. In truth, it has become a cultural center in Hanoi as well as in Vietnam. Visiting Hoan Kiem Lake in Hanoi is unquestionably one of the must-do activities in Hanoi.