Getting to know Cambodia's most iconic temple
Angkor what? Getting to know Cambodia's most iconic temple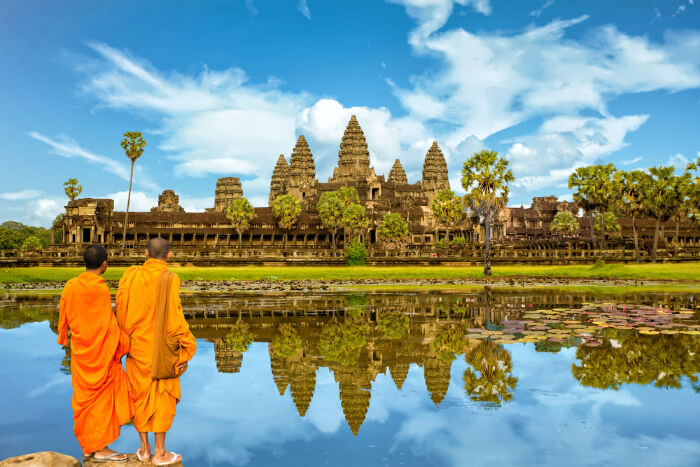 A visit to Cambodia's World Heritage Temples of Angkor complex is understandably high on the list for many travellers. Angkor Wat is the ultimate expression of Khmer genius – an awe-inspiring temple that is stunning for both its grand scale and its incredible detail. Get to know a little about the history, meaning and features of this renowned and iconic temple, then start planning that once-in-a-lifetime trip.
What is it?
Angkor Wat – built by Suryavarman II (r 1112–52) – is the earthly representation of Mt Meru, the Mt Olympus of the Hindu faith and the abode of ancient gods. The Cambodian god-kings of old each strove to better their ancestors' structures in size, scale and symmetry, culminating in what is believed to be the world's largest religious building.
The temple is the heart and soul of Cambodia and a source of fierce national pride. Unlike the other Angkor monuments, it was never abandoned to the elements and has been in virtually continuous use since it was built.
Special features
Western orientation
Symbolically, west is the direction of death, which once led a large number of scholars to conclude that Angkor Wat must have existed primarily as a tomb. This idea was supported by the fact that the magnificent bas-reliefs of the temple were designed to be viewed in an anticlockwise direction, a practice that has precedents in ancient Hindu funerary rites. Vishnu, however, is also frequently associated with the west, and it is now commonly accepted that Angkor Wat most likely served both as a temple and as a mausoleum for Suryavarman II.

Wall detail of apsara figures, Angkor Wat © Felix Hug / Lonely Planet
Celestial nymphs
Angkor Wat is famous for having more than 3000 beguiling apsaras (heavenly nymphs) carved into its walls. Each of them is unique, and there are 37 different hairstyles for budding stylists to check out. Many of these exquisite apsaras were damaged during efforts to clean the temples with chemicals during the 1980s, but they are being restored by the teams with the German Apsara Conservation Project. Bat urine and droppings also degrade the restored carvings over time.
The level of detail
Visitors to Angkor Wat are struck by its imposing grandeur and, at close quarters, its fascinating decorative flourishes. Stretching around the outside of the central temple complex is an 800m-long series of intricate and astonishing bas-reliefs – carvings depicting historical events and stories from mythology.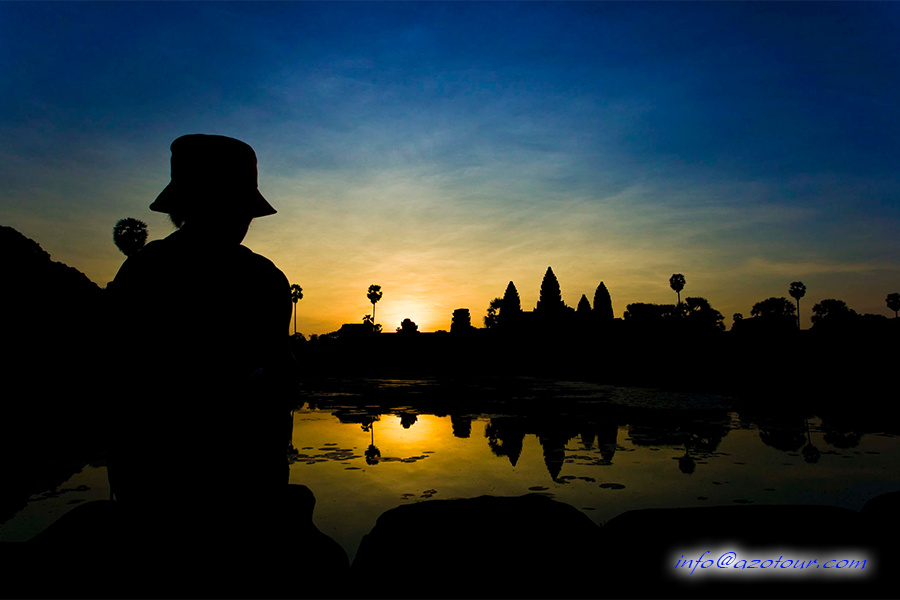 Silhouette of Angkor Wat at sunrise © Felix Hug / Lonely Planet
What does it mean?
Eleanor Mannikka explains in her book Angkor Wat: Time, Space and Kingship that the spatial dimensions of Angkor Wat parallel the lengths of the four ages (Yuga) of classical Hindu thought. Thus the visitor to Angkor Wat who walks the causeway to the main entrance and through the courtyards to the final main tower, which once contained a statue of Vishnu, is metaphorically travelling back to the first age of the creation of the universe.
Like the other temple-mountains of Angkor, Angkor Wat also replicates the spatial universe in miniature. The central tower is Mt Meru, with its surrounding smaller peaks, bounded in turn by continents (the lower courtyards) and the oceans (the moat). The seven-headed naga (mythical serpent) becomes a symbolic rainbow bridge for humankind to reach the abode of the gods.
While Suryavarman II may have planned Angkor Wat as his funerary temple or mausoleum, he was never buried there as he died in battle during a failed expedition to subdue the Dai Viet (Vietnamese).
How was Angkor Wat built?
The sandstone blocks from which Angkor Wat was built were quarried from the holy mountain of Phnom Kulen, more than 50km away, and floated down the Siem Reap River on rafts. The logistics of such an operation are mind-blowing, consuming the labour of thousands. According to inscriptions, the construction of Angkor Wat involved 300,000 workers and 6000 elephants. It was not fully completed.
Getting orientated
Moat
Angkor Wat is surrounded by a 190m-wide moat, which forms a giant rectangle measuring 1.5km by 1.3km. From the west, a sandstone causeway crosses the moat.
Outer wall
The rectangular outer wall, which measures 1025m by 800m, has a gate on each side, but the main entrance, a 235m-wide porch richly decorated with carvings and sculptures, is on the western side. There is a statue of Vishnu, 3.25m in height and hewn from a single block of sandstone, located in the right-hand tower. Vishnu's eight arms hold a mace, a spear, a disc, a conch and other items. You may also see locks of hair lying about. These are offerings both from young people preparing to get married and from pilgrims giving thanks for their good fortune.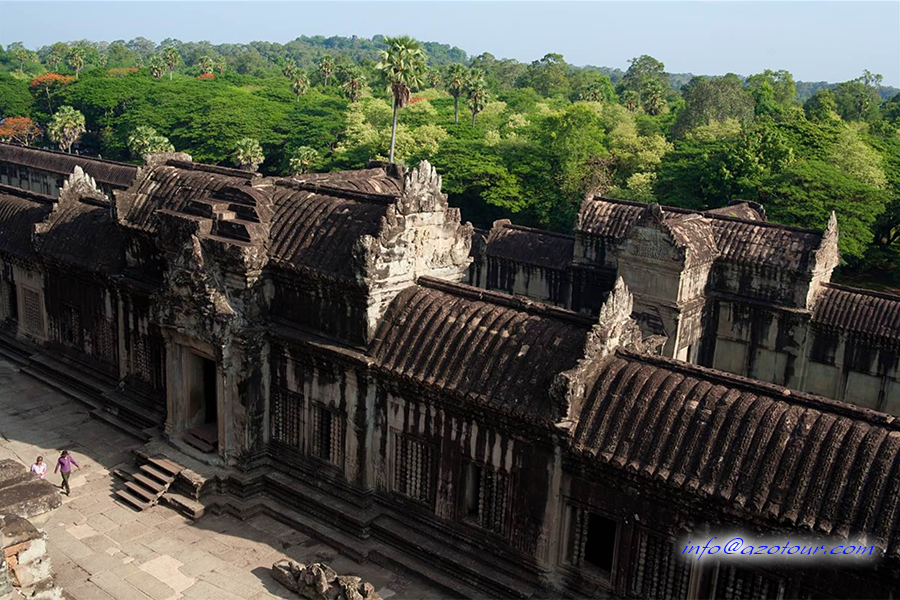 A section of the outer wall at Angkor Wat © Tushar Dayal / CC BY 2.0
Avenue
The avenue is 475m long and 9.5m wide and lined with naga balustrades, leading from the main entrance to the central temple, passing between two graceful libraries and then two pools, the northern one a popular spot from which to watch the sun rise.
Central complex
The central temple complex consists of three storeys, each made of laterite, which enclose a square surrounded by intricately interlinked galleries. The Gallery of a Thousand Buddhas (Preah Poan) used to house hundreds of Buddha images before the war, but many of these were removed or stolen, leaving just the handful we see today.
Towers
The corners of the second and third storeys are marked by towers, each topped with symbolic lotus-bud towers. Rising 31m above the third level and 55m above the ground is the central tower, which gives the whole grand ensemble its sublime unity.
Upper level
The stairs to the upper level are immensely steep, because reaching the kingdom of the gods was no easy task. Also known as Bakan Sanctuary, the upper level of Angkor Wat is open to a limited number per day with a queuing system.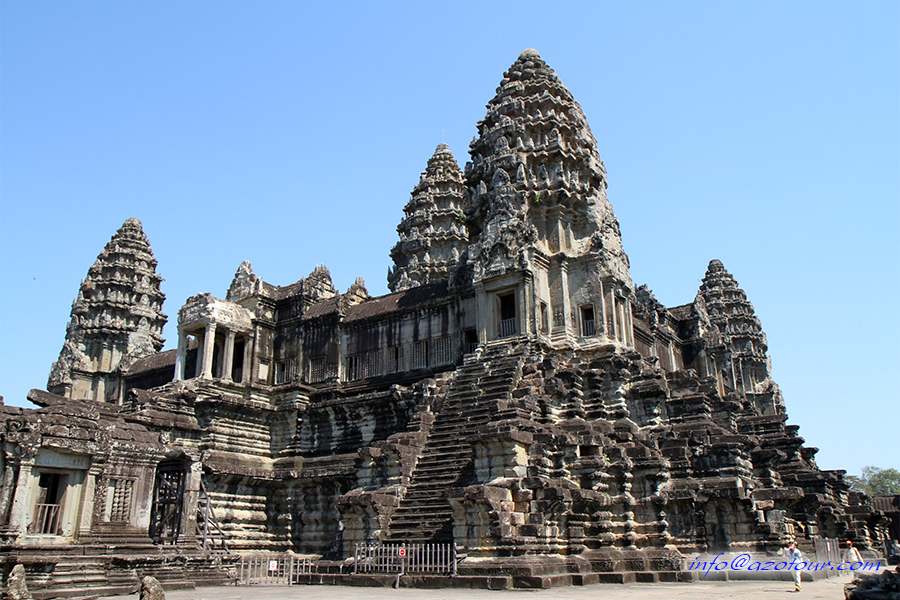 Towers of Angkor Wat © Jason Eppink / CC BY 2.0
Temple etiquette
As the temples of Angkor represent a sacred religious site to the Khmer people, visitors are asked to dress modestly. It is not possible to visit the highest level of Angkor Wat without upper arms covered and shorts to the knees. Local authorities have visitor 'code of conduct' guidelines and a video to encourage appropriate dress, as well as reminding tourists not to touch, sit or climb on the ancient structures, to pay attention to restricted areas, and to be respectful of monks.
Planning your trip
Best time to go: it is possible to visit Angkor Wat at any time of year, but peak season is from November to February, when the weather is dry and cooler, although it's still hot for most. The best time of day is sunrise when it's cooler but crowded, or lunchtime when most of the tour groups are in town.
How long you'll need: plan at least three hours to explore the whole complex, but more like half a day if you want to explore every nook and cranny.
Opening hours: Angkor Wat opens at 5am for visitors who want to see the sunrise from this iconic spot. The upper level (Bakan Sanctuary) is only open from 7.30am. Angkor Wat closes at 5.30pm.
Costs: an entry pass to the temples of Angkor costs US$37 for one day, US$62 for three days (which can be used over a period of 10 days) and US$72 for one week (which can be used over one month).
Where to stay: Siem Reap is just 7km from Angkor Wat and is the base for exploring the temples.
Getting around: choose from motos (motorbike taxis) for one person, remork-motos (tuk-tuks) for two, and private cars or minivans for families or small groups. Ecofriendly options include mountain bikes or electric bicycles. Guided tours can also be arranged in Siem Reap.
Source: Lonely Planet