Best Places To See In Danang
Coming to Danang, you might consider "Where should I go in Danang?" " Top things to do in Danang?"... Being one of the destinations you should not skip when visiting Vietnam, Danang has many attractions can fill in your day such as My Khe beach, Ba Na hills, Marble mountain... Below is the top attractions in Danang you should put in your list:
1. My Khe Beach
In July 2013, Danang was voted as one of the six sexiest beautiful beaches on the planet by Forbes magazine of America. Only about 3 km from the center of Danang city, looking down from sky, My Khe beach is a vast green strip and when you arrive, you will see its brilliant beauty.
My Khe Beach attracts a lot of travelers because of its pristine beauty, fine white sand, gentle waves in the very cool and fresh atmosphere. Coming to Danang, you should once visit this beach to experience a sparkling early morning, radiating from the horizon like a halo and immersed yourself in the cool water. My Khe beach is a great choice if you come to Danang for swimming and relax. You can choose a hotel in Son Tra District to easily move to this beautiful beach.
\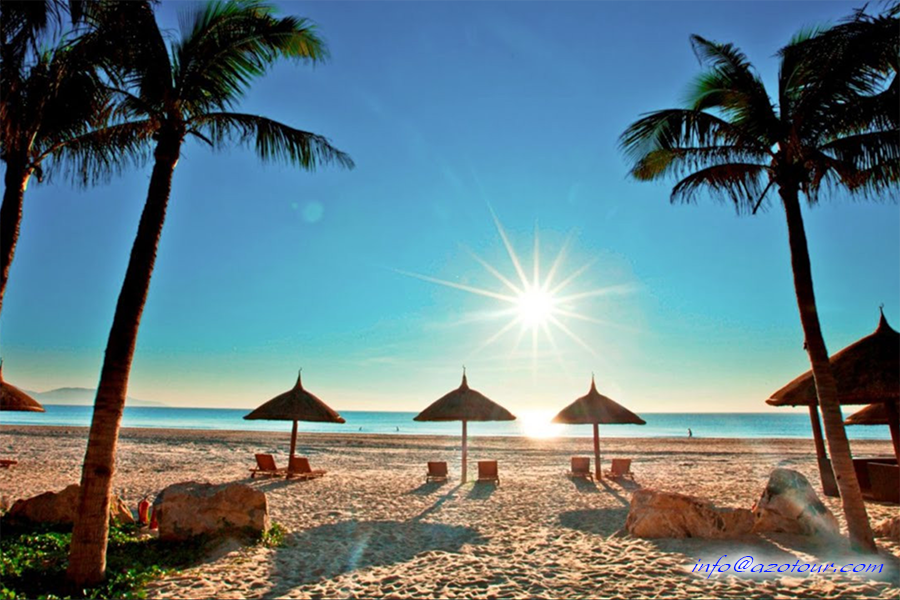 Fine white sand under bright sun at My Khe beach
2. Ngu Hanh Son Mountain (Marble Mountain)
Ngu Hanh Son mountain belongs to Hoa Hai ward, Ngu Hanh Son district, 7km from Da Nang city, including 5 rocky mountains: Kim Son, Moc Son, Thuy Son, Hoa Son, Tho Son - making visitors think of the penjing which emerges around immense sandy dunes with full of rockeries, lapping waves all year round.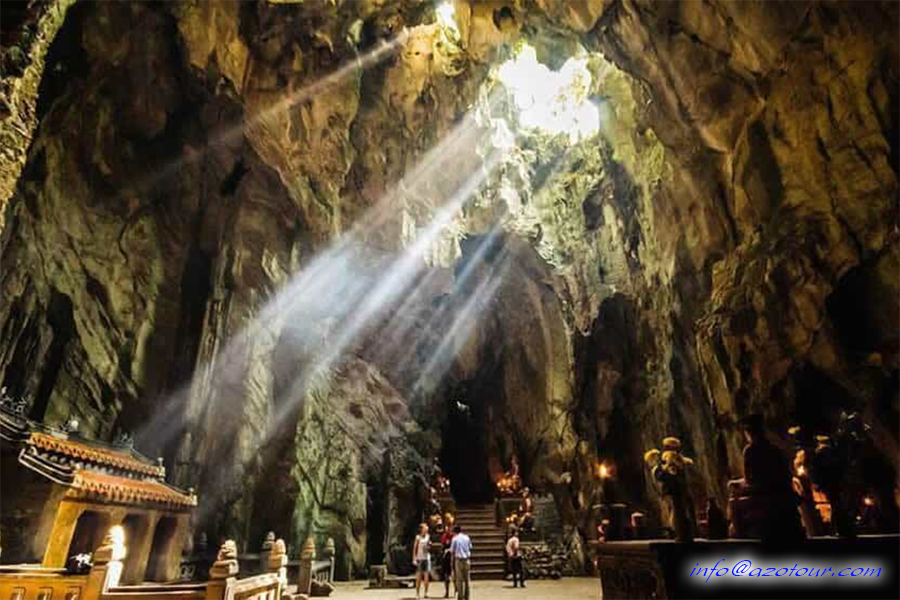 Ngu Hanh Son Mountain
Normally, visitors come here wil visit big mountains such as Thuy Son, Huyen Khong, Linh Nham, Van Thong, Lang Hu, Van Nguyet caves and Tam Thai pagoda. At the foot of the Marble Mountains are sculptures made of stone by artisans in Non Nuoc stone carving village.
3. Ba Na Hills
Located in Hoa Ninh commune, Hoa Vang district, Ba Na hills is 40km southwest of Danang. With great ecological values, Ba Na mountain is a national nature reserve. The mountain is 1,489m above sea level. Here, visitors can feel 4 distinct seasons on the same day: spring - morning, summer - noon, autumn - afternoon, winter - evening. In Ba Na, the weather is always dry, rarely rain, the average temperature is 18 degrees C.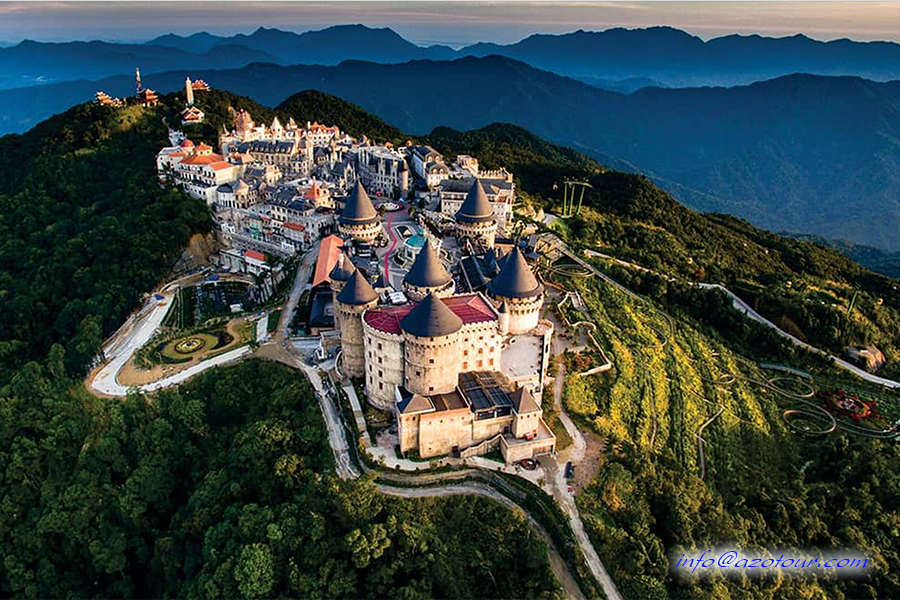 Ba Na Hills - A fairyland of Danang
After taking a long and steep cable car, from the top of the mountain, you can enjoy the vast image of Da Nang city, the sea and endless green fields. Currently, the Fantasy Park - located in the Ba Na Hills resort area - with all amusement games suitable for all ages, from children with fun to youth, adults with Thrilling games. You can also find 3 food courts serving attractive European and Asian cuisines and souvenir stalls with the variety of products.
4. Golden Bridge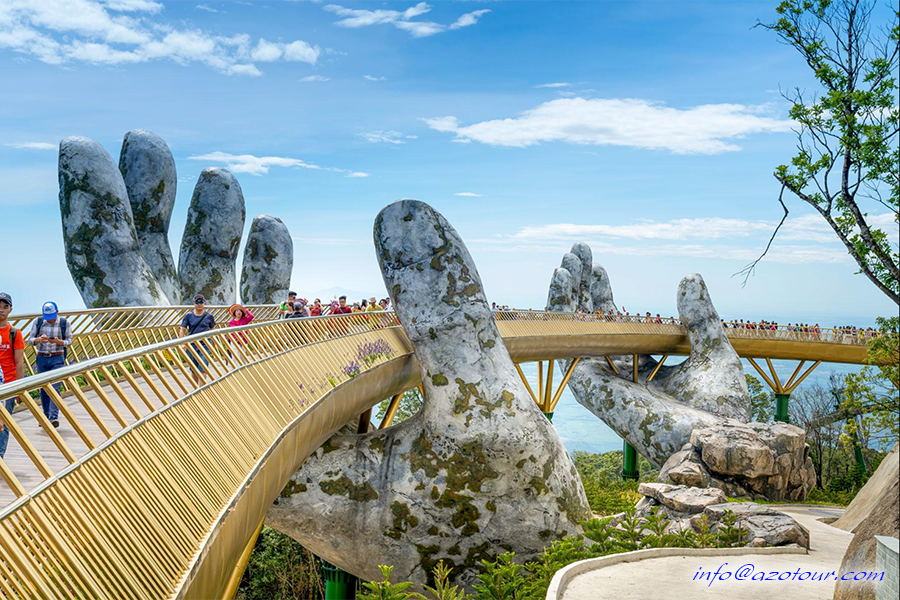 Built at an altitude of 1400m above sea level, the bridge has a length of 148.6m, divided into 8 spans, the longest span of about 21.2m. As a pedestrian bridge, the Da Nang Golden Bridge owns a 3m wide surface with a 5cm thick wooden bridge material so you can freely play and dance. The special feature that makes the name is gold-plated stainless steel railing. Belonging to Ba Na Hills Resort, the Golden Bridge has caused a stir in the media during the past 2018.
5. Son Tra peninsula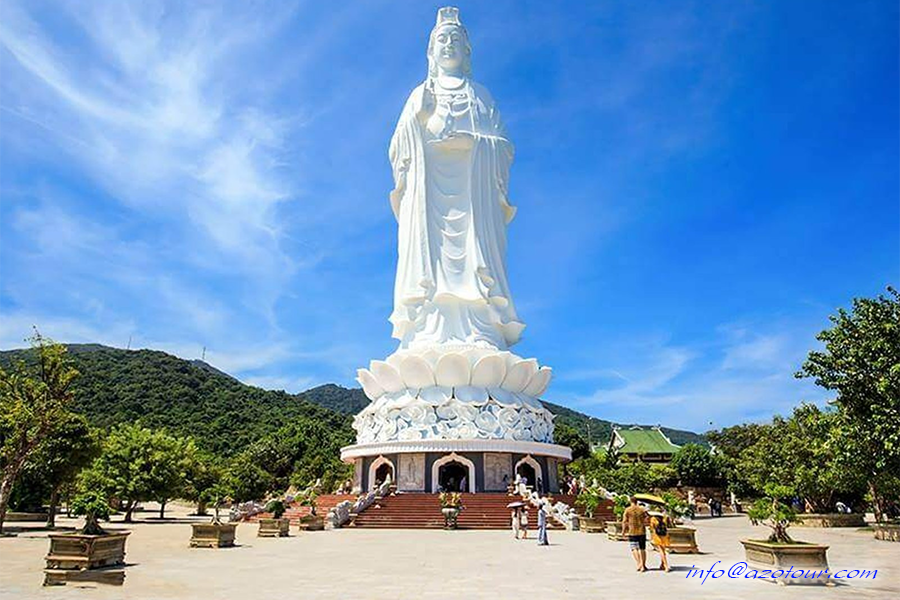 This is a mushroom-shaped peninsula in Son Tra district, 10km from the center to the Northeast. Coming here, visitors will discover Son Tra old forest, swimming at Bai beach, My Khe beach, fishing with fishermen, visiting Tien Sa lighthouse, scuba diving to see corals. In addition, you can also visit Linh Ung Pagoda - the pagoda like Son Tra peak with the statue of Buddha Shakyamuni in the middle and the Buddha Bodhisattva Bodhisattva on the right, the Tripitaka Buddha on the left with the four Dragon Gods. The dharmapalas and the 18 Arhat protect the main hall. Nearby, there is Mo stream, Toc Tien waterfall, and Nghê cape - the privilege to welcome the first sunrise of Danang.
6. Bridge on Han River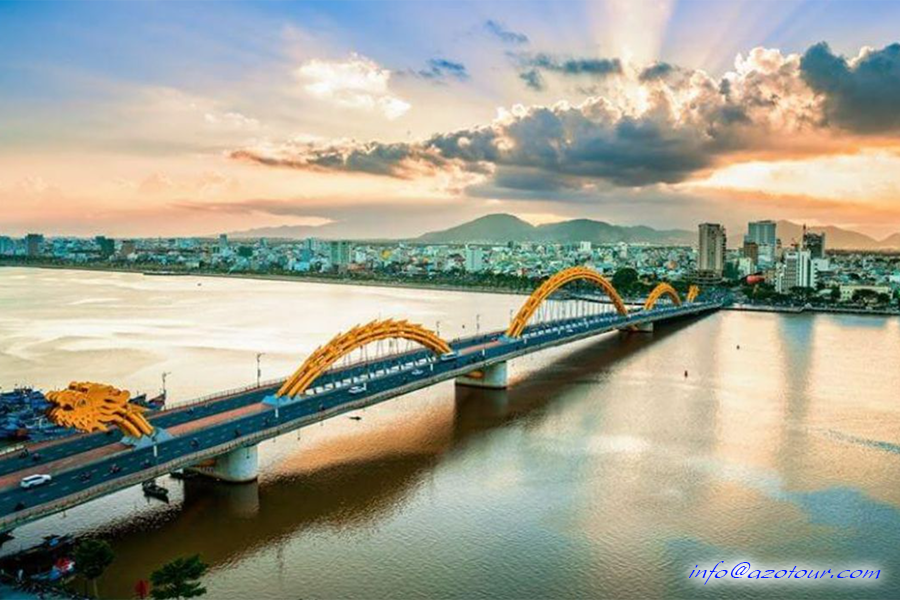 When the street lights up, you will be extremely impressed with the beautiful scenery of the bridges spanning the Han River. You can buy a boat ticket to see the brightly bridges: Thuan Phuoc Bridge, Dragon Bridge, Han River Bridge, Tien Son Bridge within 60 minutes with cool breeze. In addition, Dragon Bridge spews fire, water at 7pm every Saturday, Sunday and major holidays. This is one of the most awaited events when traveling to Da Nang.
With above top things to do in Danang, hope that you would have a good idea to explore the beautiful Danang city yourself or pick up one of our tour to Danang via our website: https://azotour.com/tours/detail/da-nang-golden-bridge-bana-hills-journey