10 Best Places to Visit in Laos
Beautiful Laos is one of the prettiest countries in Southeast Asia but also one of the least visited. This is a real shame as Laos has just as much to offer travelers as other big-hitter countries like Thailand or Vietnam. The country is small and landlocked so it has no coastline, but it is known for its spectacular limestone mountains which offer you amazing opportunities to go trekking and explore eerie karst formations and caves. As well as its mountains, Laos is known for its forest and its waterfalls and you can also try the delicious local food which has Thai and Indian influences. If you are looking for a real adventure in Southeast Asia then Laos makes it possible and still feels as if you are going off the beaten track, even in the main cities like Vientiane or Luang Prabang.
Here are the 10 best places to visit in Laos…
1. Vientiane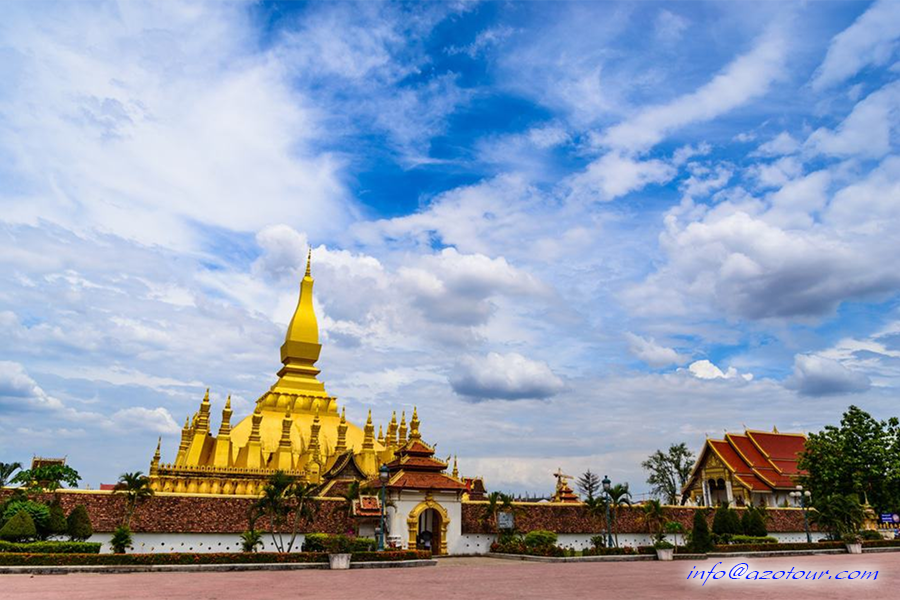 Vientiane is the charming capital of Laos and even though this is technically a capital city, it still feels like a small town rather than anything else. Vientiane used to be a former French trading post during the colonial period, and as a result it has a delightful old French quarter than you can explore. As you walk around you will also find a plethora of French inspired architecture such as a Laotian version of the famous Arc de Triomphe in Paris known as Patuxai. There are also other attractions that are well worth a visit such as sprawling local markets and temples like Wat Si Saket which is the oldest of its kind in Vientiane.
2. Luang Prabang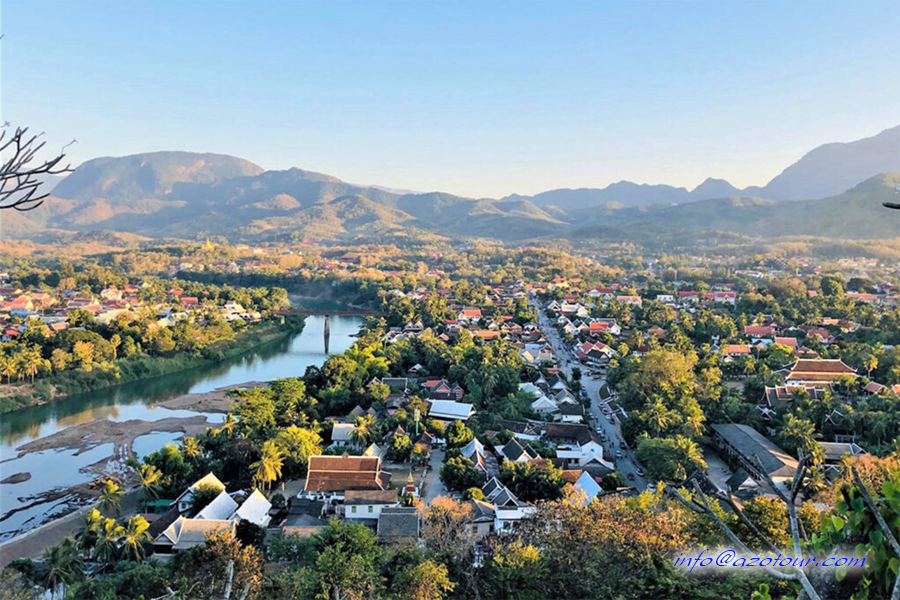 If you are looking for the serene heart of Laos then you may want to travel to Luang Prabang which is a town that lies on the mighty Mekong and Khan rivers. The town is also known for its gorgeous little European style cafes which are located along the scenic river banks and this area is so delightful that it is also a UNESCO World Heritage Site. You will also find gorgeous temples all over the town and if you like trekking then you can go out to the Kuang Si Waterfalls where you will find amazing azure cataracts that have deep pools which are perfect for bathing in.
3. Vang Vieng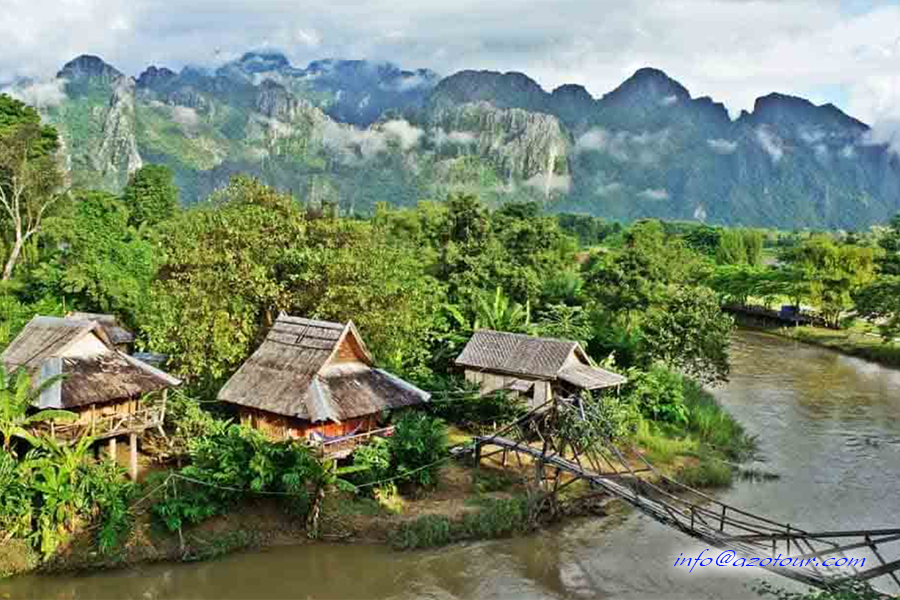 Van Vieng sits between Vientiane and Luang Prabang and is one of the main backpacker locations in Laos. In the days of old this part of Laos had a rather wild reputation and a surprisingly vibrant nightlife scene, although now it has become a little more staid thanks to action taking by the local government to clean up its image. One of the main reasons to come to Van Vieng is to enjoy the tubing down the Nam Song River and you can take in the lush jungle scenery here at the same time. There are also other spots such as the Tham Phu Kham Cave which is known for its lagoon and bronze statue of the Buddha.
4. Huay Xai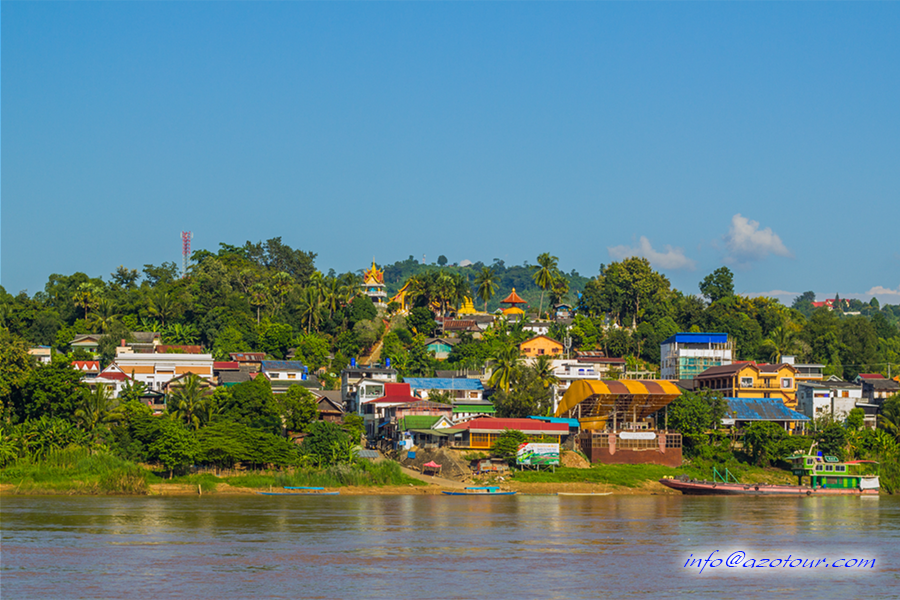 Huay Xai is located on the border between Laos and Thailand which is the reason that many people visit when they cross from one country to the other. It is also known however for its Mekong River cruises as you can take a boat from Huang Xai to Luang Prabang and for many visitors this is the highlight of a trip to Laos. It is also the gateway to Bokeo Nature Reserve which is known for its spectacular Gibbon Experience.
5. Si Phan Don Islands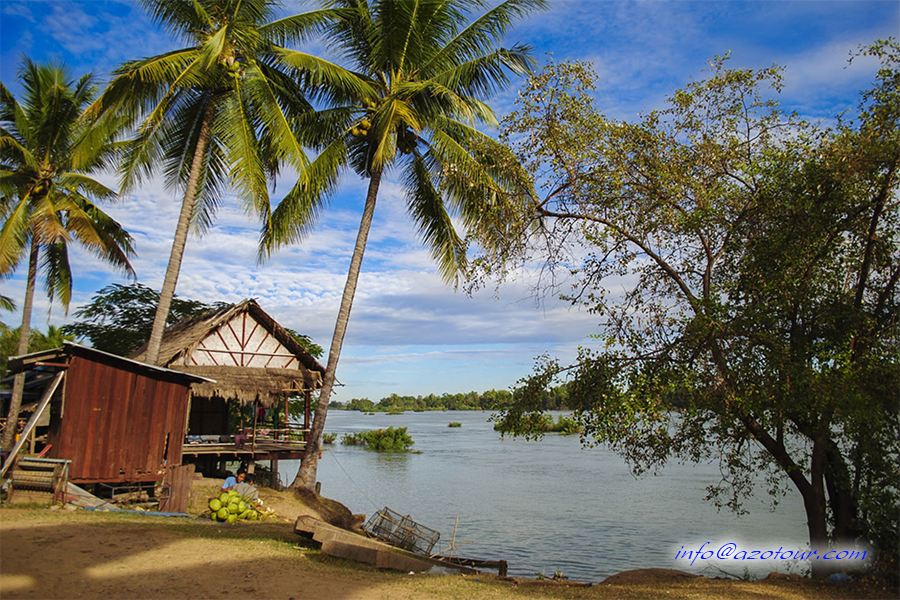 Laos is known for not having a coastline so it may sound strange to hear that it is the home of the Si Phan Don Islands which means 'Four Thousand Islands' in Lao. The islands are caused by the Mekong River dispersing close to the border between Laos and Cambodia which has created these amazing little islets. The islands vary in size which is great as you can choose some of the larger islands like Don Khon and Don Det if you want a little more nightlife and a wider range of accommodation options. You can also visit smaller and sleepier island like Don Khong if you really want to fall off the grid and get away from it all in Laos.
6. Bokeo Nature Reserve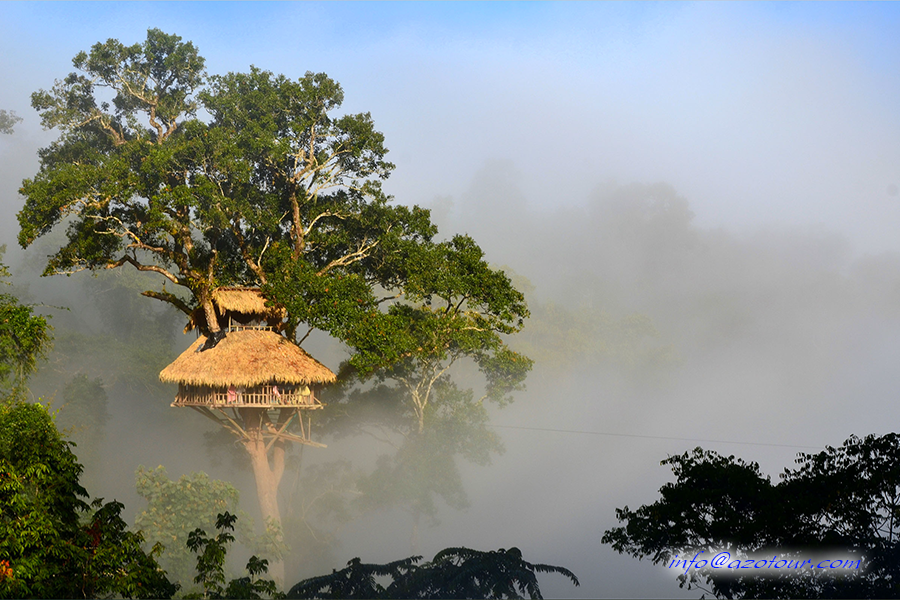 The Bokeo Nature Reserve lies outside the town of Huay Xai and is a well known nature reserve that is known for its conservation work to protect black-cheeked gibbons which were rediscovered in 1997 after it was thought that they had become extinct. The park allows you to stay in tree houses which give you a bird's eye view of the forest canopy and you can also partake in fun jungle activities such as swinging on a zip line As well as the famous gibbons, you will also find elephants, bears, tigers and buffalo in the park and keen bird watchers can check out hundreds of species of colorful avians.
7. Nong Khiaw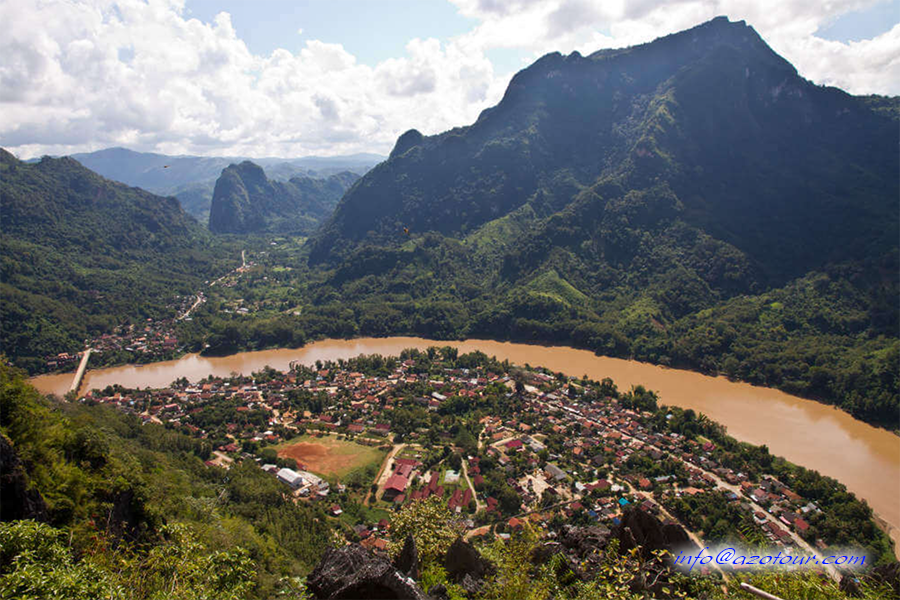 Nong Khiaw is also known as Nong Kiau and is a pretty spot in Laos that is rapidly gaining a name for itself as one of the best places to visit in the country if you want to get away from it all. Here you will find some amazing trekking and hiking opportunities and you can spend time biking around the scenic villages here that surround the main town. Nong Khiaw also sits on the delightful Nam Ou River so you can take a boat trip here that you will let you take in all the scenery from the vantage point of the water. This part of the country is also surrounded by gorgeous karst formations and the limestone caves here such as the Pha Tok Caves are a great location for anyone who enjoys spelunking.
8. Tham Kong Lo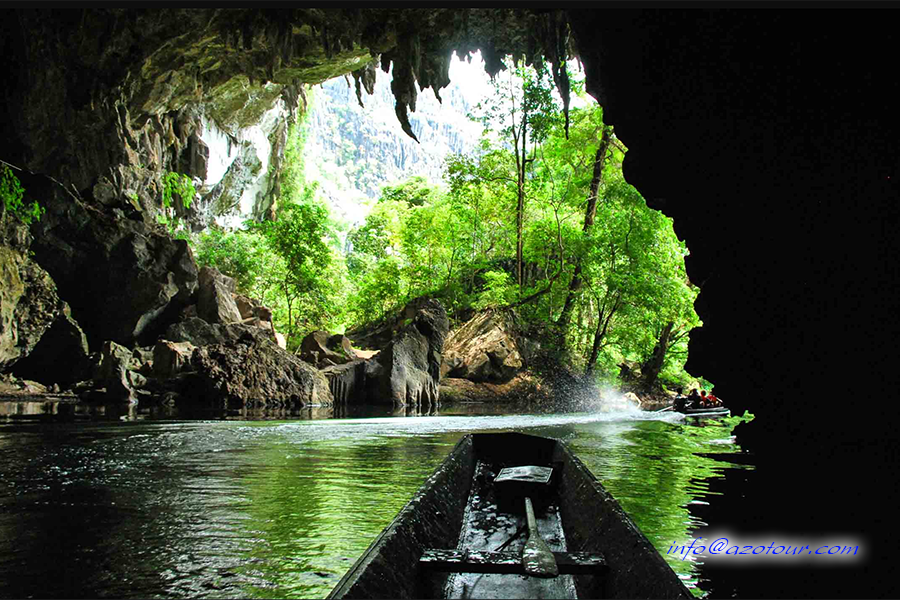 Tham Kong Lo is the name for the Kong Lo Cave which is part of the wider Phu Hin Bun National Park. The park and cave sit along the Phu Hin Bun River and the central chamber is said to be one of the most spectacular in all of Southeast Asia. The cave is some 6.5 kilometers long and is 300 feet high and is known for its stunning jade-hued pools which are said to be the same color as the skin of the Hindu god Indra. The best way to check out the cave is to take a boat trip along the amazing chamber and enjoy the rock crystals and stalagmites and stalactites here.
9. Luang Namtha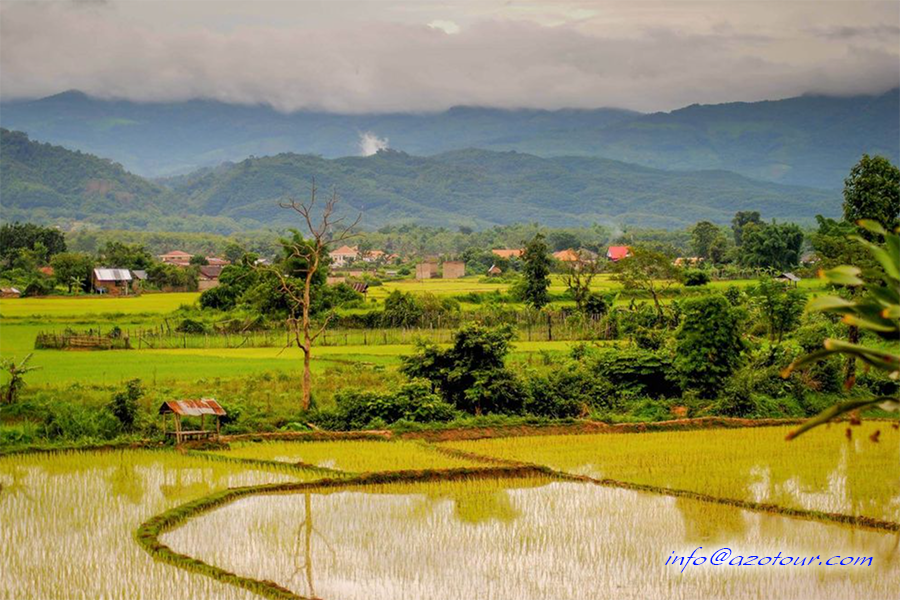 Luang Namtha is known for being the largest city in the northwest part of Laos and is famous for being a stop off point for anyone traveling between Laos and neighboring China. This is also a top spot for anyone who likes to go trekking as you can get out into the surrounding mountains and visit the villages of the ethnic hill tribes in Laos. If you don't want to trek then you can also rent a bicycle or a motorcycle and then spend the day scooting around the various villages and checking out the gorgeous waterfalls in this part of the country. In the town of Luang Namtha itself you can spend your time visiting bustling local markets, sampling the street food and indulging in the herbal saunas here.
10. Wat Phu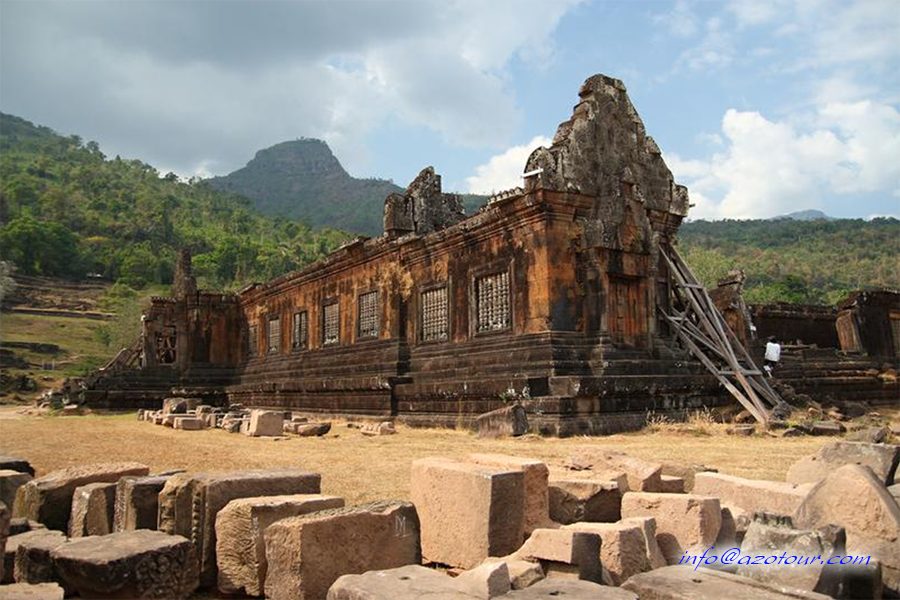 Wat Phu is also known as Vat Phou and is a gorgeous Khmer temple which is close to the Phu Kao Mountain in the Champasak Province of Laos. This is a Hindu temple which was built between the 11th and 13th centuries and this would have been a strategic location in the mighty Khmer Kingdom that stretched from Angkor in neighboring Cambodia. Nowadays you will find similar temples in style to those at Angkor which are also partially eroded by the jungles of Laos.